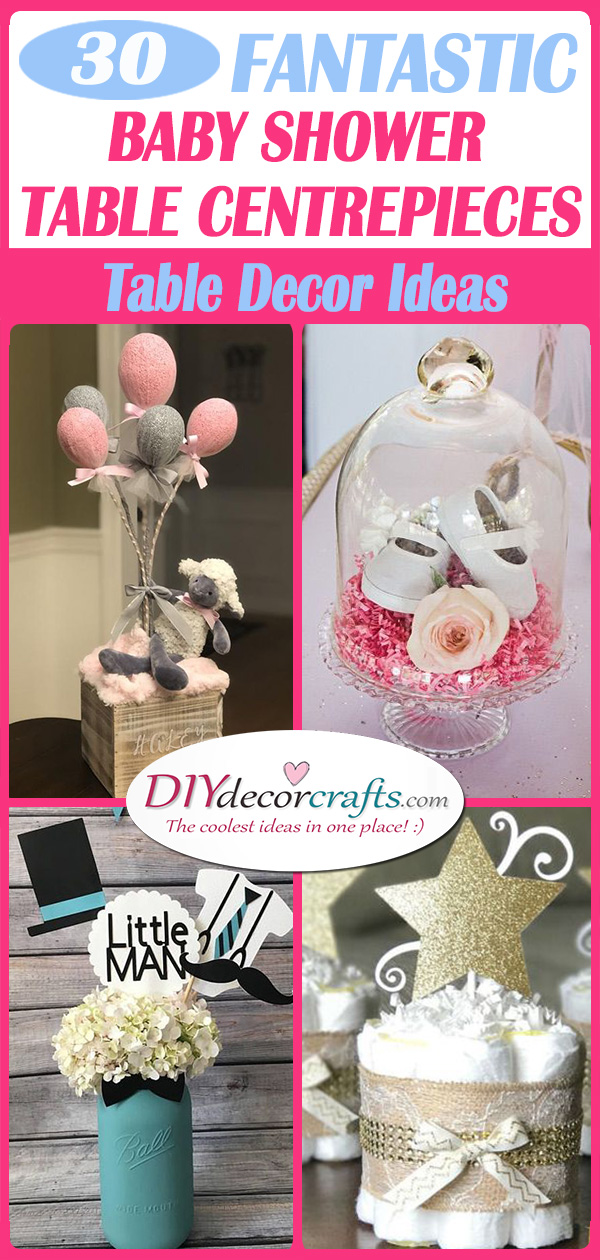 When you are planning your baby shower, you would like everything to be perfect and in place! From the food served at your shower to the games you are going to be entertaining your guests with, it all needs to be on point! An important factor of basically any party, including baby showers, are the table decorations! If you have a themed party, you will want the table decor to fit in! We have collected 30 baby shower table centrepieces for you to look through! Hopefully, you will be able to find baby shower ideas which are perfect for your own baby shower!
1. Bears With Balloons – Overload of Cuteness
Here is a super cute idea which will look great as table decor at any baby shower! A teddy bear sitting on a box holding some balloons. This is a great centrepiece if you have already used teddy bears in your whole decor. You can write a letter or number on each box, making it easier for your guests to find their seats.
2. Baby Elephant – With Big Balloons
Who doesn't love elephants? These adorable animals are amazing in every way! If you are planning to use elephants as an element in your baby shower decor, then make sure to use them in your table centrepieces as well. Place plushie elephants in the middle of each table, attach a bunch of helium-filled balloons to their trunks!
3. Good Night – Baby Shower Table Centrepieces
There is a super trendy baby shower theme, which incorporates stars, clouds and the moon into its decoration. As well as a sleeping baby! Create a beautiful table centrepiece out of balloons, which you stick together. Make it look like clouds floating on a night sky, with a baby sleeping peacefully amongst them. Just take the picture above as inspiration!
4. Diapers and Flowers – A Unique Combination
Since we are talking about baby shower party ideas, make sure to include something babylike in the table decor. For example, you can roll up diapers, creating "diaper cakes." Then you can decorate these in any way you'd like. For example, place a bow on each of them and some flowers. Depending on what gender the baby is going to be, you can colour the bow and flowers in either pink or blue.
5. An Announcement – Simple and Cute
Here is a super simple idea for your baby shower table centrepieces! Firstly, attach small cut-out pieces of paper to straws. These can be shapes, like a onesie, a bib or even an animal. You will also need a piece of paper which announces the gender of the baby to stick on a straw! Place all these straws in a mason jar and place one on each table!
6. Baby Bottles – Decorating Each Table
Get creative with your baby shower decor! Use baby bottles as inspiration for your table decor! Fill them with stones, pebbles or marbles. Then place each baby bottle on a different table.
7. Boxes of Roses – Baby Shower Table Ideas
Baby blocks are great games for babies to play with. It's educational as they get familiar with the letters of the alphabet. Use baby blocks as inspiration for your table decor. Create boxes and make them look like baby blocks. Then stick roses inside. If you want real roses, you might like to place some floral foam inside of the box.
8. Pots of Balloons – Perfect Idea
A celebration always calls for balloons! They are the perfect source of decor and are cheap as well! Attach helium-filled balloons to pots. Decorate the balloons by covering them in a layer of tulle. This will give the balloons a much more celebratory look!
9. Rustic Essence – For Rustic Baby Showers
Are you planning on hosting a rustic themed baby shower? If so, make sure to use some natural elements for the table centrepieces. Put a slab of wood on each table, placing a vase of flowers on it, a candle and the first look of the baby! This will give your baby shower earthy and rustic vibes!
10. An Abundance of Flowers – With a Pacifier
If you love flowers, make sure to place a vase filled with them on each table at your baby shower. To give this vase of flowers a true baby ambience though, attach a pacifier to the vase.
11. Baby Shoes – Cute Baby Shower Table Centrepieces
If it's a baby shower then you will need some baby elements in your table decor! Why not place a pair of baby shoes on each table, using them as an alternative to vases. These will look super awesome and draw a smile on your guests' faces.
12. Little Man – For a Baby Boy
Are you expecting a baby boy? If so, make sure that the gender of the baby is apparent at your shower! Paint mason jars blue, place a bow tie on the neck of it. Place flowers inside, as well a sign saying "little man." Have these boyish vases decorating one table each at your baby shower.
13. A Hot Air Balloon – Cute Ideas
Create adorable hot air balloons for each table at your baby shower! Place boxes or small crates of flowers in the middle of each table. Attach a helium-filled balloon to the top of the flowers, using yarn to keep it in place. These small hot air balloons of flowers will look delightful!
14. Baby Sheep – The Best Table Decorations
Using a lamb as a table centrepiece? It couldn't get much cuter than that! Place small plushies of lambs or sheep on boxes. Then have them hold an array of balloons sprouting up in their hand. These boxes of baby sheep will look perfect in your baby shower!
15. An Initial – Baby Shower Centrepieces Boy
Mason jars are cheap and easy to style! Making them table centrepieces at your baby shower a terrific idea! If you already know what the name of your soon-to-be-born baby is going to be, then cut out their initial. Stick their initial on a wand and place it in the jar. You can also place wands inside which have cool streamers and pompoms attached to them!
16. An Elegant Idea – Breathtaking and Whimsical
If you are creating a magical atmosphere for your baby shower, then make sure to check out this whimsical table centrepiece! Two baby shoes placed in a glass dome, with flowers sprinkled all over the bottom of it.
17. Twinkle Twinkle – Sparkling Stars
Are you going to be hosting a twinkle twinkle little star-themed baby shower? Make sure your table centrepieces match the rest of the decor. Place cotton wool in a jar, making it resemble clouds. Cut stars out of silver, glittery paper. Attach the stars to wands and place them in the jar as well. You can also place a sign inside which reads "how we wonder what you are," one thought from the nursery rhyme.
18. Butterflies – Beautiful Baby Shower Table Centrepieces
Are you in search of a beautiful table centrepiece for your baby shower? Look no further! Place butterflies on the strings of helium-filled balloons, which attached to baskets or boxes. This will make your tables look as if butterflies were fluttering around in gardens!
19. Pram in a Vase – Unique Table Decor
Looking for an easy table centrepiece? Why not try out placing the plastic figurine of a baby pram in a vase underneath your flowers. Depending on whether your baby is going to be a girl or boy, make sure that the flowers, pram and any either details are either blue or pink.
20. Another Elephant – Baby Shower Table Ideas
As we mentioned before, elephant toys are an awesome idea to use as table centrepieces for baby showers. Place them on a small box or stand, and attach balloons to their trunk. Depending on what gender the baby is going to be, use either pink or blue balloons to make it clear for everyone.
21. Golden Stars – Diaper Cakes
Diaper cakes are perfect centrepieces for baby showers! After all, it's not only decoration, it will be quite practical for the months which will follow shortly. Decorate them in an amazing way, using golden stars and golden bows for a bit of glimmer colour.
22. Floral Letters – Gorgeous Baby Shower Table Centrepieces
Spell out the word "baby" on the tables at your baby shower. Do this by getting wooden letters which you decorate with flowers! Again, according to what the gender of the baby is going to be, try using either pink or blue coloured flowers for a fabulous effect.
23. Flowers in Metallic Vases – A Rustic Feel
Give your whole baby shower a glamorous and edgy vibe with a few metallic baby shower decorations! For table centrepieces, you can use vases that are coated in a layer of metallic paint. Placing flowers in the vases will create a rustic ambience at your baby shower!
24. A Cute Pacifier – Made Out of Balloons
Creating different sorts of objects out of balloons is a super creative task to do! Using balloons of different sizes, create a baby's pacifier. You will have to stick the balloons together carefully. These huge pacifiers will make perfect table centrepieces for your baby shower! 
25. Adorable Elephants – Awesome Baby Shower Table Ideas
Elephants are becoming popular animals to use at baby showers as a theme of decoration. If you are definitely going to be using elephants in your decor, use them in your table decor as well! Pour small marbles or plastic balls into vases, carefully placing flowers in them. Then draw an elephant on a piece of paper and cut it out. Stick it to a plastic or paper straw, and stick that in the vase as well. This ele-fantastic vase is sure to bring a smile to all your guests' faces!
26. Another Hot Air Balloon – Lantern Idea
Here is a super cute idea for baby shower table centrepieces! Create a hot air balloon for a small teddy bear! Instead of using an actual balloon as the balloon part, use a paper lantern instead. A paper lantern will give the centrepieces a vintage and rustic atmosphere! According to what gender the baby will be, decorate the hot air balloons with either dominant shades of pink or blue.
27. Rubber Ducks – Cute Baby Shower Table Centrepieces
Little babies and kids love playing with rubber ducks! Especially when they are taking a bath! If you like rubber ducks just as much as kids, use them as decor all over your baby shower. You can attach balloons to them to give it a more special look! Rubber ducks will definitely bring a baby shower vibe with them!
28. Bambi Centrepiece – A Woodland Atmosphere
Bambi is a lovely Disney children's story about a young stag who has to make his own way in the world. If you love this tale as much as we do, why not use it as inspiration for your baby shower theme? Create small woodland tablescapes placing cut out drawings of Bambi and his friends on top of tree slices. You can also place artificial moss and artificial flowers on the slice of the log.
29. Pacifying Lights – Great Baby Shower Table Ideas
Using some source of light for table centrepieces is a fantastic idea. It will give your whole baby shower a lovely ambience when afternoon or night arrives. Create your lights to look like pacifiers, to give the shower a real baby vibe! These bright pacifiers will illuminate your whole party in a serene light!
30. A Starry Atmosphere – Baby Shower Centrepieces Boy
Here is another spectacular table centrepiece for starry baby showers! Attach cut-out stars to straws or sticks, placing them all in a metal lantern. Add some cotton wool as well to the metal lantern, to recreate some floating clouds in the night sky. You can sprinkle stars all over the surface of the tables for that extra effect.
Hopefully, you have gathered some inspiration from this collection of 30 baby shower table centrepieces. For other baby shower ideas, like baby shower gift ideas or baby shower games, just visit our website! 
Advert