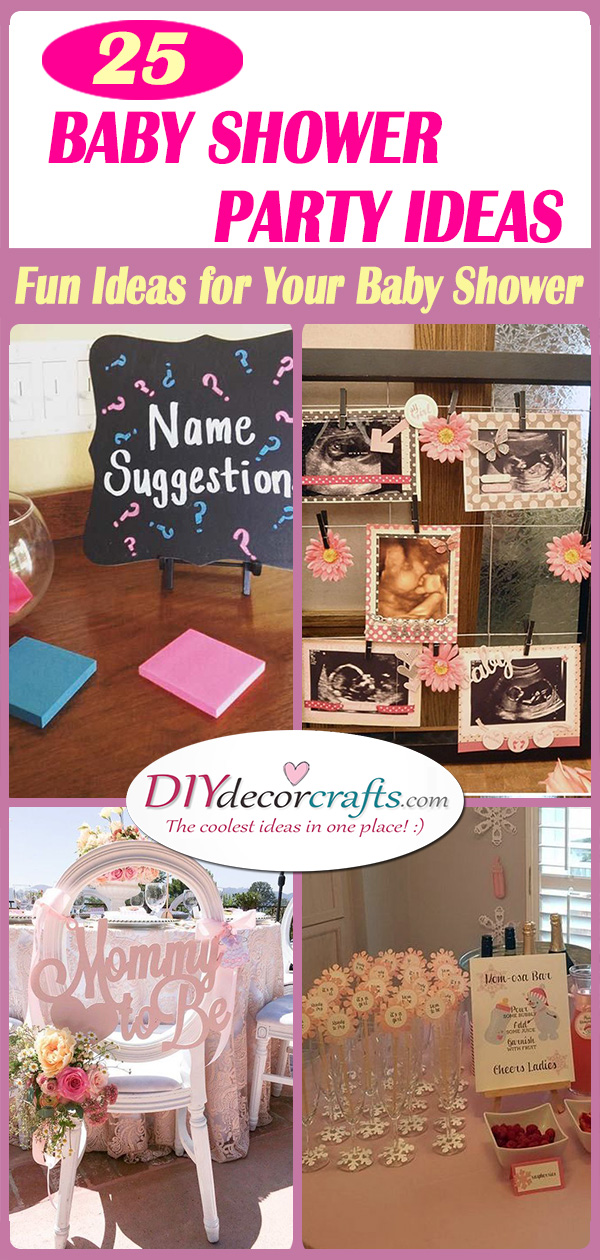 Planning and hosting a baby shower is a huge deal! You will have to find the perfect venue, or if you're going to be holding it at home, you will need some cool ornaments setting the theme of your party and fun activities for your guests to play. If you already know what gender the baby is going to be, it will make it easier to choose accessories and decor for the shower. To make your task easier, we have collected 25 fun and awesome baby shower party ideas. Hopefully, you will be able to take some inspiration from these and make it into your own!
1. A Mexican Theme – Hip Ideas for Your Party
Who doesn't love Mexican themed parties? Mexican food and decor will bring life and fun to anything! If you love Mexican parties just as much as we do, you might consider using it as the main theme of your baby shower! Besides getting all the standard party decor for your fiesta, for example, pinatas and ponchos, make sure the food is all about Mexico as well! Besides making nachos and burritos, why not bake some cookies for the guests as well? You can create cactus, chilli and even taco shaped cookies. On the taco shaped cookies, write up with icing, "taco 'bout a baby," just for that special effect.
2. Sign the Letter – Great Activities for the Guests
How about creating something special for the baby, who is not yet born, on their baby shower? If you already know what name you are going to give the child, get the first letter of his or her name cut out on a thick piece of paper or some wood. Place it on a table at the baby shower, asking everyone to sign it or send a message. This will be a great thing to look at in the years to come, especially for the baby. This will be a treasure in his or her life.
3. Messages on Diapers – Creative Ideas for Baby Showers
Create a whole table of creativity for your baby shower. String up diapers or onesies, on a clothesline, on which your guests will have to write or draw something. This activity will need different sorts of fabric paint or fabric pens. So allow your guests to get creative, and design and decorate the baby's clothes. Your guests will love this idea, not to mention you will have a dozen of cute and unique onesies to dress your baby up in!
4. A Healthy Food Stand – Baby Shower Party Ideas
Throw an adorable baby shower! While playing some activities is always a great thing to do at these parties, you also need to think about what sort of food you are going to serve! When you are pregnant, you want to eat as many healthy foods as possible, because you need to supply your bundle of joy with all sorts of nutrients! So respecting the mother's needs, have an array of healthy foods at a food stand is a great idea. You can place yummy fruits on the table, as well as tasty sandwiches and some refreshing lemonade!
5. Floating Clouds – Great Ornaments for the Shower
Hosting a fun party also means decorating the venue with some awesome decor! Creating clouds is always a great idea, they look bubbly and create a happy and peaceful atmosphere. Using cotton wool isn't the only way of making ornament clouds, you can also attach a multitude of white balloons to each other, to create that fluffy effect. Try hanging strings of coloured pieces of paper from the clouds, representing rain. If you are having a gender-based party, you can have either pink or blue pieces of paper coming out of the clouds the rain.
6. Photo Booth Frame – Taking Some Memories
Remember to take some photos of the baby shower! Trust us, you will want to look back at the party in a few years and remember how fun it was! The best way of taking photos is by using a photo booth frame as a prop! Cut out the shape of a frame from cardboard. Depending on whether the baby is going to be a girl or boy, you can decorate the frame with pink or blue baby shoes, socks, onesies or bibs.
7. A Winter Wonderland – Winter Baby Showers
Is your baby due to arrive during wintertime? That means you will probably be hosting your baby shower during the winter months as well! If so, centre your whole baby shower party around the theme of winter. You can cut out snowflakes out of paper and hang them from the ceiling. Also, draw and cut out small snowmen, penguins and polar bears, sticking them on the walls. You might also consider placing snowflakes to the bottoms of each glass. This winter wonderland vibe is sure to be a hit!
8. Beer in Baby Bottles – Fun Games for the Men
If there are a few men coming to your baby shower, invent a fun drinking game for them which is linked to the theme of the party – babies! Buy as many baby bottles, as many people will want to play this drinking game. Fill each bottle up with beer, then announce a contest, whoever finishes their beer from their baby bottle first will win a fantastic prize! This small drinking game will definitely bring some fun to your baby shower!
9. Suggest Some Names – Cute Baby Shower Ideas
You might have trouble deciding on what name the baby should have. Maybe you like a name, which your partner detests. That's okay though! Why don't you ask your guests for a few suggestions on what to name the baby? You can place some pieces of paper next to a glass bowl or jar, then ask them to write names on the slips of paper before throwing it in. If you don't know the gender of the baby yet, you can also get two colours of paper, blue and pink. Have the guests write the girls' names on the pink slips and the boys' names on the blue.
10. A Jar of Honey – Bee Inspired Party
If you love bees and honey, use them as inspiration for your baby shower! Cut out the shapes of bees on small pieces of paper, hanging them from the ceiling or sticking them on the walls of the venue. You might also want the food served at the baby shower to contain a lot of honey. If you like this idea, create your invitations to represent this theme of honey and bees as well.
11. Mother to Bee – Baby Shower Party Ideas
As we mentioned before, bees and honey provide so much inspiration for a party! So, why not use them for your baby shower as well? Use hexagon-shaped boxes as decoration, symbolizing honeycombs. Naturally, since we are talking about bees and honey, also place flowers in jars around the venue. For that additional play on words write up "Mama to bee" on some banners and hang this from a wall.
12. A Tasty Thank-You Gift – In Baby Bottles
Thank your guests for coming to your baby shower! There are a number of gifts you give to your guests, but here's a great idea! If you love baking at home and you have a special cookie or brownie recipe, which everyone loves, place the dry ingredients in baby bottles. All they will need to do at home is add some milk, butter or eggs to it.