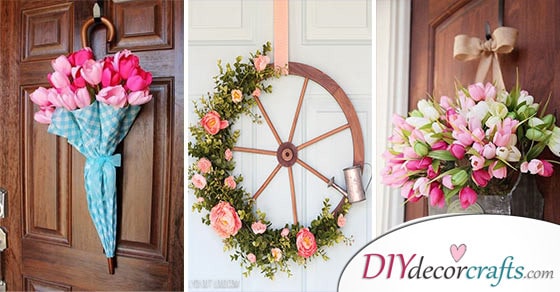 The snow has melted and winter has cleared out of the way for spring's arrival. Daffodils are blooming, birds have returned from faraway lands to welcome spring and Mother Nature is cloaking everything in a beautiful green. Even the air carries an interesting scent in itself, a promise of renewal and warmth. Children can finally go outside to play in this lovely weather and you can rekindle your outdoor hobbies where you left them off last year. So swing into spring by trying out some of these awesome decor ideas for your home! Spring is the season of rebirth, so it only makes sense to declutter your old things, and bring some new and fresh ideas for spring into your home!
1.  A Spring Wreath – An Abundance of Flowers
2. Rainboots Filled with Flowers – Great Decor Ideas for Spring
Are you bored of using standard, glass vases for your flowers? Freshen up the mood at home with this awesome idea! You might have an old pair of rain boots lying around at home, which you won't be using anytime soon. Transform your pair of boots into flower vases! All you need to do is fill them up with water and place your flowers inside of them. Forsythia works perfectly for this! Make sure the boots you use are vibrant and colourful, after all, it's spring and you would like a natural sense of joy enveloping your home.
3. Welcoming the New Season – Welcome Sign
Nothing gets you as ready for welcoming the new season, as a welcome sign does! Make this simple and easy spring door decoration at home. All you need is a wooden board, some paint and some fake flowers. On the board, you can paint a few flowers or a wreath. Then write up the words "hello spring" or "welcome." Finally, you have to glue a few fake flowers onto the board for a classic spring effect. You will want to use fake flowers for this, to make sure they don't wilt after a few days.
4. A Golden Wreath – Spectacular Decor Ideas for This Spring
5. A Hatching Decor Idea – Spring Eggs
6. Delicate Flowers – Get Creative with Test Tubes
Bring a spark of science to your spring decor! Using test tubes as an alternative to vases is a great idea. Pour water into slim test tubes and place a flower in each one. You can hang these from walls or use them as table centrepieces. You can also attach the test tubes to small, colourful boards, which you can stick on your walls.
7. DIY Spring Wreath – Beautiful and Refreshing
It's no wonder that wreaths have become such popular forms of decoration, they look almost magical! Make your wreath at home, all you need is a wooden circlet and an array of flowers. Attach the flowers and some leaves or ferns to the wreath. You don't have to wrap the whole wreath up with the floral decor. If you take a quick glance at the picture above, you will notice that a halfway arrangement also looks beautiful. Use warm colours for a classic spring effect.
8. A Spring Tie – Dress Up Your Front Door
9. A Wagon Wheel – Another Beautiful Wreath Idea
10.  Hanging Flowers – Adorable Spring Decor for Your House
What radiates spring more, than flowers in full bloom? Place beautiful, vibrant flowers in small vases and attach the vases to small, painted wooden boards. Cover your blank walls with these cute spring decorations. These boarded vases look better if there are more of them. You can place any sort of spring flowers in them, we mainly recommend tulips or daffodils though!
11. Baskets of Beauty – Floral Spring Decor for Your Home
12. Sewn Tulips – DIY Spring Flower Decorations
If you'd like a bunch of flowers that won't only stay fresh for a few spring days, but will last for a whole lifetime, then try out this idea! If you like sewing, knitting or crocheting then these flowers are a perfect choice for you. Choose a type of flower, for example, tulips are great for this, and cut out fabric or knit the shape of the flowers. Sew the pieces of fabric together and stuff the insides with cotton wool. Attach the heads of the flowers on wooden sticks and arrange them in pots or vases. You can add a bit of fake grass in the pot for a true spring atmosphere.
13.  Light up Your Day – Spring Butterfly Lamp
With the return of spring and the arrival of warm weather, the insects of our Earth will also come out to play. Butterflies are astounding insects, they look beautiful and they embrace a spring vibe. So why not use butterflies in your spring decor? Attach plastic butterfly clips to a wire, which you can shape and curl in any way you'd like. Attach the bundle of butterfly wire to a lamp. When you turn on the lights, the butterflies will be illuminated. Specks of vibrant colours will appear all over the room – as the light will shine through the plastic wings of the butterflies.
14. Hanging Vases – Decor for Spring
For a stunning effect, hang vases from the ceiling or from windows. Make sure each vase is filled with water and some spring flowers. If you hang these from windows, the vases will look especially beautiful when lit up by rays of sunshine. These floral decorations will definitely give your home a spring atmosphere!
15. Boards of Flowers – DIY Spring Crafts
If you have some time on your hands, consider making some DIY spring decor! The one above is a great idea for anyone. It's simple to make, and also shows beautifully. On small boards of wood arrange a spring scene. Glue sand or gravel at the very bottom, to represent the earth. Next, glue a tree branch on the board, this will be the stem of the flower. Using different coloured beads or pebbles, you can create flowers and leaves on the board as well. Use warm colours for the flowers to give your boards an essence of spring.
16.  Modern Arrangement – Elegant Spring Decor for Your Home
Of course, not all spring decor has to be vibrant and colourful. If you prefer cool designs you should stick to that! We have a great idea for anyone who adores modern and state-of-art decorations. In a simple white vase, place branches of cherry blossom branches inside. You can place butterfly clips on the branches to channel the season of rebirth. This piece of spring decor will show stunningly anywhere in your house, not to mention it will lend a glow of sophistication!
17.  A Watering Can of Flowers – Shower Your House with Spring
A simple, yet amazing way to perk up your home for this season, is with this great idea! On a wooden board, paint a watering can. You can paint some words on the watering can, just like in the picture above it reads "hello spring." Then, make some flowers out of fabric, lace or felt. You can make all sorts of flowers, it's completely up to you and your creativity. Attach the flowers to the wooden board with a glue gun, and you're already done!
18. Candy Grows on Trees – Decor Great for Spring and Easter
This idea will make children overjoyed! Make candy trees for this spring and Easter. All you need to do is create big globes of candy, by sticking them together. Then put a stick or straw into the tree of candy, and place it in a pot, that is already filled with some green grass or moss. These cute and edible decorations will look like rainbow trees by the time you have finished with them!
19. Mason Jar Ideas – Decorations for Spring
Mason jars are a popular form and source of decoration! You can buy them practically anywhere, and they can be decorated in so many ways! Buy a few mason jars for this spring, and paint them in any colour you'd like. You can try out different patterns on the various jars. For example, polka-dots on one, stripes on another. Attach ribbons or bows on them, or place flowers inside of them. Then get ready for the season by placing the mason jars around your house.
20. A Breath of Spring – Beautiful Spring Decoration Ideas
Breathe an air of spring into your home this year! In a painted mason jar place some baby's breath. Attach some clip-on butterflies to the stems of the baby's breath, for an additional spring factor. You can use these cute mason jars as table centrepieces or just place them on shelves around the house. 
We hope this collection of 20 spring decoration ideas has inspired you to get ready for this year's spring. Make sure you feel the return of the season inside and out, so check out our garden decorations for spring as well!
Advert