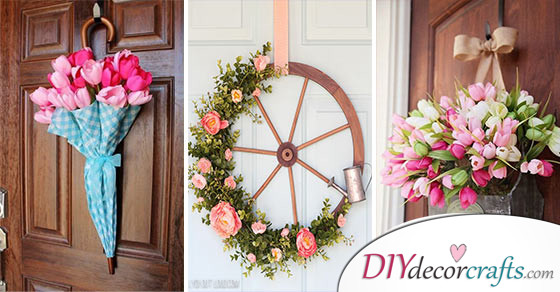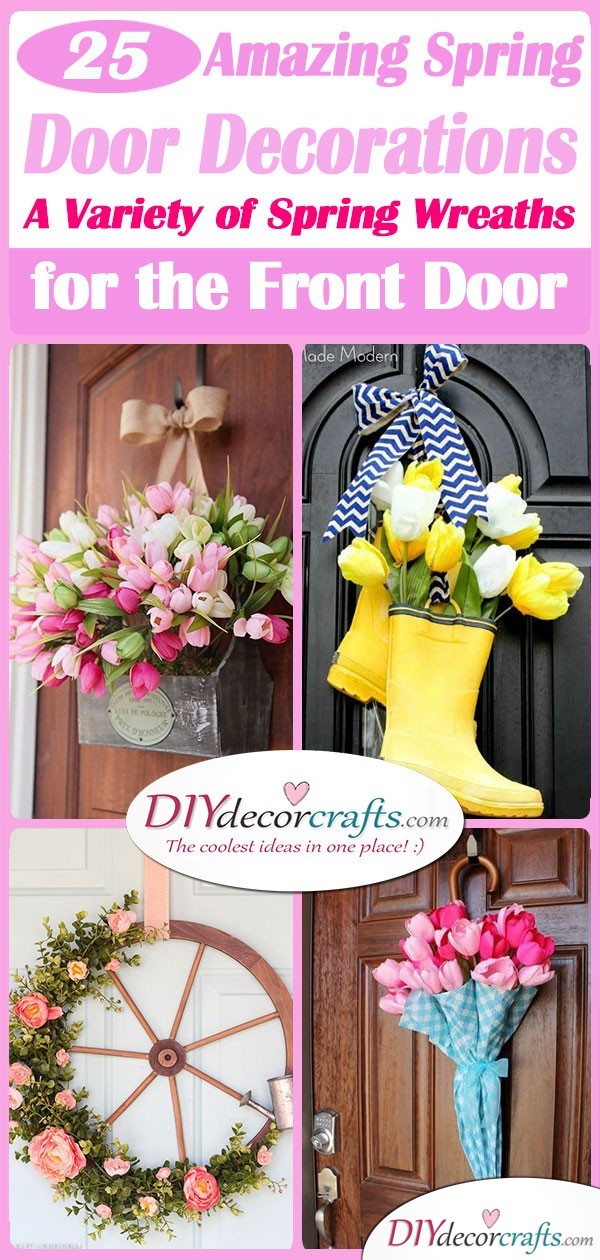 Birds are chattering, flowers are blooming and the sun is shining. What does this all mean? That spring is finally here! The arrival of this wonderful season brings a lot of change and renewal with itself – you can practically feel this in the air. With the arrical of spring, you should also be thinking of adding some spring ideas to your home. You might feel the need to spruce up your own home, alter and modify a few things. This might mean giving your front door a new look for the season. We have gathered 25 amazing ideas for spring door decorations. Let your creativity and imagination run wild and find yourself stunning welcome signs and spring wreaths for front doors!
1. A Floral Welcome – Welcoming the Arrival of Spring
2. Spring is Here – Spring Door Decoration Ideas
This welcome sign is a great solution for anyone, who wants to make their spring door decoration with their own hands. On a wooden board paint a variety of vibrant flowers, then write up the word "spring." You can attach it to your front door with some rope or with a chain. 
3. Turning Heads with Tulips – Beautiful Spring Door Decorations
4. Rain Boot Wreath – An Alternative to Standard Wreaths
While spring is mostly thought of as sunny and warm months, let's not forget that a common visitor during this season is the rain. Spring showers usually come suddenly when least expected. So this year, instead of crowning your front door with a floral wreath, attach some rain boots to it and plant some flowers in the boots. Let this be a constant reminder to you or whoever visits you, that spring storms can catch up with you any day.
5.  A Spring Tie – Spring Wreaths for Front Door
Make sure your front door is properly dressed for this year's spring by clothing it with a tie! On a burlap banner, glue on letters that spell out "spring." You can sew a bowtie to the banner and also attach a few spring flowers to it. This will leave your door looking ready for spring!
6.  An Umbrella Full of Tulips – Cute and Fresh
A funny and unique alternative to standard floral wreaths is an umbrella! Attach one to your front door, and place bunches of tulips inside the plastic folds. So spruce up your front door with a beautiful spring floral decoration, not to mention umbrellas serve as a constant reminder to watch out for unexpected spring showers.
7. A Tiny Bird's Nest – Gorgeous Spring Wreaths for Front Door
8. A Rainbow of Sandals – A Funny Welcome Sign
Give your front door a special look with these awesome door decorations for spring! You can make this at home by yourself, all you need is seven sandals which you have to glue together. Then you have to glue letters onto the sandals, which will spell out "welcome." To give it an even more vibrant and bold look, stick flowers and butterflies on it. We recommend using fake flowers for this one – this way they won't wilt and the welcome sign will last all throughout spring. This could also make a great summer door decoration, due to the flip-flops!
9. Time to Garden Again  – Spring Wreaths for Front Door
Well, if you have been looking for a truly funny and creative idea for door decorations for this spring, then this is the perfect choice for you! Wind up a watering hose in a circular shape, this will be your wreath. Attach spring flowers and vines on it. If you have a watering can, you can write something on it and attach it onto the hose as well. These spring wreath ideas are perfect if you would like to express your fondness for gardening.
10. Lovely Lavender – An Essence of Provence
Have you been to the magical land of Provence? Hills overgrowing with lavender is not only beautiful but is also pure euphoria for your nose. Even if you haven't been yet, but you love the aroma of lavender, then these spring door decorations will be perfect on your front door!
11. A Wheel of Fortune and Flowers – Wagon Wheel Ideas
Maybe you have a spare wagon wheel in your garden shed or your backyard, that you've been meaning to use as some sort of decoration. Well here's a great idea for your front door! Stick flowers and a watering can around the side of a wagon wheel. This decoration will give your door a completely new spring vibe!
12. Beautiful Butterflies – Great Spring Wreaths for Front Door
With the return of warmer weather, all the bugs and insects are crawling out of their winter hiding holes. A beautiful insect that will also come out to play, is none other, than the butterfly. Butterflies are marvellous creatures, that seem to float around without a care. They are closely linked to spring because they also go through a rebirth. From a caterpillar, they transform into an extraordinary butterfly, just like winter turns into spring. Decorate your wreath with plastic or fabric butterflies for the spring effect.
13. Tulip Fever – Spring Door Decoration Ideas
Tulips are one of the most popular spring flowers, which should come as no surprise, as they are beautiful and come in so many variations. So why not make a wreath with an abundance of tulips? To create a true spring atmosphere use pastel or warm coloured tulips.
14. A Rustic Wreath – Cute Spring Door Decorations
If you like rustic themed decor, try out these spring wreath ideas! Cover your wreath first with burlap, this should serve as a base for all the other decor you attach onto your wreath. Let your creativity break free, and decorate your wreath with whatever you'd like. Choose your own arrangement of flowers. You can attach a cut-out cardboard fence or house, some watering cans or a key to the wreath as well. It's really up to you to create something unique.
15. A Knitted or Crocheted Wreath – DIY Spring Arts and Crafts
16. Simple and Modern – Embrace the Return of the Season
Say hello to spring fashionably this year! If you prefer simple and modern decor, then try out this spring door decoration idea. On a circular wooden board or even on a porcelain plate, paint "welcome spring." You can stick a bow with some flowers to the welcome sign to give it a more spring look.
17.  A Combination of Yellow and Pink – Spring Door Decorations
A vibrant and eye-catching mixture of colours includes combining pink and yellow. Flowers of these shades will lend your front door a true spring vibe. Place them in a tin flower pot and with the help of a ribbon tie them to your door. Just take a quick look at the picture above, doesn't it look fantastic?
18.  Shower Your Flowers – Spring Wreaths for Front Door
Keep your flowers from wilting this year with this hilarious idea! Make a wreath out of an old shower hose and attach some plastic flowers to it. When putting this on your front door, make sure the showerhead is placed above the wreath. Glue strings of small beads onto the showerhead, as if water were spurting out of it. This will create a funny and adorable picture of a typical spring hobby: gardening.
19.  Another Umbrella Idea – Recycling Your Broken Umbrellas
Do you have any old or broken umbrellas at home, that you were planning on throwing out? Don't! Recycle them instead and incorporate them into your spring decor. We have already mentioned, that umbrellas are a great idea for door decorations, especially if you stuff them with an array of flowers. You can also attach a small tag to the umbrella, reading something along the lines of "welcome spring."
20. Floral Straw Hat – Spring Door Decorations
With the arrival of spring, comes also the sun illuminating everything in golden rays of sunshine. Remember to wear your hat, so you don't get a sunburn! Remind everyone else with this cute door decoration, not to forget their hats this year! Place a straw hat, adorned with flowers, on your front door.  This is a great alternative to standard floral wreaths if you're looking for something more creative and out of the box.
21. A Display of Forsythias – Spring Wreaths for Front Door
Yellow, a radiant hue, is the colour of sunshine. It's a colour that exudes happiness and optimism, making it perfect for welcoming the season of spring. Use yellow in your door decor in the form of forsythias. This will make your front door glow with a beautiful spring essence. 
22. Golden Daffodils – Gorgeous Array of Flowers
Say hello to spring with a multitude of daffodils. Daffodils are beautiful flowers that have been bringing inspiration to painters and poets for centuries. Just think about William Wordsworth who wrote a whole poem about daffodils ("I Wandered Lonely as a Cloud"). So bring a bit of happiness and inspiration into anyone's life, who walks through your door. It would only make sense to use these flowers as a form of door decoration this spring. 
23. Fluttery Butterflies – Spring Wreaths for Front Door
Design and decorate your wreath with various berries and butterflies! Organise them according to colour, you can make a rainbow circlet in this way.  A vibrant wreath, such as the one in the picture above, will surely give your front door a new, spring look! You may decide on making this yourself for an easy spring craft to do with kids!
24.  A Bag Full of Flowers – Alternatives to Spring Wreaths
Arrange your lovely spring flowers in a bag or basket, instead of a flower pot, and attach it to the front door. Use yellow, orange or pink flowers for a spring effect. Sunflowers always make a fantastic choice!
25. Frame Your Door – Spring Door Decoration Ideas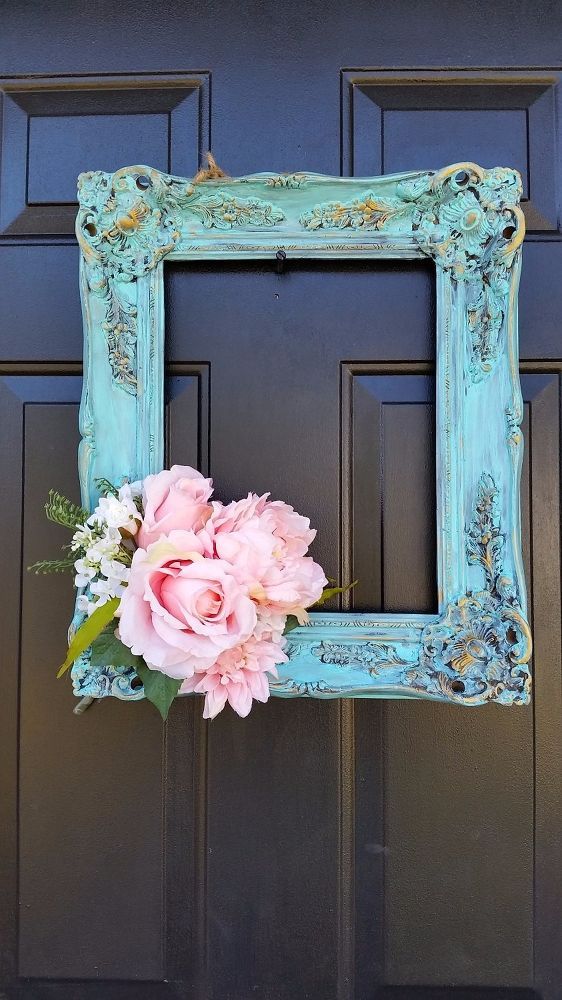 Bored of floral wreaths or spring welcome signs? Try out this frame idea! All you need is an antique-looking frame, which you can paint in any colour you'd like. Attach a few flowers onto the frame for a true spring look! Naturally, you can write words around the frame, for example, "spring is here."
So open your hearts and get ready for spring by trying out some of our spring door decorations! After all, you deserve to give yourself a fresh start to the year with some fresh spring wreaths for front doors! If you need some inspiration concerning other spring garden decor ideas, check out our website!
Advert