Spring is the season of renewal and rebirth. It's the time of year when flowers bloom and trees blossom. If you are as excited as we are for this season, make sure to get ready for it! You can do this by creating all sorts of crafts to decorate your house in the spirit of spring. Another great idea is to do some gardening in the lovely warm weather. Or you might just be pondering about how to do your hair in the upcoming season. Whatever your thoughts might be, why not check out our ideas concerning spring? You will be sure to find inspiration for the new season amongst them!
1. Braided Hairstyles for Long Hair – Easy Braids for Long Hair
Perhaps you want the express the arrival of spring with your choice of clothes and hairstyle. If so, you might be in search of some beautiful hairdos. You might like to add a few accessories to your hair, such as flowers, to really bring an essence of spring to your look. Another great idea is to try out braided hairstyles for long hair. There are so many fabulous braiding techniques. So depending on your mood and style, we're sure you will be able to find a braid or hairstyle perfect for yourself!
2. Spring Decorations for Outdoors – Ideas for Your Spring Garden
With the arrival of spring make sure you bring the sense of revival and rebirth into your garden as well! You can achieve this by robing up your front or backyard with garden decorations for spring. Since spring is all about flowers blooming and growing, make sure that your garden will include flowers of some sort. You can also try making some creative and unique decor for the rest of the garden. A great idea is to recreate old and unused items into something new!
Advert
3. Spring Door Decorations – Spring Wreaths for Front Door
Welcome the new season into your hearts and into your homes! An easy and simple way to do this is by creating spring door decorations! You might be thinking of creating a wreath for your front door. If so, make sure that you entwine some flowers into the wreath to give it a spring vibe. Another great idea for your door is to create a welcome sign! You can use a simple wooden board for this and paint over it in vibrant colours. Whatever you decide on choosing, we're sure it will look great!
4. Spring Nail Designs – Spring Nail Ideas
Spring is a season when you can glam up a bit. Spruce up not only your wardrobe but also your makeup and nails! Perhaps you are in search of spring nail designs. If so, don't hesitate to check out our collection. Another fabulous option you might like to try out for spring nails is floral patterns. After all, spring is all about blooming flowers, so it would only make sense to incorporate them into your nails. So make certain to take a look through our collection of nail ideas.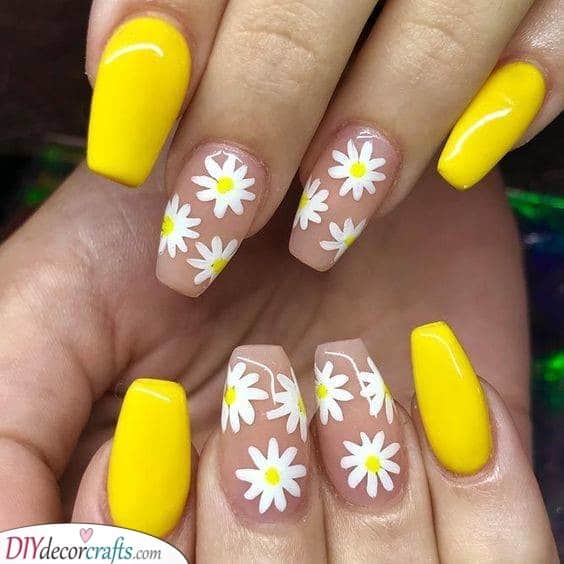 Advert
5. Spring Table Centrepieces – Table Decorations for Spring
Are you thinking of other ways to decorate your house to welcome the season of spring? One idea which you might like is spring table centrepieces. You can create a variety of spring-themed decorations for your tables. Whether it's seasonal flowers placed in an elegant vase or collecting elements of spring's nature and placing them on the table in a unique way, you are sure to make a lovely decoration! We recommend using as many flowers as possible, after all, you are getting ready for spring!
6. Spring Decorations for Your Home – Inspired by the Season
When you think of the season spring, what image pops into your mind almost immediately? Perhaps it's the flowers blossoming everywhere or maybe it's the birds chirping. Whatever you think about when you hear the word spring, make sure you use it as inspiration for creating some seasonal decor. Maybe you adore the sudden showers which occur during the season, if so, why not use rainboots as a vase for flowers? With a few spring decorations for home, you will be able to create a magical environment and atmosphere.
Advert
7. Spring Crafts for Children – Have Fun with the Kids
Spring brings a sense of rebirth with itself which everyone can feel! No matter how old or young you are, spring is a universal experience for all! If you have kids at home, make sure you have some fun with them! Make some unique spring crafts for children with them! You can get creative with this, making an array of flowers out of paper or using the children's handprints for creating flowers. We're sure that whatever you decide to make, your children will love!
We hope that this collection of ideas for spring has given you some inspiration! After all, it's important to get ready for the season with various decorations or arts and crafts or even.
Advert