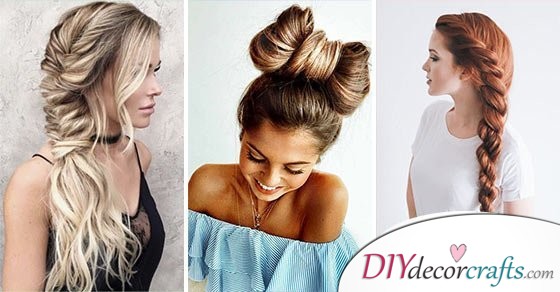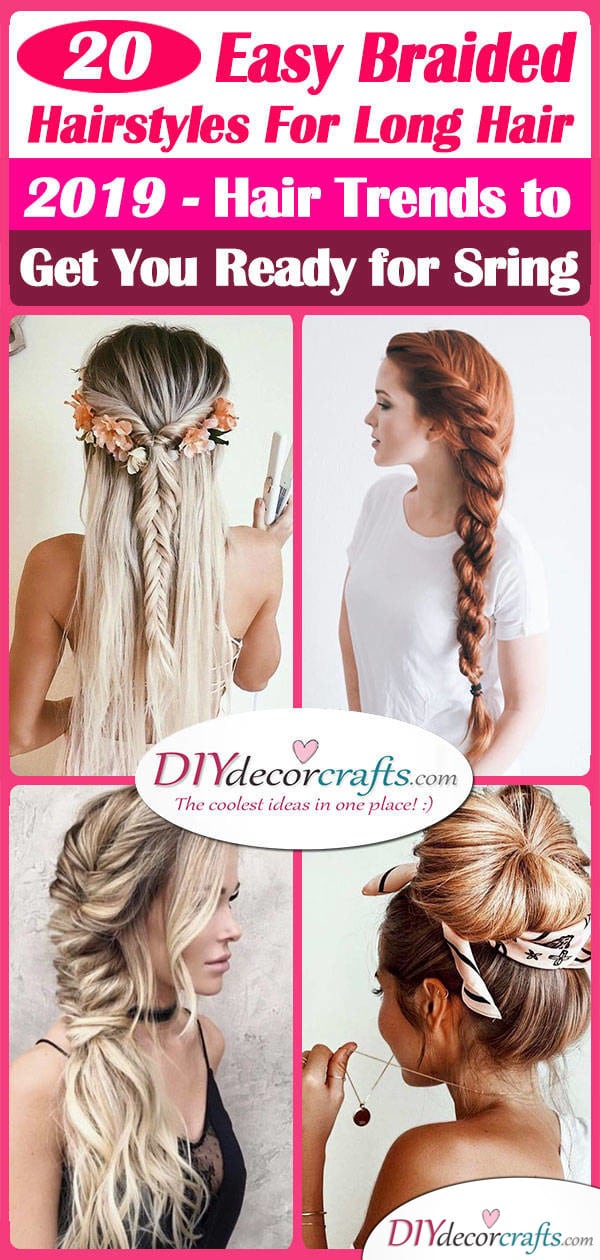 Spring has finally arrived, and with spring comes the desire of wanting to feel refreshed and energized, both physically and mentally. For women especially, it becomes important to express the change of the season by modifying a few things on their physical appearance. In many cases, this modification takes place at the hairdressers'. A new shape, colour or style can really get you in the mood for spring. We have collected 20 ideas for braided hairstyles for long hair. So if you're looking for a fresh and trendy look or easy braids for long hair, you have come to the right place! Especially since we are filled with an array of ideas for spring.

1. Sensual and Showy – A Unique Colour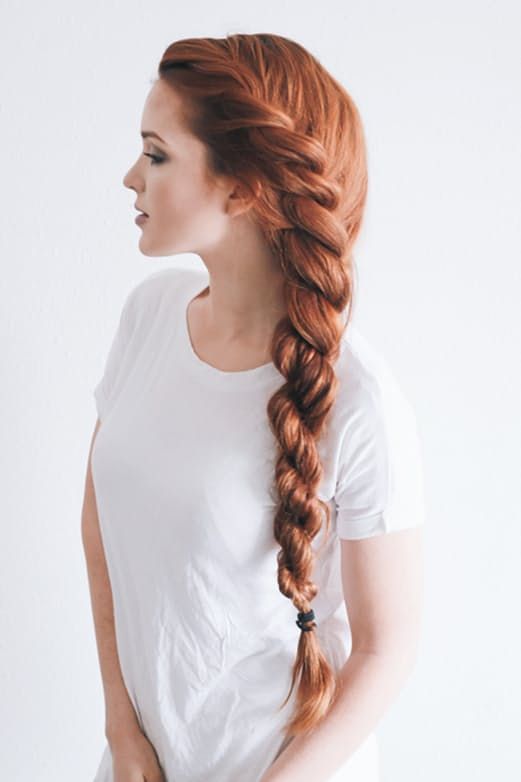 source
There is no other hair colour that attracts the eyes as the colour red does. This is a perfect choice for people who want a more daring and bold look for spring. To make it pop out, even more, create a side braid. Depending on what your favourite type of braid is, you can choose from a variety, for example, fishtail braids, french braids, Dutch braids, etc. Show everyone that spring has arrived by using braided hairstyles for long hair.
2. Waterfall Braid – Easy Braided Hairstyles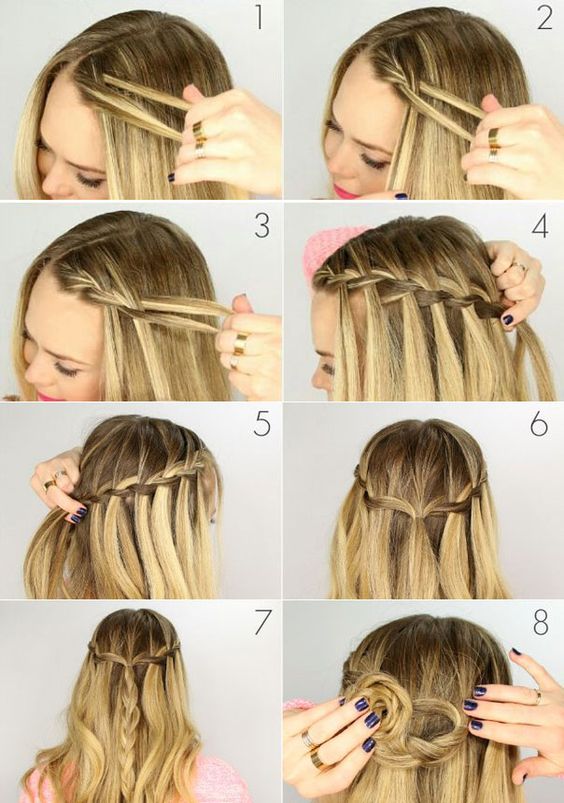 source
These are the sort of braids for women that you look at and it screams complicated. But just take a glance at the pictures above, it's actually super easy to create all on your own. This tutorial shows a two-sided waterfall braid connected in the middle, but a simple one-sided waterfall braid looks really good as well.
3. Granny Style with a Braid – Long Braided Hairstyles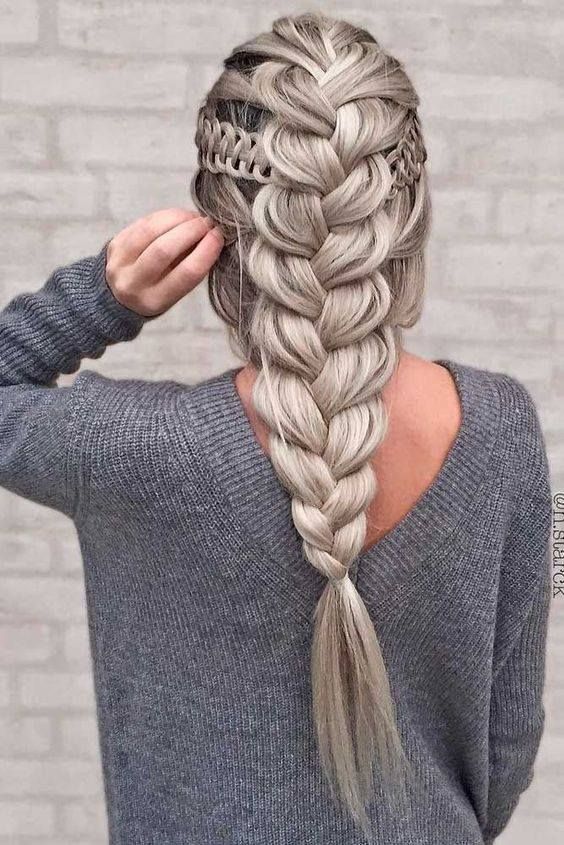 Advert
source
Nowadays we often see celebrities dying their hair grey, which is not surprising at all since grey is a unique and interesting colour. If you like a more extravagant, edgy look then this might be a good idea for you. It will definitely make you stand out of the crowd. The braid shown on the picture above is a bit more complicated, you can go for a simple braid that also suits grey hair really well. This is a great example of combining braided hairstyles with a special colour.
4. A Messy Ballerina Bun with a Twist – Cute and Fun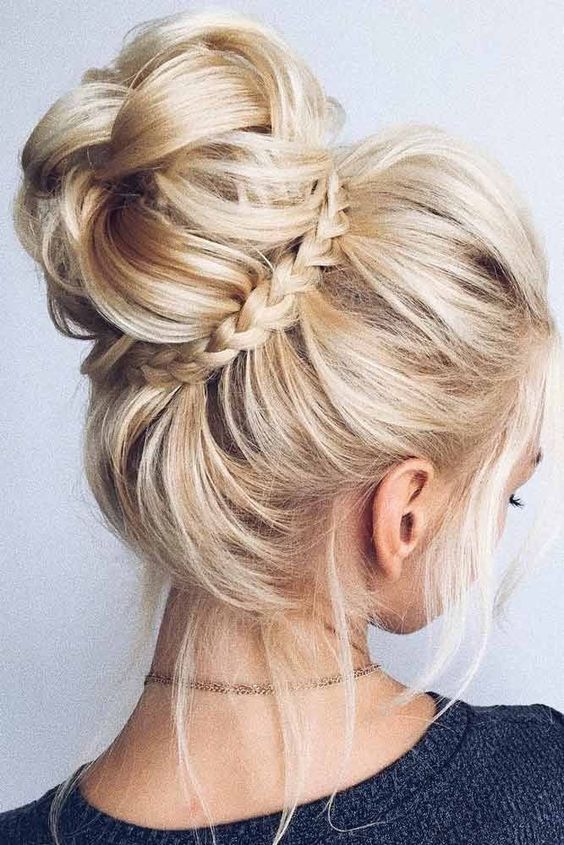 source
A messy ballerina bun is a fantastic choice for any sort of occasion, a lazy weekday or a night out in the city. It's becoming more and more fashionable, and the great news is that it's easy to do. You can put a trendy twist on it by adding a braid. This is one of several spring trends that incorporate braided hairstyles for long hair. 
5. Adorable Bow – Not a Braid, but Still Super Cute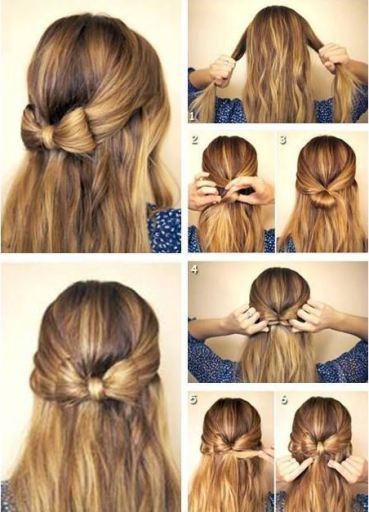 source
If you've decided not to cut your hair or dye it, but still want to try out something new and cute, then this bow hairstyle is going to be perfect for you. Throw your hair back and take out two strands from the front of your hair. Tie these two strands together with a smaller hair tie, but don't pull out your hair fully, instead make a bun with the tip of your hair loosely coming out. With your finger pull apart the bun, and with hair clips tie them down. Pull the loose strand of hair through the middle of the bow, and with another hair clip attach it to the rest of your hair. This hairstyle is full of youthful, spring energy!
6. Braided Wavy Hairstyles – Easy Braids for Long Hair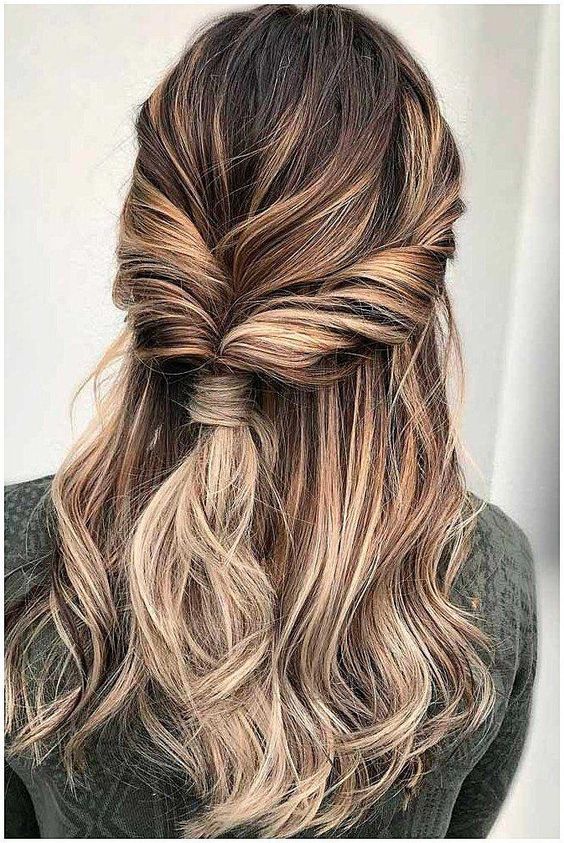 source
It's a true saying that, whoever has curly hair wants straight hair, and who has straight hair wants it to be curly. Sometimes with a few waves, you can obtain a completely new look. You can easily put a few waves in your hair with a hair curler or straightener. Then you can create some easy braids in your hair. Messy, wavy hair can become great bases for braided hairstyles for long hair.
7. Braided with a Stylish Headband – Braids for Women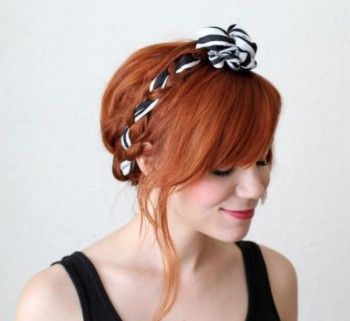 Advert
source
You'd think that wearing headbands or headkerchiefs bring too much of a rock and roll vibe. But, if you tie your hair up in a messy bun and accessorize it further with a headband or headkerchief, it immediately lends you a chic look. It's great during spring and summer when you're trying to avoid your hair from sticking to everything. You can even try braiding the headband with your hair to obtain the perfect hairstyle.
8. Bun with a Headscarf – A Simple but Cute Hair Trend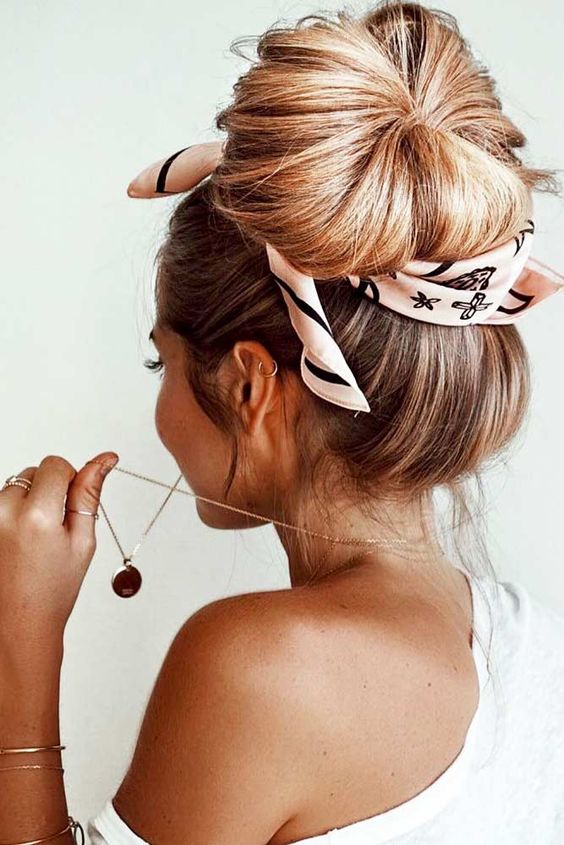 source
Messy ballerina buns are super popular these days. They look great when you don't have the time to wash your hair in the morning or when you're bored of tying it up in a ponytail this is a perfect choice. You can tie a headkerchief around it to make it look even better, and that keeps the loose strands from standing out. This hairstyle shows really well no matter where you are. At a concert or just casually roaming around town, you are sure to attract a few gazes.
9. Platinum Blonde with a Braid – Braided Hairstyles for Long Hair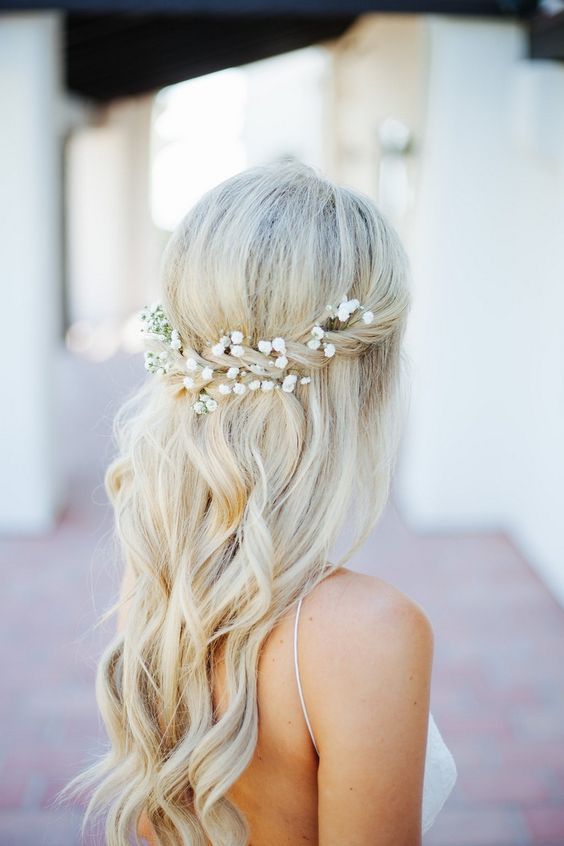 source
If you're searching for a bigger change, then platinum might just be the one for you. It's bold and striking. This hair colour looks especially great if you have a tan, but it also works for lighter skin tones. With a tan it makes you glow intensely, while with if you have lighter skin it will make you look angelic. A hairstyle that goes really well with platinum blonde is if you braid two parts of the front of your hair, and connect them in the back. You can place flowers in between the braids to give it a spring vibe. Out of hairstyles like these, you can quickly create easy braids for long hair.
10. Stylish and Stunning – Easy Braided Hairstyles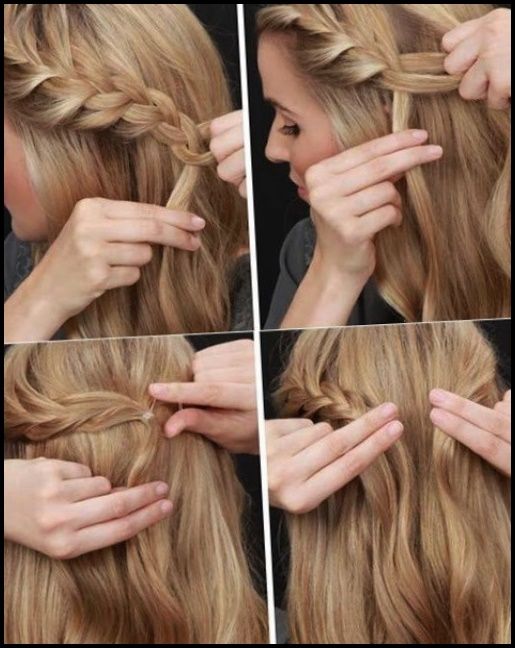 source
Braids have been around since the beginning of civilization, but since last year it's been even more popular than before in the world of hair. The hairstyle shown above works for ladies with short hair as well. It's just braiding two strands of hair from the front, connecting them in the back and forming a ponytail. Even a simple braid, like this one, can give you a spring glow. These are some examples of easy hairstyles for long hair.
11. Braids in a Vibrant Shade – Unique

Braided Hairstyles for Long Hair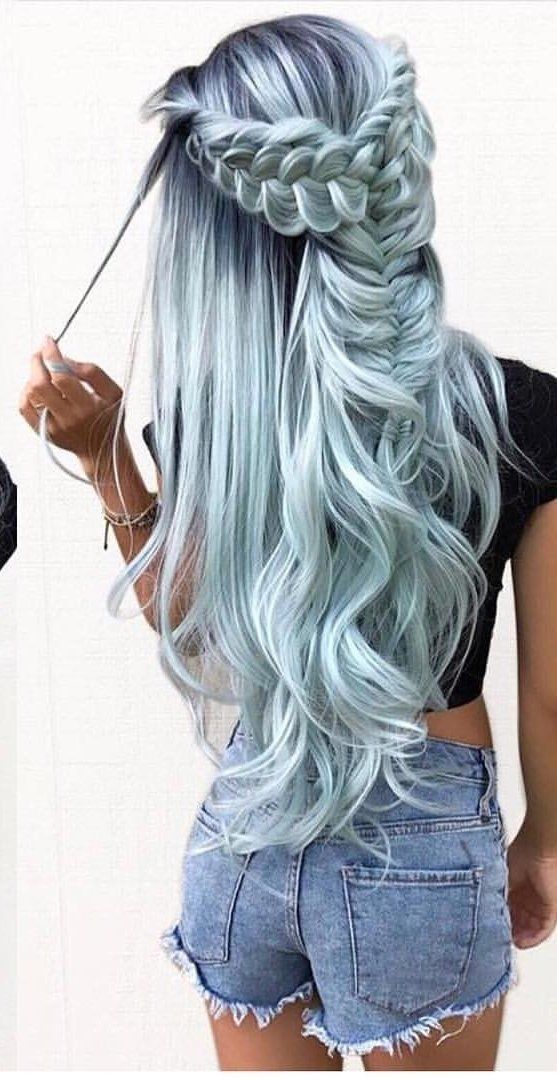 Advert
source
Not many people dare to try out something extreme, even though they might have a wild personality hiding under their brunette or blonde locks. If you're looking for something extraordinary that suits your personality, then this might just be a perfect choice. It's true that blue isn't the most natural colour, but it gives hair an exquisite look. Blue has over 60 shades, so you have a wide variety to choose from. If you are bold and eccentric, then try showing your inner qualities to the rest of the world. To take it to an even higher level just add a braid!
12. Wavy Locks with a Braid – Long Braided Hairstyles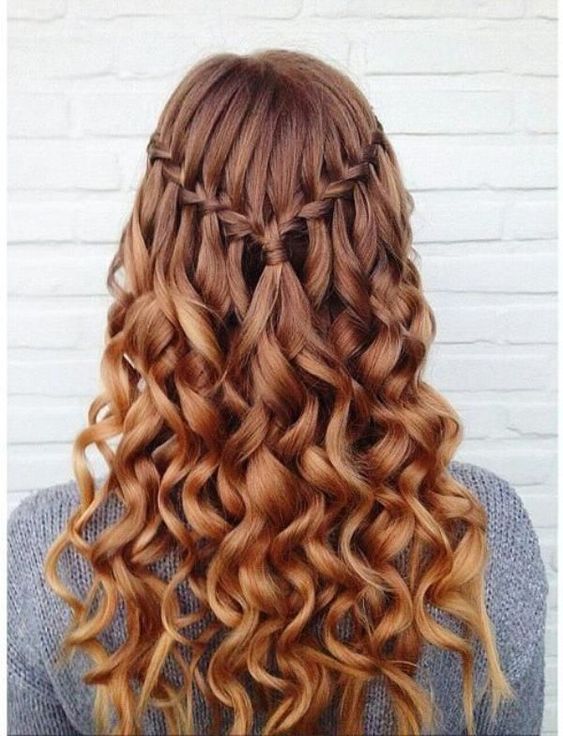 source
Are you trying to find some easy braided hairstyle ideas? Going for a classy hairstyle? Beautiful locks with any sort of braid are a great option if you want to make an elegant appearance somewhere. These are easy braids for long hair.
13. Trendy Fishtail – Different and Inventive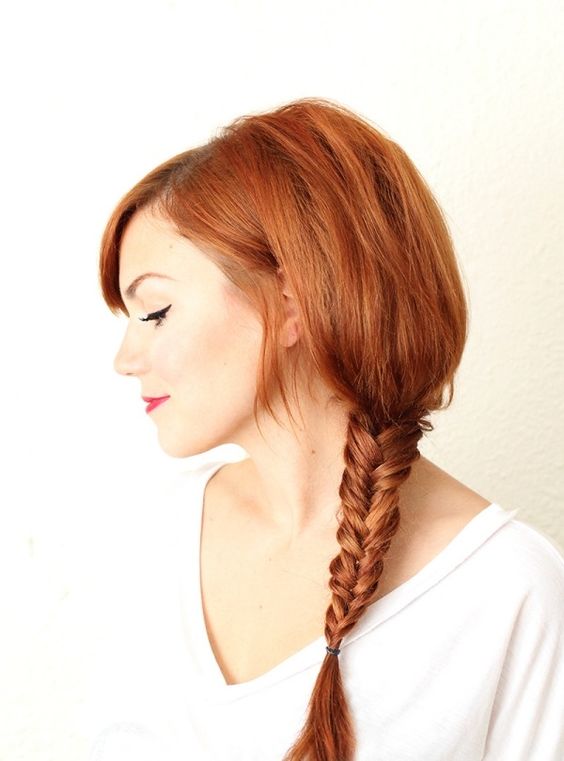 source
A really stylish and stunning hairstyle is a messy fishtail braid thrown to the side. It's great for spring and looks good with practically anything. So try out these easy braided hairstyles ideas sometime soon!
14. Buns Made out of Shorter Hair – A Bubbly Look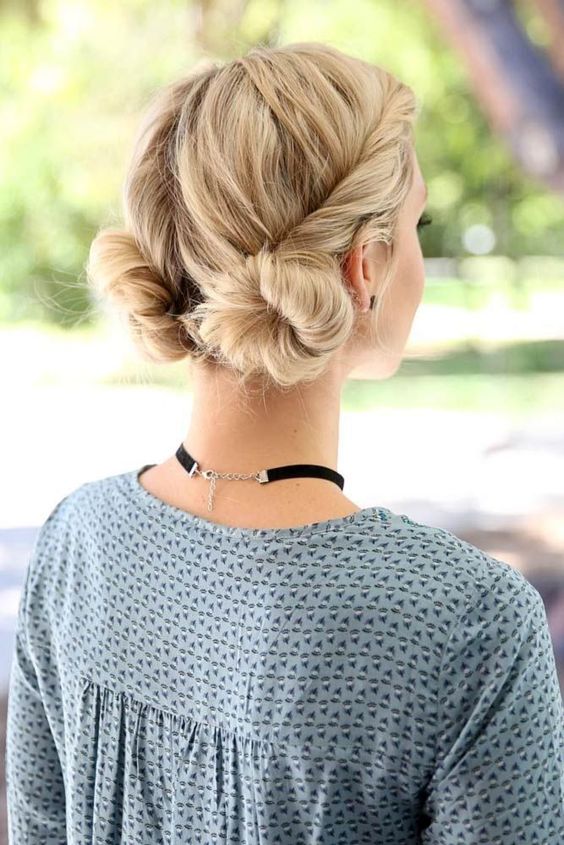 source
It's not only waist-long hair from which you can make gorgeous hairstyles. Smaller buns are easy to make, even with shoulder-length hair. Apart from looking fantastic, it gives your appearance a bubbly and youthful vibe. If you're going for a spring hike or just running errands in the city this is a perfect hairstyle, because it's so comfortable to wear. This would also be a gorgeous and cute summer hairstyle!
15. A Crown Braid – An Elegant Choice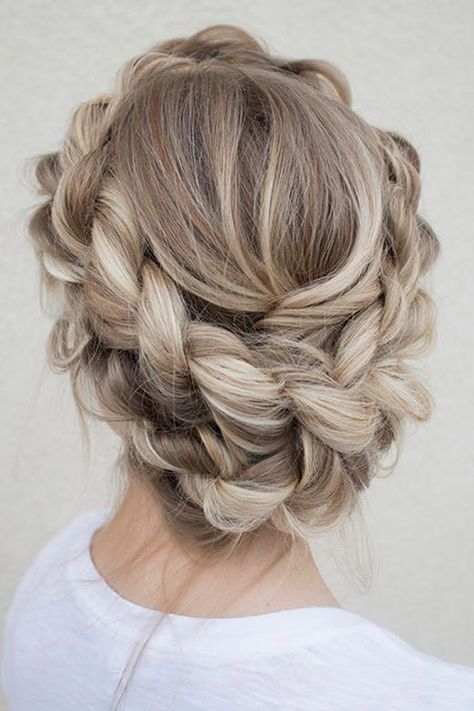 Advert
source
If you're dressing up for a special occasion, let's say a wedding or an event then this is a perfect choice. It's ladylike and attractive, not to mention you can show off your shoulders. Of course, you may prefer a simple bun, but a crown braid takes things to a whole new level. 
16. Bohemian or Hippie Style – For a Bit of Groove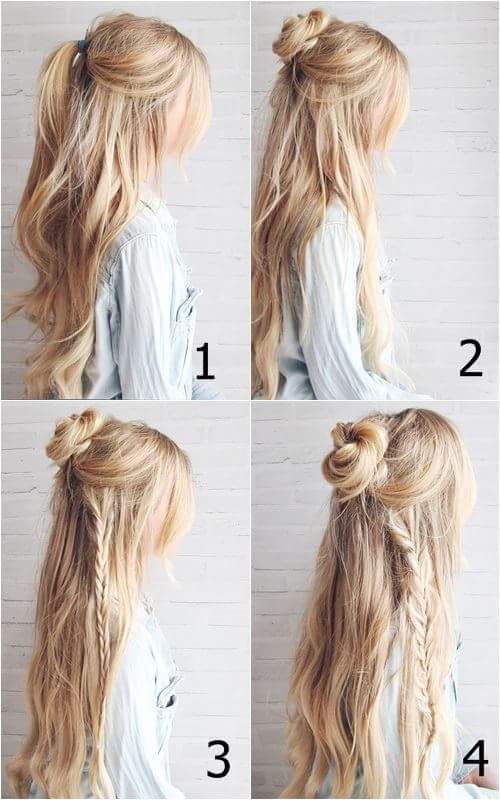 source
A bohemian or hippie hairstyle is perfect for any simple day, but also great for a festival or concert. Part the top of your hair from the bottom and form a simple ponytail. With a simple move, you can make a bun out of the ponytail by slowly twisting it around. Make sure to put a few bobby pins or hair clips in it, so it doesn't fall apart. Naturally, if you prefer the ponytail, keep your hair up that way. You can also try out braiding a few strands from the rest of your hair.
17. A Bigger Braid – Braided Hairstyles for Long Hair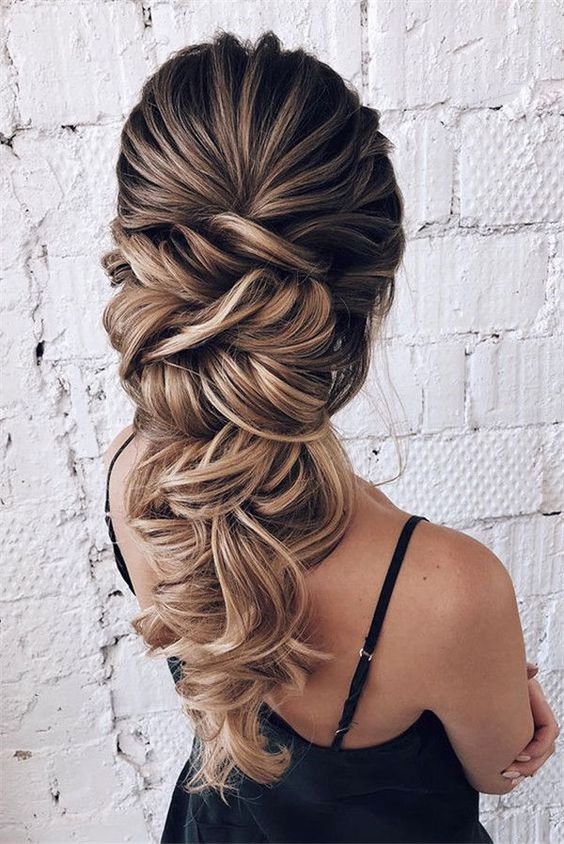 source
A great way to get your hair ready for spring is by curling it first and then braiding it loosely. To keep it together and in shape, you might have to coat it with a bit of hair spray. This hair trend presents you with a stunning and natural look as if just coming home from the beach. It shows especially great with ombre hair.
18. Messy Updo with a Braid – Easy Braids for Long Hair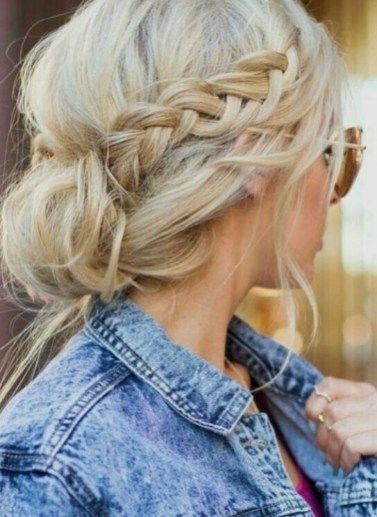 source
In search of easy braids for long hair? Another great casual look is this. Braiding two strands of hair from the front and connecting them in the back gives you a classic image already. But to take it up a notch you can jam the rest of your hair through the connected braid and twisting it around to form a messy bun. This messy updo is great not only because it's flawless, but also because your hair won't get stuck in everything constantly.
19. Transform Your Bob – Into Something New and Fun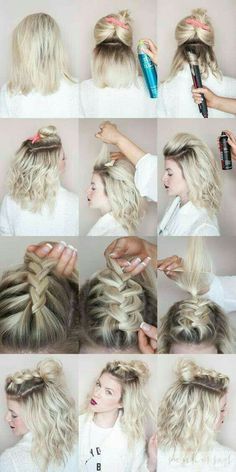 Advert
source
A great hairstyle for women with shorter or medium hair. Do the upper part of your hair in a french or dutch braid. With the remaining tips of the hair, you can create a small bun on the top of your head. For the bottom part of your hair try curling it. This will give you natural-looking waves. This is another great look for spring, it's bubbly and fun. Not to mention, it's a perfect hairstyle for medium hair for teenagers!
20. Pretty in Pink – Beautiful and Colourful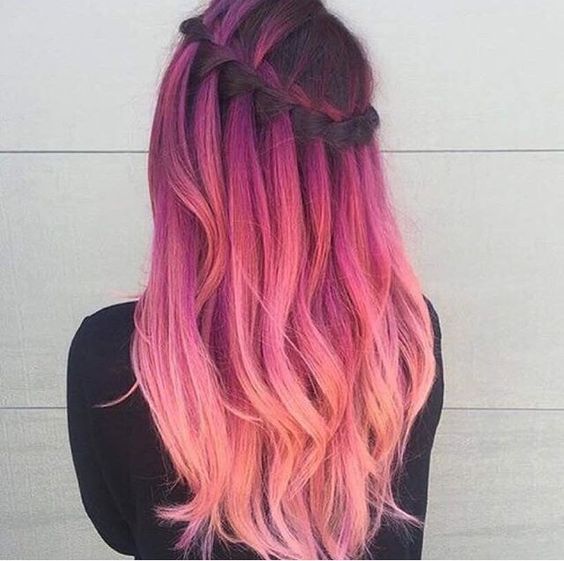 source
Another dramatic and bold look for spring or summer. If you're a fan of pink and you're up to trying out something new, then dying it pink is a brilliant idea. To make it pop out, even more, you can mix it up with a few different colours that complement it well, for example, a deep red, purple or even a tinge of orange. If that's done you're free to wear it as you please, putting it up in a loose ponytail or braiding it will make it stand out even more. 
Naturally, these are just a few great ideas to help you get into the spring mood. If you want to get more creative you can try mixing up a few of these options to make something brand new. Your main focus is to feel good and happy because spring is finally here! We hope we were able to you help pick out easy braided hairstyles for long hair for this year. If you want to check out a few more hairstyles ideas, such as curly hairstyles for long hair, visit our website.
Advert