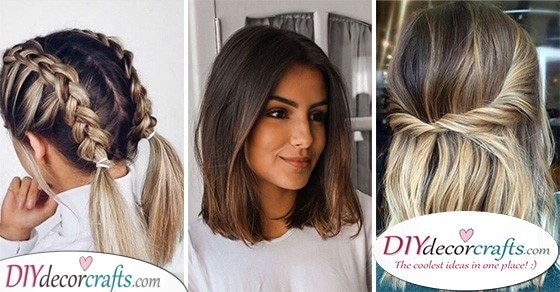 Perhaps you want to find a new hairstyle that will spruce up your whole look. After all, trying out a new hairstyle will help in giving you a different sort of vibe. Or you can channel your personality through a unique hairdo. Keeping this all in mind, why not check out our collection of 25 hairstyles for medium hair for teens? We have gathered all sorts of fantastic updos, from hairstyle ideas that are more elegant to ones that are more fun. So make sure to look through all these shoulder length hairstyles for teens in order to find some inspiration concerning hairstyles!
1. Two Beautiful Braids – Perfect for Summer
When summer arrives, it's always an awesome idea to style your hair. This way it won't get in the way and your hair won't get all sweaty during long summer days. Medium length hairstyles for teenage girls which doesn't take too much time, but will definitely look effortless, is no other than braids. Create french or dutch braids, one on both sides of your head. Braids are a great way of giving yourself a cute and edgy look. You can add some accessories to your hair, such as a headband. Or you can add two cute bows to where you tie the braids.
2. A Top Bun – Hairstyles for Medium Hair for Teens
There are a number of ideas on how to style your hair. One of these might be to create a small half updo, tying half of your hair in a bun on the top of your head. It's half up and half down. To decorate it further just put a hairpin in it, just for that extra touch of an accessory. This one of many cute medium haircuts for teenage girls, is great for any sort of day, whether it's going to work or spending a night out in town.
3. Beautiful and Effortless – A Casual Look
When styling your medium-length hair, you don't have to go over the top with it. Sometimes a simple hairstyle will look just as great, if not better, than something too fancy. This hairstyle is all about grabbing the strands of your hair, which are at the front. Twist them a little and then pin them to the back of your head, allowing the strands to meet in the middle. What a simple and effortless way of styling your hair! So if you don't have much time in the mornings, this will act as a perfect hairstyle to create!
4. A Braided Ponytail – Shoulder Length Hairstyles for Teens
Incorporating braids into your hair will definitely give it a feeling of spunk and fun. So, if that's what you are going for then check out the hairstyle above! It's all about creating two braids, coming down from the tops of your head and eventually merging into a ponytail. The combination of brilliant braids with a ponytail is a great hairstyle idea for a teenage girl. Not to mention, this hairstyles will look perfect for any sort of event and would also make a cute summer hairstyle. Whether it's a fancier or a casual occasion, it will look fabulous!
5. Cute and Quirky – Trying Something New
Perhaps it's going to be the first day of school for your teenage girl. If so, she might be worried about making a good first impression on everyone else. Besides wearing stylish clothes, make sure that her hair is also done in a way that she can express herself! A fantastic look would be to start braiding the top of her hair into two separate braids. Instead of braiding them all the way down though, transform them into small buns which will rest on the top of her head. Leave the rest of her hair out and flowing!
6. The Perfect Longer Bob – Hairstyles for Medium Hair for Teens
You might be familiar with the hairstyle or haircut that is known as the bob. There's a medium-length version of it as well, which looks just as great as the shorter one. Have you ever found yourself admiring the classic bob hairstyle? But at the same time, you haven't found the courage yet to cut your hair short for it? If you have long or medium length hair, you can always try out a medium length bob. It lends its wearer a look of elegance and sophistication.
7. A Unique Ponytail – Fabulous and Fun
When you have medium-length hair, there are so many hairstyles you can choose from. After all, there are a lot of unique and interesting ways to style medium-length hair. Just one idea would be to create a different sort of ponytail. This might include combining the ponytail with a braid. You will first have to tie up your hair in a high ponytail, before starting to braid it. Incorporating braids into your ponytail is a simple way of perking up the whole hairstyle!
8. Adding Adorable Bangs – Shoulder Length Hairstyles for Teens
Give your whole face a new look, by simply cutting the front strands of your hair in order to cover your forehead. Of course, this is no other than bangs. Bangs are a fantastic way of showing off a different side to yourself. You might consider a side fringe, but front bangs will also look amazing! If you do decide on getting bangs, then any hairstyle you create out of your hair will look fantastic. For example, you can tie your hair up in a ponytail or a bun, or create some braids. Bangs go really well with any sort of medium length haircuts for teenage girls!
9. Lovely and Sweet – The Half-Up Half-Down Ponytail
Now, here is a hairstyle that will look perfect for any sort of occasion or for any season of the year. Naturally, we're talking about a half-up half-down ponytail. All this means is that you have to separate the top of your hair from the bottom. Then tie together the top half of your hair in order to create a ponytail. Allow the rest of your hair to flow freely. This will look perfect for anyone who has a medium-length haircut.
10. Stunning and Splendid – An Elegant Appearance
You might have been invited to a wedding or an elegant event. While there will probably be a dress code that you will have to stick to, also make sure that your hair is on point. Taking this into consideration, try out some sort of updo, which embodies elegance and youthfulness. This might be two braids running into one ponytail. You can leave a few of your front hair strands hanging loose at the front, to create a whimsical effect. You might even consider curling these few strands for a lovely appearance.
11. Layering Your Hair – Hairstyles for Medium Hair for Teens
You might have thin hair, which you aren't sure about how you can style to make it look somewhat thicker. Whether you have medium, short or long hair, an easy way of making fine hair look thicker than it actually is, is to add layers to it. Layering will help add volume and texture to your hair, which is what you will probably be looking for. Naturally, feel free to add highlights to your hair. Highlights will also make your hair look like there's more of it and that it is thicker!
12. Another Braided Ponytail – Stylish and Chic
We have already talked quite a bit about ponytails, which incorporate braids into themselves. For example, start braiding the top of your hair. You can even try out a unique sort of braiding technique for this, such as a fishtail braid. Instead of braiding your hair all the way down, simply stop and tie all of your hair into a high ponytail. This will look perfect for a day at school or for a lazy weekend!
13. Natural Waves – Shoulder Length Hairstyles for Teens
You will probably be familiar with the saying that less is sometimes more. Keeping this in mind, remember that you don't always have to style your hair in a unique way. Sometimes leave it out and flowing will look just as fabulous! If you have medium-length hair, why not let it out, maybe adding a few natural-looking waves to it. While we don't recommend keeping your hair tangled, you might leave it just a bit messy. This will create an amazing and edgy look for a medium length haircut for teenage girls.
14. Adding a Head Scarf – Awesome Accessories
Are you in search of ways and ideas on how to spruce your hair up? While you may decide on creating a braid or braided ponytail out of your hair, there's something you might add to it! This is no other than a headscarf. Headscarves have become super trendy over the past few years. It's an easy and bohemian way of adding an accessory to your hair. These will look perfect during the summertime!
15. Find the Best Braid – Medium Hairstyles for Teens
If you are looking for a braided hairstyle, there are so many options to choose from. You can try out a braid, which only incorporates the top of your hair or one which uses all of your hair. We don't even need to mention that there are several types of braiding techniques. So, taking this all into consideration, try finding a braid that suits your style and personality the most!
16. A Fashionable Colour – Mushroom Brown Hair
You may have heard of the hair colour, which has become incredibly popular over the years, otherwise known as mushroom brown. While its name might not be appealing to everyone, it's a lovely colour that combines ash, purple and brown, in order to bring a cooler shade to brown. Mushroom brown hair is a great alternative to using warmer shades of brown, such as chestnut or chocolate brown.
17. Bubbly Waves – Shoulder Length Hairstyles for Teens
If you have shorter hair, it doesn't mean you can't turn it into a fun and bubbly hairstyle. Even if you have shoulder-length hair, add a few waves to your hair for a fresh and cute look. This will be a perfect look for any day.
18. A Messy Top Bun – Simple and Swell
When you don't have enough time in the mornings, an easy choice for styling your hair might be a top bun. All you have to do is tie your hair into a bun on the top of your head. You can leave it messy if you don't have the time and it will look just as great!
19. A Gorgeous Twist – Hairstyles for Medium Hair for Teens
Maybe you don't have much time, but still want a gorgeous hairstyle, then check this out! Simple take some strands of hair from the front, twirl them and tie them together with a hair tie.
20. Natural Highlights – Fabulous and Striking
An easy solution for taking your hair to the next level is by adding some highlights to it. Instead of going for highlights which look completely different from your natural hair colour, use ones that are only one or two shades lighter. This will help in creating a much more natural effect.
21. Wonderful Waves – Shoulder Length Hairstyles for Teens
An easy hairstyle to try out is to add some waves or curls to your hair. This is an easy thing to do and will look fabulous on anyone. You might decide on parting your hair on one of the sides of your hair for an edgier look.
22. An Upside Down Braid – Turned into a Ponytail
Find some fantastic medium length hairstyles for teenage girls! Instead of starting to braid your hair from the top, braid it from the bottom. Thanks to this, you will be able to create a ponytail on the top of your head. This is a fantastic way of reinventing a classic hairstyle as well as trying out an easy braided hairstyle for long hair or medium length hair.
23. A Beautiful Hair Claw – An Easy Solution
Just woke up and have no time to style your hair, but would still love an elegant hairstyle? A simple solution is to clip back the front of your hair with a hair claw! Depending on what your style and taste are, you will be able to find a hair clip or claw which suits that perfectly.
24. A Sunlight Brunette – A Beautiful Colour
Perhaps you are bored with your simple brown hair, which doesn't seem to have a glow or stunning look to it. If this is the case, how about adding some blonde highlights to it, giving your hair a sun-kissed appearance? This is a fabulous look for summer.
25. A Quick Braid – Hairstyles for Medium Hair for Teens
Here is another braiding technique to try out for teenage medium length haircuts. It involves braiding only the top half of your hair, letting the rest underneath flowing freely. A braid such as this will look perfect for any sorts of event or occasion! 
We hope you found inspiration amongst this collection of hairstyles for medium hair for teens! You might still be in search of some fantastic hairstyles to try out, besides medium hairstyles for teens, such as easy updos for long hair or Crimped Wavy Hair. If so, visit our website!
Advert