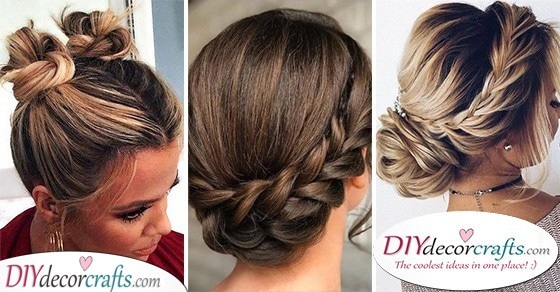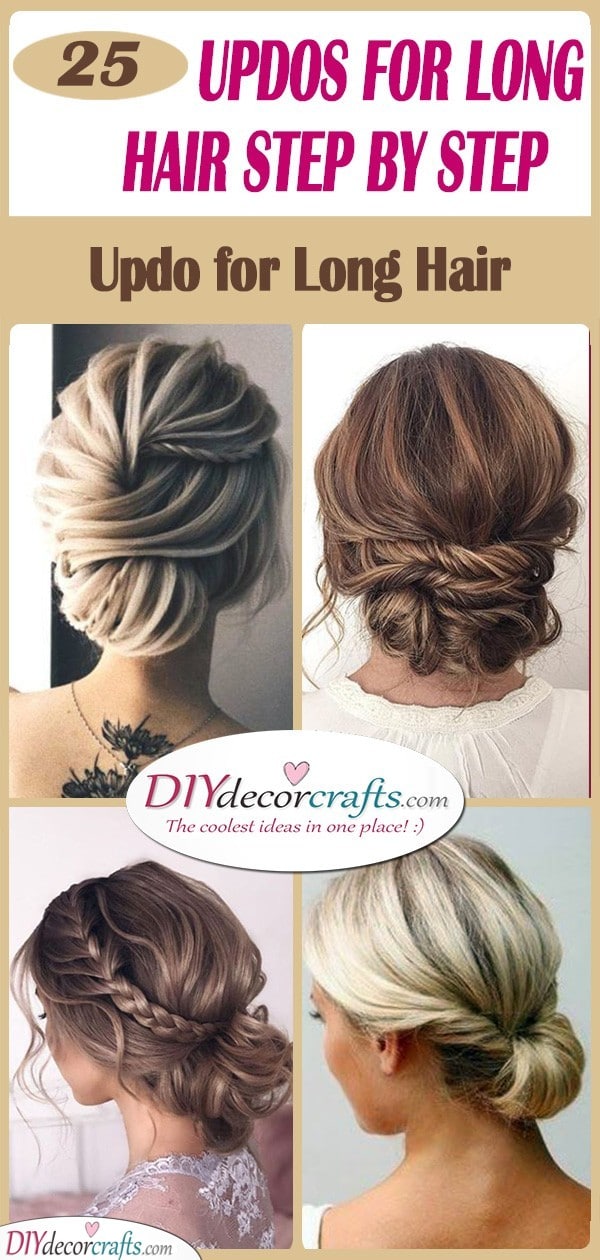 Maybe you have something important coming up soon! Perhaps it's you and your friends have decided to go out partying or you have been invited to a wedding. Whatever event you have planned, one thing is sure, you will want to look your absolute best! Amongst many other details, your hairstyle will certainly act as a crucial factor in your whole appearance. If you hang long hair, you may be looking for easy updos for long hair step by step. After all, it can be a bit tricky to create something fabulous out of your hair. If you look through our collection of hairstyles, we hope you will find the perfect updo for long hair! 
1. Lovely and Elegant – A Lacebraided Updo for Long Hair
If you are going to be heading off to an elegant event, you will want to make sure that your hair is on point! How about you combine the idea of an updo with a braid? Maybe you have heard of a lace braid before, it's definitely a stunning way of braiding hair to turn it into something completely new and chic. You will have to create two braids, one on each side of your head. Then you will have to pin both of the braids to the back of your head. And you'll be ready to go with this lovely braided hairstyle!
2. Two Top Buns – Cute and Quirky
When you have long hair, you will have days when you absolutely hate your hair. Some strands of hair never want to stay in their places or your hair just looks like a mess. At times like this, you have to find a solution to how you can fix your hair! A fantastic idea is to create two top buns on your head. These are actually put together out of ponytails which are twisted around and pinned down. With a bun on both sides, you will definitely channel a cute and quirky sense of style.
3. A Twisty Bun – Easy Updos for Long Hair Step by Step
There are so many amazing updos you can create for a special event! Just check out this easy and effortless twisty bun. You will have to create two ponytails first, then braid both of them. After you're done, it's time to tangle and twist the braids with each other. When you are happy with how the shape of how the two braids have been twisted, you can feel free to pin them down with bobby pins.
4. Take Your Breath Away – Romantic and Whimsical
Have you been invited to a wedding and you're looking for wedding hairstyles for long hair, then check out this beautiful idea. It's a giant braided bun, which will look immaculate when done right. You have to braid down from the top of your hair, but instead of turning it into an actual braid, tuck in the bottom of it, adding it to the rest of your hair. This will transform it into an elegant updo! You will probably need a lot of hair spray for this to stay in place!
5. A Messy Bun – Stylish and Effortless
Are you having a bad hair day? An easy way to fix this problem is by creating a bun out of your long hair. Instead of going for two buns, each on one side of your head, just try out one larger bun on the very top of your head. A bun which looks amazing is a messy one! They look completely effortless even though they are a bit messy. You don't even have to worry about making your hair so proper and prim, a top bun will look chic and effortless!
6. Creating a Crown Braid – A Gorgeous Updo for Long Hair
While you may have already found the perfect updo for the event you'll be going to, maybe you are thinking about sprucing it up a bit. How can you accomplish that? You can do this by creating a braid, which twirls around your head, transforming the long braid into a crown. Then allow the braid to flow into the updo for a very elegant appearance. If you'd like to decorate your hair, you can always add some decorative accessories, such as a beautiful pin or some flowers.
7. Unique and Creative – Easy Updos for Long Hair Step by Step
Maybe you'd like to try out a new hairstyle which is definitely unique! For example, why not try out a braid which uses an array of small rubber hair ties. With the help of these hair ties, you will be able to create a unique braid that you don't see every day. It's all about looping one ponytail through the next one, which will help form the braid. Just check out the step by step example above to see how it is made.
8. Refined and Amazing – Give This a Try
Maybe you are searching for a sophisticated hairstyle for a classy event, such as a wedding or a prom. If so, you might have just found something fabulous which you can try making yourself at home! Firstly, you will have to twist parts of your hair backwards, as if starting to braid. But instead, you will have to turn this into a bun, on which you can wrap the rest of your hair around. Fixate the rest of your hair to the base of the bun with the assistance of bobby pins and hairspray!
9. For Autumn Days – Simple Updos for Long Hair
Sometimes styling your hair depends on what the weather is like or what season it is. For example, if it's summer you might be looking for something fun, to keep your hair out of the way. If it is autumn, you might go for something more elegant and flowy. A fantastic idea would be to try out a pull-through ponytail. Pull-through ponytails are great for when you need something elegant but you still want to keep it somewhat casual. This would make a perfect hairstyle for warm autumn days!
10. Hot Mess Hair – Fun and Funky
Perhaps you will be heading to a party and would love to try out a funky and fun hairstyle! After all, you can channel your energetic and bubbly personality with a new and groovy hairstyle. You don't need to worry about it being very neat and clean, a messy hairdo will look amazing as well! Just take a look at the step by step tutorial above to recreate this funky and messy bun.
11. A Splendid French Twist – An Updo for Long Hair
Now here is a beautiful hairstyle which will definitely turn heads wherever you go! This is no other than a french twist! Even if you have medium or short hair, you will still be able to create this hairstyle. It's all about fixating your twist at the back of your head. You will probably need an abundance of bobby pins to fixate it as well as a load of hairspray. This is the perfect hairstyle for a day at work when you want to look sophisticated. But it will also look perfect for a fancy dinner party or a wedding, for example, like a hairstyle for the mother of the bride.
12. A Simple Chignon – A Flawless Look
You might have seen this hairstyle before, which is also known as a chignon. It's everything a hairstyle needs to be, elegant and whimsical, perfect for practically any sort of event. But one of the best things about a chignon is that it's actually super easy to put together. It incorporates the pull-through ponytail, but instead of leaving the hair out and flowing, it turns into a bun. You can do this by wrapping and then tucking the ponytail inside the part where it was pulled through before.
13. All About the Accessories – A Jewelled Hairpin
While you may have already found the perfect updo for an event you shall be visiting, you might have forgotten about accessories! Accessories are an easy way of perking up your hairdo and taking it to the next level. You can get all sorts of hair accessories. Some are floral and delicate, while others are put together from jewels and beads and look just as fabulous.
14. A Fashionable Ponytail – Perfect for Work
Check out this unique updo, which is actually a ponytail, but styled differently. Firstly, the top half of your hair needs to be separated from the bottom. Tie the top half in a ponytail, then further down, you can attach the rest of your hair to the ponytail. This is a great hairdo for work because you'll be done with it in no time at all, not to mention, it looks stunning!
15. Pretty and Simple – Easy Updos for Long Hair Step by Step
Are you still trying to find a lovely updo for an elegant event? Then check out this step by step tutorial for a bun which is put together out of two smaller buns. You have to pull one bun through the other one. Naturally, you will have to fixate your hair and arrange any loose strands of hair. Feel free to add an accessory to this beautiful updo!
16. Exuding Elegance – An Updo for Long Hair
Here is another gorgeous updo which just radiates a sense of elegance. Thanks to the step by step tutorial above, you might be able to try it out yourself at home. It's the combination of a braid and a ponytail that is wrapped into a bun. Of course, you can feel free to add an accessory to your hair for an even more stunning appearance!
17. Adding a Braid – Pretty and Prim
No matter what sort of updo you have chosen, you might consider adding a braid to it. This might just mean creating a braid on both sides of your head and letting them run into the updo. Adding some sort of braid to your hairstyle will definitely take your look to the next level.
18. Super Simple – Easy Updos for Long Hair Step by Step
Transform a simple ponytail into a stylish updo. If you follow the step by step tutorial above, you'll see that it really is as simple as it looks! So, if you are searching for a simple hairdo which will look perfect for work or a date, give this hairdo a try!
19. A Brilliant Braid – Braided Updos for Long Hair
We can't put enough emphasis on how beautiful braided hairstyles look. Why not create a halo braid? This means that the braids should create a sort of halo, running all around the crown of your head.
20. Messy and Beautiful – Trying a Messy Bun
One thing we have already talked about are messy buns. But there are so many unique and interesting ways to create one! Take a look at the step by step tutorial above to see how many ways there are to create something so simple yet stylish!
21. Twist and Twirl – A Dreamy Hairstyle
We have talked about so many gorgeous updos, which are all beautiful in their own way. Here's another one to try out! It incorporates strands of hair into a bun, by twisting and twirling them. Your new hairstyle will look perfect and dreamy!
22. Braided All-Around – A Great Updo for Long Hair
As we mentioned before, creating a crown of braids for your hair will look fabulous. You channel a vintage and romantic look, which is something you might be trying to achieve.
23. Brilliant with Braids – Easy Updos for Long Hair Step by Step
Here is another gorgeous way to style your hair into an updo! Firstly, you will have to create a long braid out of your hair. After tying it together at the end, you will have to tuck your hair in underneath it. This will create a super stylish updo.
24. Upside Down – Another Braided Bun
While we have talked a lot about braiding your hair into a bun, here is a twist on this idea! Instead of started to braid your hair from the top, braid it from the bottom. Thanks to this, you will be able to create a bun on the top of your head. This will make an awesome and cute summer hairstyle!
25. Classy and Radiant – Updo Styles for Long Hair
If you don't have much time, but still want a pretty hairstyle, then check this one out! Simple separate strands of hair, twirl them and pin them to your head to create this updo. It will look like a messy bun yet completely effortless!
We trust that you found a few ideas concerning any sort of updo for long hair. For other hairstyles, such as the best hairstyles for men or curly hairstyles for long hair, just visit our website!