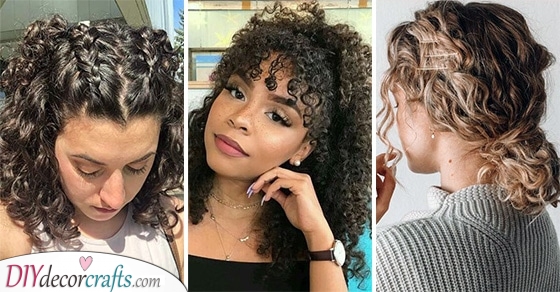 Hair can be the maker or the breaker of your whole look. Depending on what your hair looks like, it will give others an impression of you. It's a unique way of expressing yourself, depending on what type of hairstyle or haircut you choose. Do you by any chance have curly hair? If so, you might want a mid-length haircut for it, to really make your hair look fabulous and fun! Taking this into consideration, why not look through our 20 curly hairstyles for medium hair ideas? Amongst these options, we hope that you'll be able to find some shoulder length curly hair options! So, get ready to get inspired with a bit of help from our collection!
1. Add Two Top Buns – Shoulder Length Curly Hair
When it comes to hairstyles for medium length curly hair, you'll find that there is actually a lot to choose from! If you find that you'd prefer a youthful and fun hairstyle, how about you try out two top buns? Part your hair in the middle, and use only the top of your hair to create two smaller top buns. Let the rest of your hair out freely, giving you a groovy and fun-loving appearance! A hairstyle like this is perfect for a night out with friends or for a music festival!
2. A Braided Headband – Unique and Brilliant
Maybe you are in search of a completely unique way of doing your hair. So, if you want a hairstyle that is guaranteed to catch the attention of many eyes, here is one that you can try out. It consists of the hair in the front being turned into a braid. But as an alternative to just letting the braid or braids hang down both sides of your head, create a headband from them. Then simply let the rest of your hair out freely, or consider tying it up in a ponytail or bun.
3. Short and Shaggy – Curly Hairstyles for Medium Hair
You may have already heard of the shag haircut! It's a haircut that was popular a few decades ago but has recently come back into fashion. The shag is guaranteed to look amazing with both straight and curly hair! This means that if you're in search of a haircut that will give you an edgy look, then you should definitely try out the shag! The shag revolves around the hair being layered in a special way to create a "shaggy" effect. You can add a fringe or some curtain bangs to this look!
4. A Side Braid – Stylish and Stunning
Are you in search of hairstyles for shoulder length curly hair that will look amazing if you're going out? For example, you may be heading to a fancy dinner event or a party with friends and you want to look your best! This means that you should opt for a beautiful hairstyle! One idea would be to get a side fringe, running along one of the sides of your head. Leave the rest of your hair, on the other side of your head, free and out. The combination of the braid and messy curls will look fantastic!
5. A Faux Hawk – Shoulder Length Curly Hair
If you love a bold statement, then this hairstyle may just be meant for you! Especially if you have always admired hawk hairstyles! This one is a faux hawk, which doesn't require you to shave off the hair on the sides of your head. To flatten them down though, how about you create braids out of it? Leave the hair on the very top of your head unbraided and let it stand out. Collect all of your hair at the back and tie it into a ponytail or a bun, finishing off your faux hawk!
6. Braided at the Back – Natural and Gorgeous
Maybe you'd love to try out an elegant yet very natural hairstyle. Then allow us to inspire you with a classic and beautiful hairstyle that will look amazing on curly or wavy hair! This hairstyle is also super easy to create. All you'll have to do is take the two front strands of hair and braid both. Tie these together at the very back of your head and you're already done! Let all the rest of your hair fall down on your shoulders in gorgeous waves.
7. Half Up and Half Down – Curly Hairstyles for Medium Hair
Try out hairstyles for medium length curly hair that will look effortlessly gorgeous on you. If you're in a rush and you just want something easy to create from your hair, then this idea might just be a fabulous option! Tie half of your hair up in a high ponytail, while letting all the rest of your hair fall freely around your head. This half up and half down hairstyle is perfect for practically anything! Whether it's a day at work or a date, you'll look absolutely amazing with your hair done like this!
8. Add an Accessory – Find the Right Ones for You
No matter whether your hair is straight or curly, short or long, one way to take it to the next level is to add an accessory to it! Depending on your style or what you are wearing that day, there are a lot of accessories to choose from! You may add a scrunchie to your hair, a headscarf or a terrific headband. Take into consideration what kind of accessories would really match the clothes you have on that specific day. So, you'll have a variety of options to choose from!
9.  Big and Beautiful Curls – Shoulder Length Curly Hair
You will have noticed by now that there is an abundance of medium length curly hairstyles that you can try out! If you have always loved big and bouncy curls, then you'll love this idea. Part your hair on one of the sides of your head. Then sweep most of your hair onto one of the sides. You can add a side fringe to this look to really bring out the best of it. It's simple and super beautiful!
10. A French Braid – Only Half of Your Hair
If you love adding braids of any form and style to your hair, then you'll adore this idea! First of all, you will have to separate the hair on the top of your head from the bottom. Braid the top of the hair on your head in a simplistic French braid. Braid all the way down, but don't incorporate the strands of hair on the bottom of your head. Keep the French braid running in a long line downwards. This is a fantastic way of allowing you to show off your curls but also keeping the front of your hair out of your face.
11. Clip It Down – Curly Hairstyles for Medium Hair
Here is a hairstyle idea for anyone who wants something easy and simple! It's a great look for ladies out there who have curly hair that is mid-length. You'll be able to put this hairstyle together in just a few minutes! You'll have to use hairpins or hair clips to flatten down the hair on one of the sides of your head. Leave the hair on the other side of your head curling freely out. This is another bold and youthful look, that will look fabulous for any event!
12. A Low Bun – Cute and Simplistic
You don't necessarily have to opt for hairstyles for shoulder length curly hair that are complex or very bold. If you have been in search of a simplistic hairdo, then you may have just found the right one for yourself! It's all about gathering all of your hair and creating a low bun from it. You can add some hair clips to the sides, if any loose strands are poking out. It's an easy solution for a day at work or school, giving you a smart appearance!
13. A Curly Bob – Shoulder Length Curly Hair
Bobs are a super trendy haircut. You usually see people with straight hair flaunting this bold haircut. But trust us when we say, it will look just as fabulous on ladies who have curly hair! Thanks to your big and beautiful curls, you'll give your bob a groovy and funky appearance. And because your bob will be shoulder-length, you'll be able to style it in fun and unique ways. For example, creating top buns or a ponytail from your hair!
14. A Lovely Ribbon – Sweet and Flattering
We have already talked a bit about using accessories in your hair. Accessories will be able to give your whole look a boost, especially if you can match the accessory with the rest of your outfit. A cute and simple option to add to your hairstyle is none other than a ribbon! If you have already tied your hair in a braid or a ponytail, then adding a ribbon to it will present you with a lovely look! Depending on what colour clothes you're wearing get yourself a ribbon for your hair that will complement the outfit!
15. Attached to the Back – Curly Hairstyles for Medium Hair
Get ready to try out a hairstyle that is the epitome of refinement and elegance! It would look amazing and flattering at a wedding or some other sort of elegant event! This hairstyle is perfect for ladies who have hair of any length and texture, making it a versatile hairdo! Take the two strands of hair from the front. Instead of braiding them, simply twist them and tie them together at the back. Naturally, you can add an accessory to this simple hairstyle, such as sophisticated hair clips or combs.
16. Windswept Beach Vibes – A Summer Look
Are you in search of medium curly hairstyles that will look awesome during summer? If you want to channel major beach vibes, then this easy hairstyle will look gorgeous on you! It revolves around messy curls, that you just let fall in place, without making much fuss about your hair. Part your hair in the middle, allowing it to fall to both sides in a natural manner. Depending on whether your hair is thin or fine, you may consider adding a few layers to it for a boost in its definition.
17. Two Braids Backwards – Shoulder Length Curly Hair
Do you love braids in any form? Then get ready to create a simple hairstyle that involves creating two braids from the front of your head backwards. But as an alternative to incorporating the bottom half of your hair in the two braids, leave the bottom of your hair running freely into curls. Thanks to this, you'll be able to show off your beautiful curly hair, as well as adding a twist to your hair with the braids! So why not give such medium curly hairstyles a go?
18. Stunning Highlights – For a Sunny Glow
Perhaps you are feeling a bit bored with your hair colour. Spruce it up a little! You don't have to opt for completely new hair colour, instead, why not try out highlights? You can even add a balayage or an ombre, depending on what looks good on your hair's texture and length. Adding highlights that are a few shades lighter than your hair will give you a sunkissed glow!
19. Braids and Waves – Curly Hairstyles for Medium Hair
Even if you don't have a full set of curls, you may have some soft waves. How about you pair your flowing waves with double braids on the top of your head? This is the type of hairstyle that will look fantastic with any length of hair! So either chin-length or shoulder-length will look amazing!
20. Fun and Flirty – Curls for Days
Make sure that you show your crown of curls off! So choose one of many medium length curly hairstyles that will really make you shine! You can opt for a shaggy or layered shoulder-length haircut. Feel free to add some bangs or a fringe to this hairstyle as well! It's easy and natural!
Hopefully, you found some inspiration concerning curly hairstyles for medium hair. For other ideas, besides shoulder length curly hair, visit our website! We have ideas on medium length curly hair and medium hairstyles for women!
Advert