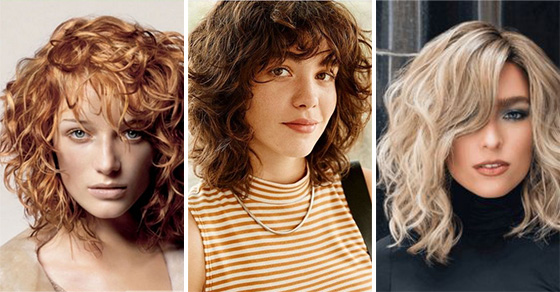 Hair is one of the most important factors of our appearance. That's why it sucks when you have a bad hair day! You can style your hair for any sort of event, in order to make yourself look more elegant, youthful or attractive! Or just in a way to show off your style and personality! Maybe you are trying to find a perfect hairstyle or haircut for yourself! For any ladies out there with curly or wavy hair, make certain to look through our pick of 20 medium length haircuts for curly hair! With these medium length curly hair ideas, you'll be guaranteed to find something in no time at all! 
1. Adding Loads of Layers – Medium Length Curly Hair
If you have thin or fine hair, but the texture of your hair is curly, you might be thinking about how you can make it appear thicker. Well, just one option would be to add layers to your hair. Layering is a technique that will help in making your hair look thicker and will enhance its volume! Curly, layered hair will look fabulous at any length! So whether you want a long, medium or short cut, your layers will bring definition to your hair, giving it that boost it needed!
2. Short and Shaggy – With Front Bangs
There are a lot of medium haircuts for curly hair you can choose from. What sort of vibe do you want to give off though? Perhaps you'd like to exude a sense of fun, edginess and youthfulness with your new haircut! We would recommend you try out a shorter shag! This is a retro haircut that has come back into fashion over the past years. It's all about layering the hair, giving it a messy and "shaggy" appearance. The shag is a low maintenance haircut that is great for any girl who wants to wake up with fantastic hair!
3. Fresh and Fun – Medium Length Haircuts for Curly Hair
Perk up your whole appearance with a new haircut! If you want an easy look, then this option is one that you can try out! If you have gorgeous and bouncy curls, then why don't you just cut them at shoulder length? You don't have to do anything extra with your curls. But a length like this will allow you to continue styling your hair, while also ensuring that it will look amazing when your hair is let out. Feel free to add a side fringe or some curly bangs!
4. Classic and Chic – A Gorgeous Look
Even if you don't have lovely locks of curls, you can always opt for wavy hair! Are you heading off to an elegant event, such as a wedding or a date? If so, then maybe this one of many medium cuts for wavy hair will be something you'd like to try out! It consists of parting your hair on one of the sides of your head. Then get your hair curled into big waves or loose curls. It's a classic look that will give you a glamorous appearance. Make sure to add some hairspray or mousse to your hair, to guarantee that the waves won't come out.
5. Highlight the Tips – Medium Length Curly Hair
While you might have found the perfect medium haircut for your beautiful curls, you may still want to spruce it up somehow. One easy awesome option would be to add some new sort of colour to your hair! You don't have to dye all of your hair. Instead, consider getting some highlights adding to your hair. For example, you can get only the tips of your hair highlighted. This will definitely boost the whole look of your curly hair, giving you a groovy and stunning vibe!
6. Combining Two Colours – Lovely and Pretty
Maybe you have chosen what type of medium haircut you want to get for your waves or curls. If so, you'll be trying to discover a new and exciting way to uplift your whole hairdo. So, besides getting a cute haircut, why not try out a new way of dying your hair? Combine two shades for a beautiful final result! One gorgeous option is to combine brown with black. The pairing of these two colours will give your hair a tonne of volume and definition!
7. Simplistic and Easy – Medium Length Haircuts for Curly Hair
Getting a new haircut isn't always about going for a very fancy or daring look. Perhaps you just want to show off your mid-length curly hair as it is! Because of this, one of the easiest choices would be to get a straight haircut, that is at around the length of your shoulders. Naturally, you can still dye your hair to enhance the texture of the curls. For example, a light ombre or balayage would be a fabulous way of doing this. Whatever you choose, we're sure it will look absolutely amazing!
8. Short and Funky – A Crown of Curls
As an alternative to going for a longer medium haircut, you may decide to opt for a shorter one! For example, one that is chin-length. This would be a great choice as well! After all, curly hair really does look amazing at any length. Whether it's a pixie cut or super long curls, your hair is bound to look fabulous! One of the best factors of shorter hair is that your crown of curls will be very low-maintenance. But you'll still be able to create a few unique and fun hairstyles with shorter hair!
9. Gorgeous and Full Curls – Medium Length Curly Hair
Now, here is a brilliant and timeless hairstyle for ladies out there who have medium-length curls. Part your hair on one of the sides of your head. Sweep your hair to both sides according to where the parting is. Then add some large and loose curls to your hair. If your hair isn't naturally curly, then you'll have to use a curling iron to achieve this. Use a coating of hairspray or mousse to keep the curls in place. You can add an accessory or just leave it like this!
10. A Cute Bob – With Highlighted Accents
One type of haircut we have to mention is none other than the bob! While you will mainly see bobs being cut from straight hair, you can always try cutting your curly hair into one! The bob is usually a chic haircut that exudes sleekness and sophistication. If you have curly hair, your bob will transform your look into more youthful and fun. In order to take your bob to the next level, add some accents to it, which consist of streaks of highlighted strands.
11. Beach Vibe Waves – Medium Length Haircuts for Curly Hair
Would you like it if your mid-length curly hair gave off beach vibes? Then you'll love this haircut idea! Get your curls or waves cut in a messier version of a bob. Add some front bangs to the look. Then it's time to add a sunkissed glow to your hair! How can you accomplish this easily? You'll need to add some golden or warm tones to your hair. Whether you dye your hair blonde or bleach highlights in it, this will give your hair a sunny glow. As if you've just come inside after a day at the beach during summer!
12. Swept to the Side – Laidback and Easygoing
Get ready to get inspired with a super simple hairstyle! If you were in search of medium length curly haircuts, then try this one out, especially if you want something low maintenance. This simplistic haircut is straight around the head, with the front curls a bit shorter than the rest of the hair. Part your hair on one of the sides and sweep most of your hair onto that side. A side fringe will complement this haircut perfectly! So, how about you consider getting one cut?
13. Cool and Groovy – Medium Length Curly Hair
As we have mentioned before bobs are a popular type of haircut. Most people who have bobs actually have straight hair. However, believe us when we say, it will look just as awesome on any ladies out there who have curly hair! Thanks to wonderful waves or beautiful curls, your bob will be granted a groovy and funky look. And because your bob is medium length, you'll be able to style it, as it won't be too short. Just a few ideas would be to create buns or braids!
14. Special and Stunning – For a Fancy Occasion
Whether you are going to a fancy dinner event or partying out with friends, make sure that your hair looks fabulous! If you have a straight, medium haircut, then maybe you'd love to add some curls to your hair! Instead of going for a plentitude of smaller curls, why not opt for a few large curls? Larger curls will really accentuate the sense of elegance in your appearance! If you have a fringe or bangs, don't curl it with your curling iron. Just leave it straight and combed neatly. 
15. Edgy and Bold – Medium Length Haircuts for Curly Hair
A bold and edgy appearance may be exactly what you are looking for! Channel this vibe with a new haircut! Get a slightly messy and layered haircut that is around chin-length. Part your hair on one of the sides and let your hair fall on both sides. You don't necessarily have to brush your hair every day, this haircut looks best if it looks windswept and a bit messy! Of course, you can get a side fringe cut to complete these medium haircuts for curly hair.
16. Fabulous and Flattering – A Beautiful Afro
Do you by any chance have thick and incredibly curly hair? Then you may be considering growing it into a medium-length afro. Afros are a celebration of natural and bountiful curls, meaning that you should show them off! The great thing about a mid-length afro is that you'll be able to tie it up whenever it gets in the way, or you'll even be able to get it styled in unique manners, such as cornrow braids! But leaving it out in its natural state is the best choice you can go for!
17. A Shorter Style – Medium Length Curly Hair
Here's a haircut for the women out there who would prefer a shorter style! This style will give you a retro vibe. So if that's what you've been looking for, this hairstyle will be a perfect option for you! Give your curls a beautiful and bold boost by adding enough hairspray to them to make your strands stand upwards a bit. This kind of haircut and hairstyle is perfect for ladies who are middle-aged or are over fifty! But naturally, it would look just as great on younger women!
18. A Side Fringe – Amazing and Chic
If you want to show off your daring and bold personality, then consider trying out this one of many medium length curly haircuts! This haircut includes a long side fringe, to which you can also add curls or waves. Leave the rest of your hair at around the same length as your fringe, then sweep most of your hair to one side of your head. This will provide you with a bit of edge and a trendy vibe.
19. Loose Waves – Medium Length Haircuts for Curly Hair
Feel amazing every day with a flattering haircut! Allow your hair to grow shoulder-length and fall in loose waves around your head. Medium cuts for wavy hair like this one don't require a lot of maintenance, besides a trim every now and then, in order to prevent split ends! 
20. A Brilliant Balayage – Longer in the Back
Finally, here is a haircut that incorporates a balayage! The haircut itself is shaped to be longer at the back and gradually shortens as it moves to the sides and front of your hair. The combination of this cut and the balayage will take your curly hair to the next level! 
Hopefully, you have found inspiration amongst these medium length haircuts for curly hair. For other ideas, besides medium length curly hair, such as Shoulder Length Curly Hair or medium hair ideas for women, visit our website!
Advert