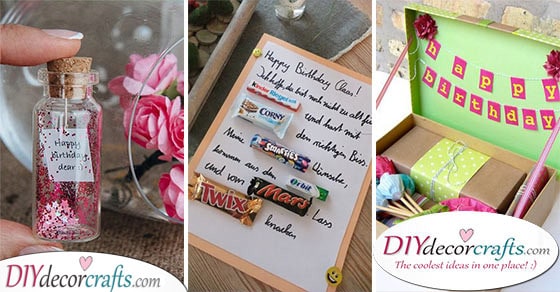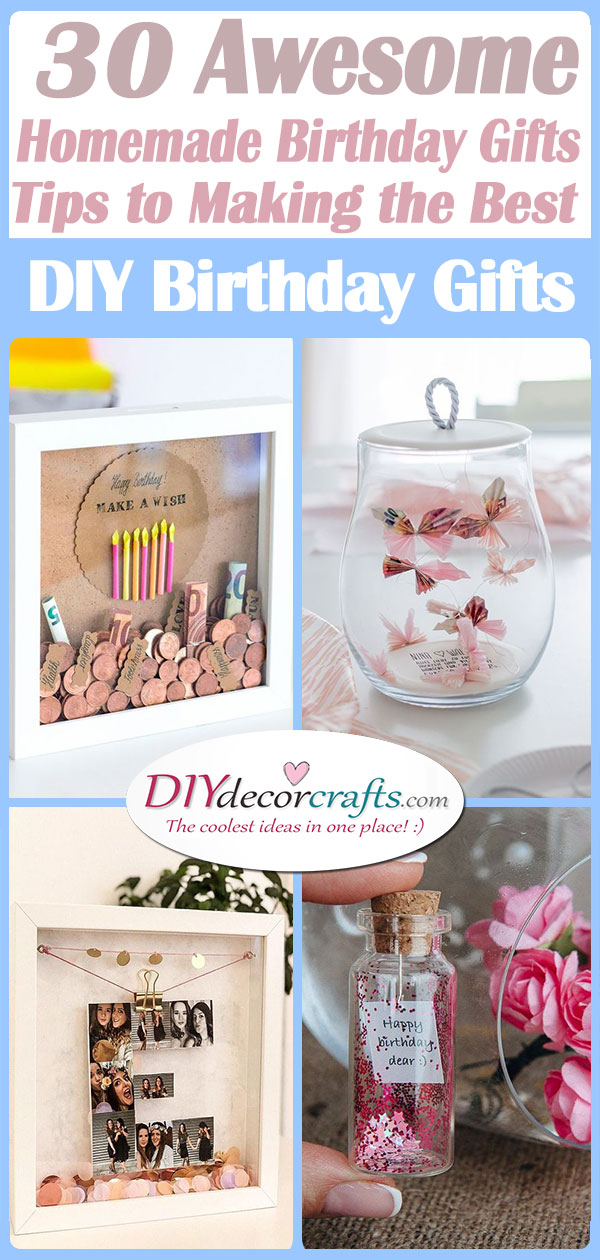 When it's one of your close friends or family members birthday, you'll want to give them something special. Why not make them a special present, instead of simply buying something from a store? DIY birthday gifts are the best way to celebrate someone's birthday and make them feel special, after all, they are much more personal and show that you actually put thought and time into making a gift. We have collected 30 awesome homemade birthday gifts to help you out in finding a great idea!
1. Muffin in a Jar – Mini Birthday Cake
If you love to bake then here's a perfect idea for you make! Instead of baking a huge birthday cake, make a small birthday muffin. Place the muffin in a jar which is is decorated with confetti and other birthday ornaments. Then put a few candles in the jar as well. This way when your special someone receives the cute birthday muffin, they will be able to light a few candles as well!
2. A Birthday Wish – Mini Glitter Jar
If you're looking for an unusual but special gift, why not send the birthday boy or girl a message in a bottle? It's a small gesture but is still super personal and adorable. Whoever is going to receive this small glittery message will be sure to have a smile drawn on their face.
3. An Assortment of Presents – In a Shoebox
If you're giving the celebrated person more than just one present and you're thinking about how to present this stylishly, here's a great idea for you! Recycle a shoebox, decorate it in beautiful wrapping pattern. You can string "happy birthday" across the inside of the box.
4. A String of Good Wishes – DIY Birthday Gifts
Say happy birthday to your friend with a string of good wishes! Attach the letters of "happy birthday" on a long string and put this in a small box. When your friend receives the box, they will be able to take out this string of happiness and hang it up in their room.
5. Fortune Cookies – With a Good Wish Inside
Everyone loves to eat Chinese cuisine, but the best part is when you open the fortune cookies to discover what's in store for you! Make your friend fortune cookies out of paper and hide small messages inside to make their day more beautiful!
6. A Chocolatey Message – Homemade Birthday Gifts
Find a creative way of writing a message to the birthday girl or boy. Incorporate a variety of chocolates, snacks and sweets into your message, like in the picture above. You can stick the chocolates on a black or whiteboard.
7. Butterflies Trapped in a Jar – Adorable Birthday Gifts
Present your friend with a jar of paper butterflies! Fold butterflies out of wrapping or decorative paper, and hang them from the lid of the jar. Place a birthday card or letter at the bottom of the jar, this way you can mix a personal detail with an array of beautiful decor.
8. Bath Bombs and Melts – Homemade Birthday Gifts
Everyone has stressful days when you feel under the weather. Sometimes all you need is a long and relaxing bath. Ensure that your friend gets a bit of self-care time as well! Make them a bath melt or bath bomb! There's a tonne of tutorials all over the net on how to make these awesome gifts, and you can customise them and give them a unique fragrance.
9. Paper Birthday Cake – Birthday Arts and Crafts
If you'd like to give your friend a special handmade gift, why not make them a small birthday cake out of paper? This way it will last forever because your friend won't be able to eat it!
10. A Beautiful Birthday Card – Handmade Card Ideas
Sometimes the best way to express your love towards a family member or friend is not with a grand gesture or a huge present, but with a few loving words. Create a beautiful birthday card filled with balloons. String "happy birthday" across the pages as well. Naturally, you can include a message and wish the birthday boy or girl all the best.