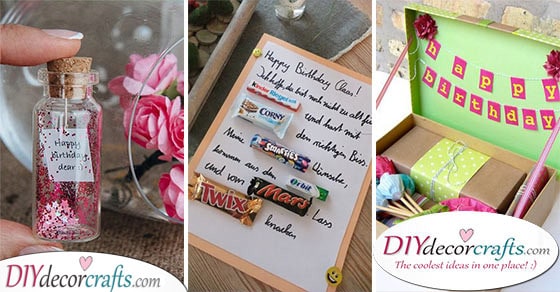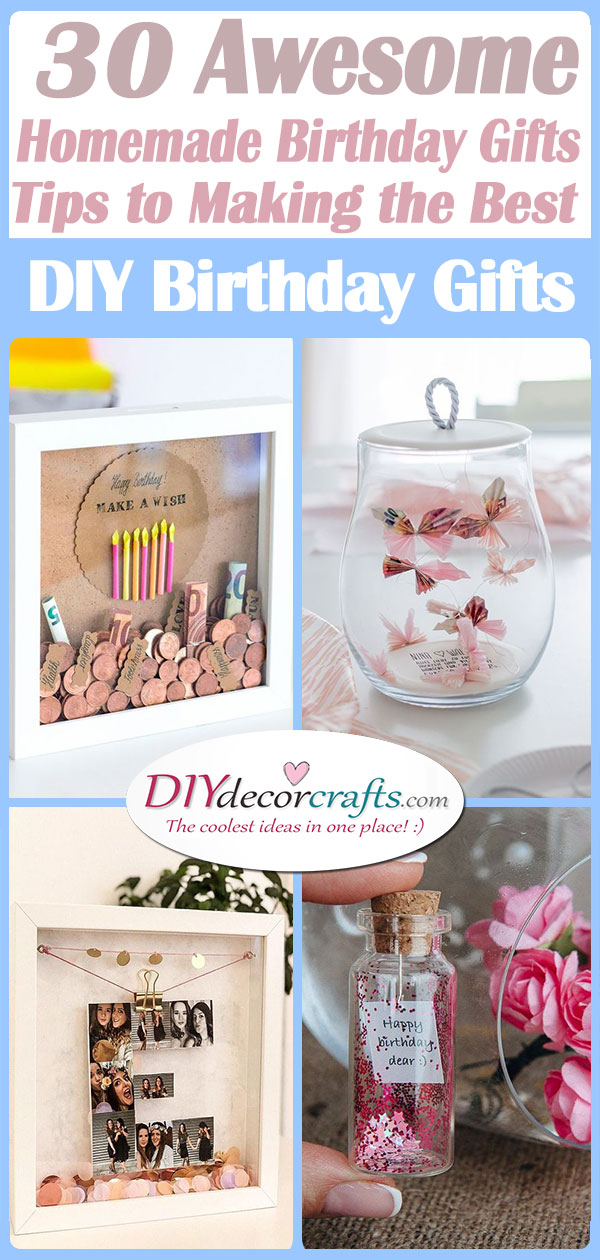 When it's one of your close friends or family members birthday, you'll want to give them something special. Why not make them a special present, instead of simply buying something from a store? DIY birthday gifts are the best way to celebrate someone's birthday and make them feel special, after all, they are much more personal and show that you actually put thought and time into making some creative birthday gifts. We have collected 30 awesome homemade birthday gifts to help you out in finding a great idea!
1. Muffin in a Jar – Mini Birthday Cake
If you love to bake then here's a perfect idea for you to make! Instead of baking a huge birthday cake, make a small birthday muffin. Place the muffin in a jar which is is decorated with confetti and other birthday ornaments. Then put a few candles in the jar as well. This way when your special someone receives the cute birthday muffin, they will be able to light a few candles as well!
2. A Birthday Wish – Mini Glitter Jar
If you're looking for unusual but special and creative birthday gifts, why not send the birthday boy or girl a message in a bottle? It's a small gesture but is still super personal and adorable. Whoever is going to receive this small glittery message will be sure to have a smile drawn on their face.
3. An Assortment of Presents – In a Shoebox
If you're giving the celebrated person more than just one present and you're thinking about how to present this stylishly, here's a great idea for you! Recycle a shoebox, decorate it in beautiful wrapping paper. You can string "happy birthday" across the inside of the box. For more creative ideas like these visit justcraftingaround.com.
4. A String of Good Wishes – DIY Birthday Gifts
Say happy birthday to your friend with a string of good wishes! Attach the letters of "happy birthday" on a long string and put this in a small box. When your friend receives the box, they will be able to take out this string of happiness and hang it up in their room.
5. Fortune Cookies – With a Good Wish Inside
Everyone loves to eat Chinese cuisine, but the best part is when you open the fortune cookies to discover what's in store for you! Make your friend fortune cookies out of paper and hide small messages inside to make their day more beautiful!
6. A Chocolatey Message – Homemade Birthday Gifts
Find a creative way of writing a message to the birthday girl or boy. Incorporate a variety of chocolates, snacks and sweets into your message, like in the picture above. You can stick the chocolates on a black or whiteboard. This will make a great birthday gift for a man or woman!
7. Butterflies Trapped in a Jar – Creative Birthday Gifts
Present your friend with a jar of paper butterflies! Fold butterflies out of wrapping or decorative paper, and hang them from the lid of the jar. Place a birthday card or letter at the bottom of the jar, this way you can mix a personal detail with an array of beautiful decor.
8. Bath Bombs and Melts – Homemade Birthday Gifts
Everyone has stressful days when you feel under the weather. Sometimes all you need is a long and relaxing bath. Ensure that your friend gets a bit of self-care time as well! Make them a bath melt or bath bomb! There's a tonne of tutorials all over the net on how to make these creative birthday gifts, and you can customise them and give them a unique fragrance.
9. Paper Birthday Cake – Birthday Arts and Crafts
If you'd like to give your friend a special handmade gift, why not make them a small birthday cake out of paper? This way it will last forever because your friend won't be able to eat it!
10. A Beautiful Birthday Card – Handmade Card Ideas
Sometimes the best way to express your love towards a family member or friend is not with a grand gesture or a huge present, but with a few loving words. Create a beautiful birthday card filled with balloons. String "happy birthday" across the pages as well. Naturally, you can include a message and wish the birthday boy or girl all the best.
11. A Jar of Birthday Gifts – A Fabulous Idea
Are you having trouble deciding on what to give to the birthday boy or girl? Why not get them everything you thought of and put it all in a jar! Chocolates, healthcare products and other small tidbits can all fit in a glass jar. You can attach a small note to the lid, wishing them a great birthday.
12. Lovely Birthday Gifts – DIY Birthday Gifts
If you have a lot of time on your hands and love to make small paper crafts, then this birthday present idea will be perfect for you to make! Create a miniature birthday cake, birthday decorations and a candle, and place this delicate arrangement in a box. While this is a small present, it shows that you really spent time making something creative and special!
13. A Scrapbook – Filled with Memories
Create a beautiful scrapbook for the birthday girl or boy! You can fill it with photos and polaroids of shared memories. Glue in quotes or messages which both of you can relate to. Sentimental presents for a best friend, such as a scrapbook, are the best sorts of presents to give! Whoever's a birthday you're making a scrapbook for, they will be sure to love it!
14. Gorgeous Candles – Light Up Their Day
Everyone loves home decor, as it's the only way you can give your house a bit of spirit. Make sure the birthday boy or girl gets their house perked up a bit with some beautiful homemade candle holders! Use old mason jars for this idea. Tie yarn around them before washing them down with white paint. After they have dried, you can remove the strings of yarn. Place and light candles in each one to reveal a beautiful and glowing design. Your friend or family member will be able to use this as a table centrepiece or just as a small piece of decor lighting up the stairs.
15. Bubble Bath Lotion – DIY Birthday Presents
Does the person, whose birthday it is, love a good, destressing bath? Make them a bubble bath solution at home! Besides creating an abundance of bubbles, you can also make sure that the solution has a calming aroma, which will make the bath even more relaxing! This is one of many fantastic creative birthday gifts!
16. A Heartwarming Album – Beautiful Memories in a Creative Way
Do you have an abundance of shared memories with the person whose birthday it is? Organize and arrange photos of the two of you in a creative way! Fold up a long piece of paper, on each fold place a picture of the two of you enjoying something fun together. Fold up this alternative to an album and place it in a small box. You can decorate the box with a heart and place some extra chocolates over the chocolates.
17. A Personalised Lamp – Great Birthday Gift Ideas
Here's a great gift idea that will make a fantastic addition to any living or bedroom! Have a lamp made for your friend, which has pictures of the two of you on one side, which light up whenever you turn it on! A personalised lamp such as this one is sure to brighten anyone's day!
18. 365 Days of Messages – Lovely Homemade Birthday Gifts
Here's a super personal gift for anyone who wants to brighten the celebrated person's days for a whole year! Design a small label for a jar, it should have a list of colours and their meanings. For example, yellow can be memories and pink can be quotes about friendship. Then get slips of paper in the same colours and write a small message on each one, according to what they mean. Make 365 of these, so the birthday boy or girl will be able to read a message every day of the year!
19. A Modern Wishing Well – An Alternative to a Piggy Bank
Does the birthday boy or girl have trouble putting away money and being frugal? That's okay because we have a wonderful gift idea, that you can present to them on their birthday! A modern version of a piggy bank, a framed box in which you can throw in either money or good wishes. Both will greatly be appreciated!
20. Cupcake in an Oven – Homemade Birthday Gifts
An adorable way of saying happy birthday to anyone is by making them a cake! Of course, sometimes you don't have the time and energy to bake an extravagant birthday cake, and you have to settle for something more on the simple side. A cupcake with some frosting is an excellent idea! Pop your cupcake in a small paper oven,  like the one on the picture above, which you can put together yourself. Then give your friend the birthday cake which has popped out fresh from the oven!
21. Birthday Coupons – In the Form of Balloons
For an inexpensive and handmade gift, try out this cool idea! Buy a pack of balloons, and write up a task on each one that the birthday boy or girl will have to do with you in the future! For example, on one balloon you can write "one night of karaoke and dancing" on another you can write "a treat yourself spa-day."
22. Hot Air Balloon Idea – DIY Birthday Gifts
You've found the perfect birthday present and you have wrapped it all up in a beautiful box! Now you'd just like to take it up a notch and make it look stunning! Have you thought about forming it to look like a hot air balloon? You can use an actual lithium filled balloon for this, all you need to do is attach the box to it with some ribbons or strings. This idea will make your presents look fantastic!
23. Felt Birthday Cake – Homemade Birthday Gifts
If you like working with felt, a special and soft fabric, which you can create a plentitude of things with, then this idea was made for you! Create a birthday cake out of it, by sewing and glueing the pieces together. This way the birthday boy or girl will have a birthday cake which lasts for a lifetime!
24. Cute Cards – For Bad Days
Everyone has bad days when nothing seems to go right. Well, how about you make sure your friend or family member can get through those tough days with a supportive message! Write them a few letters and place them in envelopes which are each addressed to a bad day. For example, they can only open one of the letters when they are stressed or another when they are angry. This is a very personal way of expressing how much you love them and that you'll be by their side! A present such as this will be perfect as a birthday gift for a girlfriend or boyfriend!
25. A Bit of Booze – In the Form of a Pineapple
Get inspired with these creative birthday gifts! If you're thinking about buying the birthday boy or girl a bottle of their favourite booze, make sure you make it presentable. Decorate it to make it look like a pineapple, by sticking chocolate coins around the body of the bottle. Then cut out green leaves of paper for the top.
26. Letter Out of Photos – Fabulous Ideas for Birthday Gifts
Create the letter of the birthday boy or girl's name with some photos of the two of you! It's easiest if you cut out the shape of the letter beforehand and glue the photos of you on that. You can place the letter in a frame, so your friend will be able to put it up on one of her walls at home.
27. A String of Photos – Ribbon of Memories
Here's another great photo themed birthday gift idea! Cut out pictures of you and your friend, and write messages on the back of them. You can write down a short message about the memory of the photo itself, what was happening at that moment. This ribbon of photos can even be a timeline of your friendship or relationship.
28. A Perfect Mug of Cocoa – For a Sweet Tooth
If the birthday girl or boy adores hot chocolate, but can never get the amounts of ingredients right to make a perfect mug of cocoa, ensure that they have everything measured out to achieve this! If you have a special recipe for hot chocolate at home, combine all the ingredients in a flask or jar. All your friend will have to do is add some hot milk to it and it's done!
29. A Box of Photos – DIY Birthday Gifts
Create a unique photo album for the birthday boy or girl! While this box looks like an ordinary box, it's actually a pull-apart album. The photos are glue inside on each side of the box. Use a lot of photos to achieve to best possible effect. Use stickers to decorate it further and write messages on the sides.
30. A Box of Roses – Beautiful DIY Birthday Gifts
Wish your friend or family member a happy birthday with a box of roses! Place some flower foam in the bottom of the box and make sure to stick the flowers stems inside of it. This will ensure that the roses don't wilt as quickly. Naturally, the flowers can be any type you'd like. If your friend prefers lilies or tulips, make sure to get them that!
We hope this collection of 30 DIY birthday gifts has helped you to find the perfect gift for someone special's birthday! After all, homemade birthday gifts are the best sorts you can give to anyone! For more gift ideas, like birthday gifts for moms, check out our website!
Advert