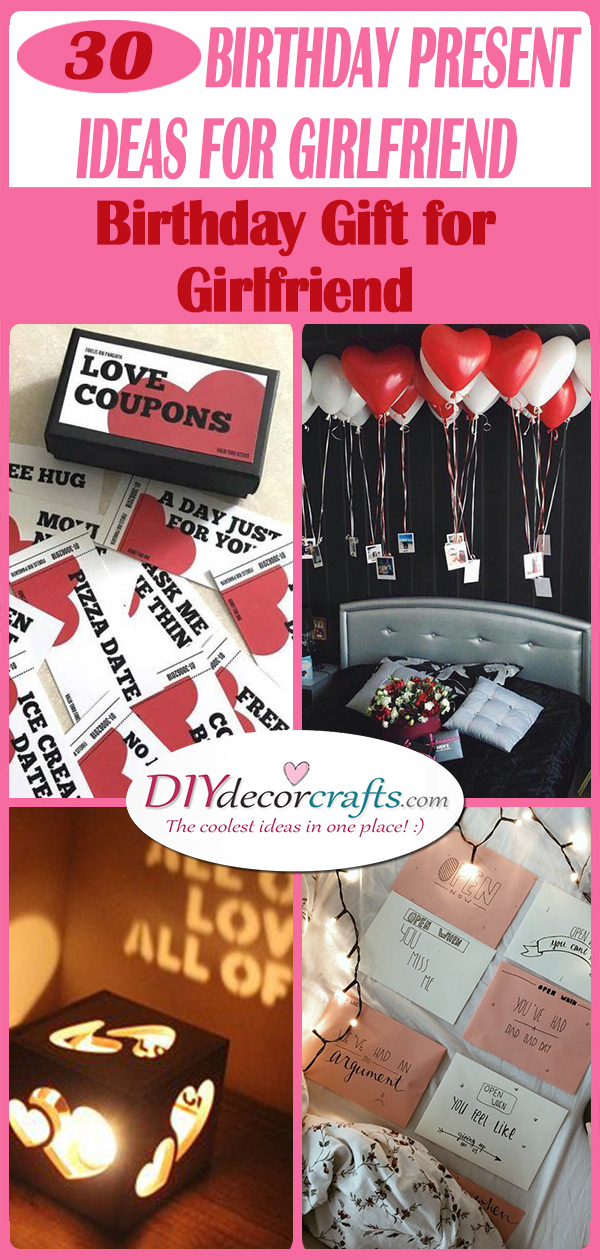 Birthdays are fun celebrations that everyone looks forward to! If it is going to be your girlfriend's birthday soon, make sure you throw a fantastic party for her. Not to mention find her the perfect birthday gift! We recommend making her a handmade present to buying her something from a shop. Handmade gifts show that you put actual energy, time and thought into creating something special for that specific person. Naturally, any girlfriend will adore a DIY present. We have collected 30 birthday present ideas for girlfriends, to help you out in finding something amazing! So take a look through our pick and find a lovely birthday gift for girlfriend!
1. A Birthday Box – Adorable Birthday Gift for Girlfriend
It might be a bit hard to pick just one thing as a birthday gift for your girlfriend, so why not gather all of your ideas and place them in a box for her! This can include her favourite chocolates, strings of polaroids, a bottle of perfume and a letter. It's really up to you on what you'd like to give to her.  The whole point is to make it special and personal for her. This birthday box will function as a treasure chest for her!
2. Love Coupons – Unique and Creative
Create a set of coupons for your girlfriend's birthday which she can use at any time she wants! For example, you can write "pizza date" or "free hug" on the small coupons. This is a creative and unique way of celebrating her birthday.
3. Basking in Balloons –
Birthday Present Ideas for Girlfriend
Surprise your girlfriend on her birthday with an array of helium-filled balloons floating above her bed! Attach polaroid photos of the two of you to the balloons. Naturally, place some gifts underneath the balloons, as well as a bouquet of flowers. Your girlfriend will have her breath taken away by this!
4. A Trail of Gifts – Birthday Gift for Girlfriend
There are a number of ways in which you can surprise your girlfriend! For example, with a trail of gifts, starting from the front door leading her into the house. This is an amazing way to surprise her on her birthday! Try putting together as many gifts as the age she turned!
5. With Lots of Love – A Beautiful Memory
Create something personal for your girlfriend's birthday. Find your favourite picture of the two of you and place it in a frame. Then write a message around the photo, tell her why you love her, why you are grateful for her being with you!
6. A Box of Photos and Memories – Birthday Gift for Girlfriend
Here is another birthday box idea filled with personal moments and memories! Place your favourite photos of you and your girlfriend in the box, as well as strips of paper. Each strip of paper should have a shared memory written on it, something which you deeply treasure. Your girlfriend will love looking through this box!
7. Open When – A Multitude of Letters
Write a dozen letters for your girlfriend's birthday! Put each one in an envelope and on the envelope write down, when she is allowed to open the letter. Each letter should be for a specific occasion or an event, or just as a bit of support and positive vibes in her days!
8. The Frame of Polaroids – A Few Memories
If you are feeling creative, why not incorporate some of your favourite memories with your girlfriend into her birthday present? Print out photos of the two of you during your favourite moments. Instead of placing them in a frame, string them across the frame, as well as your initials! This is a super personal gift which your girlfriend will love!
9. A Message in a Bottle – A Good Wish
Here is a small and adorable way of wishing your girlfriend a happy birthday! Pour some glitter into a tiny bottle, as well as placing a small note inside of it. The note should read "happy birthday dear" or something along the lines of that. You can attach this to her present, sending her all the best wishes for her birthday.
10. Birthday in a Jar – Birthday Present for Girlfriend
Here is a fantastic and cute idea for your girlfriend's birthday! Put together some of her favourite things in a mason jar. For example, chocolate, candy and candles! You can even bake her a birthday muffin and place it in the jar as well! Naturally, don't forget to attach a note to the jar, wishing her all the best on her birthday!
11. Paper Cake – Cute Birthday Gift for Girlfriend
Another awesome present for your best friend might be a pop-up card. While it looks like a box, you open it and out pops a paper birthday cake and a few messages. This is an awesome way to surprise your girlfriend as well as giving her a birthday cake!
12. Creative Balloons – With a Twist
If you like the idea of giving your girlfriend coupons for her birthday, here's a fantastic idea. Place an array of balloons in a jar (which aren't blown up yet).  Write a small message on each one, a birthday coupon, which she can use at any time she wants. For example, one night of karaoke and dancing or a romantic dinner. When she wants, she will just hand you the coupon and you will have to take her out!