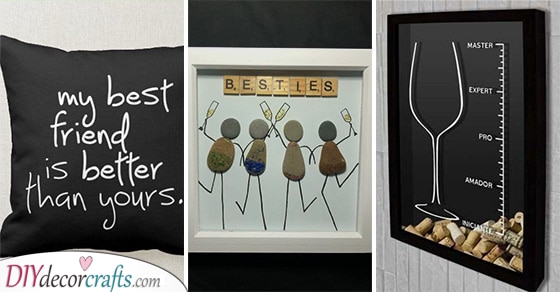 Is it going to be your friend or best friend's birthday or a special event, such as Christmas? Then you may be in search of some personalised gifts for friends! When you want to give someone important to you a gift, make sure that you put some time, thought and energy into it! This is when you can get creative and make DIY gifts. If you're unsure where to start, how about you check out our collection of 20 best friend present ideas! Hopefully, with the help of these gift ideas, you'll be able to find some inspiration! Remember, that your present doesn't necessarily have to be a grand gesture. Sometimes a small yet personal gift will mean a lot more to the receiver!
1. A DIY Explosion Box – Personalised Gifts for Friends
There are so many presents you can give to your best friend! If you are in a sentimental mood, how about you try something unique? One gift you could create is a DIY explosion box. This means when your best friend receives the gift and tries to open it, the box will "explode" and memories and photos of the two of you will be revealed. You can make an explosion box that has more than just one layer of photos in it. It's easy to find a tutorial on how to make one of these!
2. The Perfect Pillow – Thoughtful and Lovely
Another idea you can try to put together is none other than a pillow! After all, who wouldn't appreciate a new pillow or pillowcase? Make sure that your best friend knows what they mean to you! Write something personal or funny on the front of the pillowcase. You can create this easily with fabric pens or fabric paint! But you can also sew the words into the pillowcase. Whatever you decide on writing as a message to your bestie, we're sure that they'll love their new pillow!
3. Say Cheese – Best Friend Present Ideas
Perhaps you have been in search of a personal and intimate gift, that your best friend will adore! At times like this, it's always a great option to give them some photos of the two of you, providing them with some nostalgic moments. But as an alternative to a standard album, why not try something different? Create a flip-through album book, that is made in the shape of a camera. Flipping through a camera, and seeing a tonne of fun and happy memories will make special gifts for friends! So why not give this one a try? 
4. Break the Glass – In Case of Chocolate Emergency
Does your best friend have a chocolate or candy obsession? Here is an easy present to create, that will definitely help them get through any tough days! Pour chocolate and candy bars into a box-like frame. Then write up the words "in case of emergency break the glass" on the glass part of the frame. This is a simple and funny gift that will draw a smile on your best friend's face, not to mention it will help satiate their chocolate cravings.
5. A Custom Collage – Personalised Gifts for Friends
If someone is your best friend, you are bound to have a whole abundance of shared memories of beautiful moments together! Maybe you're not sure what kind of gift ideas for your best friend would make them happy. If this is the case, why not create a custom collage out of all sorts of photos of the two of you? Include dozens of pictures, ranging from vacations to a weekend trip or just going out and having a blast. After placing your selection of photos in a collage, you can write the word "besties" over the collage. Place this in a frame before gifting it to them!
6. A Wine Master – Measure the Corks
How can you measure your knowledge and expertise in wine? Well, there's a saying that goes like practice makes perfect! Keeping this in mind, how about you create a cork collector in a frame, that also helps in deciding what level your wine knowledge is at. The more bottles of wine your friend drinks, the more corks they'll be able to pop into this box-like frame. On the glass side of the frame, draw up a chart, determining whether they are still an amateur or a master of wine! Just check out the example above for pointers.
7. Collecting for Travel – Best Friend Present Ideas
Has your friend always wanted to travel around the world? Maybe they have never been able to collect enough money to be able to do so. How about you help them out? Create a money-saving box or frame for them that has a small hole at the top, where they'll be able to slide in money. Whenever they have a bit of spare change, your best friend can just throw in the coins or dollar bills. Hopefully, they'll be able to start their travel journey soon!
8. A Spotify Keychain – Cute and Personal
Do you and your best friend ever create Spotify playlists and send them over to each other? Then one of these keychains will make a perfect gift for either of you! The keychains are Spotify inspired. Insert a picture of you and your best friend on top, while placing the standard buttons (play, stop, pause, etc.) of the application underneath them. When you're done with this, get them made into keychains! Create two of these special gifts for friends, so you'll have one of them, while your bestie has the other!
9. Best Friend Present Ideas – Personalised Gifts for Friends
When the two of you aren't together, you might find yourself missing your best friend! Why not create an item for them, that will remind them of you? It doesn't have to be anything huge, something simple and small will do the trick as well! One fantastic example would be a personalised mug or glass. You can get some words written on the mug or glass, depending on what you want to tell your best friend when you aren't around. These gift ideas for your best friend will light up any of their days!
10. Your Own Map – All the Places You've Been
If you are looking for a gift for your travel buddy, then here's a fantastic idea for them! Put together a map, with all the countries or states you've been to together. But instead of just empty spaces, showing the shape of the country or state, place photos of the two of you in them together! You can leave the places you haven't been to yet empty. When you eventually get there, you'll be able to put a photo of the two of you in that slot.
11. Some Loving Messages – Best Friend Present Ideas
Send your best friend some loving messages! This is an especially fantastic idea if the two of you haven't been able to meet up very often. Instead of just typing them a message, why not get creative with this idea? You can write long letters to them on old-fashioned scrolls. Roll up each and every one of the scrolls and place them in a wooden box. This will give the whole letter opening process a unique and very medieval vibe! Try out these good gifts for friends!
12. A Bit of Art – Made with Pebbles
Are you a creative person who loves putting together DIY crafts? Then why not consider making some DIY art for your best friend? You don't necessarily have to paint a gorgeous portrait or landscape. You can use pebbles to create bodies out of, then all you need to do is draw some hands and legs for them. Write the word "Besties" above your pebble figures, or even put together the word with Scrabble blocks. It's completely up to you how you create this so feel free to get original and inventive!
13. A Bouquet of Booze – Personalised Gifts for Friends
Is it going to be your best friend's 21st birthday? If so, then instead of a bouquet of flowers, why not give them a bouquet of booze? After all, they have finally reached the legal age to drink! You'll need to get a bucket in which you'll be able to place some bottles of alcohol inside. Another fabulous idea would be to attach smaller bottles of alcohol on sticks and fixate them in the bucket this way. Thanks to this, your gift really will look like a bouquet of booze!
14. Scrabble Art – Creative and Innovative
Do you and your bestie love to play Scrabble? If this is the case, then these Scrabble-inspired presents would make good gifts for best friends! Create some artwork for your friend, which involves putting together the word "friend" using Scrabble blocks. Underneath it, include a quote that states "friend is only worth 10 in Scrabble, but you are priceless to me!" This is definitely a beautiful and heartfelt present idea, that your best friend is guaranteed to love! They'll be able to place it in their room!
15. Create a Quote – Best Friend Present Ideas
We have already talked about creating Scrabble-inspired personalised gifts for friends! One example would be to put together a quote using an array of Scrabble letters. It's up to you about what sort of quote you'd like to write on the gift. For example, it can be a quote about friendship or a simple, loving message for your bestie! When you have finished, place the creation in a frame! Thanks to this, your best friend will be able to hang it on one of their walls!
16. A Box of Goods – Their Favourite Things
Put together a box of your best friend's favourite things! This can include anything from their favourite beauty products to a range of their favourite snacks! After all, since you're best friends, you'll know all their likes! A box of goods like this one will be perfect for any sort of occasion! Whether it's their birthday, Christmas or you're celebrating something else that is special, this box will make a fantastic choice! It's also a good idea if you'd like to give your friend more than just one thing!
17. Phomemo M02 All in One Pocket Printer for any DIY Printing. A Unique Gift for Everyone!
Do you need to prepare DIY gifts for your friends as Christmas gifts, birthday gifts or any other holiday gifts? Personalized handmade gifts are always better than store-bought gifts, nothing is more thoughtful or heartfelt than a unique handmade gift.
Of course, blessing cards are indispensable on Christmas Day, and carefully crafted cards can better convey your care and greetings. Use this Phomemo M02 mini printer to print various patterns/photos/texts to make a Christmas card for your friends.
Of course, there is a special gift besides the card. If you want to add the magic of friendship to a special moment, then the homemade baking cookie gift idea is perfect for you. Homemade biscuits are a holiday gift that can make each other feel special and intimate even if they are made in batches. Your friends will be happy to receive delicious biscuits during the holiday season. If you want to give away a variety of biscuits, you can put your homemade cookies into a transparent glass jar, and then decorate the cookie jar. When you dress up the gift you want to give as decoration with seasonal patterns, you can make your gift feel more special. This mini pocket printer is great for DIY holiday gift decoration because its app contains rich holiday decoration patterns in the graphic function, in which you can choose suitable patterns and print them out for DIY cookie jar decoration.
In addition, your friends can also use this pocket printer to edit content and print images, pictures, to-do lists, notes, decorate bullet journals, etc.
At present, you can enjoy a discount of about 10% (discount code: m02vipzw) for purchases during the period from 9/4-9/10, order via this Amazon US M02 pocket printer.
18. Their Age in Gifts – Personalised Gifts for Friends
Is it going to be your best friend's birthday? Then here is a fabulous gift idea to surprise them with! Get them as many presents as the age they are turning! For example, if they are turning eighteen, get them eighteen gifts! These gifts don't have to be anything big and fancy, they can be small and simple things. After wrapping each one, fixate them to thin sticks or straws and place each one in a bucket. You can even write up the order of the presents, from one to the age they have turned!
19. Letters for Them – For Every Occasion
Everyone has bad days when they're feeling blue or when they are a bit more stressed than usual. Write your best friend letters for each of these days so they can get through them easier! For example, write one for when they have had a terrible day, one for when they are bored and one for when they can't sleep. These will make good gifts for best friends because they are intimate and filled with love!
20. One Hundred Reasons – Best Friend Present Ideas
When you have a best friend, there are countless reasons why you love them and treasure them! For a personal and intimate gift, why not create a notebook that is filled with 100 reasons, why they are your best friend. Get creative while making this special and unique present!
+1. A Jar of Things – Only for the Two of You
Finally, here is another type of gift for your best friend. All you need is a jar and some notes, on which you write down some thoughts and memories. The main focus of the gift is to write things for your best friend that only the two of you understand! 
Hopefully, you found an array of ideas concerning best friend present ideas. For other gift ideas, such as Birthday Present Ideas for Boyfriend or Birthday Gift for Girlfriend or Birthday Gifts for Your Best Friend, make sure to visit our website!
Advert