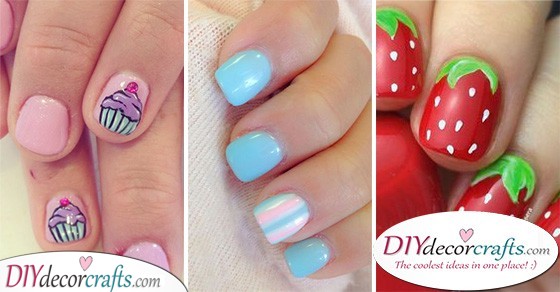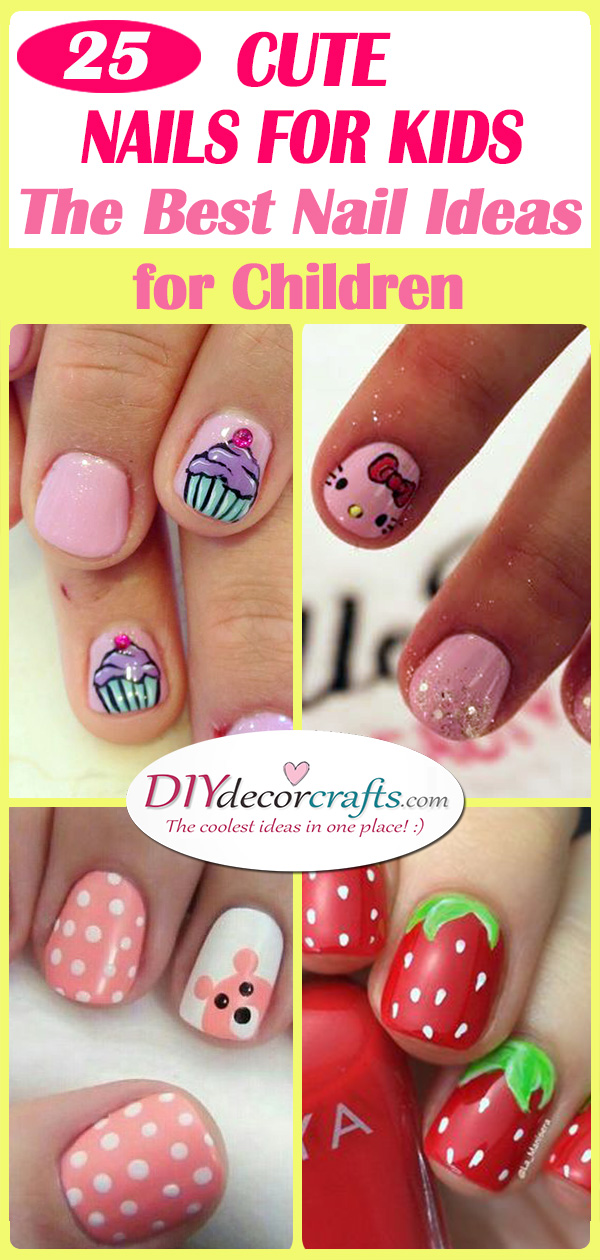 Is your kid planning on going to a birthday party or a school event? Make sure she looks her best! This includes an adorable dress, great accessories and let's not forget nails! Or if your little girl constantly nibbles her nails, coating her nails in some polish will help put an end to that! There are hundreds of fantastic nail designs, which are perfect for kids. So depending on what their taste is like, try helping them choose something which will also help them in expressing themselves! We have collected 25 cute nails for kids for you to browse through. Hopefully, you will be able to find a nail design amongst our ideas. Make sure that it is super cute, making it the best for your little kid!
1. The Cutest Cupcakes – Use Dessert as Inspiration
When planning what sort of nail design to choose for your kid, think about what they love. Are they the sort of little kid who adores chocolate and sweet things? If so, why not use desserts as an inspiration for their nail design? If they have a favourite sweet treat, for example, cupcakes, then paint small cupcakes on a few of their nails. The colours are completely up to you and your kid! As long as the nails are vibrant and bubbly, your kid will be guaranteed to love them!
2. Pink and White Dots – Cute Nails for Kids
If you have been in search of adorable nail art, then go no further! Coat your little girl's nails in two colours, pale pink and white. Cover your pale pink nails with white dots, while spotting your white nails with pink dots. You can also try painting a different design on one of your nails, like a small animal's head, for example, a teddy bear! While this is a terribly simple nail design, it's perfect for kids!
3. Funky Flowers – Combined With Hot Pink
When spring finally arrives and the snow melts away, flowers start blooming. Spring is all about rebirth and renewal. If it's going to be spring soon, why not be inspired by the upcoming season? Paint a multitude of flowers on your little girl's fingers. You can use all sorts of colours for the flowers, creating a funky and hip look! Coat her other nails with a simple coating of hot pink. This will add a bit of fun to her short nail art! Floral nails are always perfect for spring, so bring a bit of the season's ambience to your kid's nails!
4. Beautiful Baby Blue – Adorable Nails for Little Girls
Blue is such a beautiful colour. It brings simplicity and also a refined elegance with itself. If your little girl loves this colour as well, then why not colour her nails with blue? Find a baby blue nail polish and cover all her nails with it. Using white nail polish, decorate one of her nails with a unique design. This can be stripes, spots, zig-zags or something else entirely. This combination of a light blue with white is perfect for any sort of event!
5. Winnie the Pooh – Unique and Fun
There are limitless ways of decorating your kid's nails! If she likes to watch or read Winnie the Pooh and dreams of going to the Hundred Acre Wood herself, why not create her nails in this theme? You can buy nail art stickers to paste on nails! This makes your job super simple because all you need to do is coat your kid's nails in a layer of polish. Then place a nail sticker on each of her nails. For example, you can get stickers of all the characters from Winnie the Pooh and stick a different character on each of her fingers!
6. Ice Cream and Sprinkles – Some Summer Vibes
Are you getting ready for the summer with a new set of clothes and some amazing accessories?  Make sure your daughter has the best nails for summer as well! Here is one fun and cute nail design, involving some ice cream and sprinkles! Paint a cone of ice cream on one finger on each hand, then speckle the other nails with sprinkles. The ice cream adds the theme of nail art, in other words, summer! The sprinkles add colour and fun to the nails! Remember to use as many colours for the sprinkles as you possibly can!
7. Up and Away – A Bunch of Balloons
Has your little girl been invited to a birthday party? If so, make sure her nails reflect the theme of the event she is going to! Instead of painting candles or birthday cakes on each finger why not paint a balloon? Using balloons as inspiration is a perfect idea for a party! The balloons you paint on each nail don't have to be the same colour. You can paint them in a rainbow of colours!
8. Disney Princess Ideas – Cute Nails for Kids
When you are a little girl, you absolutely love Disney movies! They transport you into different and imaginary worlds which are filled with fun and magic! If your kid loves Disney movies just as much as we do, use the movies as an idea for her nails as well! Use the Disney princesses as your main source of inspiration. You don't need to paint their full bodies on your nails. For example, paint their faces on your kid's nails instead. This will give her nails a trendy Disney vibe!
9. Pretty for Spring – Floral Nail Design for Kids
If spring is just around the corner, make sure your daughter has the perfect nail art to welcome the new season! Using floral patterns for spring is old but gold. First of all, coat her nails in a simple polish. Then paint small flowers on each of her nails, making sure the flowers are in different places on them. Depending on what her favourite flowers are, make sure to use them as a design for her nails. Just take the picture above as a great example for springtime nail art!
10. Specks of Rainbows – Fun and Funky
Here is a cute nail design perfect for any sort of party or sleepover which your little girl might be going to! First of all, coat her nails in white polish. Now it's time to add colour to it! Add speckles of glittery nail polish to her nails, as well as just some simple dots of colour here and there. These small spectrums of colour will look like a kaleidoscope on your daughter's nails! Your little girl is guaranteed to love this pretty nail art!
11. Stripes of a Tiger – Cool Nail Art for Children
Finding the perfect nails for your little girl means you need to know what her interests and likes are. If she has a love for animals, why not use inspiration from an animal's pattern? For example, the stripes of a tiger are like nothing else in the world! The orange coating of nails with black stripes will give your girl's nails a cool look!
12. Abstract Art on Nails – Amazing Designs and Ideas
Here's a cool nail art idea for your girl, especially if she loves rainbows! First of all, coat her nails with a simple white polish. Then drop dots of various coloured nail polish all over them. You can create bigger blots and uneven lines to create beautiful rainbows all over her nails! If you pour small amounts of nail polish over her nails you will be able to create abstract looking nail art, which will resemble something you can view at an art gallery!
13. All Sorts of Patterns – Cute Nails for Kids
There are so many patterns you can decorate nails with! Ranging from more simple ones, like stripes or polka-dots, to zig-zags and small floating hearts, there is a huge variety of beautiful patterns. For a unique look, why not mix up the patterns. One of your little girl's nails can incorporate dots, another zig-zags, a third one flowers. It's up to the two of you!
14. A Selection of Disney – The Best Nail Art for Kids
We have mentioned using Disney films as inspiration for your kid's nails! Mix up the movies and create a whole selection of Disney nails. For example, use characters from Monsters, Inc., Winnie the Pooh, Mickey Mouse or Toy Story. Paint each one her nails a different character from these various Disney movies. This will create the perfect Disney glow!
15. A Royal Look – Disney Princess Nail Ideas
Here is another Disney princess idea for your kid's nail design! If she loves looking at the dresses and accessories of the princesses, why not use these as inspiration for her nails as well? Take small details from the dresses and the princesses' accessories. Paint these on your little girl's nails. For example, Belle would have a yellow design with a red rose on the nail and Ariel would have scales, representing her mermaid tail.
16. Monsters, Inc. – Quirky and Creative
Monsters, Inc. is a fantastic film! It is quirky and funny. If your kid loves this film, then take some ideas from it. Use Sulley's blue fur and purple spots as a design on four of your daughter's nails. Then create Mike's one big eye, with a circle of green around it on the remaining nail.
17. A Beautiful Look – A Combination of Everything
Here's a super cute way of combining a few ideas on nails, which is perfect for kids! Have two nails on each hand, which have a coating of simple white polish on it. Another nail should be painted in golden glitter. Add a small floral pattern to one of your finger's and stripes to another.
18. Adorable Hello Kitty – Cute Nails for Kids
Hello Kitty is such a cute brand! If your little girl loves Hello Kitty themed items or accessories, why not use it as inspiration for her nails! Paint one nail on each hand to resemble Hello Kitty, then speckle the rest with small dots. This nail art is super cute, making it perfect for a little girl!
19. Strawberry Fields Forever – Her Favourite Fruit
Everyone loves fruit! If your kid has a favourite fruit, make sure to incorporate it in her nail design! For example, strawberries are not only a delicious fruit, but they also look pretty fantastic! Coat your girl's nails in red, adding small white dots to them. Then paint a green strawberry leaf on the cuticle of each hand, creating the appearance of strawberries this way! This would make a super adorable summer nail design for your kid!
20. Mini Unicorns – Unicorn Nails for Kids
Unicorn themed clothes and accessories are taking over the world! They are super popular right now, so why not paint your girl's nails in a unicorn theme? Create the faces of unicorns on each nail, including their horn, ears, eyes and mane! This will look super pretty!
21. Simple and Stylish – Another Unicorn Nail Design
Here is another unicorn-themed nail art! Only create a unicorn on one nail on each hand, leaving the rest of the nails covered in pale pink. These unicorn nails for kids will be perfectly magical!
22. Pink and Pretty – Hello Kitty Ideas
Is pink your little girls favourite colour? Make sure to use it as the dominant shade for her nails! A great idea that goes super well with pink is a Hello Kitty theme! Paint a Hello Kitty on one nail on each hand. Decorate the rest with glitter!
23. Gorgeous Elephant – Cute Nails for Kids
Every kid has a favourite animal! If your child loves elephants, use them as inspiration for her nails. Paint an elephant on one of her fingernails, then colour and design the rest of them in any way you'd like. Adding silver glitter or a few patterns on her nails is a great idea!
24. An Easy Bear – Simple and Stunning
Teddy bears make the best toys! Having them next to you at night make you feel a bit safer when you were a kid. Create small teddy bears, using the tutorial above on your girl's nails! This is a simple way of creating something stunning and cute! Add polka-dots to the nails which don't have anything on them.
25. Cute as a Cupcake – Nail Ideas for Kids
Here is another idea for nails for little girls concerning cupcakes! Coat your nails in a simple colour of polish. Then cover the tips with a white polish, creating the frosting on your cupcake! You can add a red dot to the top, symbolising the cherry. This is a super cute nail idea for children!
We hope this collection of 25 cute nails for kids has assisted you in finding something adorable for your child! For other nail ideas, like french manicure ideas or almond shaped nails, visit our website!
Advert