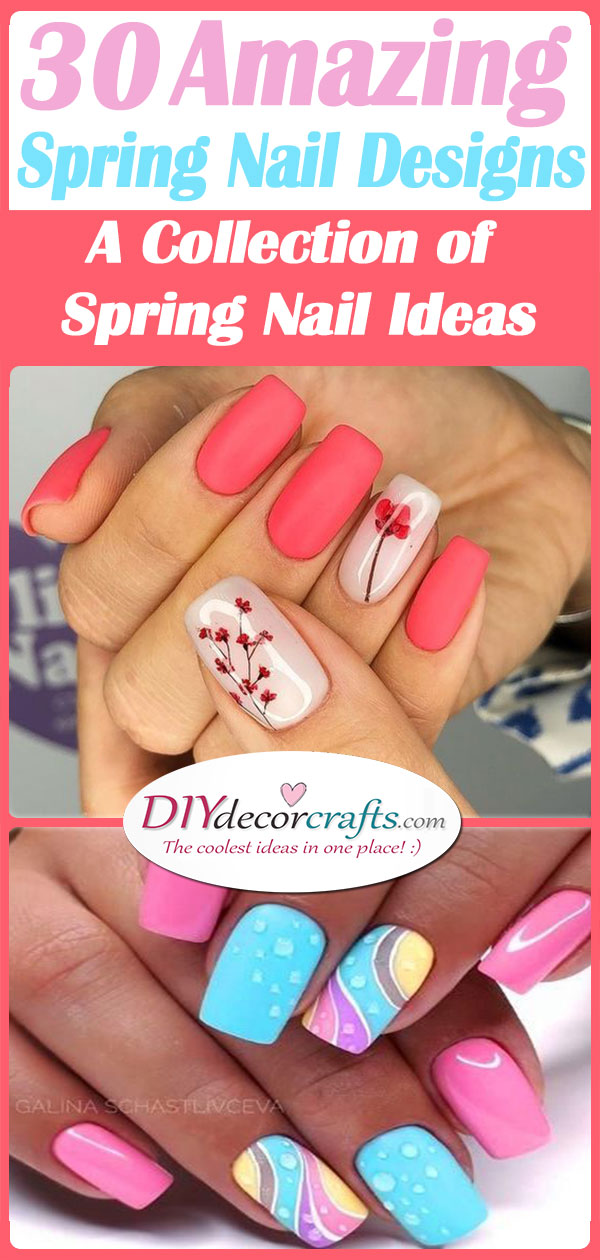 Get completely ready for this year's spring with all the right accessories! Spring is the season of rebirth and new beginnings, so it's time to shed your winter clothes and perk it up with a new and exciting style. We have an array of spring ideas waiting for you. This includes clothes, hairstyles or hair colours, accessories and naturally, nails! If you're a fan of painting your nails and matching them to your current mood or the current season, then take a look at our pick of 30 spring nail designs. We have all sorts of spring nail ideas to match the season's youthful and joyous atmosphere!
1. A Secret Garden – Nail Ideas for Spring
Make your nails look like a tiny secret garden for spring! Paint all your cute spring nails in a pastel base colour, and on a few of your nails have flowers and ferns painted on them. A variety of colours on a few of your nails will look really good with a pastel base colour, as the pastel will help create a natural elegance without going over-the-top.
2. A Blast of Blue and Pink – Fabulous Spring Acrylic Nails
Here's a vibrant combination of two colours perfect for spring! Paint your almond-shaped nails in shades of pale pink and baby blue. For a striking effect paint one of the nails in an ombre style, pink sinking slowly into the blue. You can try out an interesting pattern on the ombre nail to take it further up a notch.
3. Dazzling Daisies – Spectacular Spring Nail Ideas
Spring is the season of blossoming trees and blooming flowers, so it would only make sense to use a floral pattern on your nails as well! Daises are a typical spring flower, so why not use them as inspiration for your nails? Paint three of your nails in a striking yellow and decorate the other two with daisies.
4. Cherry Blossoms – Great Nail Ideas for the Season
Japan is famous for its short weeks of cherry blossoms blooming. It's a true tourist attraction which people come from all around the world to see. Bring a bit of Japanese spring into your nail art this year! Paint your nails in pink, and decorate two of them in a delicately painted branch of cherry blossom. These spring nails will look absolutely beautiful!
5. Jewelled Feathers – An Exotic Touch
If you like an exotic twist on accessories, then these short nails might just be meant for you! Cover a few of your nails in hot pink, but leave a few coated in white nail polish. Design and paint immaculate feathers over the white nails and add a few jewels to get an even more sparkling effect!
6. Shades of Pastel – Spring Nail Designs
Pastels are the official colours of spring, pale but vibrant. Paint each of your nails a different colour of pastel, ranging from pink to green. A rainbow of pastel colours will be perfect as spring nail colours!
7. Pretty in Pink – Floral Nail Designs for Spring
If you've ever walked past a magnolia tree during spring, you will have been enchanted by the plentitude of blossoming flowers dancing in the breeze. Get your nails to have the same magical effect, by painting branches of magnolias on them. Leave a few nails coated in the same colour that you have painted the flowers themselves in. These cute spring nails will look stunning, no matter what the season is!
8. Outstanding Tulips – A Bit of Tulipmania
It's no wonder that tulips created such a frenzy in the Netherlands during the Golden Dutch Age. They are exquisite and exotic flowers, which can't be compared to anything else. Tulips have served as inspiration for artists for centuries, so why not use them for your spring nails? Paint tulips on a few of your fingernails, cover the rest in the colour of the petals of the tulips. Tulipmania is here again!
9. Delicate Cherry Blossoms – Simplicity at its Best
If you'd like to keep your nails on the simple side this spring, try out a sophisticated cherry blossom design. While these white nails capture the essence of cherry blossoms in the spring, it still brings an air of elegance and simplicity with itself.
10. Sparkling Butterflies – Splendid Spring Nail Designs
Butterflies are a symbol of spring. They turn into beautiful beings after going through a stage of sleeping in their cocoons, just like spring always arrives after a long and hard winter. Use butterflies as a design for your spring acrylic nails, like in the picture above. You can use small sparkling stones to highlight the wings of the butterflies.
11. Happy Sunflowers – Spring Nail Ideas
Now here's a beautiful nail design that is bright and happy, but not too extravagant. Coat your nails in simple white nail polish, and create beautiful sunflowers on one nail on each hand. Bright yellow will bring a sense of harmony and joy to your nails.
12. Bubbly Beauty – A Fun Combination of Colours
If you have a fun-loving and outgoing personality, these nails will be perfect for you! Pops of hot pink and ice blue will make an extreme and unique combination. Coat one or two of your nails on each hand with some glittery nail polish that matches the overall look of your nails. Just take a quick glance at the picture above to see how fantastic the final look of these spring nail colours is!
13. Lovely Lavenders – Spring Nail Designs
Everyone loves the fragrant scent of lavenders, but not only do they smell fantastic lavenders are also absolutely gorgeous flowers. Small and refined, they will serve as the perfect inspiration for anyone searching for nail art which is more on the delicate side. Paint the rest of your nails in tones of purple to complement the lavenders.
14. Blue Blossoms – Nail Designs for Spring
If you are obsessed with the colour blue, then these are the nails for you! Coat almost all your nails in a baby blue shade, except for one which should be covered in white. Paint a small branch on the white nail, with small, blue flowers sprouting out from each end. This will give your nails a true spring essence!
15. Rainbow Swirls – Vibrant Colours for Spring
Are you fond of vibrant colours which swirl into each other? Then try out this beautiful spring nail art! Paint each of your nails a different colour, except one. On the remaining nail, use the other used colours in an intricate swirly pattern. This will show beautifully for spring!
16. Flamingos and Balloons – Colourful Spring Nail Ideas
Here's one of many adorable spring nail designs! Coat all your nails in a pale pink or pearl coloured polish. Then on one nail on each hand paint flamingos and balloons, like on the picture above! While these nails look simple, they are still guaranteed to bring life to any party!
17. A Cute Rabbit – Nail Ideas for This Spring
Spring is the season in which Easter takes place. What comes to mind when you think of Easter? Eggs and rabbits? That's right! Make sure if the festivities of Easter are taking place, that you have your nails decorated to match the occasion! Paint a rabbit or rabbits on a few of your Easter nails, decorating it further with flowers or even balloons!
18. Sunset Vibes – Creative Spring Nail Art
Make your nails look like a spring sunset! Use a blend of warm pink and soft orange to achieve this magical design! You can use an ombre effect to make your nails look like the sky when the sun is setting during the late afternoon.
19. Gorgeous Roses – Special Spring Nail Designs
Have you ever found yourself admiring the delicate rosy designs on porcelain cups? These nails give exactly that vibe! Pink roses branching out all over pearl coloured nails is the great look for spring events! These nails are a very beautiful feminine design that will be sure to catch eyes!
20. Yellow Florals – Bright and Beautiful
Yellow nails are perfect for spring because they look like a ray of constant sunshine decorating your hands! You don't need to leave your nails plain yellow, you can include some floral patterns on a few of them. Watch out with what colours you combine yellow with, as it doesn't go with every shade of the rainbow! We recommend white polish for the bases of the flowers.
21. Stripes and Flowers – Classic Spring Effect
Combine a few patterns to create a unique spring look! Cover your nails in a base coating of white polish. Paint stripes on one of your nails, and decorate another with various types of flowers. It's simple and cute, making it perfect for the season!
22. Minnie Mouse Inspired – Cute Nail Designs for Spring
If you grew up watching Disney movies and series, you'll be sure to love this cute nail design! Use pale shades of pink for most of your nails, then paint the iconic silhouette of Minnie Mouse's head on one of them. You can decorate the rest of your nails as you wish, with stripes or polka-dots, it's really up to you!
23. Sparkles for Days – Spring Nail Ideas
If you love sparkles and glitters, make sure to use sparkly nail polish for your nails this spring! If you don't want it to be too extravagant, cover only one of your nails in sparkles, then coat the rest in colours which complement the colour of the glitter.
24. Vibrant Spring Vibes – Rainbow Florals
Try out something fun and upbeat for the spring this year! Paint most of your nails in a hot pink shade. On the remaining two paint stripes and rainbow petalled flowers. Vibrant nails such as these will definitely be a great way to stand out anywhere.
25. An Array of Pink Roses – Lovely and Rosy
Have you ever wandered around in a garden full of roses, completely enchanted by their rich fragrance and their beautiful look? Why not embody this array of roses on your nails? Use a variety of shades of pink to add depth to the roses themselves. You can also add rose leaves and stems to make it look even more garden-like!
26. Bohemian Florals – Festive and Fabulous
If you're into a bohemian look and love floral patterns, then these nails were practically made for you! Paint all sorts of miniature flowers and leaves on your nails, this is up to your creativity! Try out matte nail polish for the base!
27. Cherry Blossoms in Blue – Great Spring Nail Ideas
As we mentioned before, a type of flower which is all about spring is cherry blossom. Paint the rest of your nails to look like a cerulean blue sky, then decorate some of your nails with branches of cherry blossoms, as if they were dancing in a soft spring breeze.
28. A Glamorous Look – For Any Fancy Event
If you're going to be going to a lot of fancy events this spring, you'll have to make sure your nails are on point as well! Take a look at the picture above, long pink nails, with a hint of shimmery silver glitter. These nails will go perfectly with your black little dress!
29. Bohemian Festival – Exciting Spring Nail Ideas
Are you going to be going to a lot of festivals this spring? Have your nails give off a bohemian essence! Paint some flamingos or some other cool animals on one or two of your nails. Then make sure that the rest of your nails also have some geometric patterns covering them!
30. Modern Jungle – A Cool and Bohemian Vibe
If you like the feeling of a modern minimalist jungle, then try out this nail design! Small golden and green leaves covering a pale pink base. Add a few flowers for the full effect of a magical jungle!
We trust that this collection of 30 spring nail designs has helped you in finding your perfect nail art for this year's spring! After all, you need to bring a sense of rebirth and rejuvenation into your life with the arrival of the season! Visit our website for more ideas concerning other nail designs, for example, Easter nails or Designs For Summer!
Advert