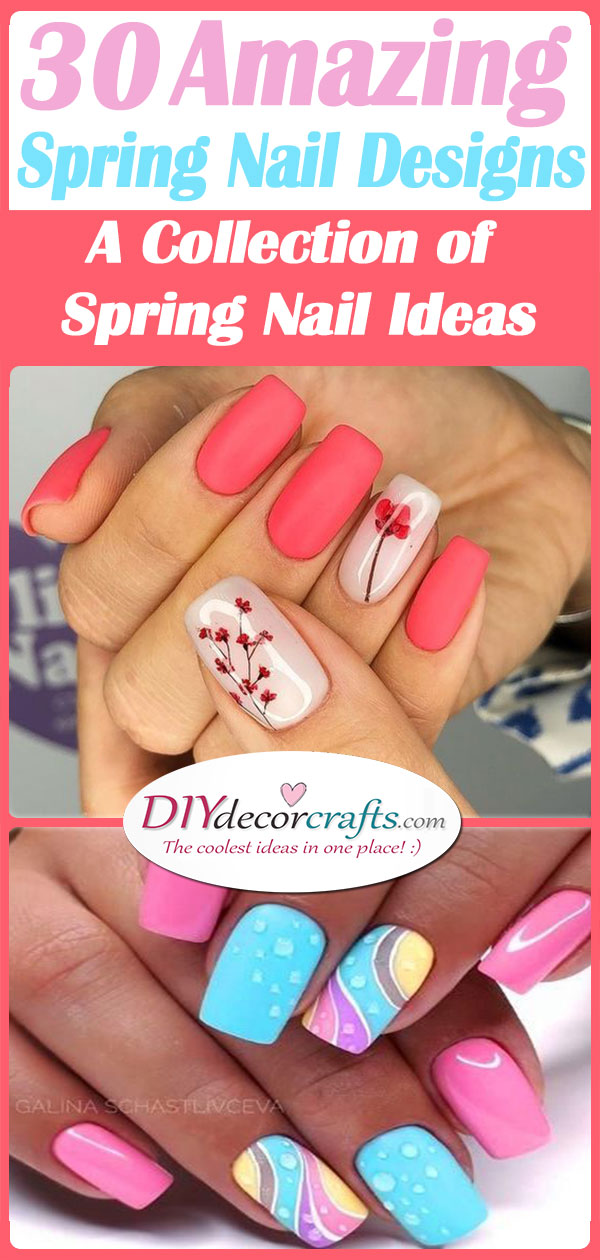 Get completely ready for this year's spring with all the right accessories! Spring is the season of rebirth and new beginnings, so it's time to shed your winter clothes and perk it up with a new and exciting style. We have an array of spring ideas waiting for you. This includes clothes, hairstyles or hair colours, accessories and naturally, nails! If you're a fan of painting your nails and matching them to your current mood or the current season, then take a look at our pick of 30 spring nail designs. We have all sorts of spring nail ideas to match the season's youthful and joyous atmosphere!
1. A Secret Garden – Nail Ideas for Spring
Make your nails look like a tiny secret garden for spring! Paint all your nails in a pastel base colour, and on a few on your nails have flowers and ferns painted on them. A variety of colours on a few of your nails will look really good with a pastel base colour, as the pastel will help create a natural elegance without going over-the-top.
2. A Blast of Blue and Pink – Fabulous Nail Ideas
Here's a vibrant combination of two colours perfect for spring! Paint your nails in shades of pale pink and baby blue. For a striking effect paint one of the nails in an ombre style, pink sinking slowly into the blue. You can try out an interesting pattern on the ombre nail to take it further up a notch.
3. Dazzling Daisies – Spectacular Spring Nail Ideas
Spring is the season of blossoming trees and blooming flowers, so it would only make sense to use a floral pattern on your nails as well! Daises are a typical spring flower, so why not use them as inspiration for your nails? Paint three of your nails in a striking yellow and decorate the other two with daisies.
4. Cherry Blossoms – Great Nail Ideas for the Season
Japan is famous for its short weeks of cherry blossoms blooming. It's a true tourist attraction which people come from all around the world to see. Bring a bit of Japanese spring into your nail art this year! Paint your nails in pink, and decorate two of them in a delicately painted branch of cherry blossom. This will look absolutely beautiful!
5. Jewelled Feathers – An Exotic Touch
If you like an exotic twist on accessories, then these nails might just be meant for you! Cover a few of your nails in hot pink, but leave a few coated in white nail polish. Design and paint immaculate feathers over the white nails and add a few jewels to get an even more sparkling effect!
6. Shades of Pastel – Spring Nail Designs
Pastels are the official colours of spring, pale but vibrant. Paint each of your nails a different colour of pastel, ranging from pink to green. A rainbow of pastel colours will create a beautiful spring effect.
7. Pretty in Pink – Floral Nail Designs for Spring
If you've ever walked past a magnolia tree during spring, you will have been enchanted by the plentitude of blossoming flowers dancing in the breeze. Get your nails to have the same magical effect, by painting branches of magnolias on them. Leave a few nails coated in the same colour that you have painted the flowers themselves in. These nails will look stunning, no matter what the season is!
8. Outstanding Tulips – A Bit of Tulipmania
It's no wonder that tulips created such a frenzy in the Netherlands during the Golden Dutch Age. They are exquisite and exotic flowers, which can't be compared to anything else. Tulips have served as inspiration for artists for centuries, so why not use them for your spring nails? Paint tulips on a few of your fingernails, cover the rest in the colour of the petals of the tulips. Tulipmania is here again!
9. Delicate Cherry Blossoms – Simplicity at its Best
If you'd like to keep your nails on the simple side this spring, try out a sophisticated cherry blossom design. While these nails capture the essence of cherry blossoms in the spring, it still brings an air of elegance and simplicity with itself.
10. Sparkling Butterflies – Splendid Spring Nail Designs
Butterflies are a symbol of spring. They turn into beautiful beings after going through a stage of sleeping in their cocoons, just like spring always arrives after a long and hard winter. Use butterflies as a design for your nails, like on the picture above. You can use small sparkling stones to highlight the wings of the butterflies.
11. Happy Sunflowers – Spring Nail Ideas
Now here's a beautiful nail design that is bright and happy, but not too extravagant. Coat your nails in simple white nail polish, and create beautiful sunflowers on one nail on each hand. Bright yellow will bring a sense of harmony and joy to your nails.
12. Bubbly Beauty – A Fun Combination of Colours
If you have a fun-loving and outgoing personality, these nails will be perfect for you! Pops of hot pink and ice blue will make an extreme and unique combination. Coat one or two of your nails on each hand with some glittery nail polish that matches the overall look of your nails. Just take a quick glance at the picture above to see how fantastic the final look is!