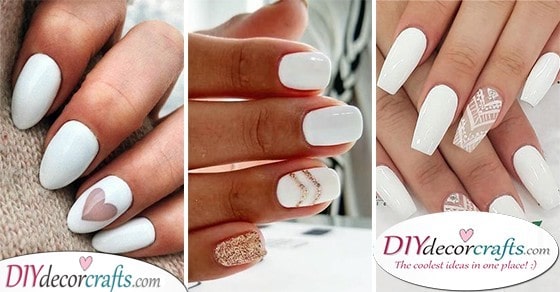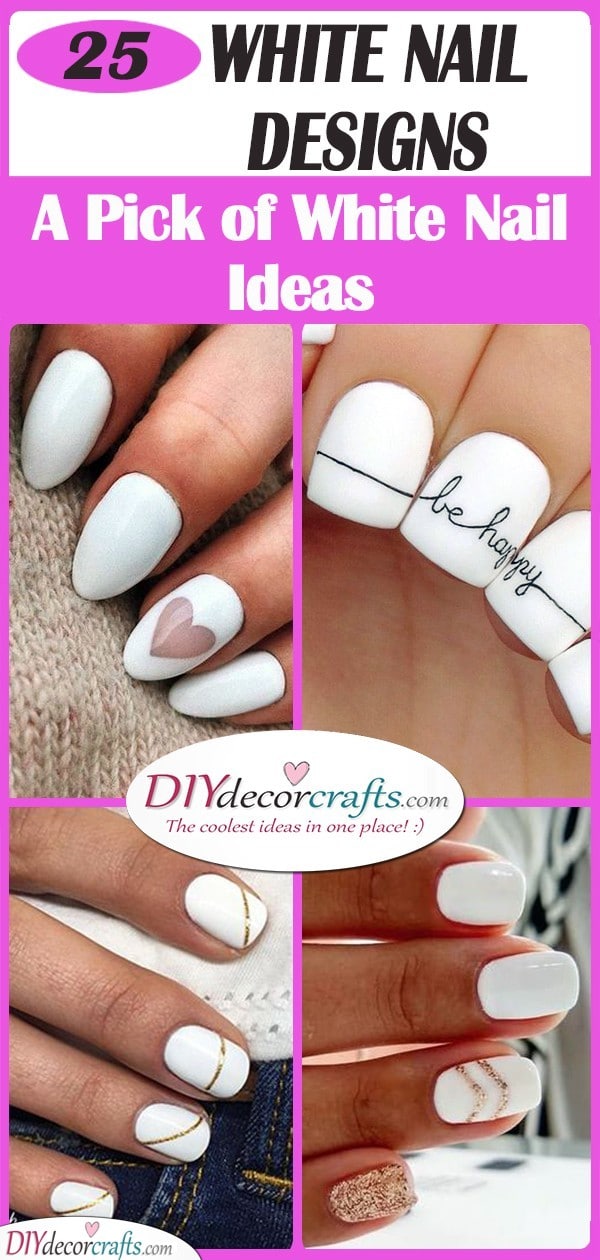 Perhaps you are going to an important gathering or just getting together with some friends sometime this week. If so, you will want to look your best, no matter who you are meeting or where you are going. This will include your outfit, your accessories and naturally, your makeup and nails as well! Nail designs are something we can't forget about! A new trend which has been breaking through is no other than white nails. It's a simple and modern choice, which has a feminine attitude but is also down to work. So painting your nails white is a great idea for any sort of occasion! That's exactly why we have collected an array of white nail ideas. This way you will be able to find white nail designs which suit your style and personality!
1. A Lovely Heart – Cute White Nails
Perhaps you are the sweetheart of your friends' group! If everyone says that you are sweet, cute and a lovely person, then these nails will be certain to match your personality! First of all, you will need to coat your nails in a layer of white, it doesn't matter if your nails are acrylic or natural. After allowing them to dry, it's time to decorate them! A simple, yet the sweet design is to paint a heart on one nail of each hand. And with that, you are already done with your white manicure!
2. Sparkling and Glittering – A Gorgeous Idea
If you love the shiny shimmer of freshwater pearls, then you are bound to love the colour of these nails! A shimmering and glittering nail polish, which contains white as the base colour. But there are small specks of sparkling elements in it, that will lend your nails a pearly glow. If you are going for a more modern look, then make sure your nails are cut in a more unique manner. You can try out squared nails as a new shape on your nails.
3. A Stylish Ombre – White Nail Ideas
Now here is another beautiful design to try out on your almond-shaped nails if you are in the mood for something white! Using two colours, one should be white, the other a pale pink, create a gradient or ombre effect on them. The white nail polish can start from the tips of your nails blending into the pink around the middle of your nails. Using this technique on your white manicure will definitely create an elegant and stylish vibe. This one of many white nail designs is perfect for any fancy party you might pop into.
4. Gorgeous and Refined – A Beautiful Look
Perhaps you are thinking about going for a more modern design that exudes creativity and uniqueness. If so, make sure to try out this nail design! It's all about leaving a small part of your nails unpainted. You will need to place something over the line where your cuticle meets the rest of your nail and paint over it like this. Then all you will need to do is carefully removed the plastic streaks or foil you have placed on your nails. Your nails will look spectacular once the polish has dried!
5. Lines Through Lines – Artistic and Exciting
If you love white nail designs, you will be bound to love this artistic and exciting take on it! First of all, you will need to paint your nails completely in white. After allowing them to dry, it's time to draw the lines on them! You will need to use a thinner brush for these lines. Depending on your preferences, you might like to use black, dark blue or any other colour of your choice for the lines on the nails! Whatever you end up using, we're sure they will look fabulous!
6. Simple and Easy – Great for Any Event
Naturally, you don't have to go overboard with your nail designs. You might want to opt for something on the simpler side of nails. You can just try out simple white nail polish, or white with subtle hints of other colours in it. The best thing about going simple is you don't even need to paint any sorts of designs on your nails. It's all about coating your nails in one or two layers of that splendid colour of your choice. This is perfect for any sort of event you might be heading off to!
7. Chic in Bohemian – Amazing White Nail Designs
If you prefer a bohemian and chic vibe over elegance and sophistication, then why not try out this look on coffin nails? Firstly, paint all of your nails, except for one on each hand. You will be able to decorate this nail with a bohemian design of your choice. For example, you can try recreating a lace pattern on this nail, using intricate lines and small flowers to bring this nail to life! This nail look is perfect for a summer festival!
8. White and Silver – Cool White Nail Ideas
If you are in search of nails which give off a glamorous vibe, you have come to the right place! Here's an awesome combination of white and silver nail polish, to create a cool nail design. Coat all of your nails in white, except for one on each hand! Cover these nails with sparkling silver polish. This is a relatively simple nail design, so it's great for smaller or not so formal events. To give your nails an extra unique look, make sure to try out a different shape, for example, squared nails!
9. Cute in Stripes – Try Something Simple
Are you looking for something simple, yet super cute? Then check out this one of many awesome striped white nail ideas. Coat your nails in a layer of white first of all. Then using a thin brush, paint stripes over each nail in a diagonal direction. You can use any sort of colour for the thin stripes which will decorate your nails. This nail design will look perfect for your everydays. For example, if you are just popping into a cafe to drink a coffee with your friend, your nails will look perfect for such an occasion!
10. Long and Glamorous – Add a Bit of Sparkle
If you love a bit of glamour then glitter is definitely the way to go! If you have long acrylic nails, we guarantee that this simple, yet glamorous polish will look perfect on your nails! All you need to do is find a gorgeous nail polish, which is to your liking. This might mean something more on the white side, but it can turn into a soft glittery shade of silver. 
11. Hints of Gold – White Nail Ideas
If you find plain white nails too boring for your taste, then make sure to add a bit of funk to them! Use hints of a different colour on a few nails, to make your nail art pop! For example, a colour which goes perfectly with white is no other than gold. The combination of white and gold can provide elegance or even a carefree attitude. Depending on your style, decorate a few of your nails with any sort of design of your choice. You can try out stripes, zig-zags or floral patterns!
12. White Coffin Nails – White Nail Art
If you have been thinking about getting acrylic nails, why not try out a simple white on them? You can get long, coffin nails which have become quite stylish over the years. Then simply coat them in white matte polish. This will create an elegant and sophisticated look on your hands. Matte nail polish is definitely a stylish and chic option which you might like to choose! 
13. A Continuing Line – Glimmering in Gold
If you don't want to stick to plain white nails, add a bit of colour to them! It doesn't have to be over the top or anything too big and bold. The decoration you might think about painting on your nails may just be a continuing line. Start it on one nail and it should continue onto the next ones. Try using gold for the colour of the line as it will add a bit of sparkle and beauty.
14. An Addition of Rhinestones – Beautiful White Nail Designs
Another simple accessory to add to your nail art is no other than a few rhinestones! Coat your nails in white polish and stick the rhinestones into whichever nail you'd like. You can create a more delicate look, by placing just a few rhinestones on one or two nails on each hand close to the cuticles of your nails. White acrylic nails are always a great choice!
15. A Look of Powder Snow – Elegant and Refined
Perhaps you have chosen white nail art because winter has arrived and everything is covered in a white blanket of snow! And you'd like to imitate nature by recreating it on your nails! If so, coat some of your nails in a shiny white polish, but cover one or two of them in small white sprinkles. Your nails will look like powder snow, which is truly gorgeous for winter nail art!
16. Glossy and Great – Pretty White Nail Ideas
Here is yet another stunning nail art which includes the colour white! We have already talked about using an ombre turning from a pale pink into a white. Why not create this look on your nails, using pearly nail polishes? We guarantee that this will look incredible and is sure to match whatever you wear!
17. A Black Line – Modern and Chic
Maybe you are considering trying out a more modern look for your nails. This is a great nail choice that will help spruce up your whole outfit and look! Coat all your nails in simple white polish. After allowing them to dry, draw a thin line on each of your nails right below the tips. Your nails will look amazing with this small touch!
18. Specks of Gold – White Nail Designs
We have already talked about pairing gold with white. It will create an image of refinement and sophistication. So if you are going to any fancy parties sometime in the future, then why not give this one of many beautiful white nail ideas a try? Paint your short nails white, adding small gold dots right above the cuticles. You can coat one of your nails in gold!
19. A Cute Little Heart – An Addition of Red
Perhaps you are getting ready for Valentine's Day and are looking for the perfect sort of nail art. Here is something sweet and cute which will look perfect for the event! Coat your nails in white polish and on one nail each paint a small red heart, with a line going across it.
20. Laced With Elegance – White Nail Ideas
Now here is another beautiful idea for white nails! Incorporate lace into your nail design, by either creating intricate patterns with nail polish or using lace-shaped nail stickers! This is a perfect nail look for a wedding.
21. A White French Manicure – Pure Elegance
Are you thinking about getting a french manicure? French manicures are a timeless classic, which you can't go wrong with! Why not try out a full white french manicure? Use a light grey for your nails and white for the tips!
22. Speckles and Stripes – Cute and Lovely
Here is a nail design for anyone who wants to add a few decorative elements to their white nails! After coating your nails in white and letting them dry, it's time to paint a few stripes over one nail and spray some speckles over a few other nails.
23. Nails With a Message – White Nail Designs
You might like the idea of including a message in your nail art. It's definitely a creative way of expressing yourself or finding some motivation in your bleak everydays. After painting your nails in a glowing white, write up whatever message resonates with you! For example, "be happy!"
24. Pointy Almond Nails – Simple and Elegant
Here is another gorgeous nail art idea! If you are getting your nails done, why not try pointy almond nails? You can coat them in white polish, then create geometric patterns in them. It's really up to you!
25. Floral and Fun – White Acrylic Nails
If spring is getting nearer you might be considering painting floral patterns on your nails. Paint almost all of your nails in white, leaving one nude. Paint small, delicate white flowers all over that nail! These are cute white nails for the season of spring!
We hope that we were able to lend you inspiration regarding white nail ideas. For other nail art, such as Nail Designs for Short Nails or Designs for Almond Nails, check out our website!
Advert