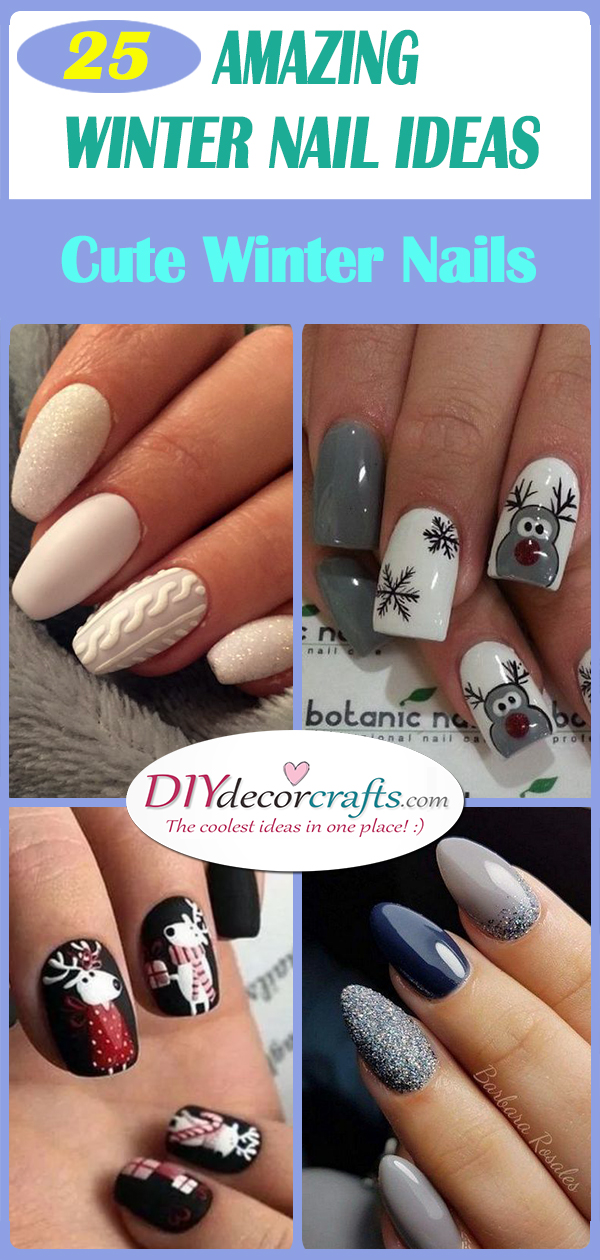 Winter has nearly arrived. A time, when the days are short and the nights are long, making it perfect to cuddle up next to the fireplace. During this snowy season, there are so many fun activities to do. Going ice-skating, skiing, having a snowball fight or getting ready for Christmas, are just a few fantastic things to do. Of course, winter is a time to also bring out the newest trends in clothes and beauty products. It's important to look your best during winter, from head to toe! This not only means wearing beautiful clothes but trying out wintery designs for your makeup and nails! We have collected 25 cute winter nails for you to choose from. Hopefully, you will be able to find winter nail ideas as well as a collection of winter ideas that are gorgeous for the season of winter!
1. A Snowflake and Reindeer – Cute Winter Nails
Make sure you bring a sense of winter into your winter nail design! First of all, give your nails a simple french manicure. After you're done with that, it's time to decorate it to make it bring wintery vibes with itself! Paint a delicate snowflake on one of your fingers on each hand. Try finding a snowflake, which is shaped in a way that you like, after all there are no two snowflakes of the same shape! On another one of your fingers, paint a small white reindeer with silver antlers. The addition of these two cute designs will give your nails a lovely look for the season!
2. Forests Shrouded in Mist – A Wintery Landscape
Perhaps you like walking in winter landscapes when everything is cloaked in white serenity. Forests are definitely beautiful places to visit during the season! Why not recreate the imagery of a winter forest shrouded in mist on your nails? Firstly, coat your nails in white polish. After allowing it to dry, paint trees on your nails. Use different shades of grey to achieve this. Use light grey for the trees at the very back and darker grey as you get closer to the front. This will make your winter manicure look as if there was a layer of mist surrounding the trees.
3. Simple and Stunning – Winter Nail Ideas
Another winter nail art idea is this one! You don't have to go overboard on creativity on this one. Use a combination of white and grey for your nails, both of these are very winter nail colours. For the design itself, make sure to add a few stripes here and there, giving your nails a bold appearance. Then on one nail, create a simple image of a snowflake or star. On another one of your nails, paint the head of a reindeer. Remember to use only the two colours mentioned above for this nail art.
4. Frosty the Snowman – Adorable and Pretty
Here is yet another super adorable nail art that is perfect for winter! Paint three of your nails with glittery nail polish. Then leave the two in the middle to be decorated in an abundance of snowflakes. Add Frosty the Snowman as a design to one of your middle nails. So if you love to sing "Frosty the Snowman" during the winter season, this nail design might just be mean for you!
5. Monochrome Snowflakes – Winter Nail Ideas
There's nothing that screams winter quite as much as snowflakes do! So it would only make sense to use them on your winter nail art! Paint your nails in light shades of grey, mixing it up, so each nail can be in a different shade of polish. Then add snowflakes to each nail. You can add black, grey and white snowflakes to your nails. Consider adding small gems or stones to the middle of the snowflakes for a special touch.
6. Cute Candy Canes – Sweet and Fresh
What is your favourite treat during the winter season? Perhaps it's candy canes! These fresh, minty and sweet treats are definitely to die for! Use them as inspiration for your winter nail design, coating your nails firstly in a bright blue. Add small dots to your nails as well, as well as small candy canes. By the time you finish your nail design, your nails should look like a festive winter party! So if you're not sure what to create on your nails for winter, then try this idea out!
7. Dress Up Warm – Small Frolicking Reindeers
Do you ever imagine small animals frolicking through snow-covered, winter forests? If so, why not add a few reindeers to your winter nail ideas. First of all, paint your nails in pale shades of white, grey and pink. You might add glitter to one or two of your nails. Then choose one nail on each hand, and paint reindeers on them. Make sure to add a scarf to their neck or a big coat, to keep them warm! Also, paint a few snowflakes around them for the full wintery effect.
8. Glitter and Snowflakes – Cute Winter Nails
Are you in search of lovely winter nail designs? If so, check this idea out! Use a combination of glitter and sparkling nail stickers on your nails! Start by giving each of your nails a base coat. You can use a combination of pale pink and grey, but coat one of your nails in shining glitter! To the other nails, add nail stickers or try painting some snowflakes on them! Creating snowflakes on your nails will definitely bring a wintery essence with itself!
9. Rudolf the Red-Nosed Reindeer – Great for Christmas
Christmas is one of the big festivities of winter, so make sure you get ready for it! This means finding the perfect nail art for the holiday as well! Think about what comes to your mind immediately when you picture Christmas. Perhaps Rudolf the red-nosed reindeer is amongst these images! If so, make sure to use this cute reindeer as inspiration for your nail art. Paint one or two reindeers on each hand, making sure to add a sparkling red nose to it. For an additional effect, you might like to add snowflakes to a few other nails.
10. An Ombre Winter Landscape – Stunning Snowflakes
As we have mentioned before, a design you can't go wrong with for the winter season, are snowflakes! Put a special twist on your nail art though! Instead of creating a plain base for your nails, create an ombre base, turning from a murky grey into a pure white. After allowing your nails to dry, it's time to decorate them with snowflakes! Feel free to add small white dots around the snowflakes, creating a snowy outlook! This is a fabulous design for any time of the winter season, so make sure to try it out this year!
11. A Polar Bear – Winter Nail Designs
Another adorable animal associated with winter is no other than a polar bear! These furry creatures have practically become symbols of winter and Christmas! So it would only make sense to use them for your winter nail design! If you are unsure about how to create a cute polar bear on your winter manicure, then check out the tutorial above. It's an easy tutorial on how to paint a polar bear by yourself on your nails! This will serve as perfect winter nail art!
12. Chic Snowflakes – Cute Winter Nails
We've talked about using snowflakes as inspiration to create a gorgeous design for your winter nails! If you like the idea of snowflakes, check out this nail art! Coat your nails in a see-through colour, which makes your nails look natural and gives them a soft glow. After the polish has dried, it's time to add the snowflakes to your nail design! Use a thin nail brush for this and create a plentitude of snowflakes on each of your fingers. You might consider adding a few stones or gems to your nails as well.
13. A Beautiful Blue – Perfect for the Season
If you love the colour blue, make sure to incorporate it in your winter nail colours! You can use matte nail polish for a few of your nails, varying from darker to lighter shades of blue. You can also use nail gel or artificial nails, to create a knitted look on one of your nails on each hand. This will give your nail a cosy vibe which is perfect for the season!
14. A Knitted Nail – Cute and Cosy
Use pale tones for these types of winter nail ideas! For example, a pale pink or white will be perfect! Coat two of your nails in glitter and two other ones in matte polish. For the last one, you will want to create the look of a knitted pullover. This can mean creating an artificial nail to give it the knitted pattern. Giving one of your nails a knit design will make it look super cute and cosy, which is what you need for winter!
15. Reindeers With Presents – A Festive Vibe
Here is yet another adorable nail design, which will serve you well during the winter season! First of all, coat your nails in black matte nail polish. After letting it dry, get ready to decorate them! You can create small pictures of reindeers holding gift boxes and candy canes. Use white and red shades to create the images of the reindeers and their belongings! These will make the perfect Christmas nails as well!
16. Amazing and Elegant – Winter Nail Ideas
You might be in search of something more elegant for the winter season! After all, there are bound to be dozens of refined and sophisticated parties you might be heading off to! If so, why not paint your nails in shades of blue and grey. Also, make sure to use plenty of glitter or sparkles for your nails!
17. A String of Holiday Lights – Funky and Festive
A string of holiday lights running across your nails will definitely channel a winter vibe! Firstly, coat your nails in simple white polish, then decorate them with a string of lights. It's up to you on what coloured lights you decide on choosing and decorating your nails with.
18. Even More Snowflakes – Cute Winter Nails
Create a winter wonderland on your nails! First of all, coat each one in a dark grey, sparkling nail polish. Then after allowing them to dry, it's time to add the snowflakes! You can use white polish to create them, or simply use nail stickers! Whatever works for you!
19. Lovely in Lavender – Snowflakes Galore
A beautiful colour to use on your winter nail art is no other than a soft lavender. It will bring a peaceful and elegant vibe with itself. After coating your nails in lavender, add some snowflakes and glitter to your nails for the full wintery effect.
20. A Snowy Landscape – Winter Nail Ideas
Create a snowy landscape on your nails! Paint snowmen and fir trees as well, standing in the snow. You might consider adding small white dots on the sky as if snow were falling from the clouds! If this doesn't bring a winter atmosphere with itself, we don't know what will! 
21. White and Blue – A Unique Ambience
Use a combination of white and blue to achieve a wintery and snowy look. You can create a white and blue ombre on one of your nails. Also, coat a few nails with white polish, then using blue create snowflakes or snowmen on them!
22. Divine in Glitter – For the Holiday Season
Get ready for the holiday season with this beautiful short nail design! Coat your nails in shimmering glittery polish, creating an elegant and sophisticated look. Glitter is the way to go if you are unsure about what to do with your nails!
23. Taking Home the Christmas Tree – Cute Winter Nails
Something that everyone does during Christmas is buying a fir tree and taking it home to decorate! Coat your nails in white glitter, then paint fir trees on each nail. On one nail, paint a car with a fir tree attached to its rack. This will bring a beautiful wintery and Christmas essence with itself!
24. Plaid Design – Gorgeous for Winter
Do you ever wear plaid clothes during winter or Christmas? Then make sure your nail art matches your clothes! Create a plaid pattern on your nails. You can leave one of your nails in one colour and paint the head of a reindeer on it.
25. Let it Snow – Fabulous Winter Nail Ideas
Give your nails an essence of falling snow for the winter season! Using snow as inspiration would only make sense, as it's winter after all! Using pale shades of blue, grey and white to achieve this look. And don't be afraid to mix it up a little with some extra glitter!
We hope that you found an amazing idea amongst these cute winter nails. For other nail ideas, like Christmas nail ideas or New Years nail designs, visit our website.
Advert