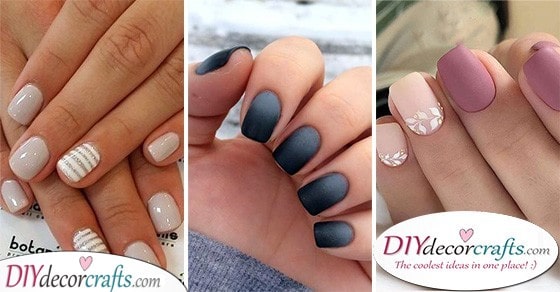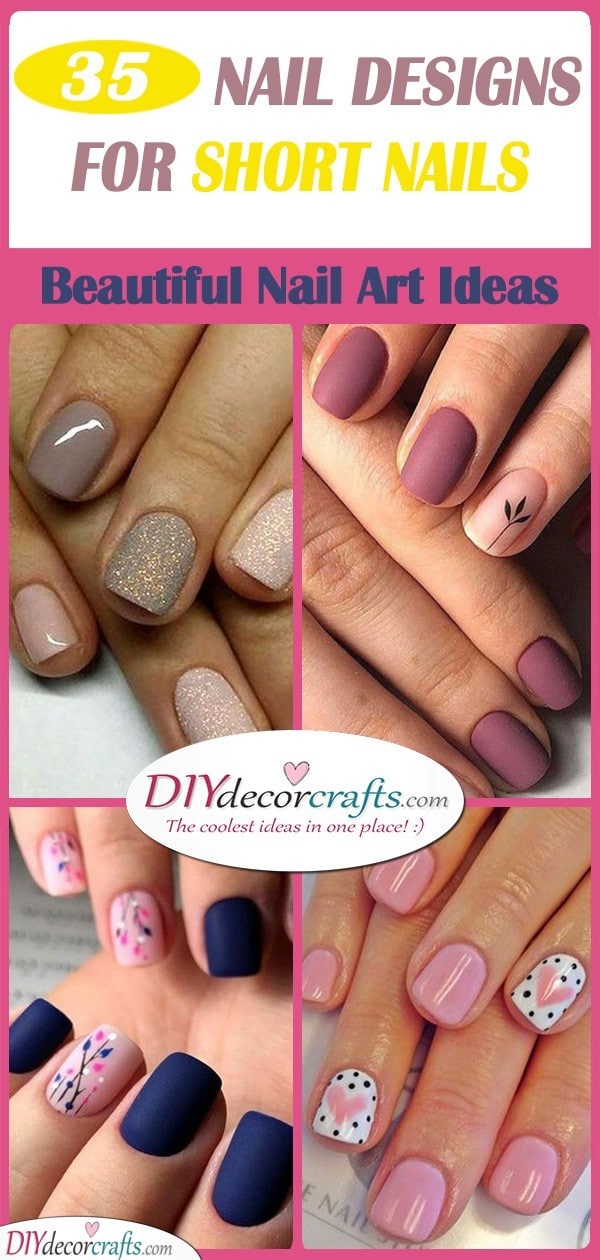 Whenever you are going out to a special event, you want to look your absolute best! This means, dressing up in your best clothes and picking out your favourite accessories. Naturally, don't forget your makeup and nails either! Nails function as a separate part of your whole outfit. They can come in many shapes, sizes and colours. If you have been searching for nail designs for short nails, then go no further! We have collected 35 beautiful nail art ideas, so you will be able to find the perfect nail design for whatever event you will be going to!
1. Simple and Cute – White With Beige
You can't really go wrong with simple nail design, as it's perfect for any place you might be going to! Coat most your nails in a pale beige, covering one out of the five in white polish. Then draw glittery stripes on the white nail. While this nail art is simple it's elegant and stunning!
2. A Beautiful Look – Shades of Pink
Are you getting ready for the season of birth and renewal, in other words, spring? If so, then it's time to get your nails on point as well! Coat them in shades of matte pink polish. Add a simple, white floral design to one or two of your nails. This will give your nails a stunning spring glow!
3. Brown and Pink – A Gorgeous Combination
Coat your nails in a gorgeous combination of brown and pink. Use matte nail polish to get an edgier outcome. Then paint a few small flowers on a few of your nails. A simple floral pattern will easily uplift your whole nail design!
4. A Mix of Blue and White – Nail Designs for Short Nails
Blue and white are a perfect and refined combination of colours. You can decorate them in any way. For example, a simple and easy floral pattern is a great idea. Leave one or two nails white, and using the blue shade, paint small flowers on them.
5. A Simple French Manicure – A Clean Glow
Are you in search of a more casual look for your nails? If so, how about you try out a french manicure? French manicures look great on shorter nails as well, not only long ones! Coat your nails with a simple colour, then draw thin lines over the tips of your nail. This will create a casual and simple look, perfect for work or a get-together with friends.
6. Creative and Divine – Perfect Short Nail Design
Do you like monochrome accessories or makeup? Then you will love these nails! Three matte black nails and two matte white will look stunning next to each other. Decorate the white nails further with glittery triangles and dots floating above them.
7. A View of Nature – Purple and Pink
Adding a few natural elements to your nails is always a great idea! Whether it's the shadow of a dandelion, a tree, a flower or a small branch, it's sure to look amazing. Try out matte purple and pink nail polish. Then add black shadows of plants onto the pink ones. This is guaranteed to look spectacular!
8. Bubbly and Funky – Holographic Nail Glitter Powder
If you are thinking about giving your nail design a funky and unique look, then look no further! Coat four of your nails in simple colours, you can add patterns to a few of them if you wish. Then using holographic nail glitter powder, cover the last of your nails with it. These unique nails have become really trendy!
9. Deep Jungle – A Forest Green
Are you into an earthy and bohemian style? If so, you will love this nail design! Coating five of your nails green, leave one in a sandy colour, painting an exotic-looking fern on it. This simple, yet earthy touch will definitely look beautiful!
10. Florals for Forever – Nail Designs for Short Nails
Here is nail art, which will look beautiful on shorter nails! Paint your nails in shades of turquoise, grey and white. Then create small grey and turquoise flowers on your white nails. This combination of colours will bring a unique and happy glow to your hands!
11. Square and Elegant – Glitter and Gems
Creating a patchwork of pale colours will look gorgeous on your nails. Using pale pink, light grey and white make some of your nails look like a patchwork. Add some lines or spots of glitter to your nails. Adding gems to your nails will also give it an elegant sparkle.
12. Stylish Boho – Nude and Black
Perhaps you are planning to go to a party or a festival? If so, check out these nails! Paint your nails in black and leave a few in a shade of light nude. Add black patterns to your light nude nails, incorporating dots, line and floral elements into them. This will give it a trendy bohemian look, which is perfect for any summertime festival!