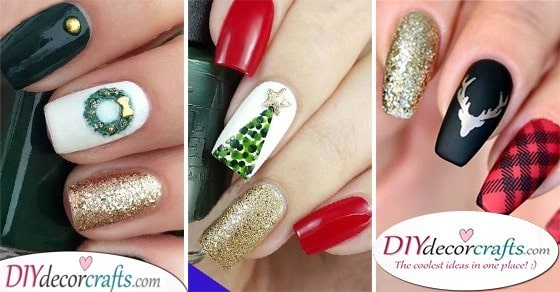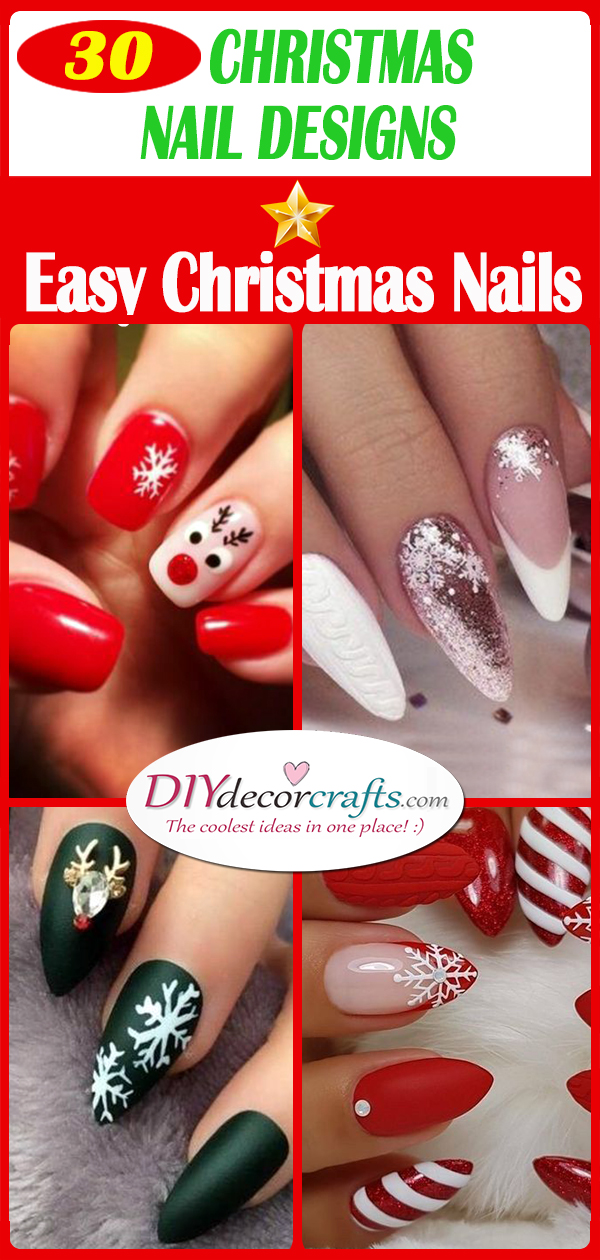 The season of winter is just around the corner. A time, when the days are short and the nights are long, making it perfect to cuddle up next to the fireplace. During this snowy season, there are so many fun activities to do. Going ice-skating, skiing, having a snowball fight or just preparing for the holidays with a collection of Christmas ideas. Of course, Christmas is also a time to also bring out the newest trends in clothes and beauty products. It's important to look your best during the holidays, from head to toe! We have gathered 25 easy Christmas nails for you to choose from. Hopefully, you will be able to find gorgeous Christmas nail designs for the holiday season!
1. Snowflakes and Fir Trees – A Festive Feeling
Get ready for the winter holidays with these elegant nails! Use shades of blue and white to create this lovely look. Add fir trees to some of your nails an intricate snowflakes to others. You can use nail stickers or nail stamps to achieve this look!
2. A Stunning Christmas Setting – Christmas Nail Designs
Since it's Christmas, make sure your nails bring a Christmassy essence with themselves. Coat a few of your nails in a bright red, another one of them in gold glitter and one in white. Paint a Christmas tree on your white finger, adding a golden star to the top of the tree! This will create a magical glow on your nails!
3. Pretty in Plaid – Add a Reindeer
Do you ever wear plaid clothes during winter or Christmas? Then make sure your nail art matches your clothes! Create a plaid pattern on your nails, using red and black. You can leave one of your nails in black and paint the head of a reindeer on it with gold polish for a fantastic look.
4. Beautiful Tree Ornaments – Detailed and Gorgeous
When you think of Christmas, what image immediately pops into your mind? Perhaps it is a fully decorated Christmas tree, with ornaments hanging off each branch. If so, make sure you use this as inspiration for your Christmas nail art! Create ornaments, as if they were hanging off the Christmas tree. You can use simple nail polish to create the ornaments, but you can also use nail gems for a stunning look.
5. A Bit of Mistletoe – Easy Christmas Nails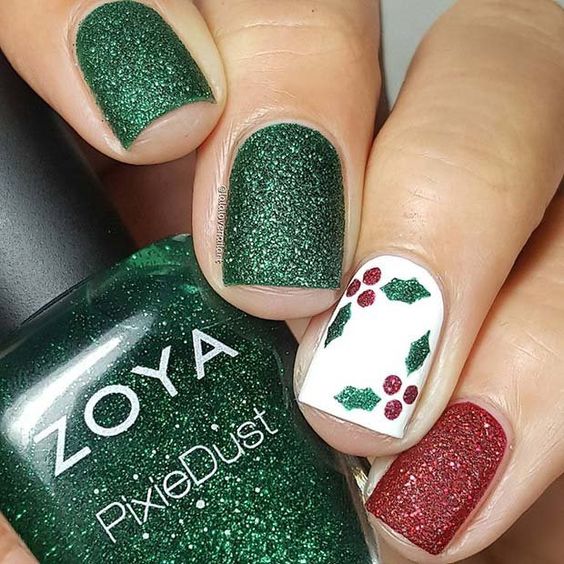 Get into the Christmas spirit by painting a bit of mistletoe on your nails! If you ever hang a branch of mistletoe from the ceiling at your Christmas parties, then this is another great image to use as inspiration. Decorate your nails with red and green glitter. Use the glittery polish to create the shape of mistletoe on a white nail.
6. Red and Bold – With a Few Snowflakes
Try out a bold and beautiful colour for Christmas! Red is a perfect example of this! Paint three of your nails in a brilliant red and coat one with gold sparkly polish. Cover the last nail in plain white, then it's time to decorate this nail with red snowflakes. You can add a few small dots in between the snowflakes, resembling snow falling from the winter sky.
7. Majestic in Matte – Beautiful Christmas Nails
Use matte for the winter holidays! Try out a dark burgundy or plum for most of your nails. Then create one nail which has a jumping reindeer flying across it. Create another nail by adding polka-dots all over it. The combination of these designs will give your nails an elegant, but fun look!
8. Cosy and Cute – A Pullover Design
Give your nails a cosy and cute look for the winter holidays! No matter what sort of nail design you choose to have for the festivities, make sure to add one nail which resembles a pullover. You can achieve this by using nail gel or creating an artificial nail! The knitted pullover look will bring a sense of cosiness with itself.
9. Santa's Suit – Add Some Snowflakes
Now here is a nail design which will be perfect for Christmas! Paint your nails in a beautiful red, then it's time to decorate them! You can create one nail to look like Santa's suit, adding buttons and a belt to it! To a few other nails add some white snowflakes.
10. A Christmas Wreath – Christmas Nail Ideas
What sort of ornaments do you decorate your home with for Christmas? Besides the Christmas tree, you might add a wreath to your front door each year! If so, make sure to use a wreath as inspiration for your Christmas nail art. Paint a wreath on one nail on each hand. These easy Christmas nails will definitely bring a Christmassy vibe with them.
11. Adorable Snowman – A Wintery Vibe
A typical wintery or Christmassy image is a snowman! If you love making snowmen each year with friends or family, create one on your nails as well, with a carrot nose and eyes out of coals! You can add some shooting and glowing stars to your other nails. We guarantee that your nails will have a fabulous look!
12. Candy Cane Stripes – Festive Christmas Nail Designs
Create a few festive and funky designs on your nails for Christmas! Use a combination of red and white to achieve a truly Christmassy vibe! For example, paint one nail in red sparkling polish, another in matte polish. You can create a French manicure with red glittery nail polish for the tips of the nails. Create red and white stripes on one nail, making it resemble a candy cane!
13. Plum and Gold – A Brilliant Combination
Now here is another brilliant nail design for winter that you will love! Use a combination of deep plum and gold! The plum will add depth to your nails, while the gold will uplift it with a festive feeling! While this is a simple nail idea, it's still spectacular!
14. Blue and Silver – Christmas Nail Designs
An unexpected combination of colours is no other than silver and blue. While it's not the most festive combination of colours, it definitely brings a shining elegance with itself! Decorate your blue easy Christmas nails with silver Christmas trees or even silver stars!
15. Simple and Stunning – French Manicure With Snowflakes
If you prefer sticking to simpler nail designs, then this might just be right for you! Create a simple french manicure on your nails, all except for one nail on each hand. Create an ombre on these ones, turning them from a natural nail colour into white. Then add a snowflake onto these nails for that extra Christmassy effect!
16. Another Ornament Idea – Easy Christmas Nails
We have mentioned before that using Christmas tree ornaments as inspiration for your nails is a wonderful idea! Here is another ornament-inspired nail art for the winter festivities! Use red as a dominant colour of your nail design for an incredibly bold look. Then use small nail gems to create the ornaments themselves on one nail on each hand!
17. Gold and Green – A Gorgeous Christmas Tree
Another gorgeous combination of colours, which will make your nails look fantastic for Christmas, is no other than gold and green. Use green for the base of your nails and add speckles of gold over them! On one nail create a Christmas tree for that true Christmas ambience!
18. Full of Holly – Cute and Festive
Holly has become a symbol of Christmas! So make sure to use these beautiful plants on your cute Christmas nails, for an adorable and festive vibe! Coat your nails in white, before adding the design to them! You will have to paint these small designs very delicately!
19. Christmas Gifts – Christmas Nail Ideas
Another typical Christmas imagery that will pop into your head when you think of the holiday is no other than presents! Create gift boxes on your nails. After coating them in any nail polish of your choice, you will have to paint ribbons around them, as if they were actually wrapped!
20. Snowflakes, Reindeers and Firs – A Truly Christmas Design
Now here is a short nail design that will look absolutely gorgeous for the winter festivities! Use a combination of red and white, using red polish for the base of your nails and white for the patterns. Create stripes, dots and waves as mini patterns on your nails, with a centrepiece in each nail. You can create snowflakes, fir trees and reindeers as centrepieces.
21. Santa Claus – Christmas Nail Designs
Santa Claus is a symbol of Christmas! So it would only make sense to use him on your nail design! You can recreate his suit on one nail, don't forget to add his belt! On another nail, you can paint his face! Coat the rest of your nails in the same red as his suit.
22. Pretty in Pink – Sparkly and Glamorous
If you adore the colour pink, make sure to use it in your Christmas nail art! Paint your nails in pale pink shades. Add a snowflake to one, a hanging ornament to another and loads of glitter to the others! This one is really up to you and your creativity, but make sure you bring a sense of Christmas to your nails!
23. Candy Cane Nails – Easy Christmas Nails
Candy canes are everyone's favourite treats during Christmas! They are sweet, fresh and minty! And this is a perfect flavour to taste after a filling Christmas lunch or dinner. Use them as inspiration for your nails, creating swirls of red, white and green! These nails will have such a festive vibe!
24. Pretty and Refined – A Multitude of Gold Stars
Here is a Christmas nail art more on the simple side. So, if you don't want to go overboard with your nail design for the winter festivities, then try this one out. After painting your nails in pale shades of your choice, add some gold decorations to them, such as golden stars!
25. A Spiral Ornament – Chic Christmas Nail Designs
As we have mentioned before, Christmas tree ornaments are a fabulous source of inspiration! Here is another nail design that incorporates a spiral ornament! Check out the tutorial above in order to create it for your nails! You can paint a few sparkles and stars around the ornament on your Xmas nails, for an even more Christmassy effect!
26. Another Plaid Pattern – Unique and Creative
We have mentioned before that using a plaid pattern as inspiration for your winter nails is a fabulous idea. Put your own unique twist on it and add a glittery nail to the whole design! The combination of red and black checkered pattern with a hint of gold will look beautiful together!
27. Rudolf the Red-Nosed Reindeer – Easy Christmas Nails
Another symbol of Christmas is Rudolf the red-nosed reindeer, one of the reindeers who helps pull Santa's sleigh. Whenever you walk around during Christmas, you will definitely see a lot of Rudolf-themed decorations! Use Rudolf as a dominant theme in your nail design, recreating his face on one of your nails! Naturally, don't forget to add the shiny nose to his face! Leave your other nails coated in red!
28. Metallic Blue – Mixed With Silver
As we talked about before, using a combination of blue and silver will give your nails an elegant shine for Christmas! This is a perfect option for anyone who is looking for something on the sophisticated side of nail designs. Create a few silver snowflakes on your blue nails for that wintery vibe.
29. The Grinch – How He Stole Christmas
A favourite Christmas story, especially for children, is no other than How the Grinch Stole Christmas. Why not recreate it on your Xmas nails? You can paint the character on one of your nails, then decorate the rest with sparkly nail polish.
30. Dark Matte Green – Christmas Nail Designs
Here is another beautiful way to decorate your cute Christmas nails. Paint them in simple matte green, then add some white snowflakes to a few. You can also create the head of a reindeer, using nail jewels or stones. 
We trust that this collection of easy Christmas nails has helped inspire you! For other ideas concerning nails, besides Christmas nail designs, like New Years Nail Ideas or white nail designs, check out our website.
Advert