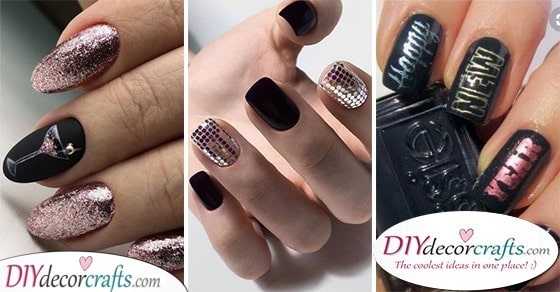 As you will know, a huge celebration takes place during the very end of the year and it also marks a new beginning! This event is no other than New Year's Eve! The last day of the year has become a time for huge and fabulous parties. It's all about getting together with friends and family, saying goodbye to last year and welcoming the next! Perhaps you will be hosting a New Year's Eve party this year at your place or a venue or maybe you will be going to a glamorous occasion. No matter what sort of party you will be attending, you will want your makeup and nails to match your outfit! Take a look through our collection of New Years nail ideas and other New Year's ideas. Hopefully, you will find a bit of inspiration in this pick of New Years nails.
1. The Last Minutes – The Final Countdown
When trying to find the right design for your nails for an event, make sure that the design matches the theme of the occasion. For example, a fabulous nail design for New Year's Eve would incorporate the final minutes of the year. Paint the upper part of a clock on your nails, with both of the hands nearly at the number twelve. Above the clock, you can even paint the words "Happy New Year" on them. An extra effect is to paint the number of the new year on one of your nails as well.
2. Champagne and Stars – New Years Nails
When you think of New Year's Eve, what sorts of images come to your mind almost immediately? Perhaps it is a bottle of champagne being popped with bubbly liquid spilling out of it. If so, make sure to include two glasses of champagne on your nails. Further, add a multitude of stars on your nails as an extra effect. To give your nails an elegant glow, you can try using a deep, sparkling blue for the base of your nails. Then use golden stars and golden glasses of champagne as the decorative elements.
3. A Bit of Bubbly – Say Cheers
Here is another simple yet beautiful nail design, which will be perfect for New Year's Eve. First of all, coat your nails in glittering gold polish. Then paint two glasses of champagne touching each other, as if people were wishing others a Happy New Year. You can add a few rhinestones or a few dots of nail polish above the two glasses. These small dots or stones will represent the bubbles flying out of the drinks.
4. Festive and Fun – Try a Combination of Black and Gold
If you are going to be heading off to a New Year's Eve party, make sure you make that party present on your nails as well. Firstly, cover your nails in a shiny jet black polish. After allowing them to dry, it's time to add the decoration. Use gold shimmering lacquer for the decorations. You can create an array of gold streamers and small speckles of gold as if confetti were falling in the room. Also, make sure to write "Happy New Year" on one of your nails, bringing complete NYE vibes with itself.
5. Adding a Wintery Vibe – New Years Nail Ideas
New Year's Eve takes place after the Christmas holidays, close to the middle of winter. Since the event is during the winter season, why not include a few wintery elements to your NYE nail design? For example, include a wintery pullover decor on a few of your nails. If you are thinking of including the number of the year which is arriving on your nail art, why not make the numbers look like Christmas tree ornaments? Attach "strings" to them, as if they were hanging off a fir tree!
6. A Suit and Tie – Get Ready for the New Year
Perhaps you are considering going to a fancy party for New Year's Eve. If so, make sure your nails bring elegant and sophisticated vibes with themselves. For example, you can create the image of a suit and tie on one of your nails and cover another one of your nails in an abundance of rhinestones. Decorate a few of your other nails by painting glasses of champagne on them. After all, champagne has become a symbol of New Year's Eve, so it would only make sense to use it as a decorative element.
7. Stylish and Chic – Try a Matte Black
Here is yet another beautiful and chic nail look for anyone who is going for something refined and sophisticated. First of all, you will need to coat all of your nails in matte black. After letting your nails dry, it's time to decorate them with glasses of various alcohol. For example, you will want a glass of champagne, but also a martini glass. You will have to paint these glasses of alcohol with thin nail brushes.
8. Counting Back the Minutes – New Years Eve Nails
As we have mentioned before, using a clock as inspiration for your New Year's Eve nail design is a perfect idea. You can show off that there are only a few minutes or hours left of last year. Use a combination of gold and black for the colours of your nails. Create a clock on one nail, drawing thin lines for the hands of the clock. You can cover one of your other nails in an array of rhinestones as a dazzling effect. Feel free to experiment with this idea!
9. Pink and Bubbly – New Years Nails
Since it's New Year's Eve, you will definitely want to pop open a bottle of champagne to celebrate. You give thanks for the year that was and look forward to the future! Use a unique combination of matte black and glittery pink. The sparkling pink will resemble pink champagne. Coat most of your nails in this sparkling colour, leaving only one of your nails in matte black. On that single nail, paint a glass of pink champagne, using the same glittery pink for the contents of the glass. These nails will look fabulous at any New Year's Eve party you decide to go to!
10. An Elegant Clock – Gorgeous and Sophisticated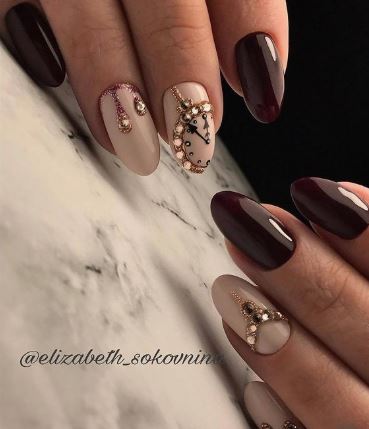 There are a lot of different ways of creating clocks on your fingernails for New Year's Eve. We've talked about using clocks as inspiration for this occasion, but here is a more elegant version of it. Use a combination of pale rose and deep burgundy for the colours of the nail art. Then create the shape and form of a pocket watch on your nails, using rhinestones as decorative elements on it. You can also paint the chain of your pocket watch trailing onto a few other nails.
11. Lucky Pigs – Cute and Merry
Pigs have become a symbol of wealth, luck and abundance. So it would only make sense to use pigs to decorate your nails with for the New Year. After all, you would like a bit of prosperity to come your way during the next year. You can decorate your nails with all sorts of pigs, one can be wearing a Santa Claus hat. Another pig can be standing in a pile of snow, while a third one can show it's backside. These nails are guaranteed to turn out super cute.
12. Pretty in Purple – New Years Nail Ideas
If you adore the colour purple, then this nail art was practically made for you! Coat your nails in any shade of purple you'd like. As we have talked about it before, you can use a clock as inspiration for your New Year's nail art. So, if you like this idea, make sure to use it in your nail art, with both hands pointing towards the twelve. You can decorate the clock itself with all sorts of rhinestones and jewels.