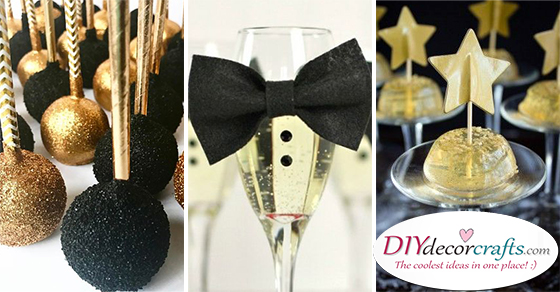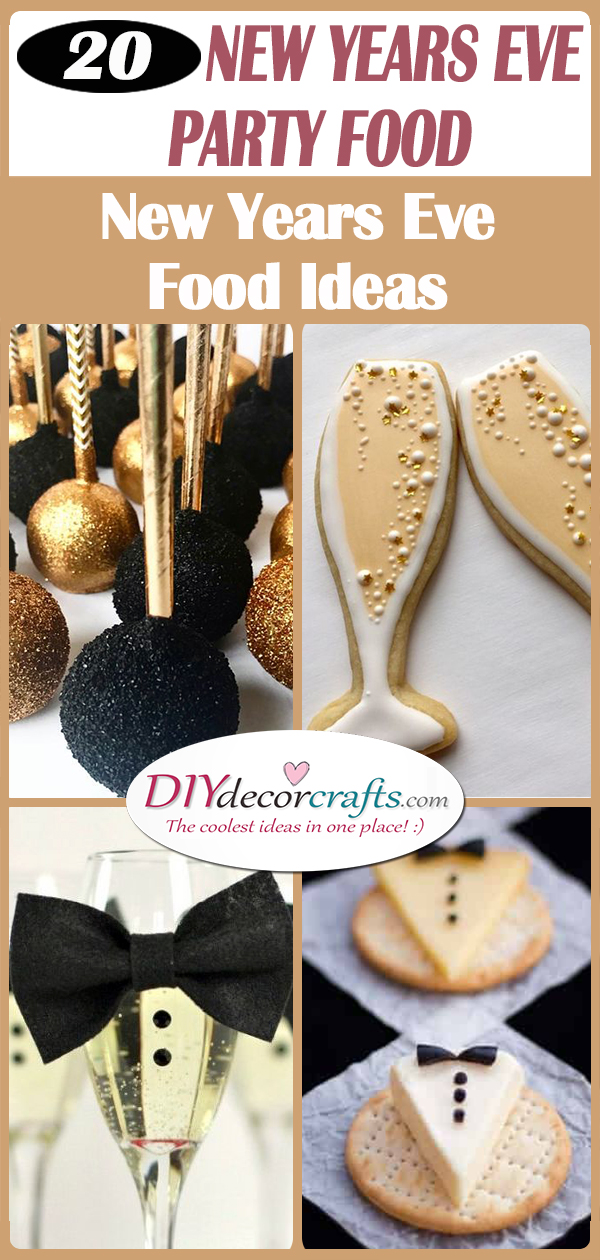 There is a celebration which takes place during the very end of the year. An event that also marks a new beginning! This celebration is no other than New Year's Eve! The last day of the year has become a time for huge and fabulous parties. It's all about getting together with friends and family, saying goodbye to last year and welcoming the next! Perhaps you will be hosting a New Year's Eve party this year at your place or a venue. If so, you will be in search of delicious New Years Eve party foods which you will be able to serve to your guests. That's exactly why we have gathered 25 New Years Eve food ideas, to help you find something tasty for your party which you can serve in a creative manner!
1. Champagne Jello Shots – Fun and Cool
Get ready for New Year's Eve with a whole lot of drinks, which are served in a slightly different way. Champagne is the sort of drink that will be served at every New Year's Eve party. So, make sure it will be distributed at your party, except in the form of jello! Create a whole bunch of jello shots, you can add food colouring to the shots for a more exciting look, but we recommend leaving it in a natural, champagne colour. Sprinkle edible gold on the top of the jello shots as an extra, dazzling effect.
2. Pigs in Blankets – Tasty New Years Eve Food Ideas
There are so many incredible treats you can bake for your New Year's Eve party. A portion of easy and cheap food to make for your party is none other, than pigs in blankets. This consists of hot dog sausages wrapped up in dough and baked in the oven. You can pierce through the sausages with sticks, making it easier for your guests to eat. Another great idea is to add a few dipping sauces to the table. This way your guests will be able to dip their pigs in blankets in whatever sauce they'd like!
3. Scrumptious Sugar Cookies – Decorate Them Creatively
If you love baking, then why not bake a batch of sugar cookies? The dough of these cookies is super simple to put together and takes no time at all! Before baking them, use cookie cutters to create all sorts of shapes and forms of cookies. After baking them and allowing them to cool it's finally time to decorate them! Use icing to create all sorts of New Year's Eve themed cookies. For example, you can create a clock which has both hands pointing towards midnight. Naturally, you can create a few cookies which read "Happy New Year's!" on them.
4. Black and Gold – Chic Cake Pops
When creating party foods, you will want to make sure that they are easily eatable. The worst thing to possibly do at a party is when you can't eat your food properly! Something easy to eat are cake pops! You will have to bake a cake first and create small balls out of it. Attach the balls to sticks and then dip them in chocolate. While the chocolate is still warm, you can also dip your cake pops into sprinkles. For a truly New Year's Eve look, you can go for black and gold sprinkles for your cake pops!
5. Fortune Cookies – New Years Eve Party Food
Wish everyone a Happy New Year as well as giving them a bit of good fortune at your party! Create your own fortune cookies at home which you will be able to serve to your party guests. Place small messages in each cookie. When your guests break the cookies to eat them, they will find small slips of good fortune inside. Get creative with this! To make your fortune cookies tastier, you can dip the ends in chocolate.
6. A Fancy Look – Glasses of Champagne
As we mentioned before, champagne is a necessity at every New Year's party! To give your party a better vibe and ambience, you can give the champagne glasses a cute look which matches the theme. For example, you can add small bowties to each champagne glass, giving them a cute and elegant look. Create the bowties out of black cardboard! You can also add a few small, black rhinestones underneath them, acting as the buttons of a suit.
7. A Cupcake Clock – Countdown to Midnight
When the new year is just a minute or a few seconds away, everyone will start to count down. This is a fun New Year's Eve activity that everyone seems to do at parties. If you like the idea of counting down until both the hands on the clock reach the number twelve, why not make a countdown clock of your own, which incorporates food? Bake a batch of your favourite flavoured cupcakes for your New Year's Eve event. Then it's time to decorate them. Grab twelve cupcakes and with the help of frosting, draw numbers on each cupcake from one to twelve. Line them up on a plate, making the numbers resemble the image of a clock. You can put a cake in the middle on which you draw the hands of the clock.
8. Awesome Champagne Cookies – New Years Eve Food Ideas
We have mentioned incorporating champagne into your New Year's Eve party food. Here is another fantastic way of doing so! Create a cookie dough, to which you add a splash of champagne for a special effect. When cutting your cookies out and getting them ready for baking, make sure to cut them in the shapes of champagne glasses. After baking them and allowing them to cool, it's time to decorate them to make them resemble actual champagne glasses! Use icing and glittery sprinkles to achieve this!
9. Delicious Doughnuts – A Favourite Amongst Everyone
There are so many types of food you can serve at your New Year's Eve party and this is just another fabulous idea. Why not serve your guests doughnuts? They are a perfect treat for anyone who loves sugary and fluffy goodness! If you are planning to invite kids to your New Year's Eve party as well, then doughnuts will definitely be appreciated!
10. Cute Little Pigs – Lucky New Years Eve Snacks
Pigs have become the symbol of wealth, prosperity and luck over the ages. So if you are going to be wishing everyone good luck and all the best, then it would only make sense to use pigs as inspiration for your cookies! Create the shapes of pig heads out of cookies. You can use a big cookie for the whole head and a smaller one for the snout. Then coat it all in pink icing. You can add marzipan ears to it, as well as sprinkles for their eyes!
11. An Elegant Idea – Fancy Oreo Cookies
Are you going to be hosting a huge New Year's Eve party for all your friends and family? If so, you will definitely have a party theme as well. This theme might involve something like black and gold. If so, make sure that your food incorporates the same colours which you use for the decorations of your party. This will help give your party a great vibe and atmosphere! A great idea is to buy a batch of Oreos and put your own twist on them. For example, you can blow edible gold spray over them for a fancy look.
12. Cheese and Crackers – Simple and Easy
There are a few types of foods, which are typically served at parties. An example of this is cheese with crackers. Not is it only super simple to put together, but it's also inexpensive. So if you are expecting a lot of guests, then this is a cheap solution to your food problems! After placing a slice of cheese on each cracker, you can add a few extra touches to each one. You can add a small bowtie and buttons to each slice of cheese as if they were wearing a suit and tie. You can use black olives to create this out of!