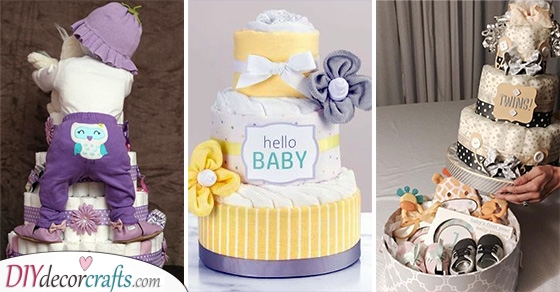 Maybe someone amongst your friends or family is expecting a baby! A few months before the birth of the baby girl or boy it is customary to hold a baby shower! This means everyone gathers together for a small party and brings an abundance of presents for the expecting parents. If you know that you are heading off to a baby shower sometime soon, then make sure to get some awesome baby shower gifts! Some options would be baby diaper cake ideas! These are great presents for a family with a newborn, as diapers cost a lot! So, check out our 20 creative nappy cake ideas for some inspiration on how to decorate them!
1. An Enchanting Castle – Baby Diaper Cake Ideas
You will notice throughout our article that there is a large variety of ways to put together diapers! So, feel free to get creative! Here is a castle diaper cake! It is placed together and decorated with ribbons, cones and even small flags to give it the look of an actual castle with towers! This would make a gorgeous diaper cake for girls, especially if the parents want their daughter to grow up watching classic Disney movies. For this nappy cake, you'll have to stack multiple tiers of diapers on top of each other, to really create that castle effect.
2. A Cute Elephant – Inspiration from Animals
Perhaps you are uncertain about how to decorate your nappy cake ideas. Well, one type of style or decoration idea that you can't go wrong with is, the animal theme! Incorporate some sort of animal in the diaper cake. Not a real-life animal, just a plushie. If you add a cute and soft toy, such as an elephant, to the diaper cake, you won't only be giving the expecting parents a selection of nappies. But their soon-to-arrive child will also receive a cute toy from you!
3. Roses and Hearts – Nappy Cake Ideas
Get creative with your decorating skills as well as your imagination! Are the parents expecting a newborn girl? If so, then here is a beautiful nappy cake to put together for them! Stack the diapers on top of each other, each one a smaller tier than the one below it. This will create the base of the cake. Decorate the cake layers with artificial roses (as these won't wilt) and some cut out hearts. Also add a tutu of tulle at the bottom of the cake, really giving it a girly and stunning appearance!
4. A Box Underneath – Revealing a Load of Gifts
Perhaps you don't only want to give the expecting family a diaper cake. If you've been thinking of getting them a selection of presents, then here's a fantastic option to try out! Build your diaper cake, but for the bottom tier, use a round box instead. When the box is opened, it should reveal a whole heap of gifts! You can get them anything useful, including a pacifier, clothes and shoes for the baby or just some adorable toys! This is a smart way of combining your diaper cake with an extra set of gifts!
5. A Pretty Pink Stroller – Diaper Cake Ideas
There are so many shapes and forms you can create simply from an abundance of diapers! Your diaper cake ideas, don't necessarily have to be shaped to look like a cake! Instead, you can opt for something that will look appealing to the eye and that is baby-themed. Just one example would be to create a baby stroller from nappies. While one of these customised diaper cakes will take more time and energy to put together, they are definitely worth it, because they look incredible! You can place some blankets or pillows inside the diaper stroller for the baby!
6. A Gender Neutral Option – Yello and Grey
Is the baby shower going to be a gender reveal party? This is a common way of announcing the gender of the expected baby. If so, then go for gender-neutral colours for the unique diaper cakes! There are several colours to choose from, including green, orange, red, yellow and grey! After learning how to make a diaper cake, all you have to do is decorate it! A few fabric flowers and ribbons should do the trick!
7. A Nautical Theme – Nappy Cake Ideas
When it comes to nappy cake ideas, there are a lot of options to choose from! Remember, that you don't have to go for something conventional. For a truly special and unique diaper cake, shape it into a boat or ship. Attach a cut-out anchor and a ship's wheel to the tiers of diapers. For further decorating, you can use blue ribbons to hold together the tiers of diapers. Also consider getting toys to place on the diaper cake, in the form of a whale, a fish, a shark or even an octopus! This is guaranteed to become a favourite baby shower gift!
8. A Baby in a Basket – Inventive and Brilliant
If you want to include a plastic baby toy in your diaper cake, then here is one idea to try out! As an alternative to creating a cake with multiple layers of diapers, why not put together a basket? Wrap the basket in some fabric and then arrange an abundance of diapers inside of it. Amongst the diapers, place a plastic baby. This will really help to channel the baby shower vibe. It's completely up to you on what colour of fabric you use for wrapping up the basket.
9. Add the Initial – Fabulous Diaper Cake Ideas
Now, here is a gorgeous and stylish baby diaper cake! Not only does it look amazing, but it's also fairly simple to put together. So, how to make a diaper cake? Create four or five tiers of diapers, wrapping ribbons around each layer. Then place them on top of each other. The final touch is to decorate the nappy cake! Besides the ribbons, you can use fabric flowers and butterflies! If the expecting parents have already chosen a name for the soon-to-be-born child, you can even place the first initial of his or her name on the diaper cake!
10. Using Beautiful Colours – A Rustic Approach
Perhaps the baby shower you are going to has a theme! It's become a trend for expecting parents to create a theme for the whole baby shower. It can be anything from a jungle theme to just choosing an overall style. For example, if the parents have chosen to try a rustic style with autumn-themed decorative elements, you may want your baby diaper cake to match the baby shower's vibe! If so, use wine red ribbons and artificial fall flowers as small ornamental touches on the nappy cake!
11. It's a Boy – Blue Nappy Cake Ideas
Are you looking for a diaper cake for boys? If so, you've come to the right place! One typical yet fantastic colour to use for diaper cakes for baby boys is none other than blue! Combine it with white for a stylish appearance! Instead of only creating one cake, make three! Then place a sign on each nappy cake. Each sign should be just one word spelling out "it's a boy." This is just an easy way of celebrating the birth of a son!
12. DIY Mickey Mouse – Cute and Adorable
You may decide to use some characters from kids movies or TV shows as inspiration for your unique diaper cakes! One awesome choice would be Disney characters! Mickey or Minnie Mouse for children are always fantastic options! Turn your diaper cake into the well-known head of Mickey or Minnie, with the two mouse ears on top. If it's a diaper cake for girls, make sure to add the red and white polka dot bow to the top of the head. This will present it with that girly touch!
13. A Gorgeous Unicorn – Pretty Diaper Cake Ideas
As you will have noticed by now, there are a lot of ways and designs revolving around unique diaper cakes! If you haven't found the right one yet, then how about you opt for something truly special and magical? We're talking about a unicorn! After building your diaper cake, it's time to design and decorate it, in order to transform it into a unicorn! Stick eyes on the top tier of diapers as well as a glittery unicorn horn and ears. Naturally, don't forget to create a mane of colourful fabric or pompoms, really creating the magical look of the unicorn.
14. A Natural Vibe – A Few Sprigs of Plants
Perhaps you are the sort of person who has always preferred minimalistic and simplistic designs over extravagant ones. If you'd like to keep your nappy cake simple as well, then why not decorate it in a very natural and organic manner? Substitute the ribbons wrapped around the diaper cake tiers with burlap and lace. Then stick sprigs of berries, leaves or flowers in between the diapers. A few flowers and sprigs will truly assist in bringing out that organic and simplistic appearance! 
15. A Few Hidden Gifts – Nappy Cake Ideas
Get ready to put together a cute diaper cake for boys or girls! After creating the base of the nappy cake, you can start to decorate it! Depending on what gender the baby will be, use colours according to that. If you are uncertain about what sort of ornaments to place on it, you can always opt for cute animals! Elephants are usually one of the best and favourite choices! You can also hide a variety of different gifts in between the diapers, ranging from pacifiers and baby bottles to hairbrushes.
16. Climbing Upwards – Funny and Adorable Options
Do you want your nappy cake to look funny and unique? Then here's an idea that you might just love! Firstly, you will have to build five or six layers of the diaper cake, giving the cake length. Instead of sticking to classic designs why not incorporate an exciting and unique factor into your own? One fantastic idea would be to place a toy baby on the diaper. You can make it look as if the toy was climbing up the tower of diapers! We're certain this idea will draw a smile on the expecting parents' faces!
17. A Washing Line – Diaper Cake Ideas
Here is yet another one of many unique diaper cakes! It has a creative twist to it, placing a tiny washing line for baby clothes in the diaper cake. You can hang some tiny baby clothes on the line, such as socks! This is an inventive way of giving the expecting parents a few clothes for the baby along with the main gift, the diaper cake. So, keep it cute and simple with this easy idea!
18. Learning the Alphabet – Add Some Letter Blocks
There comes a time in every child's life, when they start to learn the alphabet! It is an important learning period in every baby or toddler's life! So, keeping this in mind, why not get some alphabet blocks as an additional present? Or you can disguise some nappies to look like ABC blocks! Whatever you choose, these will definitely make a fantastic present for any family who has kids or a baby on the way!
19. A Bathtub of Diapers – Nappy Cake Ideas
Naturally, if you don't want to give your diaper cake a cake shape, you can opt for something completely different! Just one option would be to create a bathtub made of diapers. Then fill the insides of the tub with baby lotion, baby shampoo and baby powder.
20. Pink and Gold – Stunning and Striking
Are you trying to find a stunning diaper cake for a girl? Then try a combination of gold and pink for the decorations! Pink ribbons and roses are arranged on the nappy tiers and gold stickers brighten up the overall appearance of this nappy cake. The two colours used together are a glamorous match!
We hope, that this pick of nappy cake ideas helped you in giving you inspiration for baby shower gift ideas! Browse through our DIY baby shower decorations as well!
Of course, we have a few other diaper cake ideas, that you can check out underneath! So, get ready and learn how to make diaper cakes!
Advert