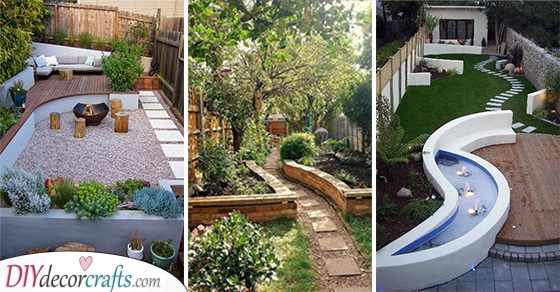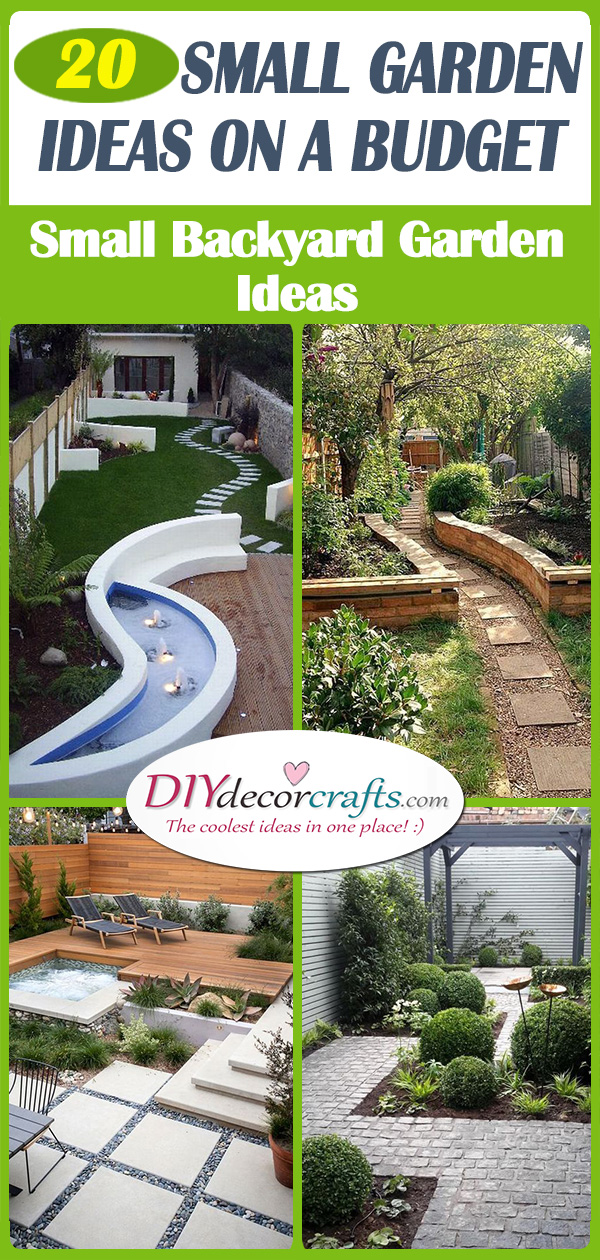 Maybe you are in the middle of moving places. Or just renovating your whole home! One part of your home not to forget about is your garden. Gardens, no matter how large or small they are, will make the perfect spot for you to relax in! Whether it's drinking a cup of coffee in the mornings or just enjoying the afternoon sun, you can get in touch with nature! If you're trying to spruce up your own backyard, then why not find some inspiration? We have collected 20 small garden ideas on a budget just for you! By taking a look through these small backyard garden ideas, we're certain you'll discover something to your taste!
1. Add a Fire Pit – Small Garden Ideas on a Budget
Even if you have a tiny backyard there is still a large variety of ways to perk it up! Just one of these is to install a fire pit in your back garden! A fire pit is a fantastic element to add to a garden. It will help in keeping you warm during chilly nights when you're sitting in the backyard. And you'll also be able to install a grill above it, making it a possible place for making food! All in all, a fire pit will definitely boost the whole atmosphere of your garden!
2. Raised Garden Beds – A Bit of Landscaping
Are you considering planting some flowers or different sorts of plants in the terrain of your garden? Well, instead of just growing them in the ground, how about you add some landscaping to your garden? In the form of raised garden beds on both sides of your backyard! You can create the raised garden beds from whatever material you'd like. We would recommend bricks or stone! Then, feel free to add some wooden benches on top of the raised flower beds, creating an easy seating space!
3. A Unique Design – Small Backyard Garden Ideas
Get ready to find some unique small garden design ideas! This design is all about meshing different styles together to create something exciting and new. Build different types of walls or fences for each side, create small planters, create a modern fountain in the middle are just a few ideas to try out. You can even divide your garden into a few parts, leaving one overrun with grass, another part paved with stone and a third part covered in wooden boarding. One of these small patio garden ideas will definitely create a unique combination of different styles!
4. Refined and Sophisticated – Gorgeous and Green
A lot of people prefer sophisticated designs when it comes to gardens! If you are one of these people, then you may just adore this idea! Buy some refined garden furniture, including a dining table with chairs surrounding it. Besides creating a space to sit at and eat with friends and family, give your garden a prim and proper look. Trim the trees and bushes, creating unique shapes. Where there isn't any grass on the lawn, you can place stones or pebbles for an elegant touch. Remember to add lighting to your backyard ideas for small yards!
5. A Cosy Vibe – Small Garden Ideas on a Budget
Perhaps you really do have a tiny garden and you're uncertain how to use it. Well, one fantastic idea is to use it as a small space for having friends, family or colleagues over! All you need to do is arrange a table and a few seats around it in the garden. Give your backyard a cosy feeling by hanging strings of fairy lights above the seats and table or along the fence. Naturally, you can place a few potted plants along the base of your fence as a bit of decor! It's an easy yet fabulous design idea!
6. Diagonal and Cool – For a Geometric Design
Are you still looking for some amazing small garden landscaping ideas? After all, adding some form of landscaping will help transform your garden and give it style and definition. You can use geometric shapes for landscaping, such as laying down your garden path in diagonal lines, creating a few triangles in between them. For the landscaping, feel free to divide the garden into different parts. Leave part of your garden growing with grass, add a raised flower bed as well as paving the ground for a seating space!
7. A Rustic Look – Small Backyard Garden Ideas
There is an abundance of styles or designs you can opt for when finding something perfect for your backyard. You may think about matching the style of your house to your garden, to create a sense of harmony. For example, if your house is built in a modern style, go for a modern garden! However, if your home embodies a rustic design, then make sure that the garden exudes the same atmosphere. For a rustic garden, make sure to use stone as the main building element and use rustic designs!
8. Perfect for Parties – A Garden for Social Gatherings
A garden, even a small one, will make a perfect place for parties or social gatherings! Especially during warmer seasons, when it's pleasant to be outside! If you'd love to host some garden parties, then how about you arrange your garden in a way to make this possible? Besides laying out a table with chairs, you can also try out a garden sofa! Place it in one of the corners of your garden, this way it will take up the least possible amount of space!
9. A Place for Relaxation – Small Garden Ideas on a Budget
After a long day of work or school, you may find that all you need is a bit of time to relax. At times like this, your garden will serve as a sanctuary of peace and relaxation. If you are considering spending a lot of time in your backyard, then how about you add some elements to your garden that will help you unwind? A small fountain or pool will help in creating that peaceful environment. Add some sunbeds to your garden as well, allowing you to lie down in them and enjoy the sunlight. Even a small garden will be easily transformed into a calming space!
10. Gorgeous and Stunning – Stepping Stones Guiding You
No matter whether your garden is small or big, why not turn it into a magical place where you'll love to spend time? Create garden beds filled with flowers and herbs. Also, feel free to add furniture to your garden. Connected the different parts of your garden by laying down stepping stones. Stepping stones have the power of giving your garden a unique and special atmosphere!
11. Build a Patio – Small Backyard Garden Ideas
A small garden is not an excuse for leaving it plain and boring! Even if you have a small garden, how about creating a winding garden path that takes you to the back of the backyard? Here, build a patio or a small terrace. This will make a space for you to add any furniture to, for example, a dining table as well as some chairs. An awesome addition would be to build a roof over your patio. This way, if it rains, you won't get wet!
12. Stylish and Striking – Keeping it Simple
There are a lot of ways to go about small garden design ideas! Remember that just because it's small, does not mean that it has to be dull! If you're not really the sort of person who loves to garden, transform the space into a resort of relaxation! All this means is to add some comfortable seating to the garden. Maybe include a coffee table as well. Surround the walls of your garden with pot plants in order to add some greenery to it. For lighting, you can opt for a selection of lanterns, carefully placed around the area.
13. Divided into Two – Small Garden Ideas on a Budget
Another easy way of designing your backyard is by dividing it into two separate spaces. For the front part of your garden, you can line the floor with stone or pavement and arrange some garden furniture on it. This will create a space to lounge around or eat meals. As for the rest of the garden, leave some grass growing on the lawn and install raised garden beds around the fences. A simple lawn will be a great place for kids to play in or will be fantastic for a pet!
14. Include a Garden Shed – Storage Space
Sometimes you'll notice that you hardly have any space left in your house for putting away your stuff. If you have gardening tools a good option would be to build a small shed in the back of your garden. Even if your garden is small, you'll be able to make the most of a garden shed! It will create a neat and organised way of storing any extra stuff that you need a place for! And a small garden shed will fit right into a small garden!
15. A Walk Around – Small Backyard Garden Ideas
When taking a walk around your garden, it's an amazing choice to use stepping stones, so no one treads on the flowers and plants. There is a large variety of brilliant stepping stones to choose from! For example, square shapes stones with pebbles filling up the gaps between them would be a great option. These will create a simple but elegant atmosphere in your garden. Plant small shrubs and herbs next to the pathway in raised beds for an even more beautiful look!
16. Cute and Easy – Small Patio Garden Ideas
Now, here's another perfect idea on how to organise and arrange your tiny garden layout! You don't have to overdo it with decorating go for a simple and clean style. Even if your garden is tiny, you can give it a function. For example, one of the best options is to add a dining table and some seats to it. Thanks to this, you'll be able to enjoy any of your meals outside in the fresh air of your garden! Naturally, feel free to grow all sorts of plants in your garden. Whether they are potted or grown in garden beds, you'll be surrounded by beautiful greenery!
17. Time to Grill – Small Garden Ideas on a Budget
Of course, there's no better way to invite people over to your place, than having a grill party! In your garden! So get on track with awesome backyard ideas for small yards that incorporate a grill! Install it in the back of your garden, and don't forget to add seating or a dining area as well! When your friends or family come over and get together for a barbeque, you'll be able to grill the most delicious food!
18. Long and Narrow – Find the Best Layout
Maybe your garden is shaped long and narrow. If this is the case, you'll definitely want to find the best layout for it! Use your garden for a few things, creating a space for barbeques and eating. Also, add a table to your backyard for your morning coffee. Feel free to include a small patch of grass in your garden, especially if everything is already paved with stone or cement. Naturally, you can't forget about growing some flowers in your garden!
19. A Cute Corner – Small Backyard Garden Ideas
We have already talked about installing some sort of seating space in your small garden! Especially if you want to spend time in your backyard enjoying the fresh air, sunlight and the sounds of nature. Create a cosy corner in the back of your garden. Place an L-shaped sofa in the corner and add a coffee table to the middle. Add pillows and blankets to the seating, making sure that it's super comfortable!
20. Overgrown and Lush – A Beautiful Setting
If you have always admired small garden landscaping ideas that incorporate a sense of wilderness and overgrown plants, then you'll love this last idea! It's all about letting your plants grow naturally, without trimming them or cutting them. Unless you really need to! This will give your whole garden a very lush look!
Hopefully, these small garden ideas on a budget have given you some options to try! For other garden ideas, besides small backyard garden ideas, such as garden lighting ideas or backyard landscaping, visit our website!
Advert