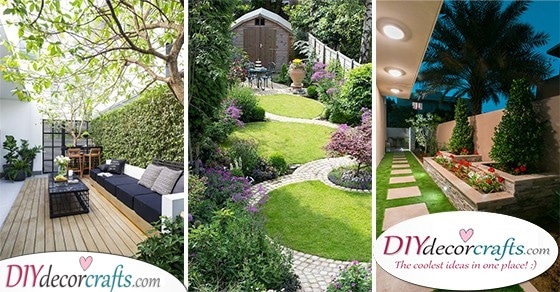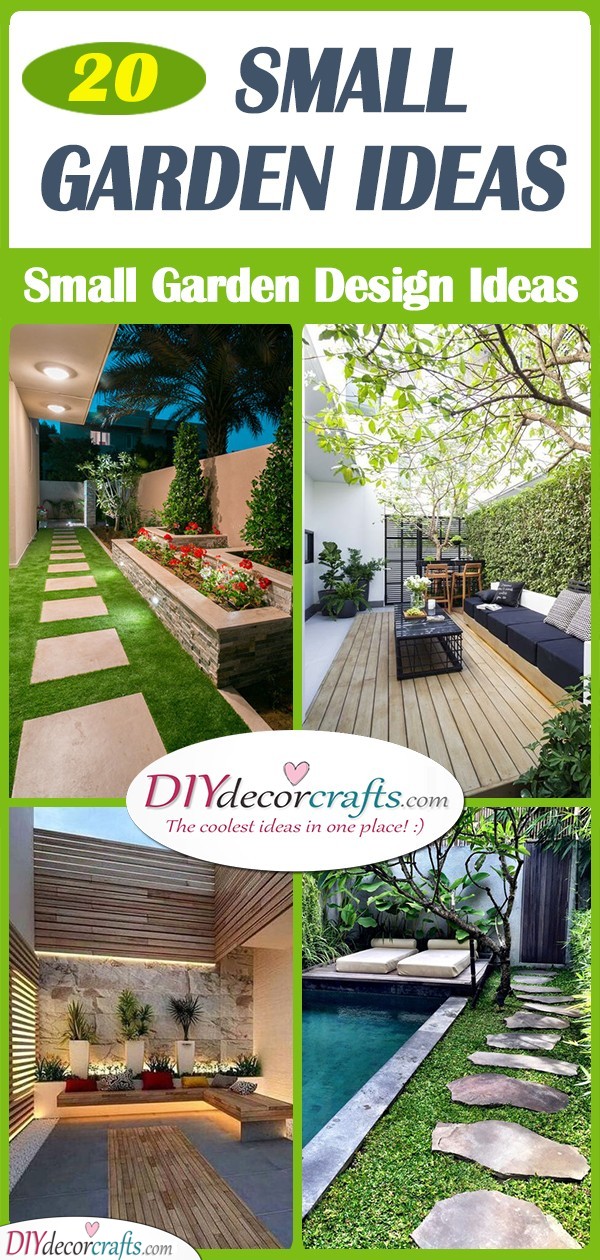 A place you will want to spruce up is your garden! Even if you have a small garden, it's important that it looks its best! There is a whole variety of ideas and ways to reimagine and redesign your small garden to give it a relaxing vibe. After all, after you get home from work, your garden is a perfect place to sit down in and drink a coffee or a cup of tea there. Whether you want to place some seats in your garden or plant some flowers in various parts of it, we're sure you will be able to create a lovely space for yourself! Make sure to browse through this pick of 20 very small garden ideas on a budget to find some inspiration amongst these small garden design ideas.
1. Modern and Stylish – Creating Seating Space
When designing your small garden, you have to think of what functions you would like it to convey. If you would like to create a space for inviting and entertaining guests in, then make sure you place some comfortable seats in it! For example, you can create a wooden deck on your garden, which you can place all the seats on. Wood will bring simple elegance to it, while you can choose some black or white DIY garden furniture for modern sophistication.
2. A Garden of Flowers – Very Small Garden Ideas on a Budget
Depending on your taste, when it comes to gardens, you might opt for a more old-fashioned garden that contains dozens of flowers. You can create small stepping stone paths running through the garden, planting all of your favourite flowers next to it. If you have decided on sticking to a more traditional garden, then you can feel free to add some statues or large vases to various parts of your small garden. Feel free to add some herbs to your garden as well, which may come handy when you cook. Also, plant some trees in your garden!
3. The Garden Shack – Creating a Small Shed
Perhaps you would like to use your small garden for more practical reasons. For example, creating a small wooden shed in which you can store anything inside! So if you have no place inside your house for tools or stray furniture, then a wooden shack in your garden will be the perfect solution. Naturally, it depends on your needs what you want to use the shed as. If you are an artist, you might use it as a space for painting. Or if you like playing on an instrument, you can do that in the shed. This way you won't disturb any of your neighbours!
4. An Exotic Space – Small Garden Design Ideas
There are so many unique and beautiful ways to design your small garden! If you would like to bring an exotic vibe to your garden, make sure to do that by using a variety of unique plants. For example, you can plant bamboo in the back of your garden and place pots of cacti around different parts of it. To bring out this unique atmosphere even more intensely, you might like to use a combination of a wooden deck and pebbles everywhere else.
5. Elegant and Blissful – Small Garden Ideas
Maybe you like a more elegant and refined style when it comes to garden designs. If so, think about including stepping stones, which are all cut in the same shape and size to create a simple garden pathway. Perhaps you will plant flowers and bushes in your garden. If so, make sure that you create stone planters for them. Also, something which you can't forget about is the lighting of the garden. Lighting helps set the atmosphere. So don't forget to add some lights!
6. Stone and Wood – Unique and Creative
When it comes to recreating your own small garden, it can be a difficult task to prove a style which suits your taste. If you like a creative and unique twist on things, then make certain to check out this design! Try out a combination of wood and stone. You can use wooden panels as decorative elements on the floor and walls of your garden, as well as using it for seats. Then use stone as the dominant building base of your garden. You can add some pots filled with cacti or ferns, bringing an exotic vibe to your whole garden.
7. Adding Special Effects – Very Small Garden Ideas on a Budget
You might be able to spruce up your small garden with a few interesting elements. So even if your garden is small, don't settle for something typical and boring! A great example of what to add to your garden is a small pond or fountain. They look stunning as well as creating a peaceful and harmonious environment, in which you will be able to relax in. Another unique decorative element you might like to add is a wooden arch, which you can overrun with flowers or vines!
8. A Place for Everything – Small Garden Design Ideas
Even if you have a tiny garden, that doesn't mean you can't create an amazing space out of it, which you can use for many things. You can use your garden for a few things, creating a space for barbeques and eating. Another thing you might like to add is a table for your morning coffee. Also, you might decide on having a small patch of grass in your garden, if everything is already paved with stone or cement. Naturally, you can't forget about planting a few plants and flowers in your garden!
9. A Space for the Kids – Leisure and Fun
A great way to reinvent and redesign your garden is to create a leisurely place of joy and fun! This is a fantastic idea especially if you have kids! If you have a large tree in your garden, you can create a swing on it. This way after your kid comes home from school, they will be able to have some fun in the garden! Another thing you can add to your garden is no other than a hammock! This will help create the perfect space for relaxation, especially after a long and hard day!
10. A Modern Take – A Simplistic Essence
Having a small garden should not mean a huge problem! There are so many unique ways of designing it, you will have to choose just one! You can create a seating space in your garden, with bushes and trees growing in the planters right behind them. You can paint the seats in white, creating a modern and simple elegance. You can also use wooden panels as decorative elements all around your garden to give it a creative atmosphere. Of course, you can place a table with chairs in your garden as well, creating a space to drink your morning coffees at.
11. A Chill Ambience – Very Small Garden Ideas on a Budget
While there are loads of fabulous small front garden ideas on how to use your garden as a practical space for storage, you can use it as a place to take some time out. There's nothing better than getting home after a long and tedious day at work or school and just sitting down in your garden for a bit. You can breathe in some fresh air as well as listening to the rustling of the leaves in the wind. To create a chill ambience in your garden, make sure to include some comfortable chairs and bedchairs.
12. Small and Romantic – Great for Dinners
Just because you have a small garden does not mean you can't create something unique out of it! Even if your garden is tiny, you can create an intimate and romantic space out of it! Do this by placing a table inside your garden as well as adding chairs to both sides of it. You place pots of flowers and all sorts of plants around the table, creating a lush environment. Then come out to eat lunch or dinner in this small space. Light a candle to add the final touch of a romantic atmosphere!
13. Beautiful and Green – Small Garden Design Ideas
One of the main points of having a garden is to have a sense of nature surrounding you in your everydays! That's why it is so incredibly important to do some gardening and plant some flowers and trees! Depending on your tastes, you can add any sorts of flowers to your garden. So if you have a favourite species of flora, you should make sure to incorporate it in your small front garden ideas! Spending time in a green environment will fill your heart with love.
14. Add a Fireplace – Cosy and Warm
Make sure to uplift your garden with this great idea! Add a fireplace to your garden, placing seats around it. This way when the cold autumn nights arrive, you will be able to sit around the fireplace with your loved ones. So this will be a perfect way to relax and spend a bit of time together! This is also a great place to toast some marshmallows! There are a lot of outdoor fireplace designs, so we are certain that you will be able to find one which fits the rest of your garden!
15. A Path Leading to the Garden – Small Garden Design Ideas
Do you have a small space connecting your front yard with your garden? Then make sure to create a pathway leading to your garden. You can recreate a small fragment out of your actual garden, giving anyone an impression of what your garden is like while walking down this path. Make sure to include stepping stones, showing the way forward. You can also line the path with some bushes or ferns placed in pots. This is really up to you and your imagination!
16. A Japanese Essence – Creating a Gorgeous Atmosphere
Do you like Japanese culture? If so, make sure to add some Japanese elements to your garden! For example, a pathway made out of pebbles, with stones lining it on both sides. A small bridge somewhere will also be a beautiful addition to the garden! Another great decorative element, which birds will be happy about, is to place an oriental birdfeeder in the garden. If you decide on sticking to a Japanese inspired garden, make sure you plant a few of the typical plants in it, which you would find in the same sort of garden.
17. Filled with Wood – Very Small Garden Ideas on a Budget
Here is one of many small yard ideas for designing your garden in a simple and minimalistic way. Include some wooden arches with a stepping stone path winding underneath it. You can have vines or some sorts of flowers grow on the wooden arches, which will create a beautiful and whimsical atmosphere! You should also try using as much wood as you can. For example, use wooden furniture in your garden for a more natural vibe. You can also add wooden fences or wooden panels to them.
18. The Feeling of a Jungle – Unique and Wild
Even if you have a tiny garden, you can still create unique and wild-looking mall yard ideas out of it. By adding a pool or a small pond to your garden and planting ferns everywhere, you will be able to make your garden's atmosphere resemble that of a jungle's. You might also think about planting some exotic trees in the garden to complement the whole ambience.
19. Beautiful and Overgrown – Small Garden Design Ideas
Do you find the gardens shown in the impressionist paintings enchanting and beautiful? Then make sure to let your garden grow into a lush and overgrown array of greenery. Allow your plants to blossom and grow in natural shapes. You can place some wooden chairs in the garden, to create a space to enjoy the scenery around you.
20. A Gorgeous Garden – Very Small Garden Ideas on a Budget
If you have a small garden, you can still try organising it in a practical and logical manner! For example, you can plant your favourite sorts of bushes and flowers next to the fences. Then you can place a table in the middle of your garden with a few chairs. This way you will be able to enjoy meals or coffee in your garden, feeling at one with nature!
We hope that you have found some inspiration concerning very small garden ideas on a budget. If you would like to learn more about backyard landscaping or front yard landscaping, besides small garden design ideas, just visit our website!
Advert