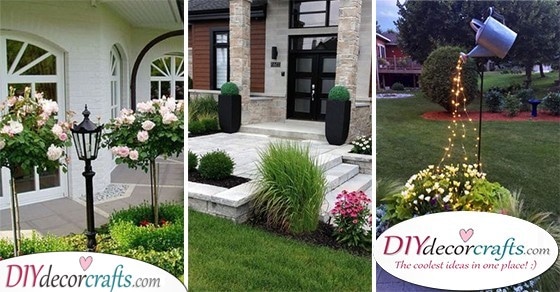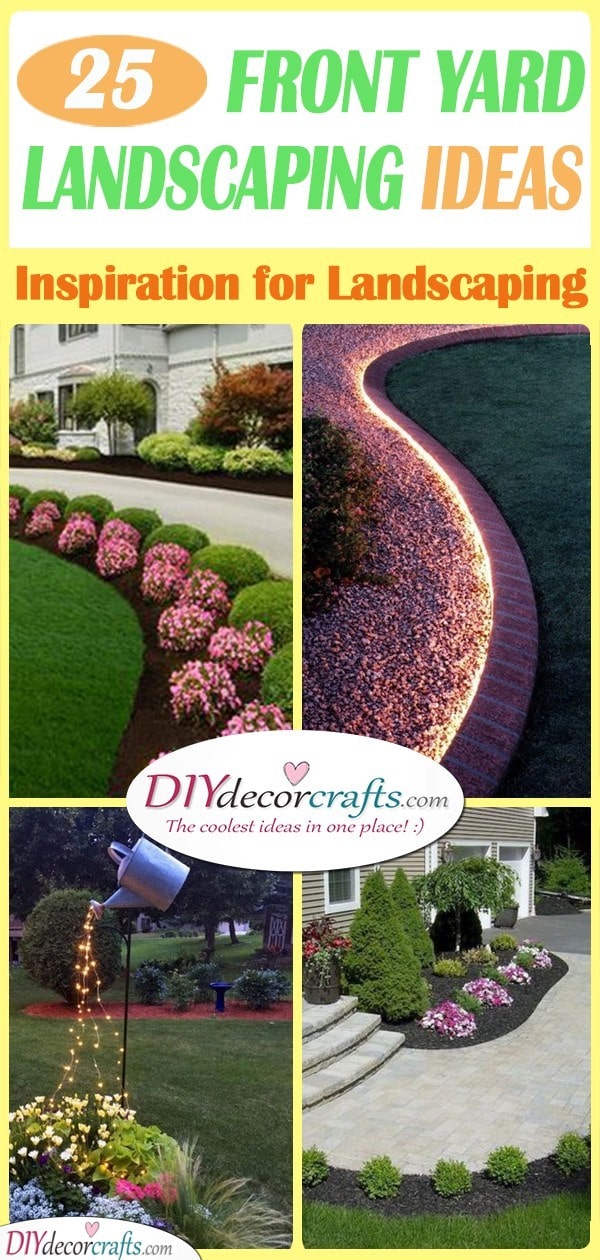 Decorating your house with beautiful objects and home decor can take the atmosphere of your home to a whole new level. If you have a garden though, you will probably know by now that it takes time and energy to keep it in shape. It takes up a lot of time to water everything, mow the lawn and fertilise the flowers or plants. But it's completely worth it, even if it is time-consuming. Sometimes when you've had a rough day the best possible place to relax in is your garden. To give your garden a sense of style or that extra beauty why not gather some inspiration from our front yard landscaping ideas? We have gathered 25 fantastic front yard landscaping ideas on a budget for you to choose from, to make your garden perfect and give off the best vibes!
1. A Cascade of Pebbles – Beautiful Garden Decor
A simple and easy way to give your garden a new and beautiful look is with this idea! All you need is a large clay pot or vase and a multitude of pebbles or small stones. Place the clay pot in your garden, tilting it to the side. Pour pebbles or small stones into it and around it, as if they were pouring out of it. This will look like a beautiful cascade of water flowing into your garden!
2. Tiers of Trees and Bushes – A Gorgeous Look
If your front yard has a natural hill, on which your house is resting on, make sure to use that small climb to create something gorgeous! Create tiers of trees and bushes, making them look like platforms next to each other. Envelope each platform in stone, before filling it with soil. You can plant your favourite trees or bushes in them.
3. A Fabulous Fountain – Add a Bit of Elegance
Placing a water fountain in your front yard is a great idea! It will bring that addition of elegance to your garden, not to mention the birds in your neighbourhood will benefit from it as well. If you love the sound of water pattering or trickling down, make sure to get a fountain in your garden! Your front yard will be a place of deep relaxation and good vibes for whoever visits you!
4. Brighten Up Your Garden – A Rain of Lights
If you are looking for a cheap and simple way to spruce up your front yard, don't go any further! All you need is an old watering can and a few strings of fairy lights. Attach the watering can to a wooden or metal pole, and string the lights down from the sprinkler part of the watering can. It will create an illusion that the watering can is showering your plants with bright lights! This is a truly beautiful idea for any garden!
5. Modern Refinement – Front Yard Landscaping Ideas
Do you prefer a more modern and simplistic decor over rustic or traditional ornaments? Then here's an idea that will blow your mind! Plant small bushes along the path leading to your front door, leaving the same lengthed distances between them. Cut and trim your bushes to create small spheres. Instead of leaving them standing in soil, cover the ground with small white pebbles. You can also place a row of lights next to each bush, to help guide you or anyone else to your home.
6. Islands of Flowers – Front Yard Landscaping
With this breathtaking front yard idea, you will be the envy of your neighbourhood! Create small islands of flowers, blooming all around your garden. All you have to do is dig up parts of your garden, and plant an abundance of flowers in the soil there. Leave the rest of your front lawn overrun in beautiful green grass, while there are small circles of blossoming flowers creating a beautiful contrast.
7. A Splash of Colour – Floral Front Yard Ideas
While you might have a few stepping stones, bushes and trees decorating your front lawn, you might be missing something as equally gorgeous as it is vibrant. We recommend adding flowers! Pink posies are a great idea, as they add a burst of colour to wherever they are planted!
8. A Stylish Mailbox – Best Ideas for Front Yards
Remember not to forget your mailbox when designing or decorating your front garden! A mailbox is sometimes the first impression of the home itself, so it's important to give it a great look. Coat your mailbox in a simple shade of paint, for example, black will give it a classic look. Then create a paving stone planter around it, as if the mailbox were growing out of it! Add a few flowers to the planter for an even more exceptional image!
9. Romantic Roses – Front Yard Landscaping Ideas on a Budget
If you simply adore the fragrant scent of roses, make sure to decorate your front yard with them! It's completely up to you on what species or colour roses you choose to plant. You can even attach them to a wooden pole, to make them grow upward, forming them to look more like trees than rose bushes!
10. Illuminate Your Garden – Light it Up
Adding some form of lighting to your front yard is crucial! It will set the tone and atmosphere of your garden at night. If you have been looking for something more simple, but beautiful why not try a long light that trails around the rim of your planter? It will illuminate your flowers with dim light, just like in the picture above! This is a great idea if you have been looking for something elegant and refined.
11. A Great Fence – The Frame of Your Garden
A picturesque garden is in need of a great fence, just like a beautiful painting needs a beautiful frame. Depending on what style your front yard embodies, you might consider building a fence to surround it. For example, a garden on the rustic side might look better with a big stone wall encircling it, while a more modern and simplistic front yard may match a simpler wooden fence. 
12. Trail of Shrubs – Front Yard Garden Ideas
Do you have a paved pathway decorating your front yard, leading the way from the street to your front door? Make sure you decorate it's surroundings, for example, by planting a trail of shrubs next to it. You can trim the shrubs any way you'd like, but naturally, it's up to you what you plant next to your pathway! Flowers are also a great idea!