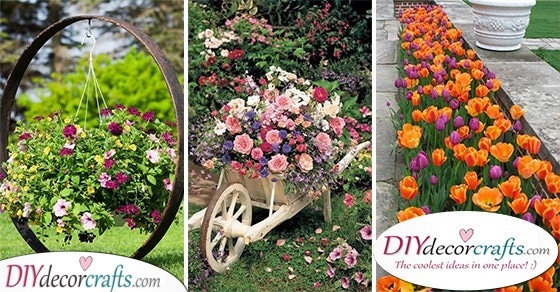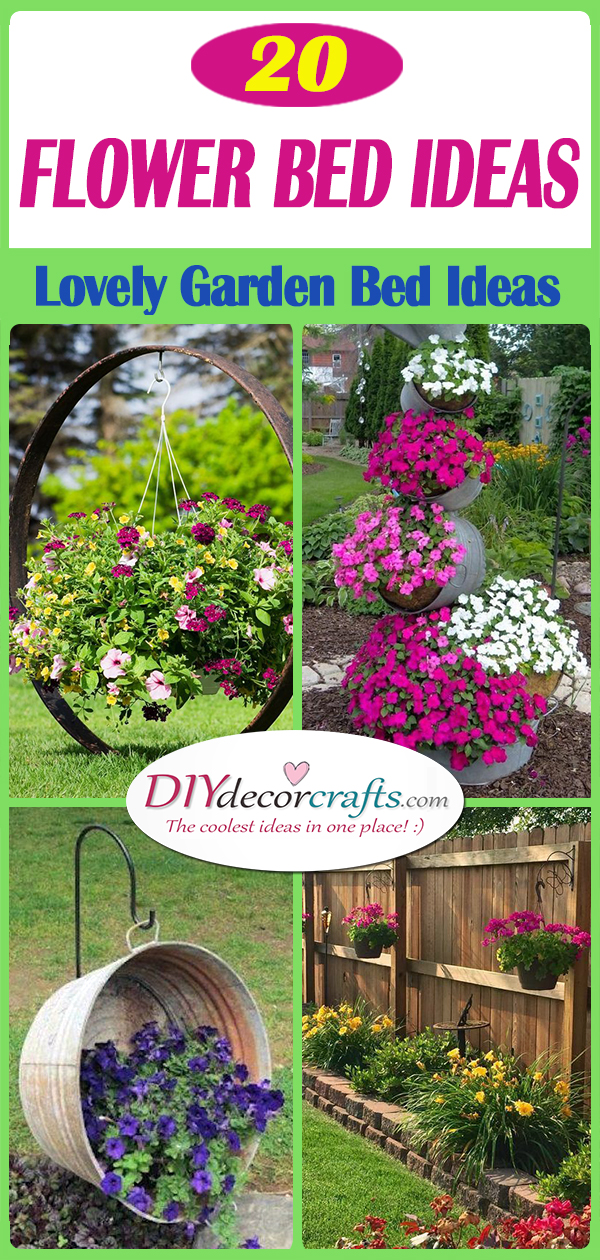 While we have talked a lot about how to design your garden, we haven't touched on an important topic. This is no other than flower beds. Flowers bring a new sense of life and some colour into gardens. It's amazing to see how flowers bloom and blossom each year. Besides your choice of flowers, another crucial thing you will have to think about is the design of the flower beds themselves. There are a great number of ways to design your garden's flower beds. So if you are in need of a bit of inspiration, make sure to look through our pick garden bed ideas. We have collected 25 simple flower bed ideas to help you out!
1. A Bed of Tulips – Simple Flower Bed Ideas
Perhaps you are getting ready for the season of spring. This is a time of renewal and rebirth. The birds start chirping and singing happily. Nature starts blossoming and blooming in vivid colours. A beautiful springtime flower is a tulip. Depending on what sort of colours are already present in your garden, you might think of combining one or two types of tulips. Tulips come in many colours as well as many shapes, so we're sure you will find a type which suits your garden perfectly!
2. Right Next to the Fence – Simple and Practical
There are a lot of practical ways of designing your easy flower bed ideas! Some people create small islands of flower beds in the middle of their garden and while it looks beautiful, it doesn't always prove to be practical! A great way of adding colour to your garden is by planting flowers next to your fences. By lining your fences with an array of flowers, you will be able to add a lovely touch and atmosphere to your garden. Planting your flowers next to your garden fences, encircling the rest of your garden, will also help not getting your flowers in the way.
3. On Top of Each Other – Garden Bed Ideas
You don't necessarily have to stick to planting flowers in actual flower beds. Another great idea is to grow them in planters and pots. There are a lot of interesting ways of arranging your pots, to create a unique and whimsical ambience in your garden. A fabulous idea is to place pots on top of each other, by drilling a hole through each one and placing them on a pole. After doing all this, all you will need to do is put some soil in each pot and plant some flowers in them!
4. Blossoming in a Wheelbarrow – Creative and Cute
As we mentioned just before, don't confine yourself to your actual garden. Play around with objects you might have laying around at home or in your shed. Anything can become a container for flowers! For example, you may have an old wheelbarrow stored in your garden shed, which you don't use anymore. If so, why not use it as a space for planting flowers? Fill up the wheelbarrow with soil. After doing this, all you will need to do is plant the flowers you want inside! These will make great alternatives concerning simple flower bed ideas!
5. Hanging Flowers – Alternative Garden Bed Ideas
Here is one of many easy flower bed ideas that will spruce up your garden! Perhaps you have an old metal ring at home, such as the wheel of a bicycle. If so, you can attach a container filled with flowers onto it, so it hangs into the middle of the ring. Now all you will need to do is fixate the metal ring into the soil of your garden. You can do this by digging up a small patch of soil, placing the ring inside of it, then covering it with enough ground to keep it in place.
6. A Stunning Spiral – Succulents and Rocks
Create a stunning spiral in your garden. Make it out of rocks, pebbles and succulents. You can create the spiral itself so that it branches out from a tree trunk. It's actually quite forward to create, you need to create two lines of spirals out of stones or pebbles, which are parallel to each other. Then plant succulents in the soil between the two lines of stone. These are perfect for anyone in search of flower bed ideas with rocks! While this isn't exactly a flowery sort of flower bed, it is still guaranteed to look amazing!
7. Flowers Flowing Out – Beautiful and Unique
If you are looking for a beautiful way to arrange your garden bed ideas, check out this option! Place a pot somewhere in your garden that is lying on its side. It will look as if it had fallen over. Then plant an array of flowers all around the pot, streaming in lines. You can even add some soil inside of the pot and grow flowers in it. Your pot will look as if water had spilt out of it, the flowers acting like the water flowing out of it.
8. A Combination of Things – Simple Flower Bed Ideas
You might be thinking of incorporating quite a few sorts of styles or plants into your garden. Besides planting some flowers in your flower bed, you may be looking for ways to improve it constantly. You don't need to keep your flowers and plants in soil, you can cover the soil with some pebbles, small rocks or wooden chips. This will help give your flower bed a more organised look. Another way to spruce up a flower bed is by adding a decorative element or two to it. This might come in the form of a fountain, a statue or a vase.
9. Using a Galvanized Tub – Reimagine and Redesign
Here is yet another easy and simple way of sprucing up your garden! Plant some flowers in an old, galvanized tub. If you have a garden shed, you will probably be able to find one of these tubs lying around. Instead of throwing it away, reimagine and reuse it in your garden! It's all about creating something brand new out of something that is old and unused. Naturally, it's up to you what sort of flowers you decide on planting inside of it.
10. Round and Awesome – Using Recycled Things
If you like round-shaped things in general, why not create a round flower bed? Use an old and unused object to create a round shape. For example, an old wheel will be perfect for creating a flower bed such as this. Just check the picture above as an example of it. You can grow different sorts of plants in each slot of the wheel, creating a unique look. It's really up to you how you decide on placing the wheel in your garden and what you decide to plan in it.
11. An Exotic Ambience – Simple Flower Bed Ideas
Maybe you would like to bring an exotic look to your garden, but you aren't sure how to create this. A great place to start off at is by planting exotic plants, such as cacti, ferns and succulents. You can grow them in large terracotta pots and place them in various parts of your flower beds. To give it an even more exotic vibe, use white pebbles to surround the pots in unique shapes. We hope these lower bed ideas with rocks have given you some inspiration for an exotic garden.
12. Funny and Cute – A Fireplace of Flowers
If you are thinking about creating an interesting scene in your garden, then make sure to take a look at this idea! It's all about creating the image of a fireplace. But instead of using actual fire, you will grow red, orange and yellow flowers in the "firepit." Also, make sure to place some logs on the fire. You can even place a large pot right above the fire as if you were cooking a meal. Fill the bottom of the pot with soil, this will allow you to plant some flowers in it.
13. A Blossoming Bicycle – Enchanting and Magical
Are you in search of ideas on how to use old objects in your garden? After all, it's always fantastic incorporating unused stuff in your garden. This way you are recycling your things as well as creating cheap flower bed ideas! If you have an unused bicycle, use it as a planter for your flowers. Fill the front and back baskets of the bicycle with flowers. It will look amazing when the flowers start to blossom!
14. Sprinkle Your Garden – With Strings of Fairy Lights
Here's a fabulous and creative way of lighting up your garden. Attach a watering can above a bed of flowers. Then string fairy lights to it as if it were coming out of its sprinkler. This will create the illusion that light is pouring out of it instead of water. This is guaranteed to give a beautiful atmosphere to your garden.
15. Spiralling Flower Beds – Garden Bed Ideas
Here is another unique way of creating flower beds. Instead of just digging up a patch of your garden and planting some flowers in it, make spiralling towers. Use chicken wire to make the shapes of the spirals and fill them with small stones or gravel. Fill the spaces between the spiral with soil. This is where you will be able to plant your flowers!
16. An Alternative to Garden Beds – Teapots and Kitchen Pots
Perhaps you are in search of unique alternatives for planting flowers. Here is one great idea out of many! Do you have any old teapots or some kitchen pots, which you don't use anymore for cooking? If so, make sure to use them for planting some flowers! Fill them with soil, before planting your favourite sorts of flowers in them. You can place them practically anywhere, as they will look amazing everywhere!
17. A Bit of Nature – Tree Stumps
When you create flower beds, you want them to fit right into your garden. Why not use tree stumps as a base for your flower beds? If there are any cracks in the tree stumps, fill them with soil in which you will be able to plant and grow your flowers!
18. Gorgeous Landscaping Ideas – Flower Bed Designs
Create a spectacular flower bed, which is filled with all sorts of flowers! In a way, this will be putting together a garden edging design. Create swirls of flowers, by planting different coloured bulbs in each swirl. You can create different sorts of shapes as well, it's completely up to you!
19. An Antique Chair – Growing Flowers in a Different Way
Here is another stunning idea, which is an alternative to growing flowers in actual flower beds! If you have an antique chair at home, remove the seat part of it. Replace it with a container which you will be able to fill with soil and plant flowers in.
20. Train of Flowers – Simple Flower Bed Ideas
Why not try out creating a DIY project from your garden? Create a train out of a log, using thin slices of the log as the wheels. Cut out holes in the carriages of the train, just like in the picture above. Use these holes as spaces to plant your flowers!
21. Cute Succulents – How to Plant Them
Are you searching for beautiful ways to plant your succulents? Then check this idea out. Place a terracotta pot lying on its side inside a larger pot filled with pebbles or gravel. Then plant some succulents in the larger pot, as if they were growing out of the smaller pot.
22. Using Cinder Blocks – Gardening Hacks
A huge trend in gardening nowadays is using cinder blocks as flowerpots! It's easy and cheap. First, you will have to fill your blocks with soil, before planting your chosen flora inside of them. You can even stack the cinder blocks on top of each other.
23. Raised Flower Beds – Garden Bed Ideas
Raised garden bed ideas have also become very popular and stylish! You can create them out of wooden panels. Try making round-shaped raised flower beds.
24. Reuse Old Tires – Fantastic and Funky
As we mentioned before, recycling old and unused objects is great because you're protecting the environment, as well as decorating your garden! Check out these tire planters. Using old car tires instead of pots will create a unique and lively look in your backyard! You can paint these cheap flower bed ideas to give them a vivid look!
25. Flower Pots and Rocks – Flower Bed Designs
Here is yet another fantastic idea for flower beds if you like the thought of creating small islands in your garden. Place a few pots filled with flowers in a small space, surrounding them with some stones. A flower island such as this will look amazing in your garden, bringing some life to it!
So, if you feel inspired by this collection of simple flower bed ideas, then make sure to out our other gardening hacks, besides garden bed ideas. For example, backyard landscaping ideas and front yard landscaping!
Advert