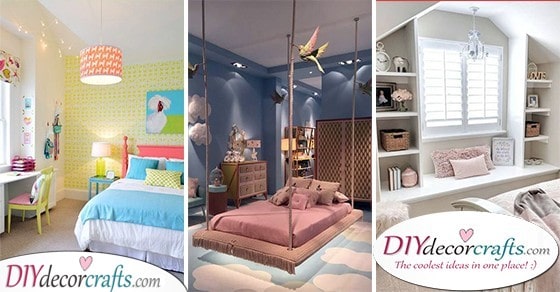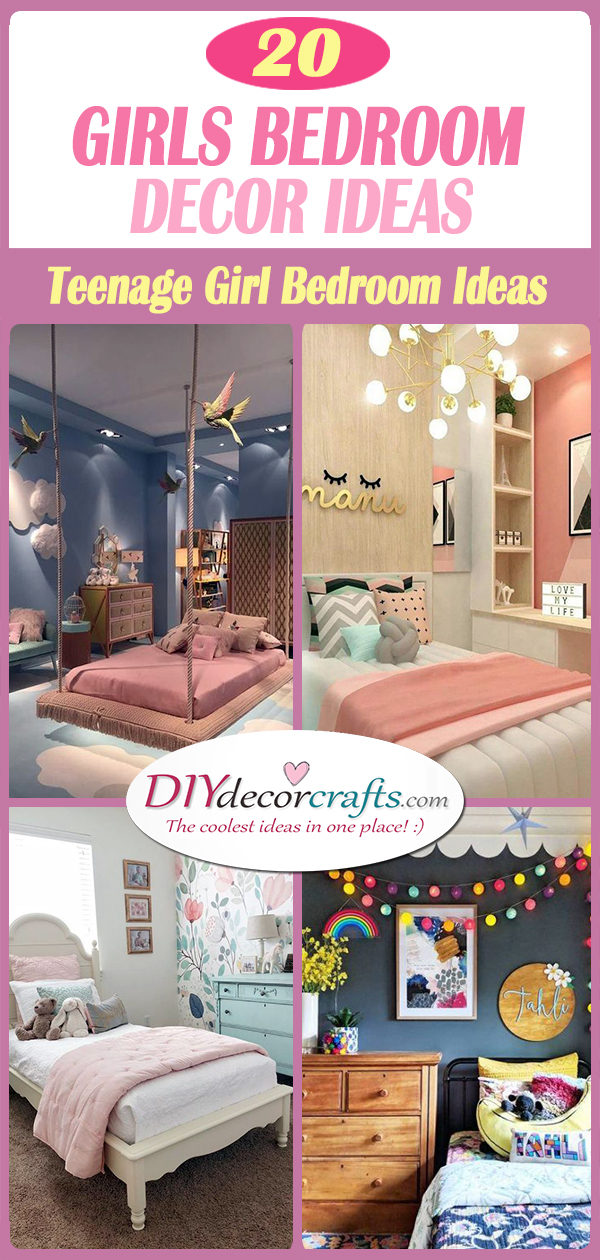 When you are renovating and refurbishing the whole house you want everyone to be genuinely happy with their rooms. If you have a little girl in the family, you will want her room to be just as beautiful as all the rest! You can always ask your child, what sort of theme they would like to be dominant in their room. Following that idea, you can create something special and unique out of their room! We have collected 30 fantastic girls bedroom decor ideas, to help you out if you are in need of inspiration in home decor. So browse through our collection to find gorgeous teenage girl bedroom ideas for small rooms!
1. Geometric Patterns – Girls Bedroom Decor Ideas
Here's a stylish room with geometric patterns, which will look great as either a little girl's or a teenager's room. Use the colours pink and grey as the dominant colours of the room and try making sure that the furniture complements the colour of the walls. You can decorate each wall with a different sort of geometric pattern, involving triangles or diamond-shapes.
2. A Touch of Turquoise – Girls Bedroom Ideas
A beautiful colour scheme is the one above. Using turquoise as a dominant colour will bring peace and harmony to your girls room decor. Use white furniture in the room, to make the turquoise stand out even more. Also consider adding a few bursts of colour, in the form of a pink pillow or a pink rug. Turquoise would also look great in teenage bedroom ideas for smaller rooms!
3. Far Above the Clouds – Floating in the Sky
Now here is a gorgeous girl's bedroom that is too gorgeous to be true. Cloud shapes painted onto the floor and clouds made out of cotton wool stuck onto the walls. A bed hanging from the ceiling, with small birds attached to each side of it. All these things add up to a magical environment of floating in the sky. If your little girl has always dreamed about flying, then this room will be perfect for her!
4. Pretty in Pink – Stylish and Glamorous
If your little girl adores the colour pink, then she will love this room as well! Paint the walls of her room in a pale shade of pink and place a pink rug on the floor. Then make sure all the furniture in her room is painted white, to make the room seem large. To give her room an enchanted and magical vibe, get her a four-poster bed! This will make her feel like a real princess!
5. A Brilliant Blue – Elegant and Refined
Creating a peaceful and beautiful bedroom for your girl means using the right colours and decor to make it a happy space. Try out a brilliant pale blue for the walls and use white for the furniture. If your little girl likes elegant decor, you can place a chandelier in her room for the lighting. You can also place vintage bookshelf ideas or a vintage bedside table in her room.
6. Cosy and Cute – Girls Bedroom Decor Ideas
Here is a cute and cosy idea for your little girl's bedroom. Paint the walls in a warm and pale shade of beige. Create shelves in her room to place items of decor on, as well as books or a clock. You might even think about creating a small seating space for her right next to the window.
7. Trendy and Hip – A Cool Look
If your little girl loves a trendy and stylish twist around things, she will love this room! Use a pale coral colour for one of the walls, you can even try out a pale teal for another wall! Get all sorts of funky decor items to decorate her room with, a unique lamp, creative wall decorations. You can even place a motivational quote above her bed to give her support and positivity in her every day!
8. Golden Spots – Teenage Girl Bedroom Ideas for Small Rooms
Here is another take on geometric patterns in a room! Paint the walls in geometric patterns, creating big triangles on the walls. Further, decorate a triangle on each wall with small golden dots. Try using geometric furniture or decor for the rest of the room, in order to make sure the furniture matches the rest of the room.
9. Owls Everywhere – Funky and Fun
If your little girl has a favourite animal, for example, owls, use that as a dominant theme while decorating her room. You can get owl pillows and plushies, and place them around the room. Also, hang paintings from the wall on which you can notice an owl or two.
10. Stripes Galore –

Teenage Girl Bedroom Ideas for Small Rooms
Another fabulous way to spruce up your room is by painting stripes on the walls! You can create big stripes, using your girl's favourite colour. If you are going to be fitting two kids into one room, remember to keep it simple and similar. This means getting the same sorts of beds and the same bedside tables for them.
11. Purple and Pink – A Groovy Vibe
Are pink and purple your little girl's two favourite colours? Then make sure to use a combination of them in her room. You can even create pink and purple polka-dots and stick them on the walls as if you were sticking wallpaper on. Make sure you use furniture which complements the colour scheme!
12. A Refined Space – Great for Studying
As your child gets older, it will become more and more important for them to do homework in the afternoons. Create a study space for them in their room. A simple desk with a chair will do the trick!
13. Perfect in Purple – Girls Bedroom Ideas
As we have mentioned before, purple is a beautiful colour and will show perfectly in your little girl's room. You can paint her walls purple but also have purple bed sheets and blankets. Combine the purple walls and decor with white furniture, for a chic and sophisticated look.
14. A Happy Environment – Blue and Yellow
If you have already decided on a colour scheme for your little girl's room, make sure to add another shade of colour to give the room an extra pop of fun. Using a combination of blue and yellow might sound a bit strange at first. But the yellow is guaranteed to give your room a bit of sunshine and a happy glow, while the blue will create a peaceful and harmonious environment.
15. A Hanging Chair – A Fun Addition
Since your girl is still a kid, you can think about adding a fun piece of furniture to her room, where she can chill. A perfect example of this is a hanging chair, which you can attach to the ceiling, allowing it to hang freely. This is a great spot to watch TV from or just read a book.
16. A Bounty of Butterflies – Girls Bedroom Decor Ideas
Does your little girl love butterflies? Make sure to cover her whole room with these beautiful creatures then! Find wallpaper, which has butterflies and flowers printed on it. Decorate her walls with this wallpaper. Then place botanical drawings of butterflies in frames and hang them on the wall or place them on her shelves. By the time you are finished, you will have a bounty of butterflies!
17. Floral Wallpaper – A Delicate Glow
Add a delicate glow to your daughter's room, by lining one or more of her walls with floral wallpaper. You can add other floral elements to the room to complete this look. Use the colours of the flowers on the wallpaper for your furniture as well!
18. Unique and Creative – Girls Bedroom Ideas
Using a few sources of decoration, you will be able to create a unique atmosphere in your girl's bedroom. For example, you can have one of the walls painted with geometric patterns. Line another wall with shelves, on which you can place anything you need to. Then hang awesome paintings on another wall, which match the overall colour scheme and theme of the room!
19. A Cute Bunk Bed – Fantastic for Siblings
If you have more than one kid, but not that many bedrooms, you will have to try fitting two kids into one room! There's no better idea than to use a bunk bed to separate the sleeping spaces of your kids. Create stairs for the top bunk to make it easy to climb up into.
20. A Bed With a Shelf – Girls Bedroom Decor Ideas
If you need to save a bit of space while refurbishing your girl's bedroom, why not get her a bed which has shelves instead of a headboard and footboard? It creates a cosy atmosphere, as well as saving space in the room!
21. Vibrant and Bubbly – An Array of Paintings
A fantastic way of uplifting a room's energy is by placing paintings on the walls. Try hanging a whole array of paintings on a wall, next to each other, as if it were a mosaic. Using vibrant colours in the paintings will give the room a lovely burst of colour. You can also use the part underneath the bed as bedroom storage space!
22. Stylish in Monochrome – With a Hint of Gold
If you are looking for a stylish design for a young girl's bedroom, then this might be perfect for you! Decorate everything in different shades of monochrome. White and black furniture, pale grey for the walls and naturally don't forget to add some decorations! To enhance the environment of the room, add a few pieces of gold decor to it as well. It will bring an elegant and stylish look to your girl's bedroom!
23. A Starlit Sky – Teenage Girl Bedroom Ideas for Small Rooms
A fantastic way to decorate your girl's room is with a multitude of stars and a moon. Hang strings of stars across the room, or hang them from the ceiling. Further, decorate the room with fairy lights to give it an ethereal glow. Also place the crescent figure of a moon on one of the walls, to give the room a look of a starlit sky!
24. An Adorable Loft – Girls Bedroom Ideas
Creating a loft in a room is a great way to make more space in a room. If you would like to give your kids a small place space inside the house, create a wooden loft above their bed. You can place some pillows and a mattress on the loft to make it comfortable!
25. A Beautiful Tree – A Fabulous Idea
An awesome way of decorating a room is by giving it a personal touch. For your girl's bedroom, paint a tree on one of the walls, leaning over the bed. Hammer some nails into the wall, on the branches. Hang the letters of your girl's name from the nails on the wall! This will look truly gorgeous!
26. Quirky Looks –

Teenage Girl Bedroom Ideas for Small Rooms
Transform your daughter's room into a room full of fun and colour! Use three or four bright colours with a combination of white for a spectacular effect. Also, try out using different sorts of patterns to give the room a quirky feeling. Just look at the picture above for a great mix of yellow, blue and pink, without being over the top!
27. Dark and Bright – Great Girls Bedroom Decor Ideas
If your daughter has decided on having her bedroom walls painted in a darker colour, make sure you bring a bit of brightness to the room! You can add strings of lights, coloured in vivid shades! Also, try to get light coloured furniture, to give your room more depth and also to create an illusion of more space!
28. Brilliant and Bold – Combine Blue and Pink
Here is another fantastic combination of two colours, used in a fun and girly way, which will be perfect for a girl's bedroom. A bright blue and hot pink appearing in all sorts of patterns all over the room. You can leave the walls in a simple white and only concentrate on adding bursts of colour to the furniture and decor.
29. A Pink Parade – Girls Bedroom Decor Ideas
If your daughter's favourite colour is pink, make sure to add some to her room! Make sure the room is painted white and contains white furniture. Then use pink as the dominant colour of decor. Decorate the room with a pink rug, the bed with pink blankets and pillows and even a pink lampshade!
30. Bright Green – Teenage Girl Bedroom Ideas for Small Rooms
Decorating a girl's room in green with a few touches of pink is a fabulous idea. Paint the walls in calming colours of bright or pale green and get white furniture to complement it. Add green and pink decor around the room to give it a youthful and fresh glow.
We hope that you have been able to find some awesome girls room decor ideas above! For more ideas concerning decorating rooms, besides teenage girl bedroom ideas for small rooms, like children room ideas, visit our website!
Advert