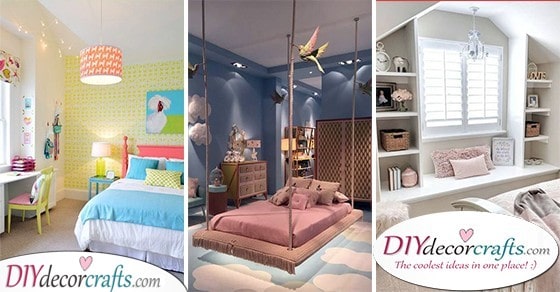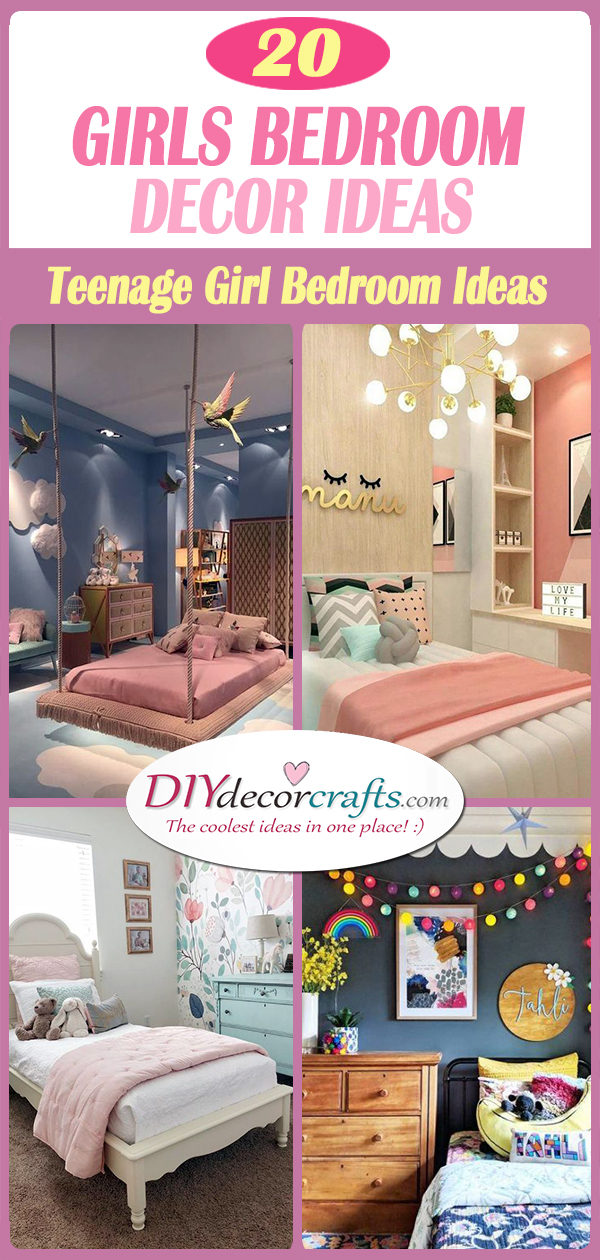 When you are renovating and refurbishing the whole house you want everyone to be genuinely happy with their rooms. If you have a little girl in the family, you will want her room to be just as beautiful as all the rest! You can always ask your child, what sort of theme they would like to be dominant in their room. Following that idea, you can create something special and unique out of their room! We have collected 30 fantastic girls bedroom decor ideas, to help you out if you are in need of inspiration in home decor. So browse through our collection to find gorgeous teenage girl bedroom ideas for small rooms!
1. Geometric Patterns – Girls Bedroom Decor Ideas
Here's a stylish room with geometric patterns, which will look great as either a little girl's or a teenager's room. Use the colours pink and grey as the dominant colours of the room and try making sure that the furniture complements the colour of the walls. You can decorate each wall with a different sort of geometric pattern, involving triangles or diamond-shapes.
2. A Touch of Turquoise – Girls Bedroom Ideas
A beautiful colour scheme is the one above. Using turquoise as a dominant colour will bring peace and harmony to your little girl's room. Use white furniture in the room, to make the turquoise stand out even more. Also consider adding a few bursts of colour, in the form of a pink pillow or a pink rug.
3. Far Above the Clouds – Floating in the Sky
Now here is a gorgeous girl's bedroom that is too gorgeous to be true. Cloud shapes painted onto the floor and clouds made out of cotton wool stuck onto the walls. A bed hanging from the ceiling, with small birds attached to each side of it. All these things add up to a magical environment of floating in the sky. If your little girl has always dreamed about flying, then this room will be perfect for her!
4. Pretty in Pink – Stylish and Glamorous
If your little girl adores the colour pink, then she will love this room as well! Paint the walls of her room in a pale shade of pink and place a pink rug on the floor. Then make sure all the furniture in her room is painted white, to make the room seem large. To give her room an enchanted and magical vibe, get her a four-poster bed! This will make her feel like a real princess!
5. A Brilliant Blue – Elegant and Refined
Creating a peaceful and beautiful bedroom for your girl means using the right colours and decor to make it a happy space. Try out a brilliant pale blue for the walls and use white for the furniture. If your little girl likes elegant decor, you can place a chandelier in her room for the lighting. You can also place vintage shelves or a vintage bedside table in her room.
6. Cosy and Cute – Girls Bedroom Decor Ideas
Here is a cute and cosy idea for your little girl's bedroom. Paint the walls in a warm and pale shade of beige. Create shelves in her room to place items of decor on, as well as books or a clock. You might even think about creating a small seating space for her right next to the window.
7. Trendy and Hip – A Cool Look
If your little girl loves a trendy and stylish twist around things, she will love this room! Use a pale coral colour for one of the walls, you can even try out a pale teal for another wall! Get all sorts of funky decor items to decorate her room with, a unique lamp, creative paintings. You can even place a motivational quote above her bed to give her support and positivity in her every day!
8. Golden Spots – Teenage Girl Bedroom Ideas for Small Rooms
Here is another take on geometric patterns in a room! Paint the walls in geometric patterns, creating big triangles on the walls. Further, decorate a triangle on each wall with small golden dots. Try using geometric furniture or decor for the rest of the room, in order to make sure the furniture matches the rest of the room.
9. Owls Everywhere – Funky and Fun
If your little girl has a favourite animal, for example, owls, use that as a dominant theme while decorating her room. You can get owl pillows and plushies, and place them around the room. Also, hang paintings from the wall on which you can notice an owl or two.
10. Stripes Galore –
Teenage Girl Bedroom Ideas for Small Rooms
Another fabulous way to spruce up your room is by painting stripes on the walls! You can create big stripes, using your girl's favourite colour. If you are going to be fitting two kids into one room, remember to keep it simple and similar. This means getting the same sorts of beds and the same bedside tables for them.
11. Purple and Pink – A Groovy Vibe
Are pink and purple your little girl's two favourite colours? Then make sure to use a combination of them in her room. You can even create pink and purple polka-dots and stick them on the walls as if you were sticking wallpaper on. Make sure you use furniture which complements the colour scheme!
12. A Refined Space – Great for Studying
As your child gets older, it will become more and more important for them to do homework in the afternoons. Create a study space for them in their room. A simple desk with a chair will do the trick!