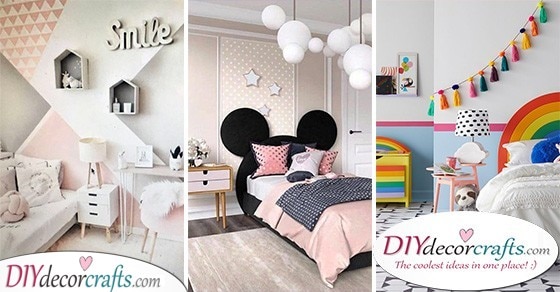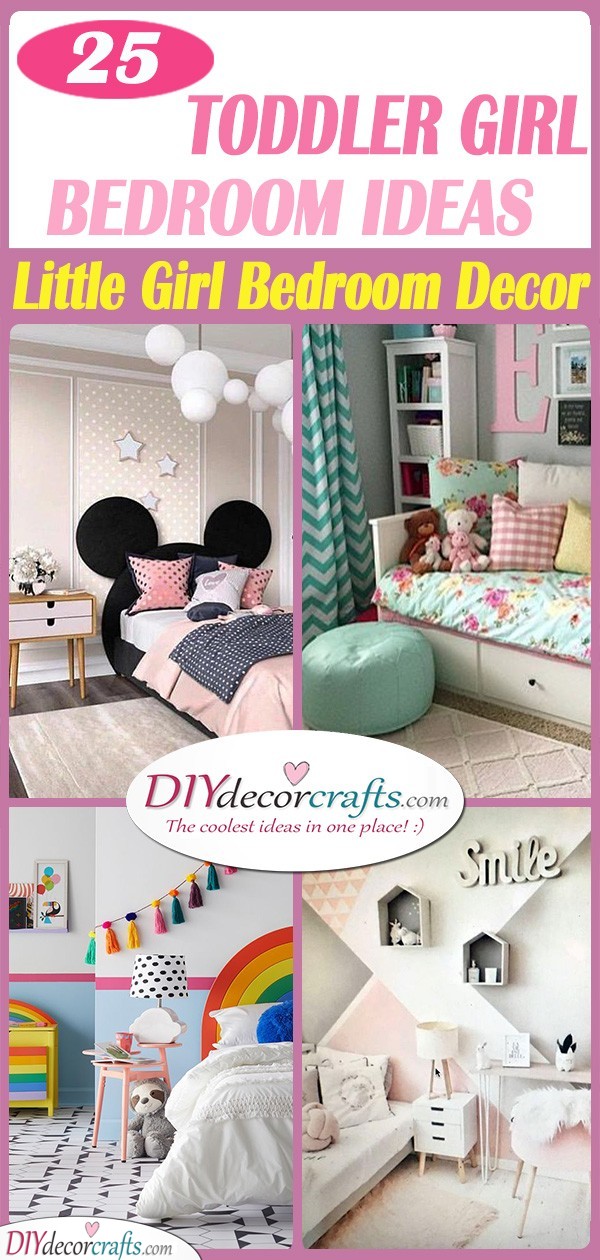 When you are refurbishing your home, it is important to create a happy environment for everyone in the family! So when you start renovating and redecorating everyone's room, try channelling their personality and favourite things with the decor. If you have a young daughter, make sure to redesign her room with the best little girl bedroom decor. It's a great idea to make her room a fun and happy space to play in as well as sleep in. We have collected 25 toddler girl bedroom ideas on a budget for you to choose from! Hopefully, you will be able to find some inspiration below for your little girl's room!
1. Brilliant Balloons – Little Girl Bedroom Decor
When it comes to decorating someone's room, think about what they really love and hold dear to their heart! A lot of kids seem to love balloons. They are vibrant, colourful and float around in the air. If your daughter loves balloons just like most other toddlers and kids, make sure to incorporate balloons into her room decor! You can add a wallpaper which has balloons painted on it or get bedroom lighting which resembles them. This is a truly fantastic way of adding fun and joy to a room!
2. Soft and Delicate Colours – Cute Room Decor for Girls
Give your little girl's room a lovely vibe by using soft and delicate shades for the colour scheme. This can mean light pastel shades, like pink, blue and purple. Also, consider adding a bit of beige to the overall look! Then start adding cute decor to the room. This can involve paper decor balls hanging from the ceiling, a selection of toys and plushies or strings of fairy lights attached to the walls. You will create a happy atmosphere for your kid to be in.
3. Pretty in Pink – An Awesome Colour
Pink is the colour of love, harmony and peace. So if your little girl adores this beautiful shade, make sure to use it in her room! You can paint the walls in a paler shade of pink and also get pieces of decor coloured in the same tone. To add more colour and different depth to the room, you might think about using one or two other colours for the overall look of the room. For example, think about adding a bright azure or an astounding yellow. Try getting white furniture for the room to make it look more spacious.
4. Geometric Patterns – Toddler Girl Bedroom Ideas on a Budget
A unique way of decorating a room is by adding geometric patterns to the walls. It can be in the shape of triangles or diamonds, whatever you and your daughter like the best! If you decide on adding geometric patterns to the walls, make sure the furniture fits into the picture as well. Also, think about the colour combination you would like to use. For example, using pink and different shades of grey will look divine together! This room is a dream come true!
5. A Funky Look – Mixing Blue and Pink
Here is one of many toddler girl bedroom ideas on a budget to try out! Use a mixture of blue and pink to create a funky look for the whole room! You can try painting the walls a cerulean blue or a pale shade of teal. Then make sure the furniture has hints of pink in it. For example, the closet, shelves, bedside table, bed and rug can all be coloured in pink! Then, of course, you can add some other fabulous elements to the room. Like a few abstract paintings or some interestingly shaped vases.
6. A Beautiful Rainbow – Little Girl Bedroom Decor
Rainbows are beautiful natural miracles! These spectrums of colour are something people, no matter how old they are, will always marvel at! If your little girl loves rainbows, just as much as we do, why not paint a huge rainbow on one of her bedroom walls? You can use pastel shades to give it a more soft and glowing effect. You can place her bed in the spot where the rainbow ends, symbolising that she herself is the pot of gold! This is a super cute room decor for girls, which your child will be sure to love!
7. A Bit of Disney – Inspired by Mickey Mouse
If your daughter is a huge Disney fan, she will definitely want a few pieces of Disney furniture in her room! For example, get her a bed which has a Mickey Mouse headboard! Decorate the rest of the room in cute colours, giving the room a happy and positive vibe! If she likes other characters from Disney, you can hang a few pictures or paintings of them on the walls. For a true Mickey Mouse design, you will want to get blankets and bedsheets which have polka-dots on them!
8. Vivid and Gorgeous – A Carnival of Colours
A great way of adding happy and joyful vibes to a room is by adding bursts of colour to each corner of it! Get vibrant furniture for your daughter's bedroom. Get creative with the furniture, allowing it to be yellow, green, blue or even purple! Add paintings to the walls, and place each one in a colourful frame, enhancing the colours of the room even further! You can even get a rug for her room, which has small rainbows or colourful specks all over it! This room will look fantastic!
9. Patterns and Patterns – Room Decor Ideas for Girls
Now here is another bright and vivid room filled with patterns! Mixing patterns as well as colours with each other is a fantastic idea. It's fantastic because you can create something completely unique using everything! Use shades of baby blue, pale pink and canary yellow for your little girl's bedroom. Whether it's the walls or the bed sheets, make sure to incorporate some patterns into it! Leave a few of the walls in a simple white or beige colour, to create a more spacious feeling in the room.
10. A Fabulous Bunk Bed – Practical and Great
Here's a great idea to use! Whether you have more than one kid and only one room or if you want to give your kid a small cubbyhouse in your home, get a bunk bed! Bunk beds are fantastic ways of fitting in everything, without taking up too much room! The rest is up to you, on how you decide to colour and decorate the room!
11. A Starry Atmosphere – Little Girl Bedroom Decor
Here is a beautiful room design which will be perfect for any little girl! Paint the walls in a light shade of plum and try getting either white or wooden furniture for the house. Create a night sky on your little girl's walls. You can stick glow in the dark stars and a moon on the walls. You can also attach cloud-shaped shelves onto the walls for an extra effect. A cloud or heart shape custom cut wall mirror can also be a considerable option.  For lighting, try using a cloud-like lantern to truly imitate the starry night sky.
12. Add a Slide – Creating a Playground
Since we are talking about kids, why not create a fun space for them in their room? This way, if they are bored they will be able to play in their room! For example, add a slide which launches itself from the bed and lands into a pile of balls. Another idea is to add swings to the room, hanging them from the ceiling. Your kid won't even have to go to the playground, they will have their own one in their room!
13. An Enchanted Environment – Baby Girl Room Ideas
Create an enchanted environment, so your daughter will feel safe and happy in her bedroom! Use a lot of floral patterns as well as paintings of mythical creatures for little girl room decor. Place all sorts of interesting and unique decor items around the room to create a magical space. Even if your toddler girl is sleeping in a smaller bedroom, this will be a perfect way of decorating it! 
14. A Woodland Setting – Toddler Girl Bedroom Ideas on a Budget
If your kid has a lot of woodland creatures in the form of toys, why not create a whole forest for them? Use wallpaper which imitates trees, flowers and clouds. Place all her small woodland toys in baskets for a cute effect!
15. A Cute Cubbyhouse – The Perfect Place
If you don't have a garden to create a cubby house in, why not create one right above your daughter's bed? It will make the perfect place for reading, playing with toys or hanging out with friends. It's kind of like having a bunk bed, but instead of a bed on the top half, you have a cubby house!
16. A Cloudy Atmosphere – Little Girl Bedroom Decor
One of nature's gifts is clouds. These fluffy puffs come in all sorts of shapes and sizes, each one beautiful in its own way. Why not use clouds as inspiration for your daughter's bedroom? Place clouds, either as simple decor or as sources of light on the bedroom's walls. It will look as if the room were floating in the sky!
17. Ice Cream Dream – Cute and Sweet
Using different sorts of sweet things, like desserts or candy, for decoration is a fabulous idea! If your little girl loves ice cream, a summer favourite, why not create a whole dream of them in her room? Use ice cream themed wallpaper, making sure it is vibrant and colourful! You can use ice cream printed blankets or pillows as well! These ice cream dream designs are fantastic baby girl room ideas!
18. Floral Designs – Toddler Girl Bedroom Ideas on a Budget
There's nothing like cloaking a room up with floral designs! Especially if it's a room meant for a little girl. We recommend using all sorts of floral-themed objects to decorate your little girl's room with. Whether its a few blankets, bedsheets, rug or curtain, it will add a delicate touch to the room. Combine the floral patterns with soft or pastel shades for a gorgeous effect!
19. Rainy Days – Fabulous Cloud Ideas
We have talked quite a bit about using clouds as a source of inspiration for room decor! If your kid loves rainy days, why not add a rainy cloud to her room? You can paint it on one of the walls, adding sprinkles of rainbow raindrops falling from it! It will add a peaceful ambience to your girl's room!
20. Bright and Happy – Room Decor Ideas for Girls
Make sure that your daughter's room is a happy and positive space! Use all sorts of bright shades to decorate her room with! Try using bright and bubbly green, pink, blue and orange to make her room a joyful environment to be in! You can paint the walls in these bright shades or just simply use it in decor items!
21. Pale Elegance – Delicate Little Girl Bedroom Decor
When decorating your daughter's bedroom, you might like to go for a more refined and delicate look.  Why not try a combination of pink, gold and white for an elegant atmosphere? Paint the walls in pale shades of pink, using white for the ceiling. Use white furniture in the room and for any metal objects, try getting gold coloured ones.
22. Happy Dots – Adding Pops of Colour
There are numerous ways of adding colour to your little girl's room. For example, with rainbow polka-dots! Paint one of her bedroom walls in a darker shade, then stick cut out polka-dots all over the wall. For an additional effect, you might get a string of colourful lights, in the shape of small spheres.
23. Add a Bit of Fanciness – Fantastic Decor
Perhaps you would like to add some elegant or fancy elements of decor to your girl's room! This might include a plastic chandelier (so it won't break), ruffled pillows and stylish furniture!
24. Rainbow Furniture – Toddler Girl Bedroom Ideas on a Budget
Rainbows are beautiful gifts of nature! Add some rainbows to your little girl's room. Try getting rainbow coloured furniture. Also use rainbow-themed decor for the room, like rainbow strings of lights and rainbow wall decor! This will create a happy and radiant look for the bedroom!
25. Spruce it Up – An Array of Patterns
Another fantastic little girl room decor idea is to use a few different light coloured patterns for the bedroom decor. For example, a rug sprayed with a pink pattern, blankets decorated with little dots and vibrant pillows will all add a gorgeous glow to the whole room!
We trust that these ideas about little girl bedroom decor have given you some inspiration! For other home decor ideas, besides toddler girl bedroom ideas on a budget, like bedroom curtain ideas or apartment living room ideas, visit our website!
Advert