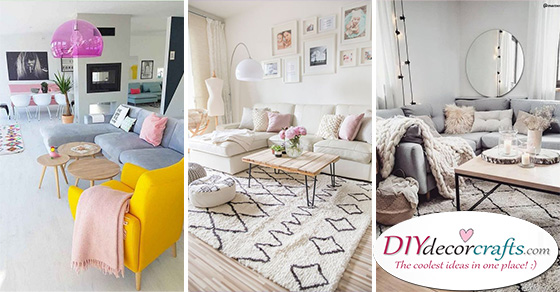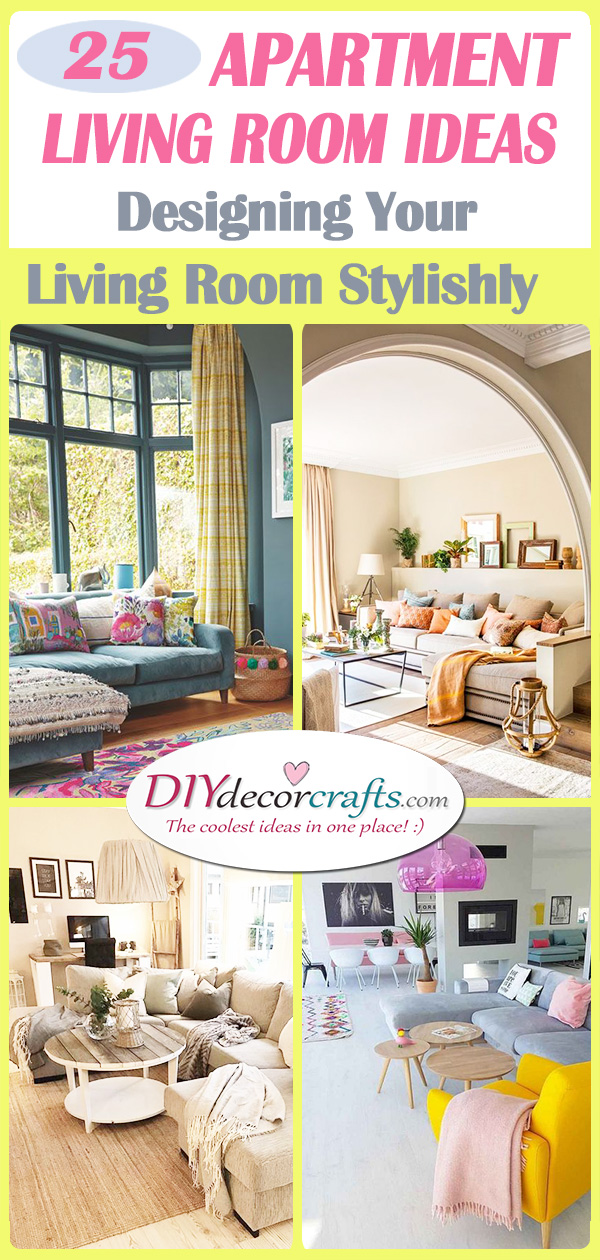 When living in a house or apartment, it is incredibly important to design and decorate your home in a way which suits you. You should be able to express yourself through the style of your home. Living rooms are a crucial part of any home. They serve as a place to entertain your guests in and also as space where you can take a bit of time out whenever you need it. This makes it necessary to refurbish your living room in a way that is best for you, depending on your tastes. We have gathered 25 apartment living room ideas to help you out in finding some beautiful home decor!
1. Modern Elegance – Comfortable and Sophisticated
Do you prefer an elegant style when it comes to home decor and interior design? If so, make sure to use pieces of refined furniture! Hang larger paintings on the wall, creating a gallery vibe to your living room. Make sure to use elegant colours as well for furniture, which involves rich and deep colours. Naturally, you will have to watch out that the colour of the furniture doesn't clash with the colour of the walls. Also, consider using a lot of lighting to illuminate your living room beautifully.
2. Cosy and Cute – Living Room Ideas
Now here is a super cute and cosy living room design! It's definitely a place anyone would feel welcome in. If you have a smaller living room, make sure to use white for the walls, as it will make the room seem spacier. You can also use white for the furniture, which will also create an illusion of larger space. If you love your family a lot, why not hang up a few portraits on the wall next to each other? Each portrait can show a different and important moment of you and your family's life.
3. Vibrant and Artsy – A Creative Essence
If you prefer a more vibrant setting, play around with colours! Paint your walls in a darker shade of green, buying a few items of furniture, like a sofa, in the same colour. Add colour to your living room with a vivid rug, that has multiple shades splashed all over it. Try finding or making pillowcases which embrace the same vividness as your rug and place them on the sofas. Naturally, don't forget to hang up a few pictures and paintings which incorporate the same sorts of colours.
4. A Bit of Sunshine – Add Some Yellow
Yellow is a beautiful colour that deserves some recognition! It is the colour of sunshine and happiness, so make sure you add a bit of it into your living room! Don't add too much yellow though, in order not to overpower the other tones in the room. Use yellow in a centrepiece in the room, for example, the sofa can incorporate this sunny colour. Just having this one yellow piece of furniture will immediately make your living room pop! We recommend leaving the walls of the room in a simpler colour if you would like to get vibrant furniture!
5. Chic and Modern – Apartment Living Room Ideas
Make your living room look chic and modern with a few tips! Have your walls painted white, and get white and wooden furniture for the room. The wood will bring a more natural and earthy vibe, while the white will give your room a more modern edge. Place plants in the living room, to breathe some life into it! Also, try placing shelves on the walls of your living room. Wall shelves don't take up much space and at the same time, they are great ways to show off decor!
6. A Homely Environment – Joyful Vibes
If your living room and kitchen aren't separated by a wall, that's totally okay. Use it to your advantage! Create a homely environment, using mostly warm colours with a hint of deep blue. Using warm colours and natural materials in your home decor will make it seem like an extremely friendly and welcoming space. Make sure to also place a lot of plants in the living room, as well as the kitchen. Plants and flowers will bring an earthy essence to your home and will also make your house smell great!
7. Purple and Monochrome – A Trendy Combination
There are so many trendy ways to decorate your living room. For example, you probably wouldn't think of it, but combining purple with various monochrome shades. Paint your walls in a pale grey shade and get darker grey curtains for the windows. Also get a grey rug, on which you can place a grey or white sofa. You can buy a few pieces of black furniture as well, for example, a black coffee table. Naturally, don't forget the purple either! Cover your sofas in an array of purple cushions and blankets. Place a vase of purple flowers on the coffee table for an extra addition.
8. Shades of Grey – A Beautiful Look
A simple colour which you can decorate your living room with stylishly is grey. It is a very versatile colour which will go well with practically anything. You can even paint one or a few of your walls grey. Place shelves on your walls, in order to save space and also to further decorate your living room with. You can place so many items of decor on wall shelves but naturally, you can put them to more practical use, like placing a clock on one of them.
9. A Brilliant Blue – Peaceful and Idyllic
Another fantastic colour to use in your living room is blue. It's a beautiful colour that exudes peace and harmony. Use blue in the items of furniture you place in your living room. Blue curtains, blue vases, blue curtains and blue sofas will definitely bring a brilliant harmony to your living room. Instead of going for darker shades of blue, try out lighter tones. It will make your living room seem a lot bigger than it actually is. So if you've always been fond of the colour blue, make sure to use it in your living room!
10. Items of Decor – Sprucing Up Your Living Room
Adding furniture is giving your living room is like giving it a base. To make it truly homely and cosy, you will have to decorate it with some home decor items! Besides hanging art on the walls and getting cool pillowcases for your pillows, there are so many other decorations you can try out! For example, try getting a more extravagant lampshade or place lanterns and candles around the room. Lighting your living room up at night will make it look like the cosiest and friendliest environment.
11. Grey and Yellow – Quirky and Cute
Another great combination of colours is yellow and grey. Adding a bit of yellow to your living room will be like bringing a ray of sunshine into it. Leave your walls either white or grey, or a mixture of the two. While making sure your items of furniture stick to monochrome shades, you can add a few yellow pillows to the couch or a vase of yellow flowers on the coffee table. A bit of yellow will add a bit of quirky fun to your living room!
12. Eclectic Bohemian – Living Room Ideas
Create a bohemian ambience in your living room by using splashes of colour everywhere. You can leave your walls coated in a simple grey or white, which will go well with anything. Then get some colourful pieces of furniture! Get a vibrant rug as well as multicoloured frames which you can hang on the wall. Naturally, make sure the pillowcases are also small bursts of colour in themselves!