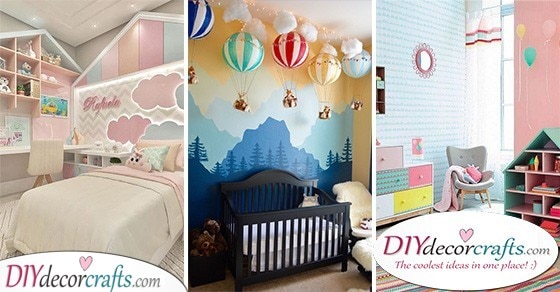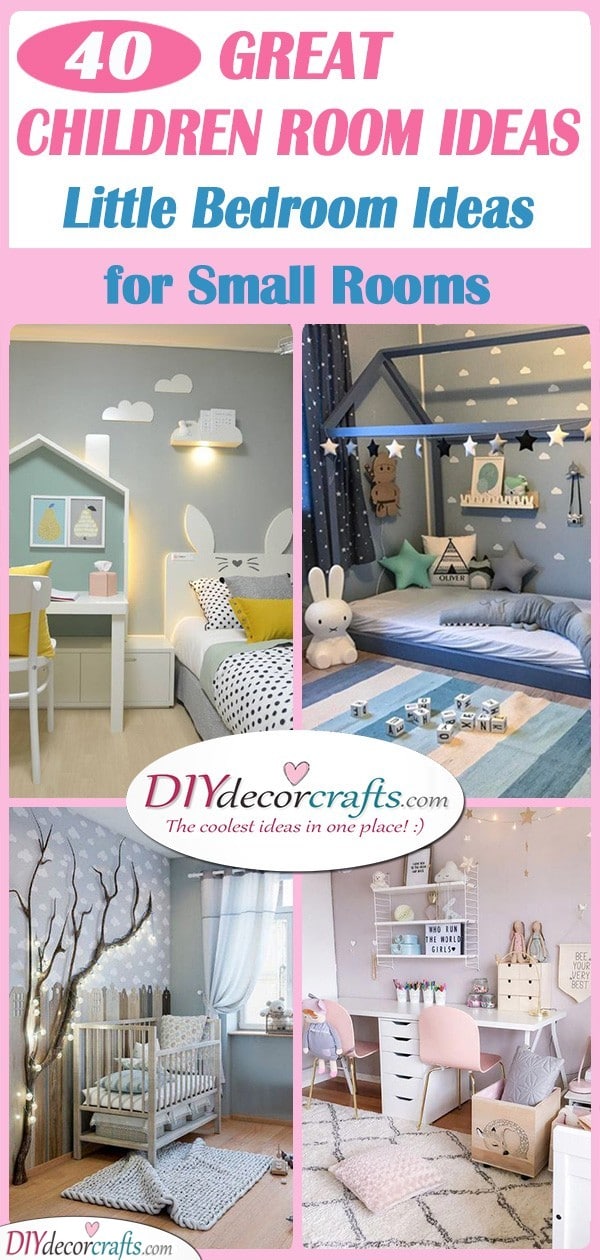 Are you planning to redesign and redecorate your home? If so, don't forget about decorating the kids' rooms! It's just as important to gather children room ideas as it is for the kitchen, bathroom or other bedrooms. We have collected 40 fabulous little girl bedroom ideas for small rooms. This will make your job a lot easier as well in finding the perfect bedroom design and decor for your kids! After all, you'd like to make your home a happy and pleasant environment for everyone! So take a look through our collection of home decor and hopefully you will find some inspiration!
1. Vibrant and Simple – Cute and Loved by Kids
When it comes to kids, it's best to have a fun and vibrant environment in which they can play in! Make sure to buy shelves, closets and simple decor, which is all contemporary and colourful.
2. Hot Air Balloons – Up and Away
Here is a beautiful way to create a whimsical and magical environment for your children. Paint a range of mountains on one of the walls. Hang small hot air balloons from the ceiling, with small plushies inside of them. You can also create clouds out of cotton wool and hang them from the ceiling as well!
3. Blue and White – Simple and Clean
Another great way of decorating a kid's room is by combining blue with white. Use these two colours for the room's whole decor. For example, paint the walls white but paint the ceiling a sky blue with floating clouds on it. Use these two colours for the furniture as well! Add a few bursts of colour with a few other items of decor (for example, a few yellow pillows are perfect for this).
4. Loads of Wood – Lovely Children Room Ideas
Trying to find the perfect little girl bedroom ideas for small rooms? Here's one! Even if you have a small environment to work with, you can create the best space out of it! Use wooden furniture to give your kid's room a pleasant ambience. Place a bunk bed in the room, using the bottom level as a playhouse for the kid. Instead of placing a mattress on the lower level, you can create a play space with a lot of toys.
5. A Play Corner – Little Girl Bedroom Ideas for Small Rooms
Create a play corner for your kids! Why not use old car tires, creating seats out of them for the kids? After coating them with a layer of paint, place pillows inside of them. Reusing tires is not only environmental-friendly, but it will also make the kids' room look awesome!
6. Beautiful Butterflies – A Magical Idea
If you are all about creating a magical atmosphere for your kids' room then check this idea out! Use a rug decorated with butterflies, fairy lights for the lighting, hot air balloons hanging from the ceiling for your decor. In no time at all, you will have a beautiful environment for your children!
7. A Big Balloon – Cute Children Room Ideas
A great way of uplifting a kid's room is by using interesting lighting. For example, here's a balloon, which lights up and looks spectacular! If you are going to use a lamp such as this balloon for your kid's room, then make sure the rest of the decor is in sync with it.
8. Paper Honeycomb Balls – Kids Room Design
If you are in search of a simple and cheap way of decorating your kid's room, then why not use the idea of paper honeycomb balls? You can put these together easily at home and they look fantastic! Hang them from the ceiling for a beautiful effect!
9. Stars and Animals – The Perfect Play Place
Combine the idea of a starry night with animals. Decorate the walls of the kid's room with a multitude of stars, clouds and the moon. Then place small plushies and animal-themed furniture around the room. You can use wall stickers, in the shapes of animals, to stick on the walls as well!
10. Train Set – Under the Bed
If your kid loves playing with toy trains, make certain to create a small space in their room where they can play with trains whenever they want! Attach a pull-out drawer underneath their bed, in which they can store all their trains. Create another drawer, which will function as a platform to play trains on.
11. A Reading Nook – Kids Room Ideas
Encourage your kids to read, by building a circular nook for them! Reading nooks are comfy spaces and are perfect for children! They will enjoy sitting in their nook and reading all sorts of books!
12. A Carriage – Pretty in Pink
Here is one of many beautiful little girl room ideas for small rooms. Instead of getting your little girl a standard bed, get her a bed which resembles a carriage! Make sure it's coloured pink and white. This bed is guaranteed to make her feel like a princess!