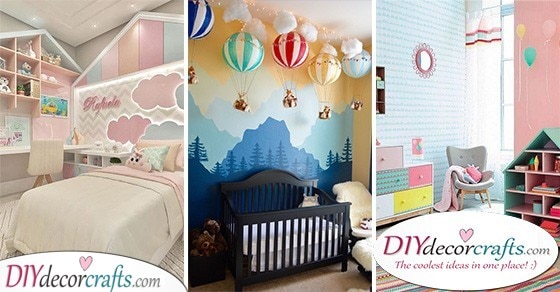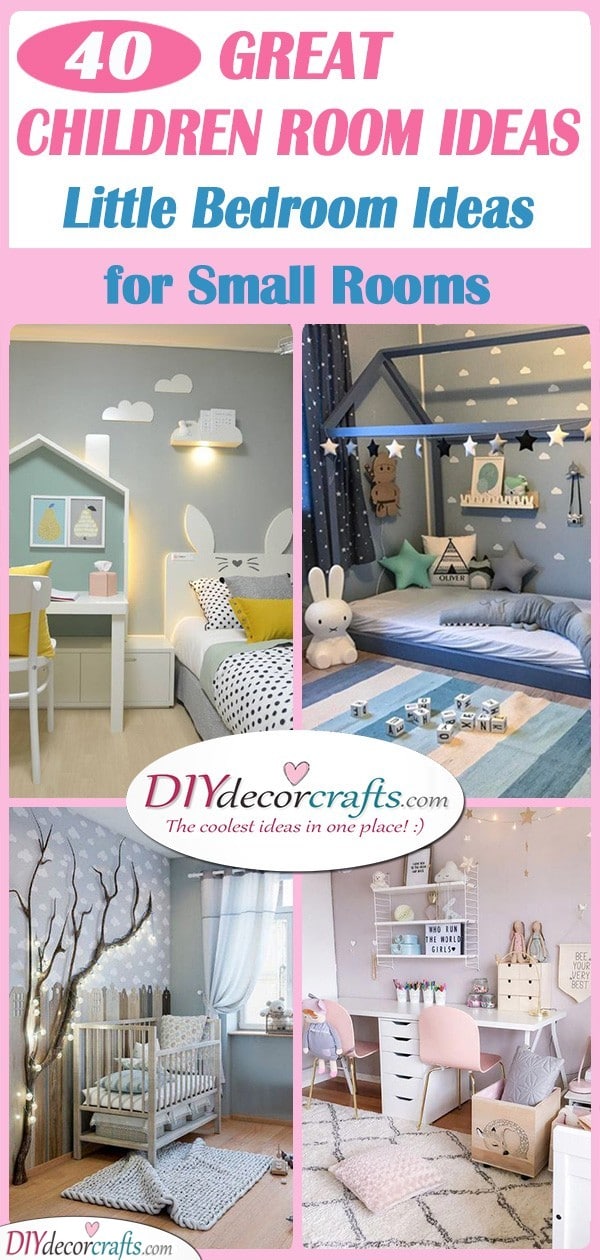 Are you planning to redesign and redecorate your home? If so, don't forget about decorating the kids' rooms! It's just as important to gather children room ideas as it is for the kitchen, bathroom or other bedrooms. We have collected 40 fabulous little girl bedroom ideas for small rooms. This will make your job a lot easier as well in finding the perfect bedroom design and decor for your kids! After all, you'd like to make your home a happy and pleasant environment for everyone! So take a look through our collection of home decor and hopefully you will find some inspiration!
1. Vibrant and Simple – Cute and Loved by Kids
When it comes to kids, it's best to have a fun and vibrant environment in which they can play in! Make sure to buy shelves, closets and DIY wall decor ideas, which is all contemporary and colourful.
2. Hot Air Balloons – Up and Away
Here is a beautiful way to create a whimsical and magical environment for your children. Paint a range of mountains on one of the walls. Hang small hot air balloons from the ceiling, with small plushies inside of them. You can also create clouds out of cotton wool and hang them from the ceiling as well!
3. Blue and White – Simple and Clean
Another great way of decorating a kid's room is by combining blue with white. Use these two colours for the room's whole decor. For example, paint the walls white but paint the ceiling a sky blue with floating clouds on it. Use these two colours for the furniture as well! Add a few bursts of colour with a few other items of decor (for example, a few yellow pillows are perfect for this).
4. Loads of Wood – Lovely Children Room Ideas
Trying to find the perfect little girl bedroom ideas for small rooms? Here's one! Even if you have a small environment to work with, you can create the best space out of it! Use wooden furniture to give your kid's room a pleasant ambience. Place a bunk bed in the room, using the bottom level as a playhouse for the kid. Instead of placing a mattress on the lower level, you can create a play space with a lot of toys.
5. A Play Corner – Little Girl Bedroom Ideas for Small Rooms
Create a play corner for your kids! Why not use old car tires, creating seats out of them for the kids? After coating them with a layer of paint, place pillows inside of them. Reusing tires is not only environmental-friendly, but it will also make the kids' room look awesome!
6. Beautiful Butterflies – A Magical Idea
If you are all about creating a magical atmosphere for your kids' room then check this idea out! Use a rug decorated with butterflies, fairy lights for the lighting, hot air balloons hanging from the ceiling for your decor. In no time at all, you will have a beautiful environment for your children!
7. A Big Balloon – Cute Children Room Ideas
A great way of uplifting a kid's room is by using interesting lighting. For example, here's a balloon, which lights up and looks spectacular! If you are going to use a lamp such as this balloon for your kid's room, then make sure the rest of the decor is in sync with it. So, find the best lighting for the bedroom!
8. Paper Honeycomb Balls – Kids Room Design
If you are in search of a simple and cheap way of decorating your kid's room, then why not use the idea of paper honeycomb balls? You can put these together easily at home and they look fantastic! Hang them from the ceiling for a beautiful effect!
9. Stars and Animals – The Perfect Play Place
Combine the idea of a starry night with animals. Decorate the walls of the kid's room with a multitude of stars, clouds and the moon. Then place small plushies and animal-themed furniture around the room. You can use wall stickers, in the shapes of animals, to stick on the walls as well!
10. Train Set – Under the Bed
If your kid loves playing with toy trains, make certain to create a small space in their toddler bedroom ideas where they can play with trains whenever they want! Attach a pull-out drawer underneath their bed, in which they can store all their trains. Create another drawer, which will function as a platform to play trains on.
11. A Reading Nook – Kids Room Ideas
Encourage your kids to read, by building a circular nook for them! Reading nooks are comfy spaces and are perfect for children! They will enjoy sitting in their nook that is also a bookshelf design and reading all sorts of books!
12. A Carriage – Pretty in Pink
Here is one of many beautiful little girl room ideas for small rooms. Instead of getting your little girl a standard bed, get her a bed that resembles a carriage! Make sure it's coloured pink and white. This bed is guaranteed to make her feel like a princess!
13. Flowers and Trees – An Earthy Vibe
An easy way of creating a friendly environment for kids is by decorating the walls! If you have been thinking about giving the kids room an earthy vibe, why not paint trees and flowers on the wall? The style is up to you! Naturally, you can use wall stickers to achieve this as well!
14. Holes for the Toys – Adorable Ideas
Toys are important in every kid's life! It's also important that kids don't leave their toys messily scattered all over their room. So make sure to create a storage space for them! You can easily achieve this by attaching circle-shaped shelves to the walls, which resemble small holes. Have your kids place their toys in these.
15. Magical and Gorgeous – Children Room Ideas
Magical atmospheres are so beautiful and inspiring! This is exactly why creating a magical room for your kid is so important! Hang paper ruffle balls, fairy lights and strings of stars from the ceiling and the walls. Use soft or pastel tones for decorating the room. This baby girl room decor will give it a lovely and truly magical glow!
16. Simplistic and Modern – Yellow and Grey
Using a combination of yellow and grey will create a calming and peaceful atmosphere. You can try using more simple and modern furniture and decor to complement the combination of these two colours.
17. A Blue Bunk Bed – Great for Boys
We have mentioned using bunk beds as creating not only a place for sleep but for a play place as well! Use the bottom bunk as a space for playtime! If you have a little boy, you might consider getting a blue bunk bed! This will give your boy's room a unique and funky look!
18. Unicorn Beds – Little Girl Bedroom Ideas for Small Rooms
The world has become crazy about unicorn-themed objects. They are pretty to look at! If you like unicorn-themed items, why not create unicorn-themed beds for the kids? Replace the headboard with a headboard that is painted to look like a unicorn. Your kids are guaranteed to love this!
19. Pinks and Purples – Lovely Kids Room Ideas
If you have a little girl, here is one of many little girl bedroom ideas for small rooms! Use a mix of pinks and purples to create a vibrant and fantastic atmosphere. Use a lot of floral patterns, not only on the bedsheets and blankets but on the rugs, curtains and pillows as well! Hang paper honeycomb balls from the ceiling for an even more stunning effect!
20. Superheroes – For Your Little Hero
If your kid loves to watch Marvel or DC movies and has a favourite superhero, why not design and decorate their room with their favourite heroes? You can use a superhero as wall decoration, on pillows or even in the lighting. Just take the picture above as a fantastic example of this idea!
21. Pink Butterflies – Little Girl Bedroom Ideas for Small Rooms
If you have a little girl who loves the colour pink, make sure to decorate her room beautifully with this vibrant and fun colour! Use butterflies as your main inspiration. Get a butterfly-shaped rug as well as butterfly-shaped shelves. You can also cut out butterflies out of paper and hang them from the ceiling!
22. Classic and Elegant – Great Ideas for Kids Rooms
Perhaps you would like to stick to something more on the classic and elegant side. If so, this might be the perfect room design for you and your kid! Use a loft bed, using the bottom half as storage space, placing shelves inside. Try out a combination of blue and grey for the main colours of the room.
23. A Vintage Vibe – Beautiful Kids Room Designs
Create a beautiful vintage vibe in your kid's room! Place a larger tree branch into the room, as if it were growing out of the floor. Wrap fairy lights around it to create a gorgeous glow in the room. Use other vintage decors, for example, a knitted rug or pillows with lace on them.
24. A Starry Night – Cosmic Ambience
Give your kid a full view of the starlit sky every night! Decorate their room to look like a starry sky. Use blue, white and grey as the main colours of the room. Place cloud and star stickers on the walls. Find star and cloud-shaped pillows to further decorate the room with. And don't forget the strings of fairy lights and strings of stars with which you will uplift the room!
25. Stylish and Modern – Children Room Ideas
Make your kid's room look like a town on a rainy day! Get a bed which has a headboard, that resembles a house with a chimney. Using other wooden boards and mirrors, you will be able to create the outlines of houses and their windows. Then use cloud and rain drop-shaped wall stickers for the room's further decoration.
26. A Huge Blackboard – Awesome Ideas for Kids
Here's a fabulous way to decorate your kid's room! Replace one of the walls with a blackboard! A huge blackboard will provide a space for your kid to draw on. It's great for educational purposes as well as for releasing creativity!
27. Simple and Grey – Great Inspiration for Boys Rooms
Use shades of grey to achieve a lovely simplistic and modern look. Try finding a bunk bed which is on the modern side of the furniture, because contemporary style goes really well with grey. For other furniture, try out darker shades of wood.
28. Big Fluffy Clouds – A Unique Room
Now here's a dreamy bedroom for any child! Use soft shades of pastel to achieve a peaceful and harmonious ambience in the room. For lighting, why not try out wall lamps, which are shaped as clouds? Big fluffy clouds will definitely take the room to a whole new level!
29. Girly and Fun – Little Girl Room Ideas for Small Bedrooms
If you have a little girl, create a whimsical and fun environment in her room! Hang ruffle paper balls from the ceiling and walls. Try finding a rocking horse as an adorable source of decor. Use pastel shades and soft colours for the room.
30. An Array of Everything – Children Room Ideas
If your child loves a lot of things, make sure to use everything as inspiration! A superhero poster on the wall, a rug which has a road for the toy cars on it, glow in the dark stars on the ceiling and plushies everywhere! This array of everything will look fantastic!
31. Cool Cars  – Amazing Kids Room Design
If you have a kid who loves cars, then make sure that is the dominant theme of his room! From car pillow to car blankets you can get it all for their room!
32. Cooking Under the Bed – Cute and Fun
If you are getting a bunk bed for your kid, take out the bottom bunk. Replace it with a kids play oven. If your kid likes to help out in the kitchen, this will be a perfect toy for them to play with!
33. A Bit of Sunshine – Brighten Their Days
An amazing way of giving a burst of colour to any room is by adding yellow to it! If your kid's room has grey, brown and beige as dominant colours, yellow will be a perfect addition to it. This sunny colour will brighten up your kid's room in an instant!
34. A Play Canopy – Friendly and Safe
If you are in search of an awesome way to decorate a corner of your kid's room, look no further! Create a play canopy in the corner! This is a friendly and safe spot for any kid to play in! Fill it with pillows to make it comfy!
35. Beautiful in Blue – Children Room Ideas
If you have a baby boy, why not decorate the room in shades of blue?  Then find all sorts of cool decor, which fit the style and furniture of the room. You might decide on decorating the room with all sorts of animals, figurines, paintings and toys.
36. Princess in Her Castle – Baby Girl Room Decor
If your little girl loves princess-themed items and objects, why not create a small castle for her? This is perfect for a corner! Instead of placing a play canopy in the corner, a castle will look more elegant and girly. You can place pillows and a fluffy rug inside in order to make it more comfortable.
37. Modern and Cool – Unique Shelves
An easy way to enhance the aesthetic of any room is by adding something unusual and unique to it. For example, a set of unique shelves, which go in zig-zags will make your kid's room look modern and cool! A small detail like this will make the room look completely different (in a good sense)!
38. A Rocking Hammock – Great for Children
Find a fun space for your kid's room in which they can play in or simply relax in. A rocking hammock is perfect for this! Your kid is guaranteed to love one of these as well as spend most of their free time in it!
39. A Theme of Fruit – Adorable Children Room Ideas
Here's yet another fabulous idea on how to design and decorate toddler bedroom ideas! Why not use fruit as an overall theme? Use fruit stickers on the walls, paintings of fruit and small fruit plushies to decorate the room. You can even place a small fruit tree in a pot in the room as well.
40. A Cubby House – A Fantastic Sleeping Spot
Instead of getting your kid a standard loft bed, why not create something special and unique for them? Create a cubbyhouse on the top half of the loft bed! This will give the whole room a playful vibe!
We hope you loved this collection of 40 child room ideas and little girl bedroom ideas for small rooms. We trust that you were able to find some inspiration! For more ideas, like renovating your home with simple ideas, just visit our website!
Advert