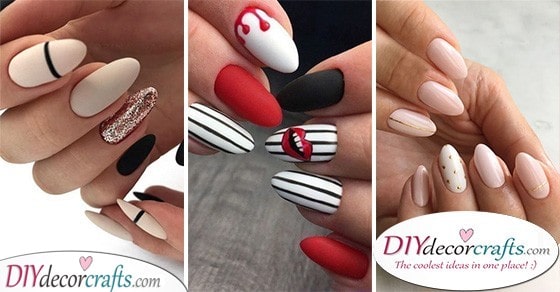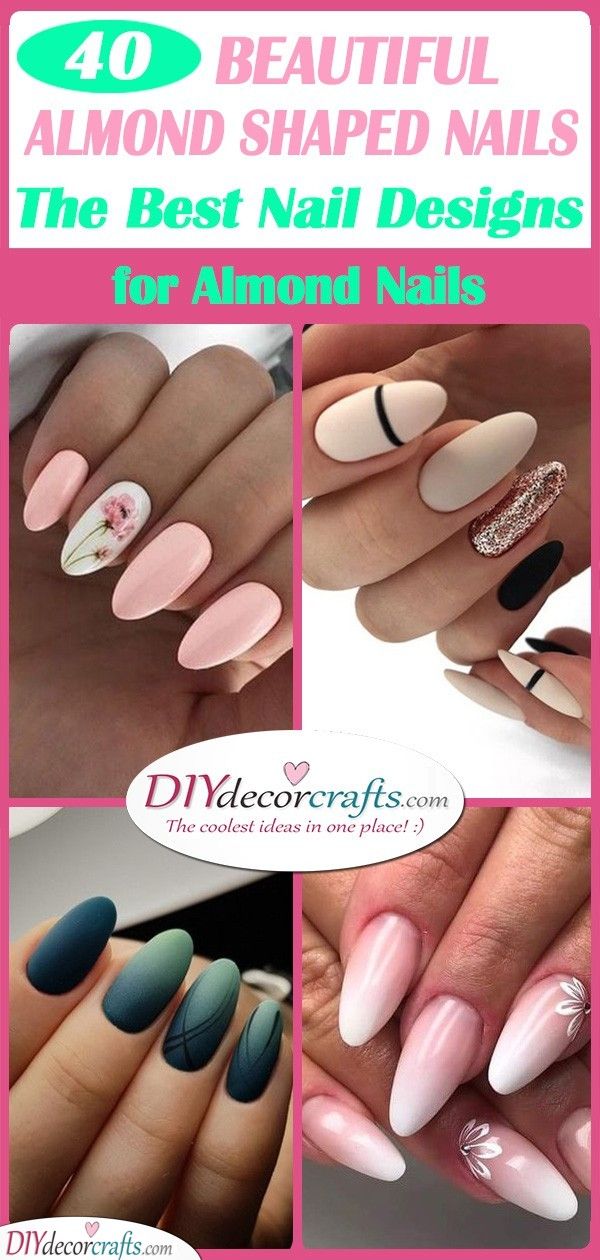 When you are going out and about in the city or to a fancy event, you will want to look your best! This means wearing your favourite clothes, doing your hair up really nicely and choosing the write accessories! An important part of your outfit is your nails! Of course, it's always interesting to see what sort of unique pattern or design you will find! Besides the nail design, the shape of your nails is important too! A different shape gives your hand and your whole appearance a new look! Check out our collection of 40 almond shaped nails. We have a wide range of different ideas on how to paint your nails if they are in almond shape!
1. Pretty in Pink – Floral and Gorgeous
Perhaps it's springtime and you would like to reflect the new season in your nail design. Paint four of your nails with a pale pink shade. For the fifth nail, coat it with white and have a delicate flower painted on it. Your nails will look like nature blossoming during the season of spring!
2. Edgy and Monochrome – Black, White and Grey
If you are going for something more on the simplistic side why not try out tones of monochrome? Paint each one of your nails a different colour, either white, black or grey. This simple and modern nail design will give your nails a funky edge!
3. A Minimalist Dandelion – Perfect for Short Almond Shaped Nails
Do you like a minimalist style on ornaments and accessories? How about you take a bit of inspiration from nature? Paint a dandelion on one of the nails, with the wind blowing it away. This will create a picturesque look!
4. Great Glitter – With A Monochrome Edge
Using a bit of glittery or sparkly nail polish will always uplift your look, especially if you are going to an extravagant event or a glamorous dinner! Coat one of your nails in sparkling glitter, painting the rest with matte shades of monochrome. You can even paint a small design using just white and black on another of your nails. This would look fabulous as New Years Eve nail art!
5. A Silver Ombre – Turning from Silver to White
Here is an elegant nail design, perfect for almond shaped nails, no matter whether they are long or short. Create an ombre, turning from silver to white on your nails. Ombre painted nails are super trendy at the moment, so make sure to try them out sometime!
6. A Natural Look – A Perfect Pink
A simple yet timeless classic is coating your long almond nails with a layer of pink. You can try something partially transparent to give your hands and nails a gorgeous glow!
7. A Glittering Branch – Natural and Magical
Here's a simple design which looks perfect for a casual event or something more elegant! So whatever the special occasion is, these nails will look beautiful on you! Coat your nails in a pale grey polish, all except one which you cover in glittery varnish Then paint a tree branch on another one of your nails, that is the same colour as the glittery polish. This design will make your nails look like an enchanted forest!
8. Shades of Red and Purple – A Feminine Touch
If you are in search of a nail design more on the feminine side, then here is a perfect option for you! Paint your nails in shades of red turning slowly into purple. You can paint the middle nail in a sparkly polish for a refined look!
9. Soft Pink Tones – Almond Shaped Nail Ideas
Would you like to give your nails a simple and natural look? Cover them in a pale pink shade of nail gel. This simple nail design is perfect for any sort of event you might be going to!
10. Grey and Pink – A Wonderful Combination
A wonderful and modern combination of colours is grey and pink. These two colours together will look amazing together! You can paint two nails in pink and two nails in grey and one with glitter. So if you are going to a party sometime soon, why not give these short almond shaped nails a try?
11. Small Hearts – With Lines and Crosses
Here is another super cute nail design which looks great on long almond nails! Coat your nails in pink matte polish. Then with a thin nail brush draw black lines and hearts reaching across your nails. This simple lines and hearts will give your nails a super cute vibe!
12. Brown and Bronze – Perfect for Summer
If you are looking for a perfect nail design for summer, you might have just found it! Coat your nails in two colours, a coffee colour brown and a sparkling bronze. These two colours will look beautiful on your hands during the summer, especially if you have a lovely tan!
13. Neon Pastel Rainbow – Funky and Fun
Are you going to a lot of festivals this year or to a lot of cool parties? Why don't you try out this unique look of neon pastels? Create a rainbow on your nails out of these neon pastel colours! This summer nail design will definitely give you a summery vibe!
14. Deep Greens and Blue – Like the Ocean
Give your nails a unique and interesting colour. Make your nails look like the deep ocean, coating them each in an ombre of deep blue turning sea green. If you'd like to further decorate these nails, create black lines arching on the nails.
15. Matte and Sparkles – A Beautiful Mix
Are you in search of sophisticated and elegant almond nails? If you are perhaps going to a wedding or a glamorous event, these nails will be perfect for you! Paint four of your nails in a matte greyish-lavender, leaving the smallest nail on your hand sparkling with glittery nail polish.
16. A Pale Peach – Great for Almond Shaped Nails
Of course, you might consider sticking to something more simple, but something that will still give your nails a fun and happy look? Try out a pale peach nail polish, this will look especially great if you have a lovely summer tan!
17. Shimmering Sparkles – A Gorgeous Design
Using a nail polish which contains bigger sparkles is a fabulous idea! It will look as if your nails have snowflakes falling from a pink sky on them! So if you like unique sparkling nail designs, you will love this one!
18. Happy and Floral – Bright Yellow
Express your bubbly and fun-loving personality, through the design of your nails! Paint small yellow and white flowers on a transparent nail. Then coat the rest of the nails in a bright yellow, which resembles the rays of the sun.
19. Pink and Exotic – A Fancy Design
Combine a mix of metallic nail polish with matte polish and a glittery varnish. These three used together will create an interesting effect on your nails. Place small golden nail stones on them to create intricate patterns which look like they are from a faraway place!
20. Like the Sky – Lovely Almond Nail Designs
Give your nails a powdery snow vibe, with a simple coating of either light blue or white nail polish. This will make your nails glow with a pure and clean vibe! Using a simple colour for all your almond shaped nails is a great idea!
21. A Marble Effect – Combined With Matte
Nails with a marble effect are becoming really popular these days! If you like this design, why not try it out on your own nails? Paint one of your in this marbled effect, coating the rest of your nails in the matte version of the two colours of the marble.
22. Cute Stripes
Here is a simple but super cute almond nail design! Paint your nails in a shade of baby blue. Draw thin white lines on one. This effortless nail design is perfect for any season and any event you may be going to!
23. Trendy Nail Art – A Floral Pattern
When in doubt, try out a floral pattern! Floral patterns are super trendy, no matter what sort of design you choose. Mix up the colours and try a pink, grey, white and black combination. You don't have to paint a floral design on each finger, only two or three. Leave the rest of your nails coated in matte ombre.
24. Pink and Marble – Gorgeous Almond Nails
We have mentioned creating your nails to look like marble. If you like this idea, why not try out unique colours to go with this design? For example, try out pink and grey marble! It will your nails looking sophisticated and elegant!
25. A Bit of Gold – Gorgeous Almond Nail Designs
Are you in search of a nail design, which is more on the cute and bubbly side? Then look no further, this nail art will be a great option for you! Coat all your nails with pale pink gel, then draw lines and dots with metallic gold nail polish on a few of your nails. These small gold details will take your nails to a whole new level!
26. Glam Up Your Nails – Matte With Glitter
Matte nail polish always brings a certain edge to nails. If you like this style, why not paint your nails with a matte dark brown? To uplift this simple nail design, paint branches and leaves on some of your nails with a glittery polish.
27. An Ombre With Floral Details – Best Almond Shaped Nails
Are you in search of an exquisitely coloured nail design? Here's one for you then! An ombre of pink turning into a pearly white. Make sure that a nail on each hand bears a floral detail which has a small stone in the middle.
28. Roses in Glitter – Sandy Tones
Now, here is a nail design which is perfect for any sort of fancier event you might be visiting! Use shades of a sandy brown for your nails. Leave some in a simple sandy gel. Coat some others with glittery polish. With a needle or pin, you can draw details into your glittery nail before the polish hardens. For example, you can draw the outlines of a rose.
29. Bohemian and Natural – Chill Nail Art
Are you into bohemian accessories or a natural and earthy vibe? Then these nails will be perfect for you! Coat all your nails in a simple light pink. Draw ferns on one of your nails on each hand with a deeper green. You may also consider painting minimalist symbols, like a circle or triangle on some of your fingernails for that additional bohemian look.
30. Looks Like Lace – Long Almond Nails
If you have longer almond nails, make sure to accentuate their length. Coat each one with a matte coral or pink. Then with a thin brush paint over some of your nails with white nail polish. Use lace as inspiration and create patterns with the white polish that resemble lace.
31. Glittery Gold – Combined With Pink
Gold and pink are a fantastic colour combination! They truly look spectacular together. Use these two colours on your nails, a simple pink and glittering gold. You can even try out an ombre of pink turning into gold. Sparkles of gold will make your nails look magical!
32. Teeth and Blood – Vampire Nail Art
Have you been watching TV series or reading books about vampires? If you have felt inspired by these mystical creatures use them as inspiration for your almond nails! Paint your nails in an array of red, black and white. You can paint droplets of "blood" on your white nails and event draw a vampire's lips and teeth on one of your nails. This is a great idea for Halloween!
33. Leopard Spots – Glamorous Almond Shaped Nails
If you like leopard printed items in general, you will love this nail design! Two nails with leopard prints, one coated in glitter and the remaining two covered in black glossy polish. This is a perfect nail look for a party!
34. Beautiful in Burgundy – A Trendy Glow
Burgundy is a colour which is becoming more and more trendy. It has a feel of mystery and seductiveness. Coat your nails in this beautiful colour. You can further decorate them with small gold stones.
35. Black With an Edge – Unique Almond Nails
Black is a versatile colour. You can paint your nails black and wear any sort of colour dress with them. Paint your short nails black, but with an edge. Leave the bottom half of your nails coated in either transparent gel or white polish. Then draw a thin line through it. This will make your nails look fabulous!
36. For Valentines Day – Heartful Almond Shaped Nails
Perhaps you are searching for nail art for a special occasion, such as Valentines Day. If so, then check out this nail design! Nails coated with red and white polish. Then place heart stickers on them, or paint hearts!
37. Shades for the Summer – Blue, White and Gold
Make sure you have nails fit for the summertime! Coat your nails in blue, gold and white polish. These three colours combined will give you a lovely summer vibe. Try creating a more abstract picture on two of your nails and leave the rest mono-coloured.
38. Pearly Pink – A Funky Vibe
A type of nail polish which is super popular is hologram nail lacquer! They will give your nails a funky look, perfect for any fun party or event you might be going to. Try it out in pink!
39. Sky Blue – A Casual Look
Are you looking for something more casual? Why don't you simply coat your nails with a light blue shade of paint? A pale blue will go well with whatever you are wearing!
40. A Pale Rainbow – Almond Nail Designs
If you are searching for a simple but modern design, check out these multicoloured nail tips! Create diagonal shapes on your fingertips, coating each nail with a different colour.
We hope you were able to find some inspiration concerning almond shaped nails! Check out our other nail designs, like Easter nail designs or wedding nail designs, by going to our website!
Advert