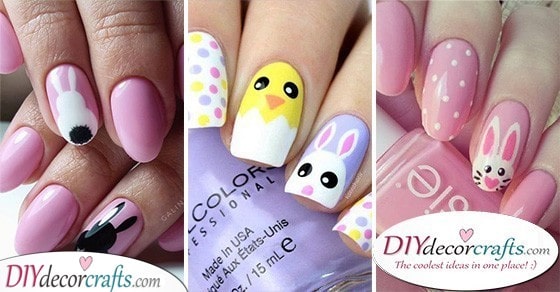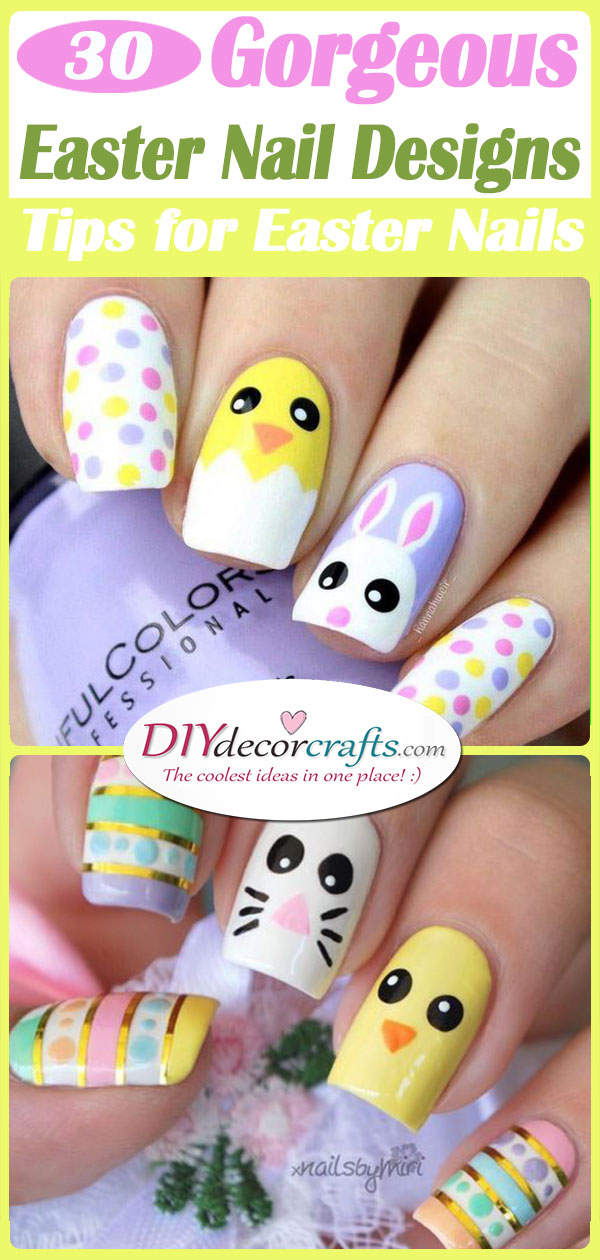 Easter is just around the corner! It's the ceremony of rebirth and renewal, so it only makes sense to bring some Easter fun to your nails as well! You can decorate your nails in hundreds of unique and creative ways to get into the Easter spirit! From cute Easter bunny designs to floral patterns we have a variety of Easter nail ideas for you to choose from! So for this year's Easter, don't just dress up your house in Easter decorations, make sure you have the perfect Easter nail art as well! So find some inspiration for Easter!
1. Polka-dots and Animals – Cute Nail Designs for Easter
Make your nails pop with colour and cuteness with this nail design! Paint a baby chicken hatching from an egg on one of your nails and on paint the Easter bunny. Leave the rest covered in adorable and vibrant polka-dots! These nails are sure to brighten up any outfit!
2. An Essence of Spring – Pink Nail Art
Do you like shades of pink? Then this nail art is perfect for you! Paint one of your nails to make it look like a rabbit and leave the rest of your nails shining in pink polish. Naturally, you can incorporate different flickers of paint on your pink nails, which will make your nails look like blossoming cherry trees.
3. Pretty in Pink – Easter Nail Art
The arrival of Easter means the arrival of Easter bunnies as well! So, make sure to incorporate an Easter bunny into your nail design. We recommend using pink as an overall colour for your Easter nail art, as you will already use it while painting the rabbit's nose and ears. This way, your bunny's colours will be complemented by the rest of your nail art. 
4. Robin Egg Design – Beautiful Easter Nail Art
Have you ever seen a nest full of blue robin eggs? They're adorable, small speckled eggs. If you like the way they look, why not try out designing your nails to look similar? You don't have to make them all blue coloured, you can try out a variety of pastel colours, but remember to speckle them with black and white dots for the real egg effect! This is just one of many fantastic short nail ideas to try out!
5. Bunnies and Buttons – Nails for Spring and Easter
Amongst spring nail designs, Easter ones are definitely the cutest, as they embody the Easter rabbit and baby chickens. So why don't you try out this cute nail art? One nail is decorated to look like a rabbit, while the rest are left with small buttons running down in the middle of them.
6. A Glimmer of Gold – Easter Nail Designs
7. A Variety of Pastel – Simple Nail Art
Pastel shades are perfect for the season of spring! They're bright and vibrant and look somewhat similar to all the flowers in bloom. So why not use pastel shades for your nails as well? You don't have to paint them all in the same colour, you can use a variety of them. Ranging from pastel blue to baby pink, you can use a different colour for each of your nails!
8. Cute Rabbit Ears – Pastel Colours
If you're going for something pretty and pastel, then take a quick glance at the image above! Use a different shade of pastel and also paint a different pattern on each nail. Zig-zags, spots and hearts are just a few of many great patterns, but since it's Easter, don't forget to include some bunny ears! 
9. Fluffy Rabbit Tails – Easter Animal Nail Art
Doesn't everyone love to admire the fluffy tails of bunny rabbits? Well, since it's Easter, use bunny tails as a source of inspiration for your nail art! Paint bunnies on your nails that are facing you backwards. Then using a small sponge create a fluffy bunny tail on their bottom half. It will make your almond-shaped nails look adorable!
10. Picturesque Drawings – A Unique Style
If you have a nail artist friend or you're really good at painting yourself, try out this idea! Create a whole Easter scene on your nails. Easter eggs on a few nails, a tree on another and a bouncing Easter rabbit on another nail. This scene will give your nails a true Easter spirit!
11. Cute Sheep – The Best Easter Nail Designs
Sheep are animals that are linked to spring and Easter a lot of the time. So if you're bored of the standard Easter bunnies and baby chicks, then how about you consider getting your nails decorated to look like cute, fluffy sheep! 
12. Easter Eggs and Bunny – Shades of Pink
Since it's Easter, don't forget to include decorate Easter eggs and a rabbit on your nail art! Use a colour that will complement your Easter outfit. If you're unsure what shade to use, we recommend a pale shade of pink, since you can't go wrong with that!
13. An Exquisite Easter Egg – Easter Nail Designs
Would you like your nail decor to include an exquisitely designed and decorated Easter egg? Then this idea is perfect for you! Using the DIY tutorial above, you can create a vibrant egg made up of rainbow lines. If you want to get even more creative you can paint a bunny behind it, clutching the egg.
14. Cute Set of Patterns – Floral Designs
Make sure your nails are cute and embody the season of spring! What better way is there to do this than creating different but still similar images for each of your nails? Paint a rabbit on one, a bow on another, flowers on a third and so on! Make sure the colours match each other, this will ensure that your nails don't look chaotic and out of place.
15. Glitter and Pastel – A Perfect Combination
Would you like to incorporate a glittery element to your nail design, but don't want to overdo it? Then use glittery nail polish for one nail on each hand. Paint the rest with soft pastel colours. This will create the perfect combination!
16. Beautiful in Blue – Fabulous and Calming
Are you still in search of simple Easter nails? There is no denying that blue is a truly beautiful colour. Use a baby blue for your nails. You can draw on a bunny and a heart on a few of your nails for those real Easter vibes.
17. A Natural Look – Easter Nail Ideas
If you prefer a more natural look for your nails than bursting vibrant colours, then this might be a great option for you! Paint your nails in a pale shade of pink, which looks similar to their actual colour. Then paint a bunny on one nail on each hand. This will lend your nails an immediate Easter effect.
18. Gorgeous Patterns – The Best Nail Designs for Easter
Give your nails a hip and funky look for this year's Easter! Paint them a lilac-blue colour, except for your ring fingernails. Decorate your ring fingernails with a bohemian pattern, which will give your nails a youthful spring feeling.
19. Swirls of Colour – Simple Easter Nails
If you wouldn't like to mix Easter eggs or the Easter rabbit into your nail art, how about you try out this elegant idea? Create swirls of colour on a few of your nails, while painting the rest in beautiful pastel shades. These vibrant colours really do deliver a sense of renewal, and that's what Easter is all about!
20. Colourful Egg Patterns – For the Festive Vibe
During the festivities of Easter, it's a common tradition to dye and decorate Easter eggs. If you're a fan of this Easter activity why not embody this in your nails? Design and paint each of your nails to look like a cute Easter egg. You can use different shades of nail polish for each nail, but the same patterns.
21. Beautiful Floral Patterns – Fantastic Styles
Easter is held during spring, which is the season of new beginnings and rebirth. Flowers are blooming, trees are blossoming and birds are chirping away happily. So it's only natural if you decide on using floral patterns for your Easter nail designs.
22. Cute Easter Bunnies – Adorable Easter Nail Designs
Create an abundance of bunnies on your nails! Paint different coloured, small figures of rabbits on your nails. Paint on two black eyes and a black nose on each one. Just take a look at the picture above, isn't it fantastic?
23. Easter Egg Hunt – Cute Easter Nails
Every child's favourite Easter activity is the chocolate Easter egg hunt! Use this fun activity as inspiration for your Easter nail art. Paint decorated Easter eggs on each of your nails, hidden in bushes of grass. This will create a super cute effect!
24. Baby Chickens – Adorable Easter Nail Art
Hatch a great idea by using baby chicks for inspiration!  Baby chicks are a symbol of Easter, so it will come as no surprise if you choose to paint small chickens on each of your nails. It's extremely cute and easy to create!
25. Rabbits and Flowers – Easter Nail Designs
If you adore cute rabbit art, then these nails will be perfect for you or would be cute nail art for kids! Sleepy bunnies on a few fingers, daisies and various flowers on the other nails. Use pale pastel shades for your nails here. These cute nail designs will create an Easter environment!
26. Crunchy Carrots – Ideas for Orange Nails
If you definitely want orange coloured nails for this year's Easter, then go for it! You can paint most of your nails in orange, using white polka-dots or white rabbits to decorate them. Then paint one of your nails white and decorate it with small orange carrots. It all fits into the Easter theme because the Easter bunny loves carrots! Orange is a fantastic Easter nails colour!
27. Pastel Spring Rabbits – Cute and Sweet
Now, here's a super cute idea for Easter nail colours! Cover each nail in a soft pastel polish. Draw small heads or ears of a rabbit in each corner of your nails. Use black nail polish to draw two dots for the rabbit's eyes.
28. A Colourful Easter Scene – Great Nail Ideas
Make your nails look like a scene taken out of a picture book with this great idea! Use a blend of pink and orange as the background of your nails, this will create a beautiful sunset feeling. Then paint a basket of eggs, flowers and a rabbit on each of your nails. This will add the classic Easter essence to your nails.
29. On a Hunt for Easter Eggs – Cute Easter Nails
As we mentioned before, the Easter chocolate egg hunt is a great activity to play during the festivities. Use the theme of the egg hunt in your nail art by hiding some eggs behind flowers and tufts of grass. Naturally, don't forget to paint on the Easter bunny either!
30. Zig-Zag Patterns – Funky Easter Nail Designs
We have to admit, zig-zags are not the most eastery pattern you can think of, but with the right colours and additions to it, you can turn your nails into Easter art in no time! Add a few bunnies or Easter eggs to some of your nails and you are already finished!
Naturally, there are many different and unique sorts of Easter nail designs, this is just a small collection of 30 such designs. We hope though that we have helped inspire your nail look for this year's Easter! Make sure to check out our other nail design ideas, such as Spring Nail Ideas or Nail Designs For Summer.
Advert