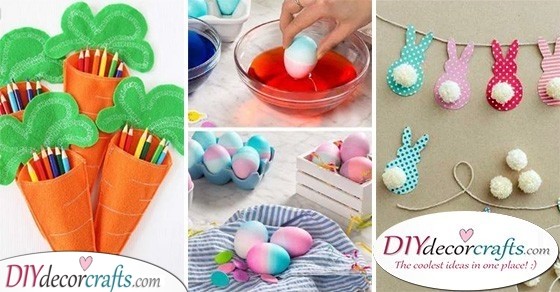 With the arrival of spring, everyone feels more alive and joyful. It only makes sense, as spring is the season of revival and rebirth! Easter is one of spring's biggest events. This Christian celebration symbolises the same concepts which spring does, revival. Get ready for the Easter holidays with some fantastic Easter crafts! Whether it's making Easter bunnies with the kids or some sort of decor for your home, we have a collection of ideas you will be able to choose from! So make sure to take a browse through them!
1. Easter Bunny Craft Ideas – Cute Easter Bunny Decorations
When it comes to Easter crafts, there is a whole variety of things you can create! If you want to get the kids involved in making something awesome, why not try out some Easter bunny craft ideas? The Easter bunny has become every kid's favourite Easter symbol, so it only makes sense to use it as inspiration. This might be a cute piece of home decor, such as an Easter garland. But you might be thinking about creating cute bunnies as toys for the children. For example, sock bunnies are super easy and cheap to make, not to mention, they look adorable.
2. Easter Egg Decoration Ideas – Amazing Easter Egg Painting
When you think of Easter, what image pops into your mind almost immediately? Perhaps it is painting and decorating Easter eggs, which has become a tradition over the centuries. There are so many amazing Easter egg decoration ideas, so make sure to try out a few sorts of egg painting! You might even go for a more traditional egg painting style. Instead of using food dye to paint the eggs, you might try painting them with natural ingredients. For example, coffee, onion and red wine will make your eggs look beautiful!
Advert
3. Fun Easter Gift Ideas for Kids – Easter Presents for Kids
Perhaps you have been invited over to someone's place to celebrate the arrival of Easter! If there are kids in the family, make sure you take a present with yourself. Since you are celebrating Easter, make sure that the gifts bring an Easter essence with themselves. Are you in search of some fun Easter gift ideas for kids? Then make sure to check out our collection of them! There are so many gifts you can put together yourself. No matter what you decide to give to them, make sure to include some chocolate eggs!
4. Easter Gifts for Adults – Fun Easter Crafts for Adults
As we have mentioned before, if you are celebrating Easter at someone else's place, you should arrive with a gift! So if you are in search of Easter gifts for adults, you have come to the right place. You will want to involve an Easter vibe in your gifts for any adults. For example, make a set of bath bombs for any friends or family in the shape of eggs. Or another great idea is to plant succulents in eggshells!
Advert
5. Easter Nail Ideas – Gorgeous Nail Designs for Easter
As Easter is the ceremony of rebirth and renewal, it only makes sense to bring some Easter fun to your nails as well! You can decorate your nails in hundreds of unique and creative ways to get into the Easter spirit! From cute Easter bunny designs to floral patterns we have a variety of Easter nail ideas for you to choose from! This is really up to you and your creativity, as well as your sense of style!
So if you have been in search of ideas for Easter, we hope that this array of ideas was able to lend you some inspiration!
Advert