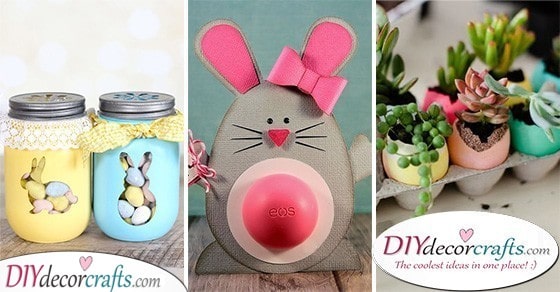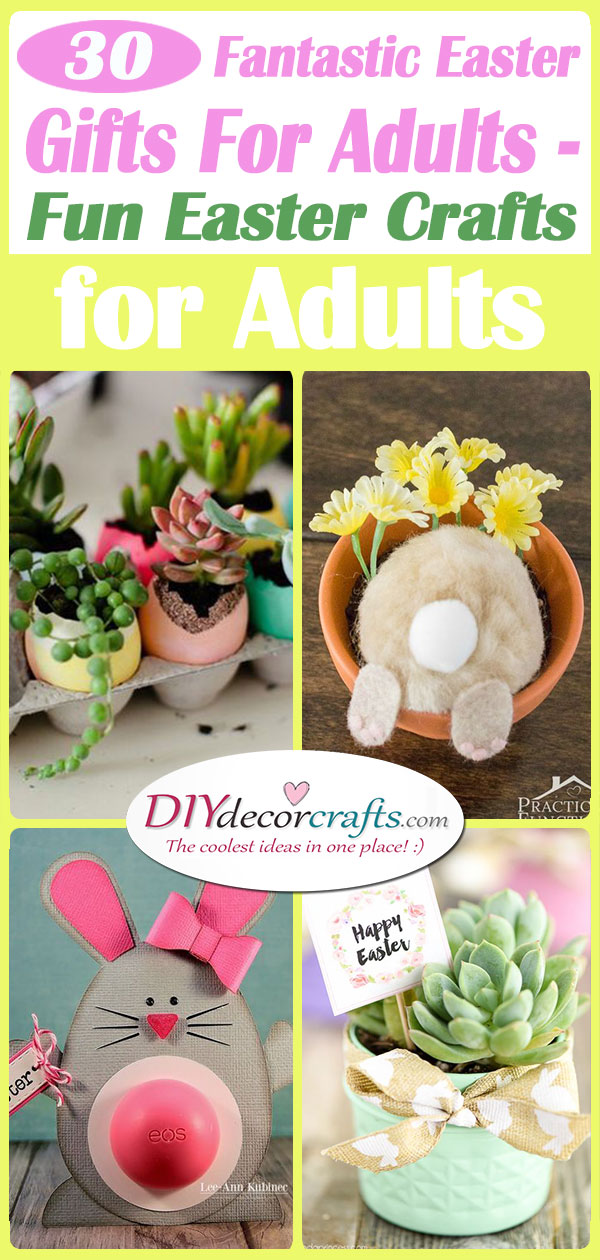 Easter is one of the best times of the year. Spring is in the air and everyone is full of energy and life. Easter is a festivity, that children enjoy immensely because of the chocolate egg hunts and all the great arts and crafts they can do. But let's not forget the adults either! Everyone wants to have a bit of fun during the Easter period. A great way of showing your love to your friends and family during the holiday season is by giving presents to each other. We have gathered 30 fantastic Easter gifts for adults in this article. We have a wide variety of Easter crafts for adults, including DIY ideas, so you can find the best gift for everyone.
1.  Easter Basket – Great Easter Presents for Adults
Assemble a basketful of goodies for your friends! After all, Easter isn't just for kids, so adults should be allowed to have some fun as well! In a basket, put in some chocolates and a glass of wine. This is one of many great Easter gift ideas.
2.  Easter Egg Bath Bombs – Easy to Make at Home
3. Mason Jar Cookie Mix – Easter Presents for Adults
Advert
source
Maybe you have a special recipe for cookies at home that you always bake when it's Easter.  Give this recipe to your friends so they can make it at home as well. Make their tasks even easier, by actually putting the ingredients in mason jars.  All they will need to do is combine them in a bowl with some eggs or milk. This will make their Easter baking session a bit quicker and easier!
4.  Succulents in Easter Eggs – Easter Crafts for Adults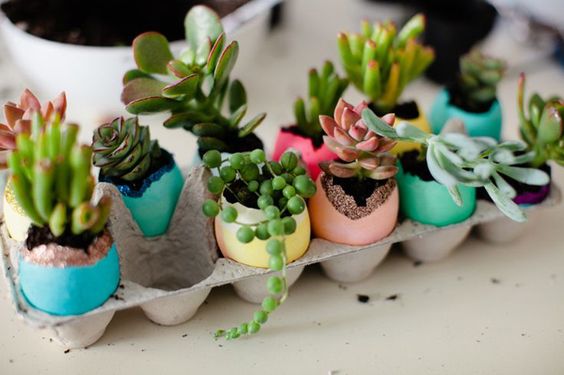 source
Spring is here, the perfect season for gardening. Get your friends into the gardening state of mind by gifting them small succulents in eggshells. It's a perfect combination of spring and Easter!
5. Pot Plants – A Touch of Nature
A healthy and fun hobby is gardening! Present your friends and family with pot plants this Easter, to make sure they spend time in the fresh air. Looking after plants is such a gratifying task, as you can watch them grow and blossom. These will make beautiful Easter gifts for adults!
6. A Basketful of Eggs – Easter Crafts for Adults
One of everyone's favourite Easter activities is dying and decorating hardboiled eggs. In Europe, there is a tradition of giving friends painted eggs during this holiday. Maybe you'd like to give decorated eggs as Easter presents this year. After you've dyed your eggs, put them in a basket full of grass or flowers. If you want to make their job a bit harder, hide the eggs amongst the grass. It will be like searching for a needle in a haystack!
7. Bunny Bag – Amazing Easter Gift Ideas for Adults
Do you have a bunch of treats you'd like to give your friends this Easter? Bag them up in a special way! Place all your gifts in a brown bag, then tie a knot around it, and form two adorable bunny ears with the top of the bag. This will give your gift an Easter vibe!
8.  Lip Balm – Creative and Cute Gift Ideas
Lip balm is the sort of gift which you are always glad for if your lips get chapped easily! Give your friends and family lip balm, but with a creative twist! Since it's Easter, you want your presents to carry that Easter essence. You can cut out the shape of a rabbit, and attach the lip balm to it as if it were the bunny's tummy. This makes an adorable present!
9. Carton of Eggs – Cheap Easter Crafts for Adults
A cheap and easy present you can hand out this Easter is a cartonful of eggs! We're not talking about actual eggs, but chocolate ones this time! You can grab an old carton, paint it with vibrant colours and place some chocolate eggs inside this adult Easter basket. 
10. Movie Night – Awesome Easter Gift Ideas for Adults

source
Make sure your friends can have a relaxing and cosy night at home, by giving them a bucket of popcorn! You can decorate the bucket to make it look like a rabbit for that special Easter effect. It's a cute Easter bunny craft to try out!
11. Digging for Easter Eggs – Funny Easter Crafts for Adults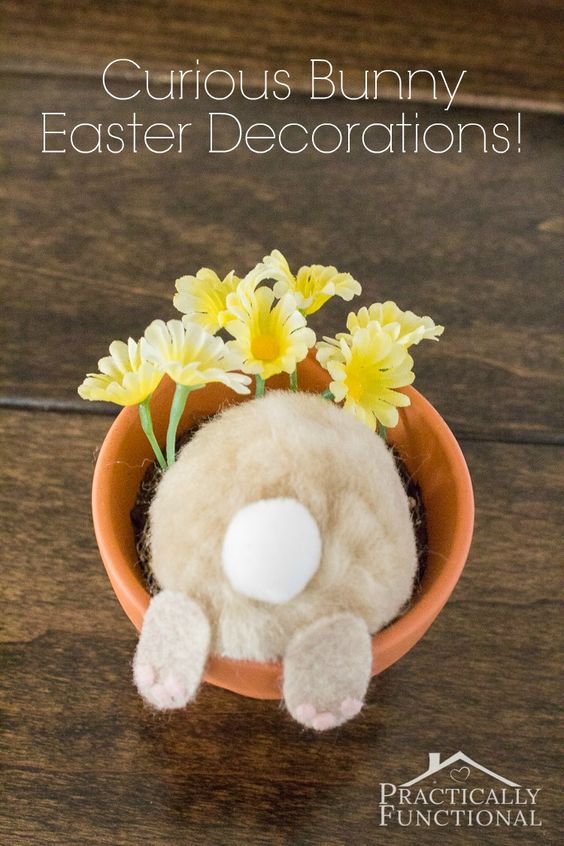 Advert
source
Draw a smile on your friends' faces with this fun Easter gift! Place a toy bunny in a pot with its head facing down, as if it were hiding Easter eggs inside. Your friends can decide whether they'd like to plant flowers in this pot later on.
12. Jars of Candy – Easter Gift Ideas
If you'd like to give simpler presents to your friends this Easter, then here's a hopping idea! Fill up some jars with candy and chocolate eggs. Decorate the jars with paper that have had rabbit shapes cut out on them. This will make your jars look festive for Easter!
13. Floral Easter Eggs – Beautiful Easter Presents
Integrate the atmosphere of spring into your Easter gifts. After dying and decorating your hardboiled eggs, attach some flowers to them. The flowers will only help boost the spring effect.
14. Bunny Boxes – Cute Ways of Wrapping Up Your Gifts
If you have already bought your Easter presents for adults, but you have run out of ideas on how to decorate them, try this fabulous idea out! Box up your presents, and using a lot of wrapping paper, form two ears at the top of the box, giving it a rabbitlike look. 
15. Baskets Full of Goodness – Adult Easter Baskets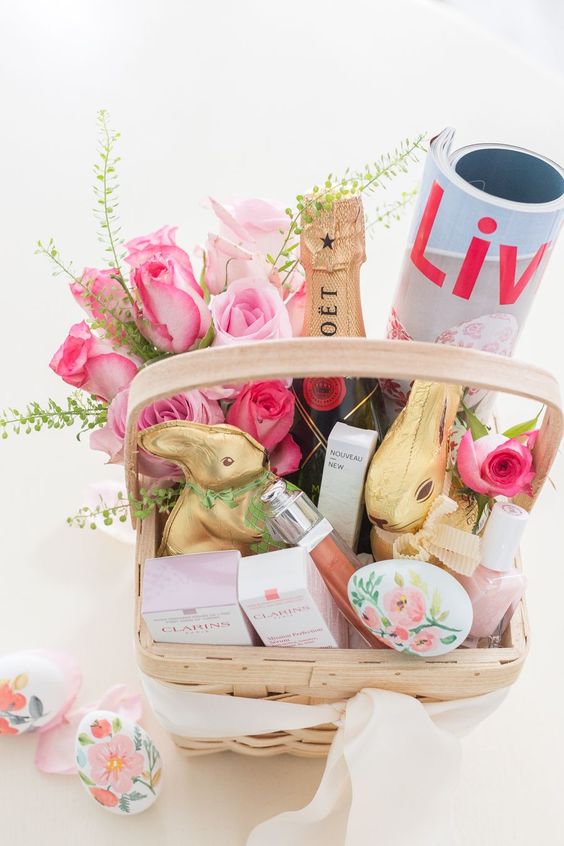 Advert
source
Easter baskets are always great to give, as you can give your friends an assortment of delights. As we're talking about adults, feel free to include a bottle of wine or champagne and some perfume or cologne.
16. Adorable Succulents – Cute Easter Gifts for Adults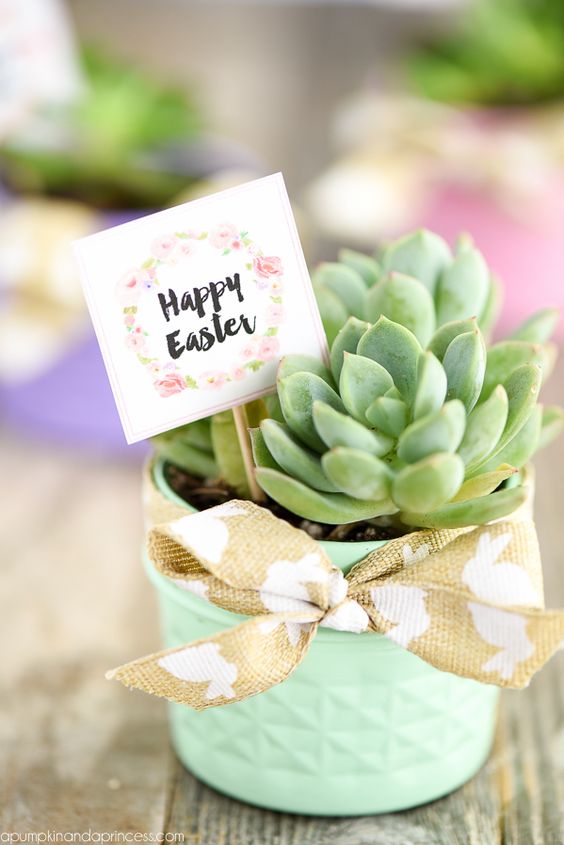 source
Succulents make great presents for any occasion. They are small, easy to care for and just terribly cute! Your friends might decide on planting their succulents in their gardens.
17. Rabbity Napkins – Fun Crafts for this Spring
18.  Bottles of Beer – Perfect Easter Gifts for Adults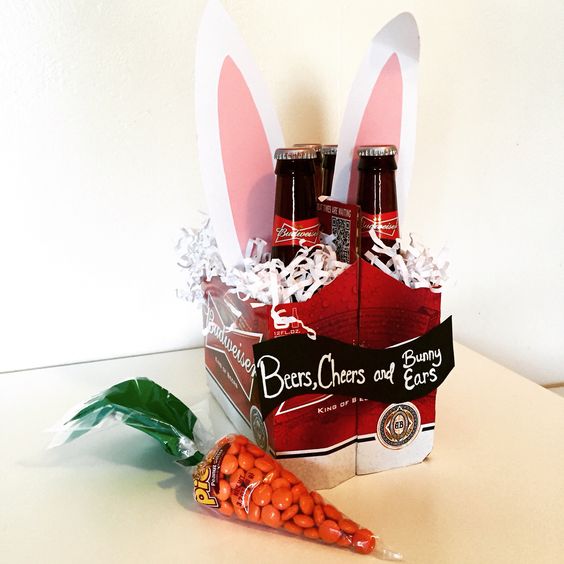 source
Quench everyone's thirst with a few bottles of beer! This is a gift that everyone will love. While watching a late-night movie or just cooking dinner at home, this is an ideal present to take sips on. You can attach a message on the front of the bottles, like the one above, that reads: "Beers, cheers and bunny ears." You can also glue rabbit ears on the back of the bottles.
19. Magical Makeup – Easter Gifts for Adults
For all your lady friends and relatives out there, give them baskets full of makeup and cosmetic products. If you don't have any other ideas, this will make a great gift idea for Easter, because you can't really go wrong with makeup. Attach a few decorations to the basket to make it look ready for the holiday!
20. Easter Animal Jars – Cute Easter Gift Ideas
Give everyone cute DIY gifts for Easter this year! Decorate mason jars to make them look like Easter animals, for example, chickens or rabbits. When painting mason jars it's a good choice to paint the inside of them – this way the paint won't peel off as quickly, as it would on the surface of the jar's outside.
21. Egg Terrariums – An Eggcelent Idea
A truly amazing idea for Easter would be giving everyone glass or plastic eggs, that have a small garden in them. These beautiful egg decorations are the embodiment of spring and Easter!
22.  DIY Yarn Eggs – Easter Crafts for Adults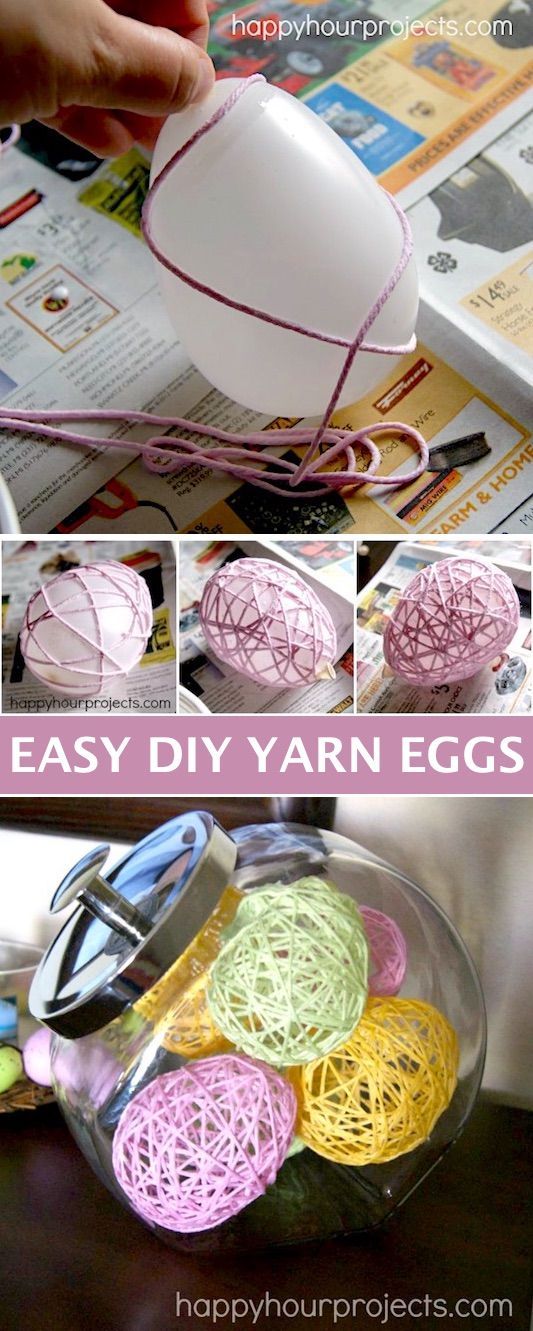 source
Are you a lover of arts and crafts? Make your family and friends yarn egg balls for Easter! They are super easy to make, all you need is yarn, glue and balloons. You can give these as presents, but also use them as Easter decor in your home.
23. Elegant and Refined – A Stylish Design
Gather presents in a beautiful basket. Buy small gifts depending on what your friends or family like.  If you are going for a more elegant set of presents, you can include a mug, a notebook or pens. But don't forget to include chocolate eggs! After all, it is Easter!
24.  Hatching Some Nail Polish – Creative Easter Gifts for Adults
Make sure all your lady friends and relatives hatch a surprise this Easter. In plastic eggs hide all sorts of cosmetic items. Nail polish is perfect for this idea because they fit perfectly in plastic eggs.
25. Candies in Jars – Great Idea on How to Store Your Candy
If you're planning on gifting tonnes of candy to your friends and family, then arrange them in mason jars! You can buy customised Easter jars online or in shops, that have bunnies or chicks sitting on the lids of the jars. To give it a special Easter effect, place chocolate eggs in the jars or if you can find candy carrots, that's also a great idea to stuff jars with!
26. Easter Bunny Decor – Cute Gifts for the Holidays
Giving special, festive decor always makes perfect presents for the holidays. In big glass jars or glasses, you can pour soil and pebbles on the bottom. Then stack green shredded material on top of that, to get a grassy effect. Then you can finally place rabbits and Easter eggs on the pile of grass. Whoever you gift this to, they will surely use it as a table centrepiece.
27. A Basket of Everything – Filled with Goodness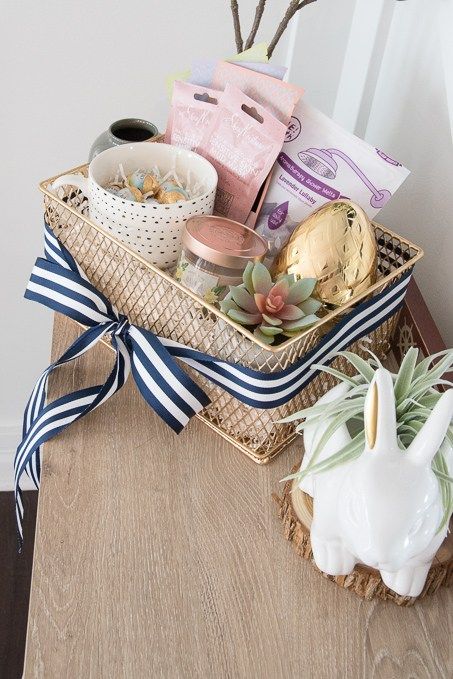 Advert
source
Still confused on what to give your family and friends for Easter this year? Well, clear the chaos in your head with a basketful of goods. Baskets are basic elements of Easter, so now all you need to find out what your friends need this year. Getting useful gifts are always a great idea!
28. Eggs Filled with Confetti – Shower Everything in Colours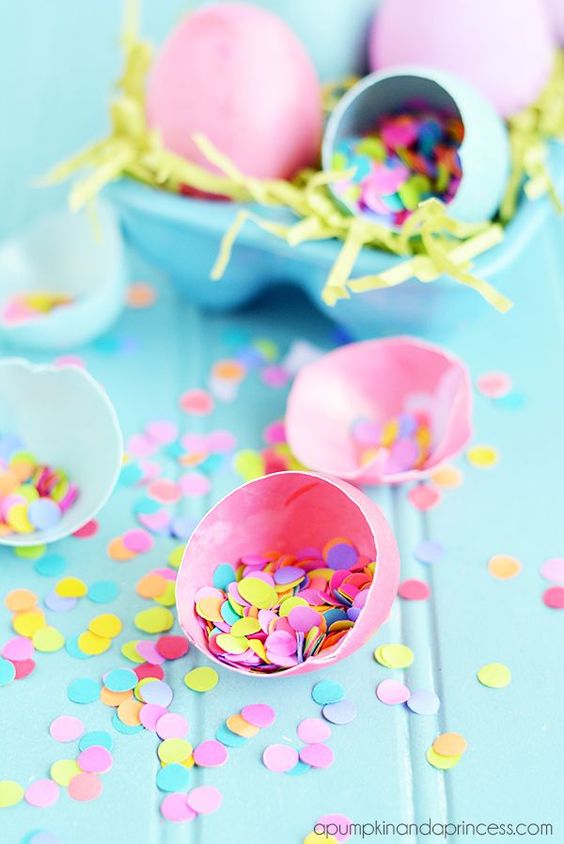 source
Are you hosting an Easter party this year for your close knit of friends? Well, make sure that everyone gets into the party mood with a bit of confetti! Fill plastic eggshells with confetti, so when you're having the time of your life, you can just crack your eggs. Out will tumble a rainbow sprinkle of confetti, uplifting the mood.
29. Adorable Sock Bunnies – A Hopping Idea
30. Decorating Your Baskets – Unique Easter Gifts for Adults
Design and decorate your gifts baskets in an Easter fashion! You can string small flowers across the basket, place eggs, baby chicken and rabbit figurines inside. These small accessories will create a lovely Easter vibe. Your friends will be overjoyed to receive these baskets!
Remember that Easter isn't only a celebration for kids, it's for everyone! So make your adult friends and family feel the love as well, by giving or making some of these awesome Easter crafts for adults! We hope we were able to give you some inspiration for this year's Easter! Check out some of our other Easter ideas, such as Easter nail designs!
Advert