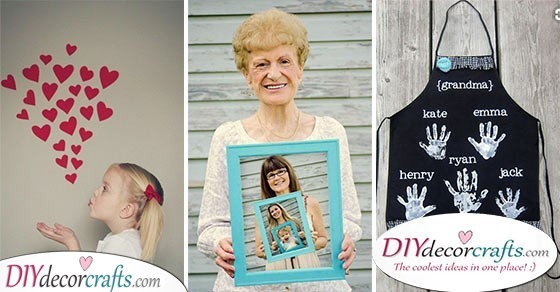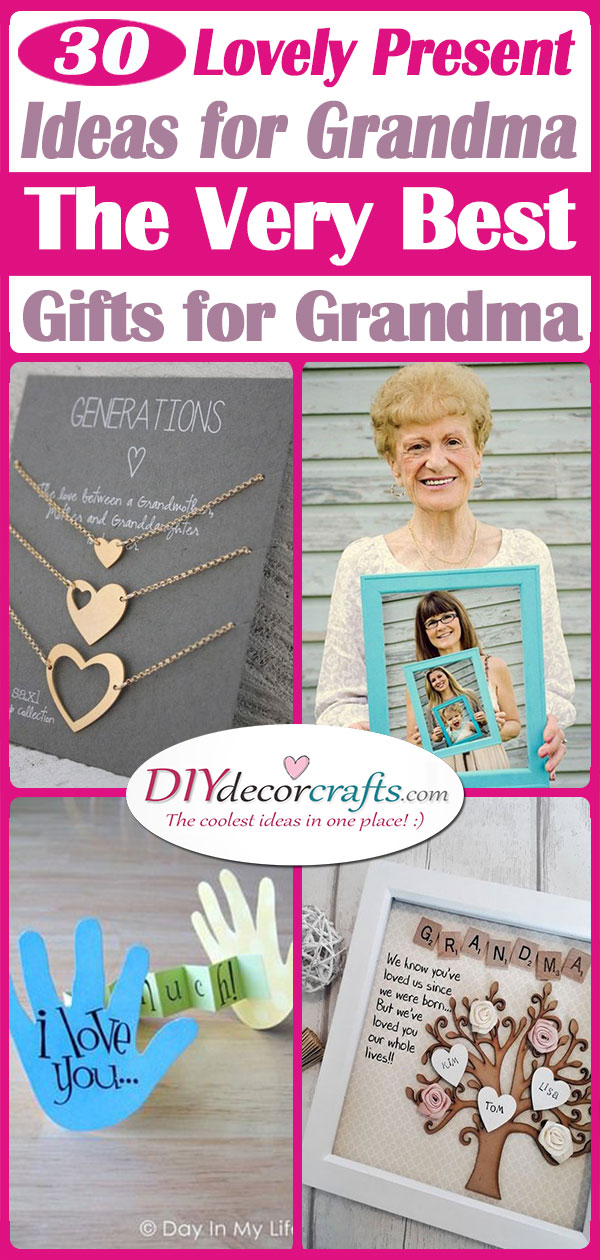 What is the first thing that comes to your mind when you think about your grandma? Maybe it's the delicious smell of her baked pies when you step into her house or perhaps that she knits you pullovers for every single one of your birthdays. Whatever it is, she will want to give you a lot of love and support for as long as she can. While she wants to give you as much as possible, you should also show her your thanks and gratitude. We have gathered 30 lovely present ideas for grandma, so you can give her a collection of gifts for nan this year and really express how thankful you are to her. Here is our pick of the best gifts for grandma!
1. A Beautiful Apron – Present Ideas for Grandma
Whether it's her birthday or Christmas, this idea will surely make a perfect gift for any grandma who loves her grandchildren to bits! If you have cousins or siblings put together this awesome apron for her.  Have everyone dip their hand into fabric paint and press it on a standard apron. You can write your names above your handprints with the remaining fabric paint. This way, whenever your grandma is cooking, she will immediately think of you.
2. A Photo of Generations – Fabulous Gifts for Grandma
If you'd like to present your grandma with an especially unique gift, then take a look at the one above! Give your grandma a frame of 3 generations of children after her. This can include your own mother, yourself and your own child if you have one. It's up to your creativity how you'd like to arrange these on a frame. An idea such as this is sure to become a fabulous birthday gift for your grandma as well!
3. Adorable Buttons – Best Gifts for Grandma
Put together a bit of art for your grandma! Have you ever heard of the quote that states "Grandmas are like buttons, they hold everything together"? Well, we couldn't agree more with this quote. Incorporate buttons into your artwork. You can write up the quote on a piece of paper and create small button-headed grandchildren. This is just another one of many amazing presents for grandma to create!
4. Splendid Necklaces – Gift Ideas for Grandma
Give your grandma something truly special and symbolic. We can't think of a better gift, than this one! Hearts that fit into each other, one for your grandma, a smaller one for your mum and a tiny one for you.
5. Spell Out the Name – Creative Gift Ideas
Spell out grandma or her name with this creative idea! Gather a bunch of words that all describe her, then arrange them in a way that they spell out her name or "grandma." Highlight the letters in bold for a better effect.
6. A Flower – Present Ideas for Grandma
Instead of giving your grandma a bouquet of flowers, present her with a flower that has a creative twist to it. Place the flower in a cut-out paper of one of her grandchildren or great-grandchildren. Make sure the flowers stem is exactly where the child's hand is.
7. Grandma to Be – Necklace Ideas for Nan
Is your mum or mother-in-law going to become a grandma soon? Get her a necklace that has "grandma to be" embellished on it. You can place a blue or pink jewel on the necklace as well, symbolizing what gender the child is going to be.
8. A Special Vase – Gift Ideas for Grandma
Does your grandma love to garden and care for flowers? Make sure she gets a present fitted to her hobbies then! Get a personalized vase or pot made, have pictures of her grandchildren printed or painted on every side of a wooden box. You can plant flowers in this. This might even become a dining table centrepiece in her home!
9. A Keychain with a Timeline – Best Gifts for Grandma
Get your grandma a special keychain, which contains all the dates of when she became a mother, a grandmother and perhaps even a great-grandmother. This is not only a lovely and sentimental present, but it's also great for making sure she doesn't get her keys lost!
10. Cookie Jar – Funny and Adorable
Most grandmas love to bake treats for their grandchildren. If yours loves to as well, then get her a cookie jar which you can decorate at home by yourself with paint. You can write up a funny message on it to make her smile, like on the picture above: "What happens at grandma's… Stays at grandma's."
11.  A Collection of Photos – Best Gifts for Grandma
Give your grandma a lovely collection of photos of all her grandchildren. After all, grandchildren bring sunshine and happiness into life – in other words, they make life grand.
12. A Candle with Matches – Personalized Gifts for Grandma
Scented candles are always a great idea for gifts if you have a tight budget. You can decorate the candle with a message, for example, "Nana, you light up my days." You can also decorate a small matchbox which you can give her together with the candles.
13. A Photo Album – Photos of the Family
Photo albums can make the best gifts for grandma! You can fill them up with shared memories and take the receiver on a trip down memory lane. Give your grandma a photo album that has all her favourite big events or special people gathered in one album.
14. An Adorable Description – Present Ideas for Grandma
A beautiful and heart-warming gift for any grandma is a short description of themselves from their young grandchildren. Children are known for being honest, so reading a few honest words about how much they love you will put anyone to tears. This is one of many fantastic present ideas for grandma!
15. Foot and Handprints – A Beautiful Board
16. A Creative Photo Series – Put Together Pictures of the Family
Send your grandma a message through a set of photos! In each photo hold up a small board or paper, that has a single word written on it. Then put together the words to make a message for nan!
17.  An Adorable Photo – Best Gifts for Grandma
Another great gift idea for grandmas is this one! Get your kid to pose in front of a wall, as if he or she were blowing a kiss. Stick red cut-out hearts on the wall behind her. This will represent that she's sending love to grandma.
18. Cute Bookmarks – Great Gifts for Bookworm Nans
Is your nan a bit of a bookworm? Then here's the perfect present for her! Take photos of the grandchildren, hanging from a tree or a rope, then cut the children out. Attach a ribbon or some lace to the figure of the children, as if they were hanging from that. These cute bookmarks of the grandchildren will help grandma find where she left off reading.
19. Lovely Mugs – Good Gifts for Grandma
Get a personalized mug for your grandma, so she can think about her grandchildren while drinking her morning cup of coffee or tea! Draw small figurines of all her grandchildren on the mug and have their names written underneath it. This is a lovely gift idea for any grandma!
20.  A Family Collage – Love for Grandma
If there's a photographer or artist in the family, then try out this gift idea! Arrange a collage of the grandchildren who form a heart with their hands, just like on the picture above. You can place this in a frame, so grandma will be able to hang it on a wall.
21. Date Signs – In Case of Forgetfulness
Is your grandma prone to forgetting birthdays or special events? Well, make sure she remembers everything with this caring and considerate gift! Design and create a family calendar for her, with all the important dates that she needs to remember.
22. A Simple Picture – Brighten Up Grandma's Day
23. An Awesome Tote Bag – Great Gift Ideas
Does the grandma in your family love to move about and go to new places every day? Make sure she has everything with her by gifting her an awesome tote bag. You can have a small message printed onto the bag, for example: "loving this grandma life." She just has to toss everything inside, fling the tote bag on her should and she can already head out!
24. A Cute Composition – Photos of Grandkids
25. Flip Book – Adorable Present Ideas
Make a cute and personal gift for grandma. Express how much you love her with a small flipbook, where one of the grandchildren is sending a burst of kisses and hearts to her. This is a perfect gift if you're in search of something more unique.
26. Hand Pop Up Card – Creative and Unique Card
Have a bit of fun with your card writing and design a hand pop up card! Involve the grandchildren in this one, get them to first draw their handprints on colourful sheets of paper, then cut them out. Attach a message between the two hands, this way when you open up the two hands, a happy and loving sentence will surprise your nan!
27. A Family Tree – Beautiful and Heartfelt
If you're thinking of designing and making some DIY decor for grandma, here's a great gift idea for you! Make a family tree for her, you can use photos of the family members or just simply write up their names. This will definitely make grandma's eyes misty when she sees it!
28. Handprint Keepsake – DIY Gifts for Grandma
Out of ideas for presents for grandma? How about making personalized gifts for grandma than getting store-bought ones! Make clay handprints for your grandma of each of her grandchildren. You can cut out a shape in the clay where you can stick pictures of the grandchildren inside, depending on who's handprint it is.
29. A Board of Artwork – Best Gifts for Grandma
If the grandkids love to paint and draw at school and take a lot of their artwork home to nanna, make sure she has a place where she can pin them up and use them as wall decoration. Make her a brag board so whoever steps into her home will see all the fantastic artwork the grandchildren create!
30. Five Things I Love About You – Present Ideas for Grandma
Make sure you light up your grandma's day with some happiness! Make her a personal card, using five cut-out shapes of one of her grandchildren's hand. Have the grandchild write up on each hand something they love about her. This is one of the best gifts for grandma that you can give her!
Make your grandma's day special by giving her the perfect gifts for nan! We hope that this collection of 30 presents ideas for grandma has helped you to find one as well!
If you're in need of more inspiration, concerning gifts, for example, birthday gift ideas for grandma or gift ideas for moms or birthday present ideas for dads, just go to our website!
Advert