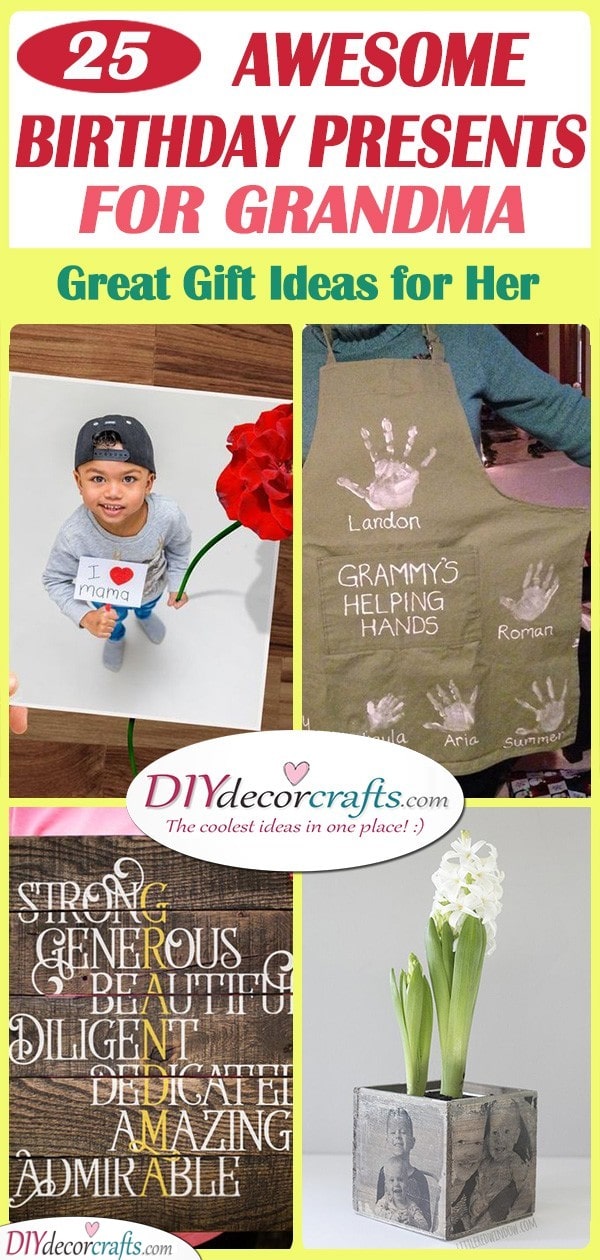 Grandmas are incredibly important figures in our lives! They are always trying to look after not only their children but their grandchildren as well. Constantly baking goods and taking care of the grandkids, when the parents don't have any time, grandmas are the perfect example of selflessness. If it's going to be your grandma's birthday soon, make sure she knows how special she is in your life, as well as the fact that you are truly thankful for her always being there! For this special occasion, we have gathered 25 birthday presents for grandma, so you will hopefully be able to find some inspiration amongst this collection of birthday gift ideas!
1. Adorable Flowers – Fingerpainted Presents for Grandma
A simple and easy gift to make grandma is a painting using your own hands! This is a great activity for grandchildren, as they're not only learning to be creative but learning to give to others as well! Have the grandkids dip their hand into green paint and push it down on a sheet of paper, this will be the stem of the plant. Then with their fingers and using vibrant colours of paint, make them create small dots, representing flowers. You can cut out another sheet of paper, resembling a pot, on which you can write "happy birthday grandma!"
2. A Definition of Grandma – Heartfelt Gift Ideas
Let your gran know what she really means to you! Collect a set of words that all describe her perfectly. When placing the words underneath each other "grandma" should be spelt out vertically. You can create this on a wooden board or on a piece of paper which you might place in a frame afterwards.
3. A Vase of Grandchildren – Birthday Presents for Grandma
Here's a fantastic and creative idea for grandma's birthday! Cut shapes of flowers out of colourful paper. Then stick a picture of each of her grandchildren on a flower before attaching them to some sort of sticks or straws. Place these all in a vase, as if her grandchildren were all blossoming flowers! You can write "grandma's garden" on the vase itself for an even more special effect!
4. The Cutest Mitten – Great for Baker Grandmas
If your grandma loves to cook and bake, make sure she doesn't burn her hands accidentally while taking something out of the oven! Get her a kitchen mitten! This would not only make a fantastic gift for grandma! But not any standard one, customise it at home! Using some fabric paint, have one of the grandkids dip their hands in it, before pressing it down on the mitten itself. You can also attach a note to the mitten before presenting her with it on her birthday!
5. Pot of Flowers – With a Lovely Message
Buying someone flowers may seem like a bit of an old-fashioned or boring gift. But we all know that old is gold! Get your grandma a pot of her favourite flowers. On the pot, have one of the grandkids dip their hand in paint before placing it on the pot, creating a beautiful handprint! You can attach a cute message to the pot that reads "I couldn't have hand-picked a better grandma." While this is a great play on words and ideas, it's also a message of love and gratitude.
6. For a Mother and Grandmother – Birthday Gifts for Grandma
Here is another beautiful idea for any grandma! While they are grandmas, let's not forget that they were mothers first! Express your love toward her, writing on a wooden board, that "the best thing about having you as a mom, is our children having you as a grandma." You can hang pictures of all the grandchildren from the board. Grandma will definitely use this as home decor!
7. A Gorgeous Collage – Love from the Grandkids
If your grandma has a lot of grandchildren, make sure to work together with them to create something special for her birthday! Create a collage of all the grandchildren. In each picture have the kids holding up a letter of "grandchildren" and place them together. You can place this in a frame before giving it to her. This will take her breath away from seeing all the grandkids together!
8. A Scrumptious Cake – Treat Your Gran
Something great to give anyone for their birthday is a birthday cake! Have it decorated beautifully for your grandma, even writing on the top "happy birthday grandma!" Make sure the cake is her favourite flavour!
9. Big Numbers – Unique Birthday Presents for Grandma
If you're thinking about creating some unique and awesome for grandma, do it! Here's a fabulous idea you might like. Cut out large numbers of the age she is turning. Gather pictures of her, her children and her grandchildren and paste them on the numbers, creating a collage-like look. She will love this idea, as it's a collection of beautiful memories!
10. A Family Tree – Sending Her Love
A family tree, specially made for a grandparent, is the perfect gift idea! Use pictures of all the family member, grandma being the trunk of the tree, the children branches and the grandchildren the leaves. She will love this, not only because it's something to do with the family, but because it was made with love and care!
11. Grandma's Helping Hands – Personalized Gifts for Grandma
Does your grandma love to cook and bake, spending most of her time in the kitchen? Get her something to match her hobby, for example, an apron! Spruce the apron up with a great idea. Have all the grandchildren dip their hands into paint and press it on the apron, writing up their names as well. In the middle of the apron write "grandma's helping hands" as a play on the idea.
12. A Handmade Photo Planter – Unique Planter for Gran
If you are thinking about buying your grandma some flowers, make sure you do this in a unique and special way, after all, it is her birthday! Create a photo planter for her! Paste pictures of the grandkids on each side of a wooden box which you can use as a planter. Put her favourite flowers inside. This is one of many fantastic presents for grandma to try out!
13. Grandmas as Buttons – Holding Everything Together
It's great to combine a DIY craft with a quote! There's a lovely quote that says "Grandmas are like buttons, they hold everything together." If you find that this quote resonates with you and your grandma, make sure to use it! Draw stick figures on a piece of paper using buttons as their heads. Then write this quote underneath it.
14. Grandma's Garden – Birthday Presents for Grandma
Great gifts aren't about giving something expensive and grand to someone, it's all about putting a bit of time and energy into something! Have the grandchildren create a homemade birthday present for grandma! Painting the stems with green, and using their handprints as the flower itself. You can write "Grandma's garden" above it, for that extra vibe of love.
15. Grandchildren Keychain – Birthday Gifts for Grandma
Getting personalized gifts for grandma for her birthday is a fantastic idea! Besides having a central piece of metal, which has "grandma" engraved in it, you can add some smaller metal ringlets to it as well, each having the name of one of her grandchildren written into them. She will love seeing this keychain attached to her keys!
16. A Cookie Jar – A Funny Birthday Gift
Does your grandma bake the best chocolate chip cookies? We're sure if she bakes a batch, they'll be gone in an hour or so. To keep the cookies safe from prying hands, gift her a cookie jar for her birthday. You can decorate the jar in any way you'd like. A handprint from one of the grandkids will always brighten her day!
17. Generations of Women – Beautiful Necklaces
Having three generations of women around is a rarity in life! If you've been thinking about gifting your grandma with something truly special, make sure she receives it! How about buying matching necklaces for each of the three generations of women. One for grandma, one for mom and one for the granddaughter. They can have heart-shaped pendants on them, each a different size, symbolizing the difference in ages. This is a great gift for women of any generation in the family!
18. Flower with a Twist – The Best Gifts for Grandma
Maybe you'd like to give your grandma a flower, but try presenting her with something unique instead of a simple bouquet. Take a picture of one of the grandkids from above. In one hand they can hold a sign saying "I love grandma", while their other hand should remain clenched as if they were holding something. Print this picture out and puncture a small hole in the grandkid's fist. Pull a stem of a flower through this small hole, as if the grandkid were holding a flower for grandma!
19. A Personalised Candle – Birthday Presents for Grandma
Candles always make a great gift when you're in doubt. If you decide on gifting your grandma a candle for her birthday, make sure to personalise it! You can write a message on some paper and twist it around the candle itself. You can also get a small box of matches for her, on which you can write another message for her. This is a simple and easy gift to make at home, but we're sure she'll love it.
20. An Awesome Album – Filled with Memories
Photo albums make the best gifts! You can fill them up with shared memories and take your grandma on a trip down memory lane. Give your nan a photo album that has all her favourite big events or special people gathered in one album. You can even create an album that spells out "grandma," cutting each letter out of a piece of thick paper.
21. Grandma to Be – The Joys in Life
Are you expecting a child? Tell the news to your mother, who is now not only a be a mom, but she's going to be a grandma soon! Buy her a small necklace with a silver heart as a pendant on a necklace, which has "grandma to be" engraved in it. You can also consider attaching a small pink or blue crystal to the necklace, revealing the gender of the baby.
22. A Loving Message – Photo Present Ideas
Send your grandma a loving birthday message through a set of photos! In each photo hold up a small board or paper, that has a single word written on it. Then put together the words to make a message for nan! You can get the grandkids involved in this one, they'll be so happy to help!
23. A Sense of Belonging – Birthday Presents for Grandma
Does your grandma begin her day with a mug of hot tea or a coffee? Make sure she is reminded of the grandkids when she drinks her morning cup. Draw the figures of the grandkids on a ceramic mug with a Sharpie pen. You can write up "this grandma belongs to" and the names of the grandchildren underneath their figures. This will make her mornings a little bit more beautiful!
24. A Cute Photo – A Message for Nan
You can brighten up grandma's day with a simple gift that requires no expenses. Get one of the grandchildren to pose with a small blackboard that has "I love my grandparents" or "I love my grandma" written on it. Take a photo of this moment and get it printed! It's a simple gift that is sure to draw a smile on your grandma's face.
25. A Bit of Homemade Care – Best Gifts for Grandma
Get the grandkids involved in creating a birthday gift for grandma! Even if they're still small, they'll be able to make something special for her with your help. You can have them assist you in making some of their nan's favourite cookies or draw a picture for her. Whatever you decide on creating, grandma will be sure to love it, as the grandkids put in a helping hand as well!
Make sure your grandma's birthday is truly special by creating the perfect present! We hope that this collection of 25 birthday presents for grandmas has helped you to find one as well! If you are in search of other gift ideas as well, check out our website! We have Best Gifts for Grandma and even Mothers Day Gifts for grandma!
Advert