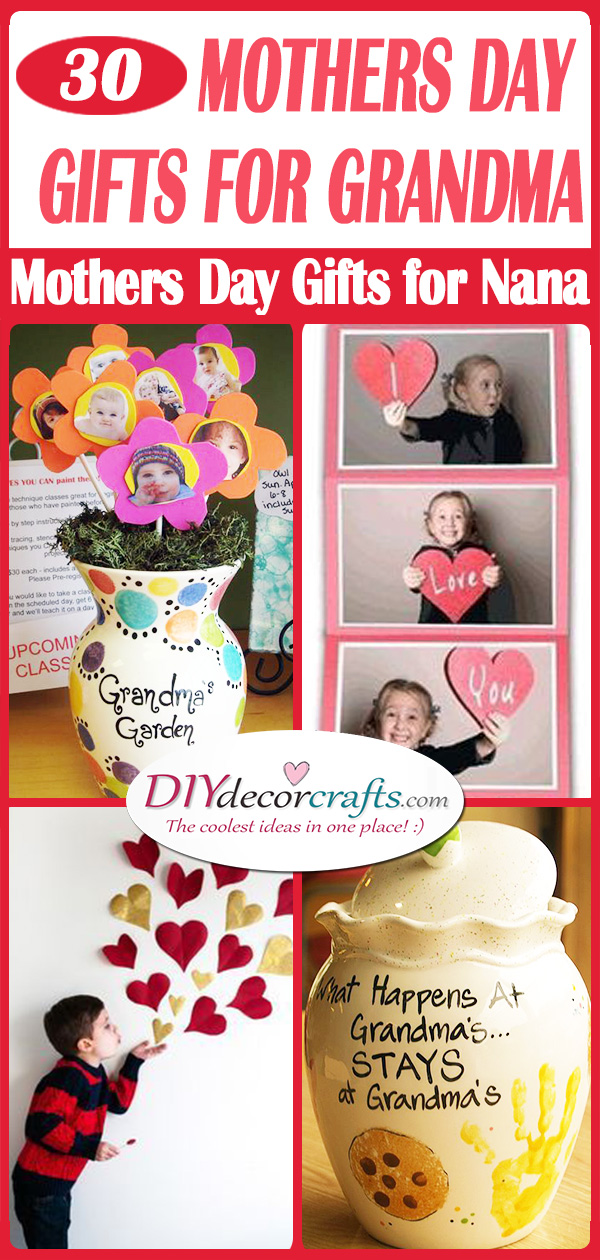 There's a special upcoming event which you might be thinking about celebrating with your family. This is no other than Mother's Day. It's a day when you celebrate and give thanks to your mom, who does so much for you throughout the whole year! Taking this into consideration, there is another lady in the family who is just as important! While your mom has always been there to help you, so has your grandma! Make sure to express your love and gratitude towards her this Mother's Day. You can easily achieve this by buying or making mothers day gifts for grandma. Take a look through our pick of 30 Mothers Day gifts for nana in order to find some inspiration!
1. Made with Love – An Adorable Mitten
Does your grandma spend a lot of her time in the kitchen cooking and baking? If so, make sure she doesn't burn her hands accidentally while taking something out of the oven! Get her a kitchen mitten for Mother's Day! But not just a plain one, customise it at home with the help of the kids! Using some fabric paint, have one of the grandkids dip their hands in it, before pressing it down on the mitten itself. It's a cute yet lovely gesture!
2. A Tea-Rific Grandma – Mothers Day Gifts for Grandma
You don't need to go overboard with a Mother's Day present, it's all about expressing how much your mother or grandmother means to you! If your grandma loves tea, then get her a tea-inspired card. The card should be cut in a teacup shape with the sentence "you are tea-rific" on it. You can place a few of her favourite flavoured teabags inside the card. We're sure that any tea-loving nan will love this small gift!
3. A Pot of Flowers – With a Sweet Message
If your grandma loves flowers, why not get her a pot of them for Mother's Day? On the pot, have one of the grandkids dip their hand in paint before placing it on the pot, creating a beautiful handprint! Then simply attach a sweet message to the pot that reads "I couldn't have hand-picked a better grandma." This is not only a great play on words and ideas, but it's also a message of love and gratitude.
4. The Three Words – Mothers Day Gifts for Nana
Three words, made out of eight letters, which everyone wants to hear is no other than "I love you." Make certain your grandma knows how much you love her by putting together a photo collage. Have one of the grandkids hold up signs in each photo. Each sign should be one word of the three. Then place the photos next to each other on a card, which grandma will open!
5. A Photo Planter – The Perfect Present
Here is another fantastic way of presenting your grandma with some flowers. Create a photo planter for her! Each side of the planter should have photos of family members, especially the grandkids on it. Then all you need to do is plant her favourite flower in it!
6. Giving Thanks – A Stunning Succulent
Make sure your grandma knows how much you appreciate her with a potted succulent! Plant a succulent in a small pot or even a mason jar will do the trick! Then place a note on the pot which reads "Thanks for helping me grow." Your grandma will understand the meaning of this special message and will treasure it deep in her heart!
7. Floral Grandchildren – Cute Mothers Day Gifts for Grandma
Get creative for Mother's Day! Give her a vase filled with all her grandchildren. Cut shapes of flowers out of colourful paper. Then stick a picture of each of her grandchildren on a flower before attaching them to some sort of sticks or straws. Place these all in a vase, as if her grandchildren were all blossoming flowers! Write or paint the words "grandma's garden" on the vase for a beautiful look.
8. An Adorable Photo – Using a Blackboard
You might be considering taking a photo of one of the grandchildren and giving that to grandma as a gift! Have the grandkid or grandchildren hold a blackboard in the photo. Using colourful and vibrant chalk write up the words "I love my grandma" on it.
9. Five Things – You Love About Her
Tell grandma how much you love her! Have her grandkid draw down their handprint five times on paper and cut them out. On each handprint, have them write down one quality of grandma's which they love about her! This can be something like she always reads them the best bedtime stories or her cookies are delicious! Then attach the handprints together creating a small booklet.
10. A Kiss Flip Book – Mothers Day Gifts for Nana
Create a small flipbook for grandma, in which the grandkids send their kisses and love to her. All you need to do is take some photos of the kids, blowing kisses. Draw hearts on the wall behind them, always adding an extra one with each new photo. In the end, attach the photos together in a small booklet. Make sure that they are in chronological order, starting with no hearts and ending with an array of them.
11. A Description – Of Your Grandma
Another cute idea as a gift for grandma is to have the grandchildren write small descriptions about her! You can find printables, which have small spaces in the description which the grandchildren have to fill in. Just check out the example above to see what a cute gift you can put together, not to mention it doesn't cost a thing!
12. An Amazing Album – Mothers Day Gifts for Grandma
Create a photo album for your grandma, so she can reminiscence about all the great times you had! Give your nan a photo album that has all her favourite big events or special people gathered in one album. You can even create an album which spells out "grandma," cutting each letter out of a piece of thick paper.
13. A Photo Collage – A Huge Heart
Are you in search of a handmade gift for grandma? After all, creating a gift for her will show how much effort you put into making something special for her! Put together a photo collage for her using pictures of the grandkids. You can have the kids hold up signs or create a large heart out of their hands. When you place the photos next to each other, you will be able to form the gigantic heart!
14. Another Photo Collage – Mothers Day Gifts for Nana
We have already talked about creating a photo collage for your grandma! It's a simple and creative way of expressing your love for her. Make a message with the help of the grandkids. In each photo have the kids hold up a small board or paper, that has a single word written on it. Then put together the words to make a message for nan! These mothers day gifts for grandmothers will make incredibly personal and heartfelt presents!
15. Generation Necklaces – A Bit of Jewellery
If you've been thinking about gifting your grandma with something truly special, check out these mothers day gifts for nan! How about buying matching necklaces for each of the three generations of women. One for grandma, one for mom and one for the granddaughter. They can have heart-shaped pendants on them, each a different size, symbolizing the difference in ages. This is a perfect gift for Mother's Day, for both of the most important women in your life!
16. A Gorgeous Flower – Mothers Day Gift for Grandma
Here's a super cute mothers day gift for grandma! Take a picture of one of the grandkids from above. In one hand they can hold a sign saying "I love nana", while their other hand should remain clenched as if they were holding something. Print this picture out and puncture a small hole in the grandkid's fist. Pull a stem of a flower through this small hole, creating the image that the grandchild is holding a flower.
17. A Cookie Jar – Who Stole the Cookie
If your grandma bakes cookies all the time, then why not gift her a cookie jar? You can have the grandkids paint cookies on it or simply just leave their handprints on the jar. This will provide space for the cookies your grandma bakes.
18. Blow a Kiss – Easy and Cute
Check out this easy and simple present idea, which grandma will be sure to love! It's another photo gift of one of the grandkid's blowing a kiss. Place some cut out hearts on the wall as if the grandchild were blowing an abundance of hearts to grandma!
19. An Easy Craft – Handmade Mothers Day Gifts for Nana
Get the grandkids involved in making Mothers Day gifts for nan! They can do something easy, such as cutting out their handprints. Then all they need to do is write a message on the cut-out handprints meant specially for nan!
20. Expressing Love – Message from the Grandkids
Create a personalised frame for grandma, which has a photo of the grandkids in it. Next to the photo, you can add a quote with which you capture the love which the grandkids feel towards grandma! Then feel free to decorate the frame!
21. Fabulous Footprints – Forming a Heart
Put together a piece of art for grandma! Have her grandkid dip their feet in paint and place them on a piece of paper. Make sure that the two footprints create the shape of a heart. Then you can write a loving message for gran underneath! Make sure to get creative with this.
22. Photos of the Grandkids – Mothers Day Gifts for Grandma
If you want to create a gift for grandma involving photos, you don't need to get her an album. Why not create a wooden sign for her, which she can hang up on one of the walls of her home? Then simply pin photos of the grandkids on it! We're certain that this would also make a perfect birthday present for grandma!
23. A Fantastic Vase – Grandma's New Favourite
A vase will also make a perfect gift for grandma! You can paint a small message for her on it and place a bouquet of flowers in it when presenting it to her on Mother's Day.
24. Watering Can Idea – A Garden of Love
If you like the idea of creating paper flowers and sticking the faces of your kids on them, then you will love this idea! Create a bouquet of all the grandchildren as flowers, then place them in a watering can. You can have the grandkids add the finishing touch to it, by having them paint something on the can, such as "grandma's garden of love."
25. DIY Pot – Mothers Day Gifts for Nana
We have already mentioned decorating a pot in which you can plant your grandma's favourite flowers. This is a simple gift, yet full of thoughtfulness and love. Have her grandchildren decorate the pot in a funky and creative way.
26. Handprint Bouquet – Unique and Fun
Here's another bouquet idea to make as Mother's Day gifts for grandma! Create the flowers out of the grandkids' cutout handprints. Staple the two sides of the handprints together to make the petals of the flowers. You can place strips of yellow paper inside, creating the pollen.
27. Cute as a Button – Mothers Day Gifts for Grandma
Combine buttons with a sentimental thought. Perhaps you have heard of the quote which says, "Grandmas are like buttons, they hold everything together." If you find that this quote resonates with you and your grandma, make sure to use it! Draw stick figures on a piece of paper using buttons as their heads. Then write this quote underneath it. These will make sentimental and thoughtful Mother's Day gifts for grandma.
28. Cool Keychains – The Grandkids' Handprints
Use the grandkids handprints as inspiration for this idea! Create keychains using their handprints. You can write their names on the keychains as well, as well as their age at the time it was made. This way the grandkids will always be with grandma! This would also make a wonderful Christmas present for grandparents!
29. Footprint Flowers – Mothers Day Gifts for Nana
Check out this other idea involving footprints of the grandkids! Have them create flowers using their footprints. Take a look at the example above for an idea on how to create this! You can also include the stems of the footprint flowers and some leaves.
30. The Best Collage – Personal and Full of Love
We have already mentioned creating a huge heart for grandma for Mother's Day. Use the grandkids' arms and hands. Place the photos together at the end to create a huge heart. You can print this out and give it to grandma as a card, showing her all the love you are sending her! Again, these will be fabulous mothers day gifts for grandmothers!
Naturally, there are dozens of other ideas you can create as Mothers Day gifts for grandma. You might be interested in Mother's Day gifts for mums or Best Gifts for Grandma, so make sure to visit our website!
Advert