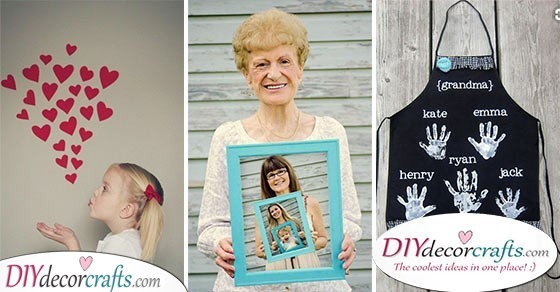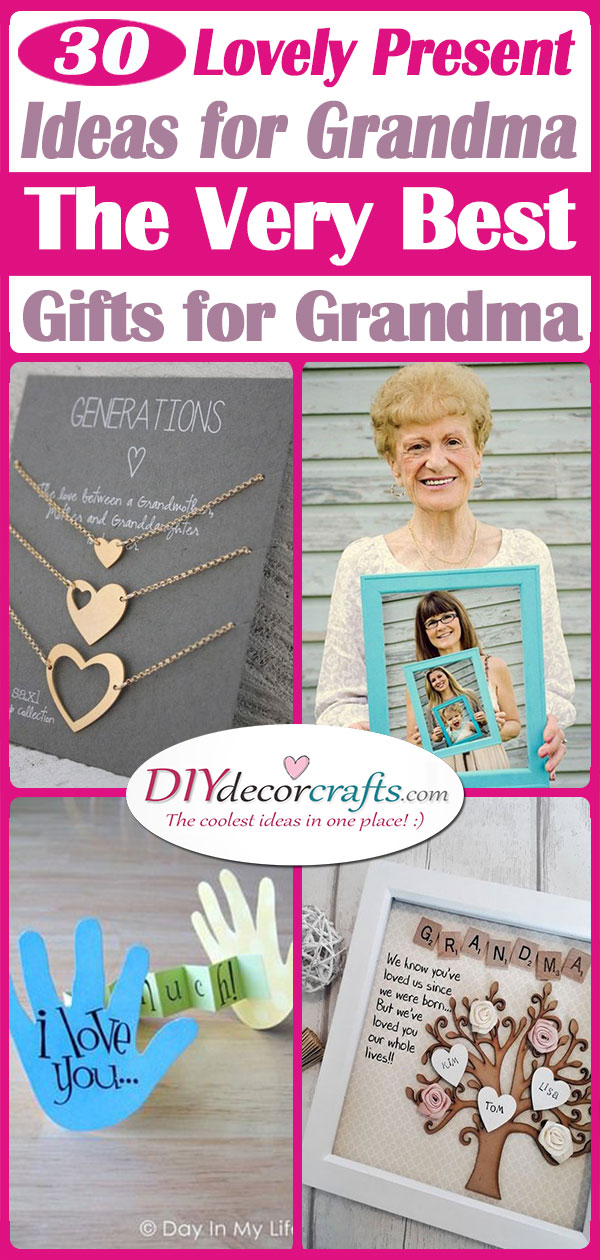 What is the first thing that comes to your mind when you think about your grandma? Maybe it's the delicious smell of her baked pies when you step into her house or perhaps that she knits you pullovers for every single one of your birthdays. Whatever it is, she will want to give you a lot of love and support for as long as she can. While she wants to give you as much as possible, you should also show her your thanks and gratitude. We have gathered 30 lovely present ideas for grandma, so you can give her a collection of gifts this year and really express how thankful you are to her. Here is our pick of the best gifts for grandma!
1. A Beautiful Apron – Something Special from the Grandchildren
Whether it's her birthday or Christmas, this idea will surely make a perfect gift for any grandma who loves her grandchildren to bits! If you have cousins or siblings put together this awesome apron for her.  Have everyone dip their hand into fabric paint and press it on a standard apron. You can write your names above your handprints with the remaining fabric paint. This way, whenever your grandma is cooking, she will immediately think of you.
2. A Photo of Generations – A Unique and Fabulous Gift for Grandma
If you'd like to present your grandma with an especially unique gift, then take a look at the one above! Give your grandma a frame of 3 generations of children after her. This can include your own mother, yourself and your own child if you have one. It's up to your creativity how you'd like to arrange these on a frame.
3. Adorable Buttons – Best Gifts for Grandma
Put together a bit of art for your grandma! Have you ever heard of the quote that states "Grandmas are like buttons, they hold everything together"? Well, we couldn't agree more with this quote. Incorporate buttons into your artwork. You can write up the quote on a piece of paper and create small button-headed grandchildren.
4. Splendid Necklaces – Gifts for Nan
Give your grandma something truly special and symbolic. We can't think of a better gift, than this one! Hearts which fit into each other, one for your grandma, a smaller one for your mum and a tiny one for you.
5. Spell Out the Name – Creative Gift Ideas
Spell out grandma or her name with this creative idea! Gather a bunch of words that all describe her, then arrange them in a way that they spell out her name or "grandma." Highlight the letters in bold for a better effect.
6. A Flower – Present Ideas for Grandma
Instead of giving your grandma a bouquet of flowers, present her with a flower that has a creative twist to it. Place the flower in a cut-out paper of one of her grandchildren or great-grandchildren. Make sure the flowers stem is exactly where the child's hand is.
7. Grandma to Be – Necklace Ideas for Nan
Is your mum or mother-in-law going to become a grandma soon? Get her a necklace that has "grandma to be" embellished on it. You can place a blue or pink jewel on the necklace as well, symbolizing what gender the child is going to be.
8. A Special Vase – Gift Ideas for Grandma
Does your grandma love to garden and care for flowers? Make sure she gets a present fitted to her hobbies then! Get a personalized vase or pot made, have pictures of her grandchildren printed or painted on every side of a wooden box. You can plant flowers in this.
9. A Keychain with a Timeline – Great Gift Ideas for Nan
Get your grandma a special keychain, which contains all the dates of when she became a mother, a grandmother and perhaps even a great-grandmother. This is not only a lovely and sentimental present, but it's also great for making sure she doesn't get her keys lost!
10. Cookie Jar – A Funny Gift Idea
Most grandmas love to bake treats for their grandchildren. If yours loves to as well, then get her a cookie jar which you can decorate at home by yourself with paint. You can write up a funny message on it to make her smile, like on the picture above: "What happens at grandma's… Stays at grandma's."
11.  A Collection of Photos – Best Gifts for Grandma
Give your grandma a lovely collection of photos of all her grandchildren. After all, grandchildren bring sunshine and happiness into life – in other words, they make life grand.
12. A Candle with Matches – Personalised Gifts for Grandma
Scented candles are always a great idea for gifts if you have a tight budget. You can decorate the candle with a message, for example, "Nana, you light up my days." You can also decorate a small matchbox which you can give her together with the candles.