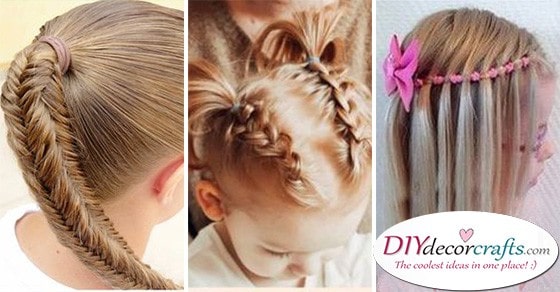 If you are getting ready for a special occasion, like a casual day out with friends or a formal and elegant party, you will want to look your best. This means looking great from head to toe. Your appearance includes your outfit, your accessories and last, but most importantly, your hairstyle! No matter if you are over seventy or under ten, you will want your hairstyle to look gorgeous. This is exactly why we have collected 25 little girl braid styles. This way you will make sure your little girl looks her best wherever she goes, as well as allowing her to express herself thanks to our collection of hair ideas! So take a browse through our easy little girl braids, to find the best one for her!
1. Looking Like a Princess – A Reverse French Braid
Perhaps your little girl has always dreamed about looking like a Disney princess! If so, why not help make her dream come true? Here is a beautiful braid that will uplift her whole look. Check out the tutorial above on how to create a reverse French braid. While this braid technique looks quite difficult, it's actually not hard to create with practice. You will be able to place this braid over your girl's shoulder and she will look like Elsa from Frozen!
2. Distract Braid Hairstyle – Step by Step Little Girl Braids
Is it the start of a new school year and does your little girl need a beautiful hairstyle to begin the semester with? Then check out this fantastic hairstyle which incorporates a funky braid! This braid is all about placing a ponytail through loops of hair and then tying these down with colourful elastic bands. This is a perfect way of bringing a bit of style and fun into your girl's weekdays. You can create double distract braids using the same technique for the single braid!
3. Beautiful and Elegant – Little Girl Braid Styles
Depending on where your little girl is going, to a family dinner party or to a birthday party, make sure she looks super cute! Give her an elegant hairstyle for little girls by braiding the top part of her hair. Only braid a shorter part of her hair, forming it into a small bun. You will have to twist the end of her hair into an elegant bun. Using a few hairpins you will be able to fixate the twisted bun to the top of her head, creating a cute topknot.
4. Spiral Lace Braid – Easy and Effortless
If you are in search of a beautiful braid idea for your little girl, make certain to check out this idea! Create an enchanting spiral lace braid out of your girl's hair! First of all, you will need to make a high ponytail out of her hair. You can use a fake braid for twisting around the ponytail, to create an exquisite look. But you can also try making a waterfall braid using the ponytail and twisting that around and around. Then add the finishing touch to your girl's hair, an elastic band to the end of the ponytail. The elastic band helps keep the braid running around your girl's ponytail in place.
5. Dutch Infinity Braid – A Gorgeous Look
Are you in search of a truly gorgeous hairstyle that incorporates a braid for your little girl? Then take a look at this Dutch infinity braid! Using the technique, demonstrated in the tutorial above, you will be able to recreate this fabulous look. You will have to repeat this pattern over and over, making the braid as tight as possible. Secure the bottom of the hair with elastic, making sure you keep the braid in place. You can leave the ends out a bit longer, to create curls out of them!
6. Dutch Braid Pigtails – Braid Styles for Little Girls
Here are more cute braids for little girls with short hair! This hairstyle is perfect for shorter-haired little girls as well. First of all, you will have to create two dutch braids, running from the front of your little girl's hair and coming to an end in pigtails. Depending on how high your girl wants to pigtails to start, you will have to tie her hair with hairbands according to that. There are a lot of easy dutch braid tutorials you can check out, which show techniques step by step.
7. Create a Rainbow – Using Elastic Bands
There are so many ways you can add a bit of fun and groove to your little girl's hair. Create a french ponytail, braiding ponytail through ponytail, to create that fabulous effect with her hair. Then it's time to spunk up her hair with a bit of colour! For each ponytail you tie, use a different coloured elastic band, creating a rainbow effect. This is perfect for any day of the week, whether it's a day at school or going out on the weekend with the family.
8. Awesome Rope Twist – A Cool Effect
Another hairstyle to give a try is this one! A rope twist braid is something fresh and adorable, something your little girl is guaranteed to love. Not to mention, this hairstyle is super easy to put together! First of all, you will need to divide the ponytails into two sections. Then you will need to twist the sections in the same direction, before twisting them together in the opposite way. Continue working your way down and when you have finished tying an elastic band around the ends of them. Easy and beautiful!
9. A Five Strand Dutch Braid
Here is another unique and gorgeous type of braiding hair! Your girl will love this and it will look truly elegant! So if you are planning on going to a fancy event with the family, make sure to try this hairstyle out on your little girl! A five stranded dutch braid will look perfect at any such event! Follow the step by step tutorial above to achieve this intricate braid! The braid itself is hard to create, but we all know that practice makes perfect! Dutch braids will also make great braids for little girls with short hair! So no matter whether her hair is long or short, you'll be able to try it out!
10. The Fantastic French Braid – A Timeless Classic
Add an edge of elegance to your little girl's hair by creating a classic look. If you are unsure about what sort of hairstyle to recreate, then don't hesitate any longer. Creating a french braid is definitely a great idea to stick to. French braids are elegant and look fabulous in any manner. Check out the tutorial above, on how to braid your little girl's hair. You can add a few accessories to the french braid, for example, a few flowers or a ribbon will make a perfect addition. This would also make a stylish hairstyle for medium hair for teens!
11. Chain Link Braid – Creative Little Girl Braids
Maybe you are in search of a truly unique braiding technique. If so, check out this great chain link braid. We have already discussed creating rope braids, which is what you will need to use for the chain link braid. You will need to create two rope braids out of a ponytail. After securing them with elastic bands, twist the two rope braids around each other to create the chain-link braid. You will need to tie these two together as well with an elastic band, securing them. This is an awesome look for any sort of day!
12. Refined and Brilliant – Creating Cute Buns
One type of hairstyle we have not talked about yet is a braided bun! Check out the step by step tutorial above on how to create these braided buns. Create two of these buns, one on each side of your girl's head. This is a very sophisticated and chic hairstyle, which will look great at any sort of elegant event the family or your little girl might be going to.
13. A Definition of Beauty – Little Girl Braid Styles
Here is yet another beautiful braided bun idea, which is the definition of beauty and elegance in itself. Again, we have to mention, that this is a perfect hairdo for any more sophisticated event. For example, if your little girl ballet dances, this hairstyle will suit her ballerina look perfectly. Follow the tutorial above to achieve this gorgeous look.
14. Crossing to the Other Side – Cute and Funky
Now, here is one of many cute and easy braids for little girls, which will make your little girl the envy of her school! After creating a braid on each side of her head, you will need to cross them over onto the other sides. This will create an "x" shape out of the braids. Pin them down to her head and make ponytails out of them! They will look funky and fun!
15. Adding a Ribbon – Five Strand Technique
We have already mentioned creating a five stranded dutch braid. It's a fantastic idea which will make any sort of hair look fabulous. Replace one of the five strands of hair with a ribbon or a piece of lace. Then use the pattern provided in the picture above to recreate the five stranded braid. Repeat the pattern over and over again until you need to secure the hair with an elastic band or a bow.
16. A Stylish Star
Perhaps it's going to be the fourth of July soon and you are in search of a cool hairstyle for your little girl. Make sure you find something which channels the theme of the holiday. For example, a braided star. Just follow the instructions above on how to recreate this braided hairstyle.
17. Create a Cute Bun – Perfect for Kids
Here is another beautiful way of creating a bun out of your little girl's braided hair. You will have to braid one side of the top of her hair, creating a longer braid out of it. Twist the braid itself around the top of her head, creating a cute little top bun. You will have to secure it with bobby pins and hairpins. Add a ribbon or a bow to make it look even more adorable!
18. A Lovely Heart – Interesting Little Girl Braid Styles
If you have been searching for unique braid styles for little girls, then check this idea out! Out of two braids, you can create the shape of a love heart. Firstly, you will need to create two ponytails. After braiding these, you can create half buns on the top. Then connect the braids themselves at the bottom, forming the lower half of the heart. This is definitely a fabulous idea!
19. Elsa's Braid – Regal and Royal
If your little girl was obsessed with the Frozen movies, she will absolutely adore this braided hairstyle! These will be perfect for braids for little girls with long hair! The tutorial above is all about recreating Elsa's look. This braid will make your little girl look and feel like a princess!
20. Delicate and Adorable – Easy Braids for Little Girls
Here is a lovely and delicate hairstyle perfect for your little girl. Braid a ribbon through your girl's hair, creating two braids, one on each side. Fixate both braids on the top of her head, creating a crown-like look. Also, tie the ribbon around the top of her head for that beautiful effect.
21. Another Intricate Braid – Little Girl Braids
Check out this gorgeous hairstyle, which begins with braids and ends in a downdo. Create two braids using the front strands of your girl's hair. Connect these at the back, add them to the rest of her hair, which you will need to pin down and fixate at her hair.
22. Pull It Through – Stunning and Stylish
We have talked about trying out a pull-through braid. It's super simple to make, meaning it doesn't come with all the complications a french or dutch braid might mean. They are amazing little girl braids!
23. A Waterfall Braid – An Exquisite Idea
Make sure your daughter's hair looks incredible with this easy waterfall braid technique! Waterfall braids look quite difficult to make, but they are actually simple! And the results show that it's definitely worth your time to try it out on your little girl!
24. Really Into Ribbons
As we have mentioned before, ribbons are a fantastic way of sprucing up anyone's hair! Instead of using only your little girl's hair for the braid, you can add one or two ribbons, replacing the strands of hair. This braided hairstyle for long hair is especially great for little girls who have fine hair, as it will help make their hair look thicker than it actually is!
25. A Fair Fishtail – Braid Styles for Little Girls
Fishtail braids have a completely unique and special look to them! So it's no wonder so many people love to style their hair with this braid. Add a beautiful glow to your little girl by braiding her hair into a fishtail! These are great braids for little girls with long hair!
We trust that this collection of 25 little girl braids has inspired you! For other hairstyle ideas, besides little girl braid styles, such as cute haircuts for little girls or hair colour ideas for brunettes for summer, then visit our website.
Advert