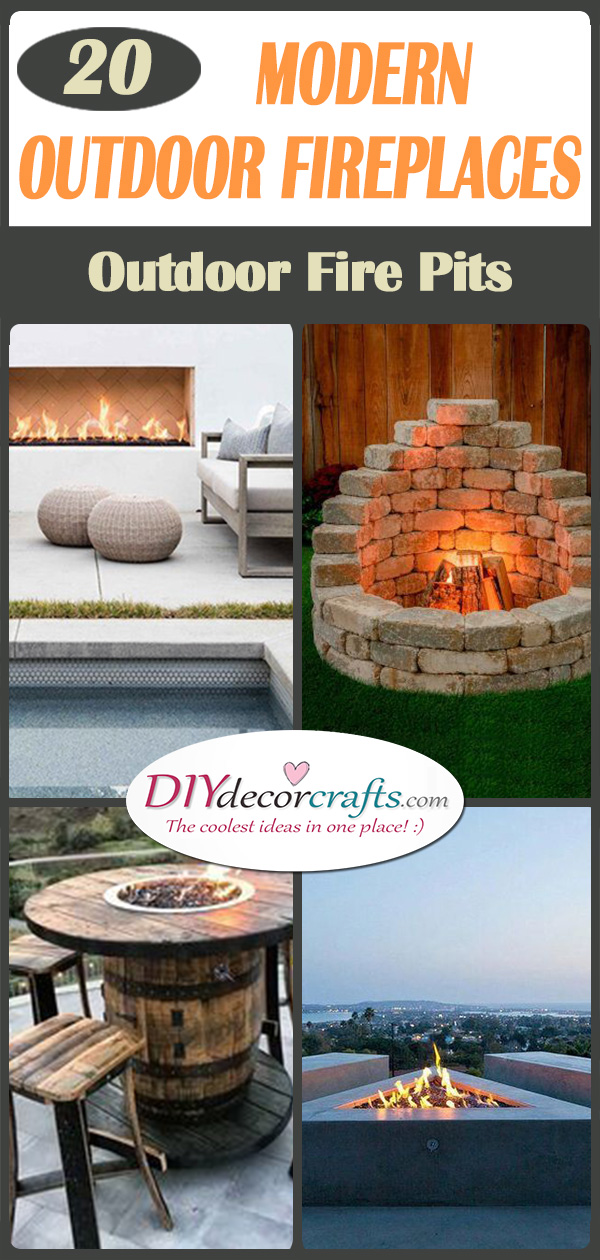 Maybe you have been considering remodelling your garden a little bit. Depending on what sort of atmosphere or what sort of functions you need in your garden, there are a lot of options you can choose from. For example, you might want to create a zen-like ambience by adding a small fountain or laying pebbles all over the pathway. But another fantastic idea would be to add some sort of fireplace to your backyard, which will keep you warm throughout the autumn and winter evenings. If you are in need of some ideas for modern outdoor fireplaces, then make sure to check out our pick of them. You'll find all sort of inspiration concerning outdoor fire pits for what to install in your own garden!
1. Perfect for a Seaside Atmosphere – Stylish and Stunning
A lot depends on what sort of atmosphere you'd like to create in your backyard! Depending on what sort of ambience it is, you will have to make sure that everything fits in place. So, if you would like to install a fireplace, make sure that it complements the rest of the environment. Perhaps you would like to bring a beach or seaside vibe to the whole backyard. If this is the case, make sure to use garden fireplaces that are carved out of white stone. This will make it reminiscent of the white sand you may find on beaches. 
2. A Wood Stack – Modern Outdoor Fireplaces
If your fireplace isn't going to be powered by electricity, then you will probably have to use wood to heat it up and keep it aflame. At times like this, you will have to think of a place for storing the blocks of firewood, which is closeby to the fireplace. A fabulous idea would be to create a large indent right next to your fireplace. You should be able to stack your firewood here, making it a perfect place for storing it, as it's right next to your fireplace.
3. A Terrific Triangle – Geometric and Contemporary
Would you really like to embody a sleek and contemporary look in your garden? Then one fantastic idea to follow up on is no other than using geometric shapes for the design of the outdoor fireplace. For a truly unique look, how about you use a triangle as an inspiration? Have your fire pit design in the shape of a triangle, with benches surrounding it. It's up to you what sort of material you would like it to be made out of.
4. For an Earthy Vibe – Outdoor Fire Pits
Would you like the bring an earthy vibe to your backyard with the instalment of a fire pit? Instead of using simple stone or bricks to create it out of, have your fire pit made to look like a log or a part of a tree trunk. You can achieve this by having the base material carved and shaped to look like wood, then have it coated in fireproof paint in order to truly make it look like wood. Then in the middle, you will have to have a part carved out, in which you can burn your firewood.
5. A Coffee Table – With an Additional Fireplace
If you have some garden furniture arranged in your backyard, then it's time to add a coffee table to it as well! Coffee tables are great additions to any garden, especially where you spend a lot of time. It will allow you to rest your coffee mug or glass on. But how about adding something special to your coffee table? We're talking about a miniature fireplace? This will keep you warm during the nights, not to mention, will provide an intense source of light. As long as it is installed in a safe way, there should be no problems at all!
6. An Upscale Fireplace – Modern Outdoor Fireplaces
There are so many unique fire pits you can have constructed in your garden. Perhaps you have been thinking of building your own one. What better materials can you create it out of than bricks? Bricks are easy to stack on top of each other and they are fireproof, which is a crucial detail! Especially, if you are creating a fire pit. You might decide on making an upscale fireplace, which means that the bricks are stacked higher on one side of it.  This will make a perfect place for gathering around in the evenings.
7. A Concrete Table – Elegant and Refined
Are you in search of something more on the elegant and sophisticated side of fireplaces? After all, if your whole garden is designed in the same way or your furniture is put together to look refined, then this is what you should stick to! How about installing a concrete fire pit in your backyard as a centrepiece in the middle of your garden furniture? This can function as a coffee table as well, which will make it all the better!
8. Working with Wood – Outdoor Fire Pits
What sort of material would you like to work with when putting together your garden? Whatever the dominant material is, you will be able to create a unique environment thanks to it. If you have been considering working with wood, how about using it as an element for your fire pit? Obviously, wood is easily burnable, so using it as a decorative piece to surround your fire pit is an awesome idea. But you can also use a wood cover for the fire pit, with which you can close it when you aren't using it.
9. A Sense of Style – Brilliant and Beautiful
Here is yet another example of how to transform your garden into the epitome of style and refinement. Besides laying and arranging storebought or DIY garden furniture in a part of it, also make sure to decorate it with small ornaments. These should fit right into place to create a harmonious atmosphere instead of a clash of styles. You can create a fireplace on one of your garden walls. This will definitely bring an essence of elegance to your garden, which is what you might have been searching for all along!
10. Rustic and Groovy – Outdoor Fire Pits
Are you in search of a garden fire pit that will exude a rustic sense? Then check out this idea! It's all about using a wooden barrel to create a table out of. Use wood for the tabletop of your new barrel table. Carve out a part of the tabletop, in which you place a fireproof casket, in which you will be able to burn firewood. Naturally, place some seats around your new table, which is also a fire pit. This will transform it into space where you will be able to spend a perfect evening next to a burning fire.
11. Edgy in Black – Modern Outdoor Fireplaces
Maybe you are trying to find a sort of fire pit that will really bring a cool edge with itself to your garden. If this is the situation, you may want to consider what sort of colour you want it built out of. A fabulous and chic colour you can always depend on when it comes to channelling a modern vibe is no other than black. So, keeping this in mind, why not build a table fire pit, which is put together out of wood that is already coated in black? We guarantee it will look amazing!
12. Minimalism at its Best – Another Fire Pit Table
Furniture designed in minimalistic style has become super trendy during the past few years. If you have always admired this sense of simplicity and effortlessness, then maybe consider designing your garden and garden furniture using inspiration from minimalism. This will also include the design of your fire pit. It doesn't have to be anything extra or fancy. A slab of stone with a circular fireplace on one side of it will look incredible! Of course, there are a lot of different sorts of minimalistic designs for fire pits, this is just one of them!
13. Seeing Through the Fire – Unique and Creative
We don't even need to mention how many different ways you can build a fireplace. If you have always loved looking through an aquarium and seeing the fish swimming through, then how about installing a fireplace that you can see through? This means placing some fireproof glass on at least two sides of your fireplace. Naturally, the base itself can be created out of bricks or stone. Being able to see through your fireplace will provide a unique sense of feeling which you can't compare to anything else.
14. Inspiring and Gorgeous – Outdoor Fire Pits
Transform your garden into a friendly and welcoming place by adding a modern outdoor fireplace to it. Even if your garden is small, we're certain that you will be able to find a fireplace which fits perfectly inside of it. Simple and clean lines for your fireplace will actually elevate it in style. You can then add some sofas or even some beanbags around the fireplace, which will make it the perfect spot to spend any evenings or nights outdoors!
15. Serene and Peaceful – Steel Disc Option
No matter what sort of fire pit you decide on constructing in your backyard, here's one idea you can always try out! If you have designed a square-shaped garden fire pit, you may not want to use it as the actual part for burning wood. Instead, you can place a steel bowl inside the middle of it, in which you will be able to create your fire! By using a steel disc or bowl for burning wood, it will make your fire pit easier to clean or arrange.
16. A Propane Gas Fire Pit – Modern Outdoor Fireplaces
Maybe you don't want to heat your backyard fireplace with firewood. What other options do you have though? One of them would be to install a backyard fire pit that is fueled by gas. This will make your job a lot easier, in not having to always buy firewood. Not to mention, the effects and the heat of the fire are practically the same. You can hide a propane gas tank underneath the fire pit, in order to make sure that it looks amazing!
17. Add Some Ornaments – For a Lovely Look
One thing we haven't talked about yet is that you should try adding ornaments to your fireplace. After all, you'd like it to look truly wonderful and to really stand out! If you think about it, a fireplace will become a sort of the centrepiece of your garden, so it would make sense to make it look lovely. For example, you can place one pot plant on both sides of the fireplace or large decorative vases will do the trick as well. To keep things organised, you might want to create some shelves underneath your fireplace for storing wood!
18. Innovative and New – Outdoor Fire Pits
When you are trying to find a fireplace for your garden, you will want it to warm you up properly but for it to also look stunning! So, taking this into consideration, why not try out a rectangular fire pit, which is made from concrete? This is especially great for anyone who doesn't want something rustic or old-fashioned and prefers a modern twist on things. Not to mention, it will provide the perfect source of garden lighting!
19. A Barbeque – Great for Summer Parties
While we have talked about a lot of types of outdoor fire pits, you might want your fireplace to incorporate a different function as well! This is no other than grilling food! Combine the idea of an outdoor fireplace with a barbeque. By adding a few metal trays to it, on which you can cook and grill food, you'll immediately transform your fireplace into something so much more! This will be perfect for garden parties during the summer!
20. Circular and Simple – A Backyard Fireplace
Create a circular backyard fire pit, using bricks or large stones! But instead of the fire pit just functioning as a space to keep you warm during chilly autumn nights, you can place some metal sheets above it. This will turn your fire pit into a grill! So if you throw some wood on the fire, place a metal grill sheet over it, you're all set to cook some delicious food!
Naturally, these are just a few ideas out of hundreds of modern outdoor fireplaces. For other ideas for your home and garden, besides garden fireplaces, such as the best lighting for your bathroom or fairy garden houses, visit our website.
Advert