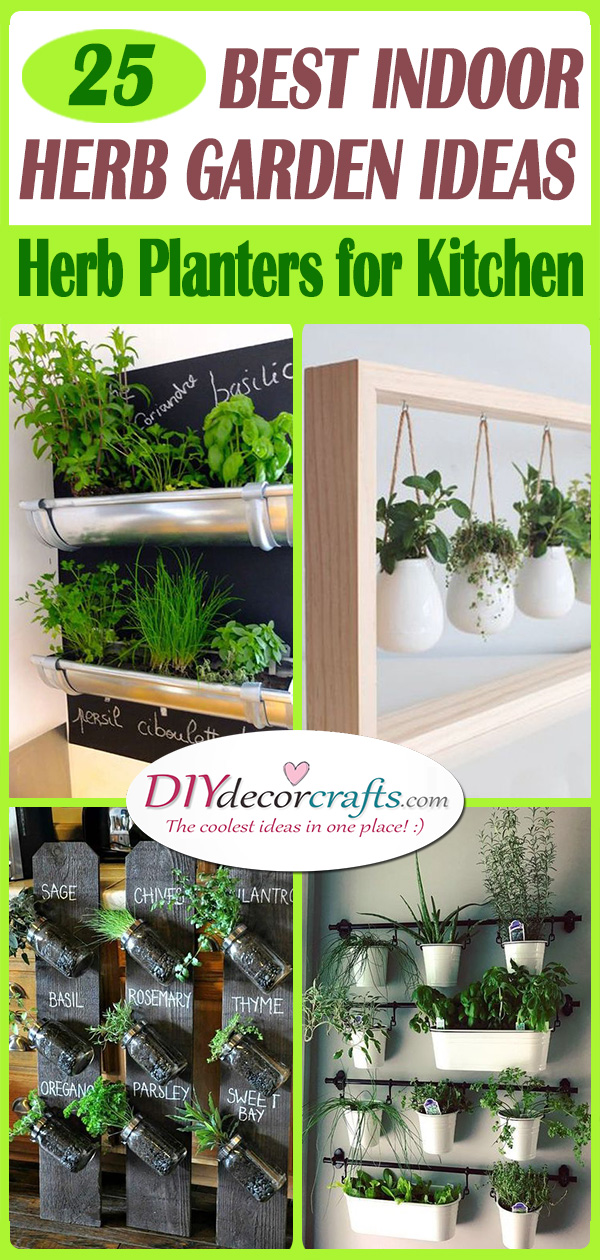 Not everyone is lucky enough to have a garden! If you live in an apartment or a house without a front or backyard, you may be in search of indoor gardening ideas. While it's not the same to grow some plants in pots as in a garden, it's still better than nothing! Perhaps you have been thinking about growing some herbs in your home. If so, why not look through our collection of the 25 best indoor herb garden ideas? You will be certain to find a perfect and creative way of planting your favourite herbs. After all, if you like to cook or bake with fresh herbs, herb planters for kitchens will serve as a fantastic option for you!
1. Hanging Up the Herbs – Easy Herb Planters for Kitchen
There are dozens of ways on how you can organise and arrange your indoor herb planters. How about you install some curtain rods on one of the walls of your room? Make sure that this is a wall that gets some sunlight during the day. After all, you want your herbs to grow big! Then all you need to do is place hooks on the pots in which your herbs are planted. You'll be able to hang your pots filled with herbs onto the rods. This is a great way of growing plants indoors, especially if you have a pet, who might chew on your herbs! Thanks to the herbs being high up on the walls, you won't have to worry about that!
2. A Galvanized Tub – Introducing Farmhouse Style
Bring a farmhouse essence into your home with the help of your herb planter! An easy and simple way of achieving this is by planting a variety of herbs into a galvanized tub. You can buy the tub beforehand at a store and all you need to do is fill it with soil. Then you're ready to plant your favourite herbs in it. Your galvanized tub will turn into a miniature herb garden!
3. Reimagining Glass Jars – Best Indoor Herb Garden Ideas
Of course, there are endless options on what you want to plant your herbs in. For example, you don't need to stick to simple flower pots. Just one amazing idea out of many would be to use jars as planters. You can attach the jars to a wooden board, a wall or just leave them on the floor. Fill them up with soil before planting your selection of herbs in them. The jars don't necessarily have to be the same size or shape, you can use mason jars for example!. Feel free to get creative with them!
4. Jamming with Jars – Keeping It Simple
Grab a set of mason jars and instead of using them to store preserves, it's time to turn them into herb planters! Attach each mason jar to a wooden pallet and plant your chosen herbs in them. Depending on what herbs were eventually planted in the jars, you can even write up their names above them. This is a great idea, especially before the herbs grow out from the soil, as all herbs need a different amount of water and sunlight. So according to their species, you'll be able to give each one of your indoor herbs what they need.
5. A Hanging Garden – Herb Planters for Kitchen
We have already talked about installing curtain rods on one of the walls of your home and hanging pots from them. Instead of installing the rods on a wall, why not place them right in front of your window? If you then hang your pots filled with herbs right in front of the window, it will ensure that they get plenty of sunlight. By attaching hooks to the handles of the pots, you'll be able to hang a whole array of them from the rods!
6. A Whole Ladder – The Best Indoor Herb Garden Ideas
Perhaps you don't have enough space on your walls to create herb planters for the kitchen. Don't worry too much about it, as there are plenty of other ideas out there! One of these consists of transforming an older ladder into a multi-tiered herb holder. Place and then attach trays to the steps of the ladder in order to create the tiers. This will create the tiers on which you can place an abundance of indoor herbs. You will be able to place this ladder filled with herbs anywhere you'd like in your home!
7. Hanging from the Ceiling – Stylish Herb Planters for Kitchen
Turn any one of your rooms into a space filled with greenery. While we have talked about hanging potplants and herbs from the walls or placing them on wooden pallets or ladders, we haven't mentioned one idea. Install some of your pots to hang from the ceiling. You can hang more than one pot in a line from the ceiling. Installing a few of these pot plants and herbs, you will make your home look like it's overgrown with lush canopies.
8. Reusing Rainwater Drains – Unique and Creative
Perhaps you have been renovating or rebuilding parts of your home. Do you by any chance have any old rainwater drain pipes, which you aren't going to use anymore? Instead of throwing them out, recycle them and turn them into something new! In other words, turn them into planters for your herbs. All you need to do is attach them to one of your walls or to a completely separate wooden panel. Fill the drain pipes with soil and plant your selection of herbs in them. This is a great way of recycling something old to create a unique planter for your herbs!
9. A Smart Planter – Herb Planters for Kitchen
We live in a world that is slowly being consumed by human waste. Keeping this in mind, we have to do everything we can to stop this process. So, when you are choosing ideas on how to decorate your home or reduce your waste, you might as well try recycling things! Sometimes the most unlikely objects can be turned into something amazing! Just check out these plastic milk cartons, which were cut out to become herb planters! This is a smart way of recycling and using it for something new!
10. Saving Space – Fantastic Indoor Herb Garden Planters
Maybe you live in a small apartment, in which it's hard to fit anything inside. Are you worried that you won't be able to create a space for your herb planters? Don't be! There are so many creative ways of organising your planters and they won't take up much space. You can attach a set of pots vertically to one of your walls. Heading upwards from the ground, just install your pots in the wall. Having them right underneath or above each other, won't take up much space at all!
11. A Herb Ladder – Simplistic and Refined
We have already mentioned using a ladder on which you can place your indoor pot plants and herbs. How about you lean a ladder onto a wall in any one of your rooms? Then you can hang pots from the steps of the ladder giving the whole arrangement a very organised and refined look. This is perfect for anyone who would like to bring a sense of minimalism into their home with the help of nature. So if you are in search of an easy way of decorating your home and also finding a place for your pot plants, give this a try!
12. Geometric Metal Hangers – Best Indoor Herb Garden
Perhaps you have always admired modern and contemporary designs. If this is the case, then you might decide on using some geometric pot holders and hangers, which are made out of metal. Depending on what sort of ambience you'd like to give to your room, there will be a few metal colours to choose from. Ranging from copper, rose gold, silver to gold, we're sure you'll find something that will look stunning in your home.
13. Right Above Your Kitchen Counter – Easy and Clever
An important choice you will have to make, is where to place your herb planters? A fantastic choice would be to place them right above the kitchen counter. After all, when you're cooking or baking, all you'll have to do is reach for the herbs and take what you need. This will make your food prep a lot easier if everything is right in front of you.
14. Adorable and Amazing – Herb Planters for Kitchen
Here is a super cute way of planting your favourite herbs! Pour some soil in small white vases and plant your variety of herbs in each one. You can then hang each vase from the same wooden frame, which you can put together yourself! This is another fantastic way of putting together a minimalist and modern herb planter.
15. Marvellous Mason Jars – Brilliant Herb Hacks
You can use mason jars for so many DIY projects! Just another one of these is to use them as herb planters. Hang them on your walls. You can first install some clothes hooks on the walls on which you can then arrange your mason jars. This is a perfect choice for anyone who is in search of a cheap indoor herb planter!
16. Old Aluminium Cans – Ready to Recycle
As we mentioned before, recycling old objects is environmentally friendly! Not to mention, you can create amazing and new things out of them. Take a look at these old aluminium cans, which were used to store food in. After using them, wash them and fill them with soil. Now you'll be able to plant some herbs inside of them! It's easy and cheap!
17. Build a Table – Out of a Large Tub
Instead of growing your herbs in a few planters, how about creating a whole table for them? Use a larger steel tub for the terrain in which you can grow your herbs in. Attach legs to the tub, giving it the table shape. This table filled with herbs will be a perfect addition to any home!
18. Terracotta Pots – Best Indoor Herb Garden Designs
Another gorgeous way of organising your indoor herb garden is in terracotta pots. Place the pots into a hanging shelf that you can hang from your ceiling, right above a window. You can attach some rope to both ends of the shelf, which will assist you in hanging it from somewhere. 
19. A Wooden Panel Planter – Decorative and Stunning
Create a frame out of wooden panels that you hammer together. Attach small pots to different parts of it before hanging it up on one of the walls of your home. You can plant an assortment of herbs, flowers and vines in each pot. After they start growing, this part of your home will become an abundance of greenery. 
20. A Raised Garden Bed – Best Indoor Herb Garden
Check out this other cute idea for planting herbs in! Create a raised flower bed, by placing smaller sized pots in larger ones. You can plant different species of herbs in each pot. It's really up to you! This will be able to fit into a small kitchen design as well!
21. A Vertical Herb Garden – Always Fresh
Growing herbs indoors might seem like a difficult task. But it can turn out to be a super simple chore! How about putting together a vertical herb garden in front of your window? Use curtain rods, placing them across your window and hang your herb pots on them. These indoor herb garden planters are super simple and easy!
22. Adding Their Names – Tell Your Herbs Apart
You may be a beginner when it comes to growing your own herbs. If you can't tell your herbs apart, a great idea is to add tags to each one of your indoor herb pots! This way you will know which herb is growing in which pot!
23. A Mobile Table – Best Indoor Herb Garden
How about you create your herb garden on top of a mobile table? This means you can move it any time you'd like. So if your herbs are craving a bit of sunlight, you just have to push them into the sunniest room. Or if they are in the way, you can move them easily!
24. Find a Vertical Herb Planter – Herb Planters for Kitchen
If you don't have time during your everyday life to water your plants, why not get vertical planters that are self-watering? This will help save you time if you have a busy life! Not to mention, it will keep your plants from drying out.
25. A Shelf Rack – Indoor Herb Garden Ideas
Another easy and simple way of arranging your indoor herb pots and other pot plants is by placing them on a shelf rack! This is a great choice for anyone who doesn't have space on their walls and needs to organise their herbs on some sort of kitchen pantry shelves.
We trust that this pick of the 25 best indoor herb gardens has inspired you! For other ideas, besides herb planters for kitchen, such as fairy garden houses or DIY garden furniture, just visit our website!
Advert