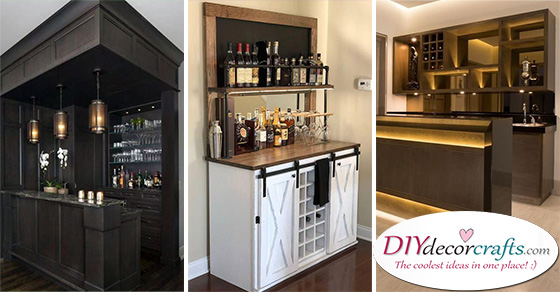 Maybe you have decided to redesign and remodel your home a little. After all, it can sometimes do you good to bring a new style to your environment. This might mean that you add something new and unexpected to your home. Perhaps this results in a spa or a guest room but maybe you have been wanting to add a bar to your home. Adding a bar to your home will create a perfect space for entertaining guests. Or if you want to have a nightcap before you head off to bed, then the bar will be the best spot to do this in. If this is the case, then look through our pick of 20 modern home bar ideas! You'll be sure to find some living room bar ideas which are to your liking!
1. In the Corner – Modern Home Bar Ideas
Do you have a corner in your home, which you have decided to install your bar? If you think about it, designing a bar in a corner is a perfect way of saving space, while also gaining a bar. While it won't become the centrepiece of a room, you'll be able to retreat into the bar area whenever you need to. You'll be able to add a bar table to it, as well as a rack for drinks and glasses.
2. Coffee and Drinks – Keeping it Simple
If coffee holds a special place in your heart, you can turn your bar into a coffee and booze bar! Coffee during the mornings and alcohol during the evenings. You can keep things simple and instead of going for a full bar, you can use a simple table and install a rack for bottles underneath it. If you are looking for ways to decorate and perk up your bar, you can add a mirror behind it. Or a blackboard! A blackboard would be a great idea, as you can write messages on it or draw cute decorations on it. These will make simple yet great small bar ideas!
3. Living Room Bar Ideas – Beautiful and Elegant
How about creating bar design ideas, that will look like the epitome of elegance? As an alternative to buying a bar table or a bottle rack, why not create a built-in shelf for your glasses and bottles? It can be built in either a modern or a rustic sense of style, this is completely your choice. But whatever you decide on, make sure to add some sort of lighting to each shelf! This will allow you to see what you are storing on each bar shelf and also give the whole installation a gorgeous and refined glow.
4. Wonderful and Wooden – Stunning and Sophisticated
Now, here is a dream bar that will immediately attract all attention to it. Built out of wood to create the bar table as well as the shelves, the material will lend the bar an elegant look. But besides the wood, you can place a mirror right behind the bar table. With the right lighting and the combination of the mirror, this will truly transform your bar into a stunning space. We guarantee that this will look amazing when finished!
5. The Right Sort of Ornaments – Home Bar Design
While you may already have a home bar in one of the rooms of your house you may be thinking about how to decorate it. If you think about it, the ornaments you choose for your bar are just as important! They will help set the atmosphere of the room, as well as the bar. Depending on what sort of mood you'd like to set, you should choose the right sort of ornaments. For example, for an elegant and sophisticated look, you might stick to glass vases as well as bottles of alcohol on the shelves.
6. Matching Everything – Creating Harmony in Your Bar Area
One important detail you will want to make sure you bring together is that you create a sense of harmony in your bar and the rest of the room. This might mean that you use the same sort of materials for the furniture, such as the bar table, the bar shelves and the bar stools. According to what sort of materials and style your bar's furniture incorporate, you should try finding decorative items and ornaments to further bring that style alive. By this, we mean the lighting, a rug or paintings you arrange around your bar design ideas.
7. For Wine Lovers – Modern Home Bar Ideas
If you are a connoisseur of wines, then you might decide to turn your home bar into a wine-inspired bar instead. To give your wine bar a unique and unusual look, you may think about how you can arrange your wine racks and shelves. This might be that the racks are placed behind the bar table itself to create a unique pattern. Some leaning diagonally towards to middle, some placed in verticle columns. Underneath your bar table, you'll be able to mount a wine glass holder to make it easier for you when storing wine glasses.
8. A Simpler Version – A Large Shelf
When it comes to designing a home bar, you don't need to think of very extreme or elegant types of bars. You can stick to a simpler version and design of a bar. A great example of this would be to place a shelf in one of the corners of your room. Then, install some floating shelves right above it. This will give you plenty of room, on which you can store your bottles of booze or an assortment of glasses. If you'd like to add a chic style to your home bar, you can place a large mirror behind the shelves.
9. Bold in Black – Living Room Bar Ideas
Perhaps you are considering the colour you should choose for your home bar. If you want something fun and spontaneous, you may choose a lively and vibrant colour. But for a more elegant or bold touch, how about you choose black? Black is a great colour for home design, as it will go well with any colour of surroundings. So, if you're unsure about what colour to choose for your bar table or bar shelf, then you can't go wrong with black!
10. Adding Special Lighting – Illuminating Your Bar
Find some basement bar designs! There are a lot of ways you can make your bar pop with a sophisticated ambience. A fantastic solution to creating a more refined home bar is definitely by adding some form of lighting to it. If you have a shelf serving as storage space for your bar, then you can place a row of LED lights underneath each one of the shelves. A bit of extra lighting will also help you in finding whatever it is you are looking for.
11. A Bar Cabinet – Modern Home Bar Ideas
When you think of a bar, what sort of image pops almost immediately into your mind? Maybe it's an old-fashioned sort of bar, that has a bar table, a bar cabinet behind it, a vintage mirror above the cabinet and a few stools standing around. If you have always admired this sort of design, why not recreate it in your home? It will definitely catch the attention of anyone who pops around to your home, not to mention, it will become a perfect space for entertaining any friends or family.
12. A Large Cabinet – Open It Up
Have a stunning and grand bar placed in one of your rooms. Instead of going for a more standard sort of bar, which consists of a bar table, bar shelf and stools, you can opt for a majestic bar cabinet. When opened, it will reveal that it is made up of several different sorts of shelves and drawers, making it perfect for storing all sorts of bottles and glasses inside of it. If you need space, you'll just be able to close your bar cabinet at any time, making it a practical alternative of a bar!
13. A Small Bar Table – Great Alternatives
As we mentioned before, there are plenty of ideas on how you can add a bar to your home! Even if you live in an apartment or have a smaller space to work with, you can still create an outstanding bar area. Perhaps you have a table in the middle of your kitchen, which is perfect for two or three people to sit around on stools. In other words a kitchen island! You can also add a shelf to one side of your table, in which you will be able to store some bottles of your favourite alcohol.
14. Contemporary and Modern – Living Room Bar Ideas
You may be in search of some basement bar designs. Do you prefer modern and contemporary designs over rustic or vintage ones? Then a design, such as the one above, might be perfect for you! Use simple shapes and forms for the furniture, including the bar table and the bar cabinet. A great example would be to use geometric shapes for the design. When it comes to adding decorations, don't overdo it. You'll want a clean and simplistic look. One thing you will want to remember is to make sure to add lighting! This might be sufficient decoration in itself, depending on what sort you decide on installing. A bit of bar or kitchen cabinet lighting will make the room come alive!
15. A Unique Bar Table – Working with Barrels
Have you thought about putting together your own bar out of unusual yet thematic objects? An amazing idea for a bar table would be to place two or more barrels on the floor, turned upright. Then place a wooden board over them, hammering the board into the barrels as the top of the table. You can install some wooden boxes above the table as alternatives to shelves. These older objects you use for putting together your bar will definitely create a rustic sort of atmosphere.
16. Awesome in Avante Garde – Unique Colours and Materials
Here is one of many interesting living room bar ideas! Install a bar cabinet and bar table, both of which are made of plastic and are lit from the inside. The lighting glowing from the insides of the table and bar will create an atmospheric illumination throughout the whole room. If you'd like to set a modern yet funky mood for the bar, make sure to add some groovy art and decor to your home bar design. Use different sorts of materials and a few vibrant colours that emphasize the ambience.
17. Easy and Effortless – Modern Home Bar Ideas
Even if you don't have to money to invest in a fancy and grand bar, you can still make the most out of putting together simple things! Sometimes keeping it easy is the best way to go! This might come in the form of placing a simple desk or table next to one of the walls of your room. Then install some floating shelves right above it, on which you'll be able to store your liquor and different types of glasses. Simply place two stools underneath the table and with that, you will have created a mini bar in your home!
18. Electric and Exciting – A Cool Colour
Transform your bar into an electric and exciting space, with the use of colourful LED lights. Install blue LED lights all around your bar area. This may include right underneath the tabletop or lighting up the insides of your shelves. So even if you feel like your bar area is a bit plain or boring, you can spruce it up immediately with some fantastic lighting!
19. A Peaceful Atmosphere – Living Room Bar Ideas
Perhaps you'd like to set a peaceful mood around your small bar ideas. You will easily be able to achieve that by using a combination of blue and white for the colour setting of the area. Naturally, you can opt for wooden furniture, giving the whole bar a rustic sort of essence. Then feel free to add wall decor ideas to the bar area, which will help in enhancing the whole vibe!
20. Metal and Wood – DIY Bar Shelves
Perhaps you like putting together furniture of your own! If this is the case, then how about you create your own DIY bar shelves out of wooden panels and metal pipes? The mixture of the two will give your modern home bar ideas an industrial and edgy look.
These are just a few ideas for your modern home bar ideas. If you are in search of more home design ideas, besides living room bar ideas, such as fireplace design ideas or modern master bedroom ideas, visit our website!
Advert