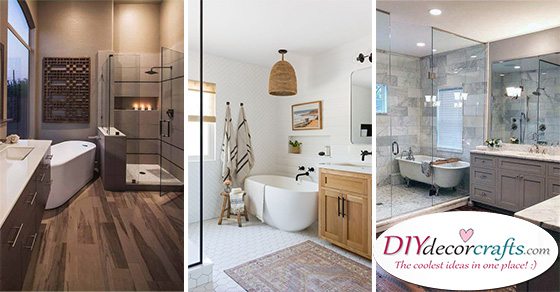 Maybe you are going to be redesigning and renovating your home. If this is the case, you may be in search of inspiration! It is crucial to design your home in a way which feels safe and gives off good vibes. Keeping this in mind, you might decide on building a master bathroom which is right next to the master bedroom. Depending on what sort of environment and atmosphere you'd like to create in this room, you will have to choose the main colours and materials, to construct your bathroom out of. Check out our 20 master bathroom ideas. Find the perfect modern master bathroom designs for your own home!
1. Creating Space – Modern Master Bathroom Designs
While there are a lot of eccentric and extravagant bathrooms, why not stick to a simple idea? For example, how to create a sense of endless space in your bathroom. You can do this by hanging up some mirrors in your master bathroom on both sides of the room. Mirrors will help add a sense of space to any room, so this is a great idea if you have a smaller bathroom. Finally, we'd just like to add that you should try using white for the walls of the bathroom if it is small. White is a fantastic colour to use for smaller rooms, for creating spaciousness.
2. Majestic in Monochrome – Refined and Smart
Maybe you are in search of a bathroom that has a feeling of refinement and a smart look to it. If this is the case, why not settle for monochrome tones to use them all around the bathroom? This includes grey, black and white. These colours will definitely provide a natural sense of sophistication. Then, of course, the rest is up to you. Decide on how to place your shower, bathtub, sink and toilet in the bathroom, in order to maximise the space.
3. Channel a Unique Style – Stunning and Stylish
Everyone has their own personal sense of style. Whether its clothes, art or home and garden designs, we're sure you have your own ideas you would like to incorporate into your master bathroom. While you may decide on keeping the whole design of your bathroom quite simple and elegant, you can always add small bits to it, in order to make it your own. This can include a few rugs which have interesting patterns on them or some bathroom lighting that is unique. Sometimes with a few decorative elements, you can spruce up a whole space!
4. Beautiful and Dazzling – Master Bathroom Ideas
Have you thought about what sort of atmosphere you would like to create in your master bathroom? Perhaps you'd like to channel a dazzling and almost magical ambience. If so, why not give this idea a try? It revolves around combining white with beige and brown shades, which will help turn the bathroom into a beautiful environment. Make sure to add some large mirrors to the room and don't forget the lighting either. Lighting really does help set the atmosphere, so for an enchanting glow, you might decide on using warm and dimmer lights.
5. A Few Bursts of Red – A Vintage Vibe
There are a lot of designs and styles you can choose from. You don't necessarily have to go for modern master bathroom designs. So, if you would prefer something more rustic or vintage, make sure to have it designed in that manner. Use a combination of pale blue and white for most of your vintage bathroom. Then add a few bursts of red, to give your room complexity. This might come in the form of a vase of red flowers next to the sink, or some red dots in the carpet.
6. Serene and Peaceful – Modern Master Bathroom Designs
Bathrooms are places in your home, where you can take a relaxing bath after work and destress. They really are spaces where you can find a bit of peace after a hard and long day. So make sure that you include a bath tub, as well as a shower in your master bedroom. This way, depending on your mood, you will be able to relax under pouring water or in a bath of it. Also, add a few pot plants to your bathroom, breathing a bit of life into it for that extra serenity.
7. Bohemian and Fun – Contemporary and Creative
Do you prefer bohemian designs and patterns over elegant or rustic ones? Then here is a perfect bathroom which you can take some inspiration from! Use white for the walls, lining them with white tiles. This will help create the spaciousness you might be in search of. Use pale wood to complement the white walls for any furniture you might need to include. Then give the bathroom a bohemian essence, by adding a boho rug, some art to the walls and a wicker lampshade to the lamp.
8. Wonderful in Wood – Master Bathroom Ideas
Wood is a wonderful material to work with. It is versatile and will create an amazing look for anything you use it for. So, taking this into consideration, why not use it as the main material for your master bathroom ideas? You can use different tones and types of wood, depending on what you would like to achieve. For example, you might use light wood for the floorboards. But you may consider choosing a darker and heavier wood for building a cabinet. Whatever you choose, we're sure it will look gorgeous!
9. A Rustic Mood – Master Bathroom Remodel
Get ready to remodel your master bathroom with some fabulous ideas! Maybe you are thinking about channelling a rustic vibe in the room. If this is the case, make sure to use vintage furniture. This even means using old-fashioned handles on the shelves or rustic taps. Another way to boost the appearance of your bathroom is to cover the walls with the shiplap treatment. Shiplap walls have become very popular over the years, as it provides a clean and simplistic environment which you can build on.
10. Inspiring and Innovative – Fitting Everything In
It is important to feel at home in your bathroom. You want it to act as a safe space, where you can retreat away for a short time. So, keeping this in mind, you will want to design a master bathroom, which feels just right to you. This might mean you use dim lighting for most of the room, besides the space in front of the mirror. Also make sure that you can fit everything in, meaning both your bathtub and shower need to fit. It will be crucial to plan out your bathroom design to make sure it looks amazing and that you can get all your furniture and bathroom appliances to fit.
11. Dividing the Room – Modern Master Bathroom Designs
Now here is a fabulous idea, for anyone who hates to mop up the bathroom floor after a bath or shower. Divide your bathroom into two parts with the help of a glass wall, which will also function as the wall of your shower. Have this part of the room tiled and place a bathtub and shower inside of it. Then have the other part of your bathroom created in a completely different way, using wood for the floors. This is where you can place your sink, toilet and any bathroom cabinets. So practically, you divide your bathing place from the rest of the bathroom with this idea.
12. Rooms in the Bathroom – An Amazing Option
Creating master bathrooms is definitely different from your average bathroom. It is different in a lot of ways, one of these factors being that it is a lot larger than a normal bathroom. If you want to create a few pockets or privacy, you can have separate rooms. This might mean building a smaller room inside of it, in which you can place a toilet or a washing machine.
13. A Sense of Nature – Master Bathroom Ideas
How about creating a forest or jungle inside of your master bathroom? By arranging all sorts of plants inside of it, you will be able to transform it into completely unique and amazing environment. Surround your bathroom with all sorts of plants. Depending on how much sunlight the plants need or don't need, you might choose the option of using artificial plants for decorating. Add a few candles to your master bathroom remodel design when taking a bath, this will produce an ethereal ambience.
14. Enough Storage Space – Practical and Useful
One thing you need to make sure you have in a master bathroom is storage space. There are so many ways you can design and install cabinets inside your bathroom. Firstly, you will have to see what sort of style of bathroom closet, floating shelves or cabinet actually fits into the whole atmosphere. Then make sure that you have space for storing everything, as you will probably have a lot of bathroom necessities and essentials.
15. A Black Wall – Modern Master Bathroom Designs
Bring a sense of complexity. You can achieve this by creating unique contrasts in the design of the room. For example, while the walls might be painted white all over the bathroom, you can cover one or two walls of the bathroom with black tiles. To make sure you complement this combination of black and white, try using simplistic wooden elements, such as a sink made out of wood. Naturally, make sure that you add some decorative elements to your master bathroom when it is finished. Hang some paintings from the walls and don't forget a few plants!
16. Lovely and Simple – Luxury Master Bathroom Designs
Create a luxurious master bathroom for your home, in which it will always be a pleasure to spend time in. You will want to make sure that you find space for everything which you'd like to fit in. Whether this is a bathtub, a shower, some bathroom wall shelves or a toilet, provide room for everything. For a lovely and simplistic effect, you might think about sticking to beige as the dominant colour of your bathroom.
17. The Modern Farmhouse – A New Aesthetic
You might be familiar with the farmhouse design and style when it comes to homes and gardens. If you like this sort of design, why not combine it with a modern twist? While keeping the overall atmosphere of a farmhouse setting, make sure to add small modern elements to it. This might mean that you use more metal than wood for small factors of the farmhouse master bathroom. Then it's up to you how you lay out the furniture and appliances in your bathroom, in order to create enough space.
18. Simple and Sophisticated – Feeling Inspired
Here is another beautiful example of how to style your master bathroom remodel design. This idea is great for anyone who prefers modern and contemporary designs over rustic or elegant ones. You can use a combination of white and black for the whole design of the bathroom. Maybe add a few plants around the bathroom for a bit of green and vibrancy. To truly achieve that modern style, you should install furniture and bathroom appliances, which are built-in simplistic and clean shapes. Monochrome luxury designs will look incredibly chic!
19. Homely and Cosy – Master Bathroom Ideas
A beautiful way of decorating your master bathroom is by giving it a homely vibe. This might mean you arrange candles around the bathroom, especially around the bathtub. You can also create some built-in shelves around the bathroom, and place some family photos on them to boost the homely environment.
20. Ranch and Coastal – Modern Master Bathroom Designs
These are just a few ideas concerning master bathroom ideas and designs. Hopefully, you found some inspiration! For other bathroom design ideas, check out our bathroom design ideas or bathroom lighting ideas. 
Advert