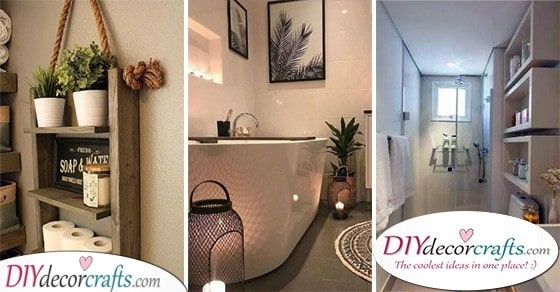 While you might not even think of it in this way, bathrooms actually play a huge role in our lives at home! They are the places where you can find a bit of solitude and relaxation underneath the spraying water of a shower or in the warm caress of a bathtub.  Another time you will be sure to spend in your bathroom is in the mornings, getting ready for the day ahead of you. So when you think about it, you will want to create and design your bathroom to form a safe space. That's why we have collected ideas concerning bathrooms to assist you in finding inspiration!
1. Bathroom Design Ideas – Simple Bathroom Ideas
As we mentioned just before, creating your dream bathroom is a great idea! After all, you want to feel at home and safe in the bathroom as well! Exactly because of this, it is important to find the best bathroom design ideas. A great idea concerning how to breathe a little life into your bathroom is by adding plants! It will add a bit of greenery to your bathroom as well, which will make it your bathroom truly a space for destressing.
2. Small Bathroom Design Ideas – Very Small Bathroom Ideas
You might have a house or apartment which has only a small bathroom. That's completely okay though! You can bright out the best of a small room as well! It's all about placing the furniture around the bathroom in a practical way, which will help in saving space and making your bathroom look bigger! Another simple small bathroom design idea is to paint the walls white and also use white tiles! White will create an illusion of making the room bigger than it actually is.
Advert
3. Bathroom Shelf Designs – Amazing Bathroom Shelf Ideas
An easy and practical way of storing things in your bathroom is by creating cabinets! You might be thinking of making a few wall shelves yourself, depending on how brave you are feeling! There are some simpler designs to try out! Bathroom cabinets are especially great if you really do have a tiny bathroom. You can place the cabinets on the walls, in order to save even more space! Besides storing bathroom necessities in the cabinets, you might also think about placing a few decorative elements on them.
4. Small Bathroom Storage Spaces – Saving Space
If you have a small bathroom, you will understand the difficulties one can face when figuring out how to store their things. Taking this into consideration, you may want to think about a few ways of creating new storage spaces for small bathrooms. With a few new ideas, you'll be able to re-organise and arrange your bathroom in an optimal way, saving space by creating new storage elements!
5. Master Bathroom Ideas – Designs for Master Bathrooms
Do you by any chance have a master bathroom in your home, but you are unsure about how to design and decorate it? Well, we're here to help you out! Take a look through our pick of master bathroom ideas in order to find inspiration. We have all sorts of designs, ranging from modern styles to bathrooms with a rustic and vintage atmosphere. This way, you'll be certain to find something which fits your own liking!
6. Best Lighting for Bathroom – Modern Bathroom Lighting
Another crucial element to think about is the lighting you add to your bathroom. Depending on whether you'd like intense or dimmer lights or whether you'd like warm or cool coloured lights, there are a lot of choices to make! Try finding the best lighting for your bathroom, making sure that it complements the rest of the design and style of the room.
We hope that this collection of ideas for your bathroom has inspired you! After browsing through our array of ideas, we trust that you at least found one or two ideas to your liking!
Advert