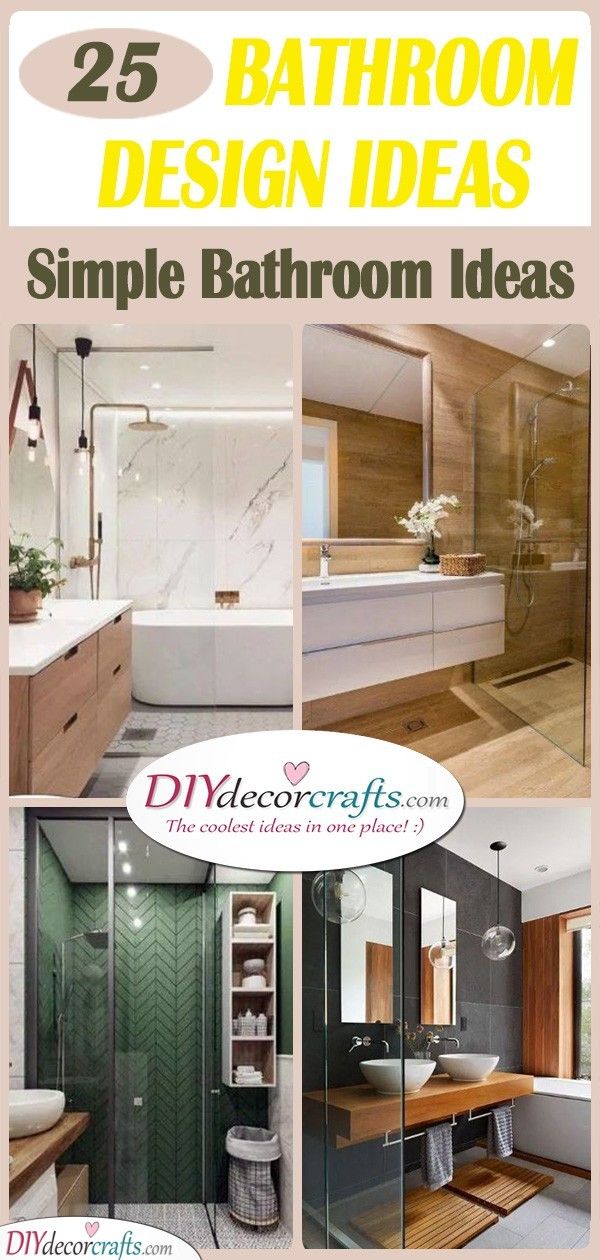 While you may not firstly think of it, bathrooms play a huge part in our lives at home! They are the places where you can find a bit of solitude and relaxation underneath the spraying water of a shower. But also lying into a bathtub filled with hot warm is a great way to destress. You also spend a lot of time in your bathroom in the mornings, getting ready for the day. Taking this all into account, you will want your bathroom to act as a safe space in your house. A place, where you can cleanse yourself of any bad feelings and breathe a little after a bad day. This means you will want your bathroom to look beautiful. That's exactly why we have collected 25 best bathroom design ideas for you to choose from. There's some decent firms like KeystoneBathrooms based in Bristol who provide free surveys and full design and installation services.
So take a quick browse through our simple bathroom ideas!
1. Modern and Chic – Best Bathroom Design Ideas
If you love modern spaces, you are guaranteed to adore this bathroom idea! Use a combination of white and wooden elements all over your bathroom to create an elegant look. Firstly, try out using a combination of white marble for one of the walls of the bathroom with white tiles paving the bathroom floor. Add wooden bathroom shelves or wooden counters to the room, giving it a bit of a natural and earthy vibe. For extra touches, why not place a few pot plants here and there?
2. A Place of Zen – Relaxation and Freedom
Are you thinking about creating your bathroom into a place of zen, where you can detox from your everydays? Here are a few ideas on how you can amp up your bathroom to channel this ambience! First of all, place candles in candleholders all around your bathroom. If you have a bathtub, you can even place a few candles on the edges of it. You might also consider adding a few paintings into your bathroom, which provide a chill and relaxing atmosphere. Try finding a bohemian rug which has a mandala pattern on it for that extra addition!
3. A Farmhouse Vibe – Lovely in Rustic
Perhaps you love a farmhouse twist on home decor. If so, this bathroom was practically invented for you. Use a lot of wooden elements in your bathroom, to create a rustic vibe inside. For example, you can use wooden pallets to cover one of the walls of the room. Add a few wooden floating shelves to the walls as well, on which you can place farmhouse decor. If you are going to place your sink in a counter, then make sure that the counter is also designed in a rustic style.
4. A Definition of Elegance – Simple Bathroom Ideas
While black isn't exactly a colour you see every day in a bathroom, it will provide an elegance you never dreamed of! Try using black tiles or black stones for the walls of the bathroom. You can even line the floor with them, but make sure you leave the ceiling of your bathroom painted white. This will ensure that it looks spacier and not too cramped. Mix up the blackness with some wooden elements to create an even more chic vibe!
5. An Exotic Jungle – Filled With Greenery
If you are going for something completely extra in your bathroom, then check out this idea! Green over green will create an exotic jungle out of your bathroom! Besides painting the walls green and lining them with green tiles, make sure you get some green accessories for your bathroom as well. Place an array of plants and ferns all around the bathroom, use green towels and also use a green shower curtain for your bathtub or shower. In no time at all, your bathroom will look like a lush green landscape.
6. Simple and Refined –

Best Bathroom Design Ideas
A lot of things depend on the colours you use. For example, you step into a bathroom and the colours immediately set the mood and atmosphere of the place. A combination of white and black in your bathroom will bring an elegant and sophisticated look to it. Try out white tiles with painted black walls for a gorgeous effect. Naturally, feel free to use a few elements of different colours in the room. A few plants scattered around the room or a basket which you use as storage.
7. A Brilliant Blue –

Simple Bathroom Ideas
Here is yet another beautiful bathroom design, which is not only created in a gorgeous manner but is practical as well! If you have a small bathroom, it's a great decision to use an array of floating shelves, whether it's right above your toilet or bathtub, you will be able to store your things much more efficiently inside. For the bathroom itself, why not try using a combination of blue, white and gold? This will give the room a peaceful yet refined ambience.
8. Beautiful in Bricks – Unique and Quirky Ideas
Perhaps you have been thinking about giving your bathroom a quirky design, which is unexpected but fun. If so, check out this bathroom idea! Line one of your walls in a brick pattern, you can use wallpaper for this as a cheap and easy option! Cover another one of your walls in white wooden panels to create a bit of contrast.  For the rest of the bathroom, make sure to use white wooden counters in which to place your sink. Your bathroom is guaranteed to look fabulous and unique!
9. Add a Bit of Colour – Fun and Funky Bathrooms
Are you in search of a bathroom design that is truly unique and creative? Well, take a glance at this gorgeous and interesting bathroom, which uses a splash of vivid colours to bring life into it. For example, place some vibrant coloured panels on the walls, use unique patterned tiles on the ground and add a funky coloured bathtub to the bathroom! You can paint the sides of the bathtub yourself! If you also want to give your bathroom an artsy look, hang a few paintings on the walls and place some books in the window panes.
10. Bright in White – Make Your Bathroom Spacious
If your bathroom is actually quite a small space, there's one easy way of enlargening it. Creating an illusion of space is all about using a lot of white for the design and decor of a room. Paint your walls and ceiling white, line the ground with white tiles or white stone and use white furniture inside. You can spruce your bathroom up with some pine furniture as well, for example, using wooden floating shelves as a storage space or using the same sort of wood as the counter for your sink.
11. Stars in the Night Sky – An Enchanting Atmosphere
Maybe you have been thinking about creating a dreamy space in your bathroom. If so, check out this design which isn't only a dream come true, but also a serene space. Create your own sky of stars, lighting up the way in the night sky in your bathroom. You will have to cover your bathroom in black tiles, providing the darkness for your night. Then place small led lights on the ceiling of your room or glow in the dark stickers. You will be able to create a whole set of stars, which you can allow your gaze to linger at as you bathe underneath it.
12. Black and Gold – 

Best Bathroom Design Ideas
Perhaps you are considering turning your bathroom into the epitome of luxury and beauty. If so, then why not use a combination of black and gold to achieve this? These two colours used together will create a glorious and luxurious look. You can use black as the overall colour of the bathroom, using it for the walls and furniture. Gold can appear as accents in the bathroom.
13. Pretty in Pink – A Rosy Hue
The colour pink has come into fashion and style once again. So it would only make sense for you to try out this colour in your bathroom. Pink is the colour of love and harmony and gives any space a soothing ambience. Paint the walls of your bathroom pink and line the floor with white tiles. Also, try using white furniture so that the pink doesn't overpower everything. You can also place a variety of plants around the room, creating a natural and earthy environment.
14. Floral and Fancy – Try Out Some Wallpaper
Bring a vintage vibe to your bathroom! Why not give wallpaper a try? Find a wallpaper of your taste and style to paste onto the walls of your bathroom. Also, incorporate vintage style furniture into your bathroom for the full effect. This means trying to find an old-fashioned bathtub, which might have legs attached to it. We assure you, that this theme will give bathroom designs a fabulous atmosphere!
15. Modern and Minimalist – Best Bathroom Design Ideas
Are you more into minimalist and modern bathroom ideas than rustic ones? If so, then you will love this idea. Clean and minimalistic, this bathroom embodies simplicity in itself. Use a soft coloured stone to lay out the walls and floor of the bathroom. Instead of using floating shelves, creating indents in the walls where you can store anything you need to. Use a simple glass sheet to create the barrier of the shower.
16. A Hint of Yellow – Vivid and Vibrant
A fabulous colour you might like to add to your bathroom, which will give it a happy and positive vibe, is no other than yellow! You can paint one of your walls yellow and mix it up with interesting patterned tiles on the floor. It's all up to you and your creativity on how you design this!
17. Paint and Tiles – Simple Bathroom Ideas
Try out a unique design in your bathroom! Cover two of your walls and floor completely in tiles. Then paint the other two walls and ceiling in a colour of your choice, which will match the tiles. This is one of many interesting modern bathroom ideas!
18. Green, White and Wood – Sophisticated and Contemporary
Another absolutely gorgeous colour combination is green, white and brown! This will create a natural and earthy vibe in bathroom designs. You can use interesting and unique tiles for lining your floor with and you can also try using these on the walls.
19. Awesome in Orange – Simple Bathroom Ideas
Another unique colour you can use in your bathroom is orange! So if you want a burst of happy colour decorating the walls of your bathroom, orange is the way to go. In order to ensure that the orange isn't too dominant, add some white to your bathroom. For example, place a white sink in your bathroom.
20. Geometric Patterns – Simple Bathroom Ideas
Geometric patterns have become super trendy, so it would only make sense to try these patterns out in your bathroom. Especially, if you like them! You can have tiles cut in any sorts of geometric patterns and have them placed on the floor and wall. Naturally, make sure to add some bathroom lighting to the room!
21. Elegant in Marble – Simple and Clean
If you are considering designing elegant bathrooms, why not try out a marble wall? Using thin marble tiles will create a sophisticated look in your bathroom. You can combine marble with rose gold metal.
22. A Gorgeous Design – Stylish in Wood
Here is another beautiful option for a bathroom renovation. Use wood as an inspiration for your bathroom, using wooden pallets to cover the walls and floor of the room. Elegant bathrooms like this one will give your whole home a different look!
23. Pebble Your Way – A Lovely Texture
Have you been considering adding some sort of unique element to your bathroom? Perhaps a few pebbles to the floor? Why not cover your bathroom floor with pebble tiles? It will provide your whole bathroom with a more natural look and ambience. Pair it with wooden furniture and wooden pallets on the walls for a truly earthy feel!
24. An Interesting Pattern – Best Bathroom Design Ideas
While you might not think it, floor tiles actually go a long way! If you feel as if your bathroom is a bit plain and would like to perk it up, why not line your floor with tiles of a unique pattern? It will uplift your whole bathroom and make it look incredible!
25. Adding Amazing Art –

Simple Bathroom Ideas
If you aren't thinking of renovating your whole bathroom, you would just like to give it a new look, then why not add some art to it? Art comes in many shapes and sizes, meaning that you can hang up some paintings above your bathtub, place an intricate rug on the floor and using interesting pieces of furniture. It's really up to you on how you would like to style your bathroom!
We hope that this collection of 25 best bathroom design ideas has given you some inspiration. For other ideas, like small bathroom ideas or bathroom lighting ideas, just visit our website.
Advert