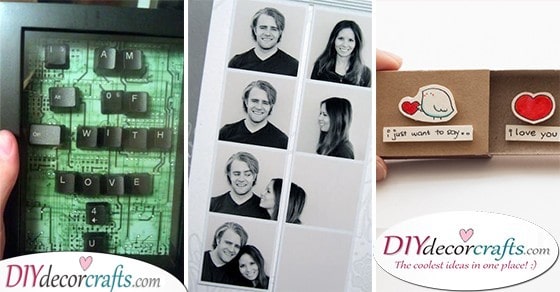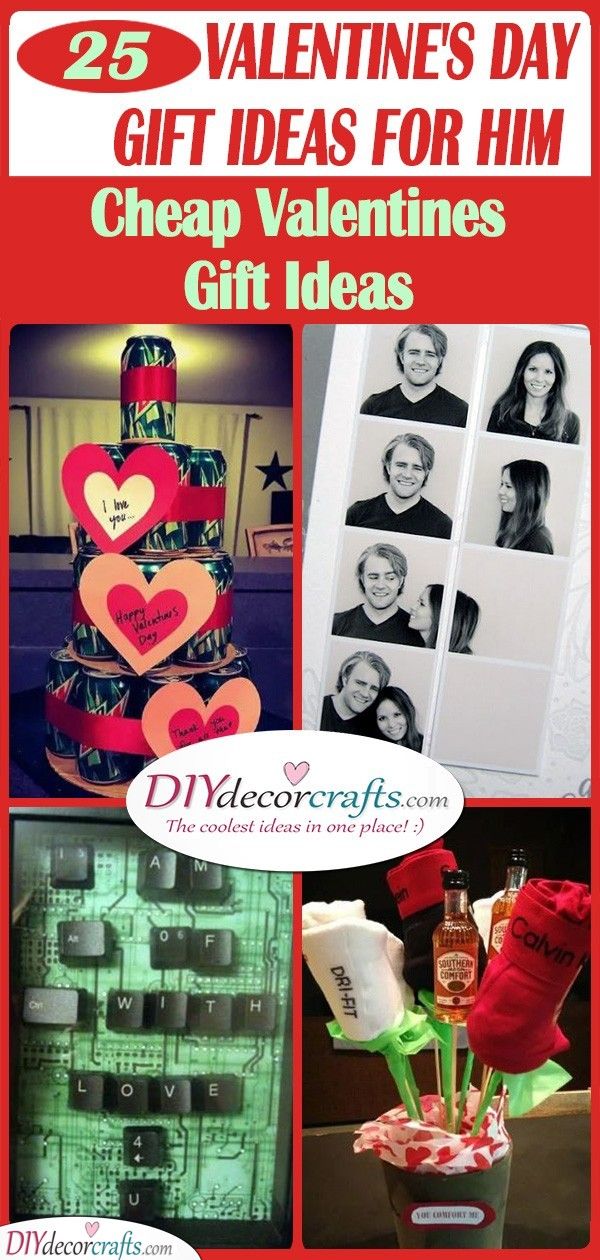 The celebration of love and romance is one of everyone's favourite winter holidays. This is no other than Valentine's Day. Perhaps you have a special someone in your life who you would like to celebrate this day with. Maybe it's just a friend or a family member, but perhaps it's your romantic partner! If you have a special man someone in your life, make sure to look through our pick of Valentine's Day ideas. An easy way of achieving this is by giving them a thoughtful gift! That's exactly why we have collected 25 DIY Valentine's Day gifts ideas for him. Take a browse through these cheap Valentines gift ideas to find something awesome!
1. A Photo Series – Personal and Loving
There is no other sort of gift, which is as awesome and special as giving a DIY present. Handmade gifts show that you put actual time and effort into creating something amazing for the other person. Why not try putting together a photo series of you and the person you are giving a gift to? Use multiple photos of the two of you picturing a scene of your life. Check out the example above for a great idea of how it is done! This gift is completely up to you and your creativity.
2. A Card for Valentine's – DIY Valentine's Day Gift Ideas for Him
Express your love towards your special man! There is no better way to do this than with a card, on which you write a loving message to him! This can be something simple which says "I love you." You can create an amazing 3D card, cutting out and folding paper to make your design. If you are in search of a template, you will be able to find heaps on the internet. Just check out the example above. The dotted lines are where you don't cut, only fold. The simple lines are where you need to cut.
3. You Have a Message – Cheap Valentines Gift Ideas
Here is an easy and cheap gift idea It's also quite cheap, so if you don't have much money to spend, this is a great gift idea! All you will need is a wooden peg, a piece of paper and a sharpie or two. On the ends of the wooden peg write "you have a message" with the sharpie. Create the shape of an envelope on the other end and stick a small slip of paper in the middle of it. The slip of paper should read something such as "I love you!"
4. Creating a Source of Light – Wine Bottle Crafts
Here is another amazing present to make for someone special for Valentine's day. All you will need for this gift is an empty wine bottle, a sharpie and a string of fairy lights. Use the sharpie to draw hearts all over the wine bottle. You might even consider writing a message on it, something such as "be my love." Then all you will need to do is place the string of fairy lights inside the bottle. This will look beautiful when you light it up at night!
5. A Wall of Memories – Cheap Valentines Gift Ideas
Polaroids are an awesome way of taking photos, and if you've been shooting them for the years you've known your significant other, this will make a perfect gift for them! Collect all the polaroids you have of the two of you. Stick them on either a big sheet of cardboard or on a wooden board. You can cut out and stick the word "Memories" onto the board as well to give it an extra effect.
6. A Romantic Present – DIY Valentine's Day Gift Ideas for Men
You might be searching for a candle holder to make for your significant other. Create a handmade candle holder for them for this Valentine's Day. You can create a cube-shaped candle holder using wooden plates to put it together. Carve messages or patterns into each plate. Since it's Valentine's Day, make sure you add romantic messages or hearts to the wooden plates. For example, hearts are a great idea to add! Then add the finishing touch to your candle holder, place a candle inside of it and light it!
7. Another Cute Photo Series – Unique and Creative
As we have mentioned before, making a photo series is a unique and creative gift for Valentine's Day. It reflects that you put time and energy into creating something truly unique and fantastic for your special someone! Use pictures of the two getting closer and closer, until in the final picture the two of you are together. This will be a great representation of your relationship, getting to know the other person at first and becoming in love or becoming friends. Whichever man receives this gift will feel lucky!
8. A Fantastic Bucket List – Valentines Day Ideas for Him
When you are in love, you are always thinking about the other person. Your whole world seems to revolve around them. If so, why not create a completely personal and intimate gift for them for Valentine's Day? A fantastic idea is to write up a bucket list for the two of you, filling it with all sorts of activities the two of you need to do together. You can draw small pictures around the bucket list, or glue photos of the two of you together for an even more personal effect! We guarantee your significant other will love this!
9. A Huge Heart – A Photo Compilation
As you may have realised, we have already talked quite a bit about creating a photo series for your loved one. Use your own body, to create a huge heart for them. When placing the pictures together, like you would place together the pieces of a puzzle, your arms and movements should create the heart. You might even consider holding sheets of paper up on the photos, each paper containing a different letter to spell out a message. This is definitely a personal and unique gift to give for Valentine's Day!
10. The Happy Jar – Cheap Valentines Gift Ideas
Here is one of many personalized gifts for Valentine's Day involving a jar! Write small messages of pieces of paper, they can be notes, quotes, memories or just a few loving words. Whenever your friend or lover is having a bad day, all they will need to do is take out a piece of paper and read the message inside. With the support and motivation of each message, you will be able to brighten up his days for a long time!
11. A Few Polaroids – In a Lovely Frame
Check out this other perfect gift for Valentine's Day! Whether it's for your best friend, your crush or partner, they are guaranteed to love this! String some yarn across the middle of a frame and attach a few polaroids of the two of you to it. You can also glue your favourite quote about friendship or love under the polaroids. Then it's up to you to decorate the rest of the frame in any way you'd like, paint things on it or glue small details around it to create a special atmosphere.
12. A Tree of Love – Getting Creative
Create a piece of art, which resembles the tree of love for your significant other! Cut out the shape of a tree out of paper, which has text on it talking about love. Then cut out two hearts out of red paper and hang them from the tree. It will look as if the tree was bearing the fruit of love. You can write your and your partner's names on the hearts!