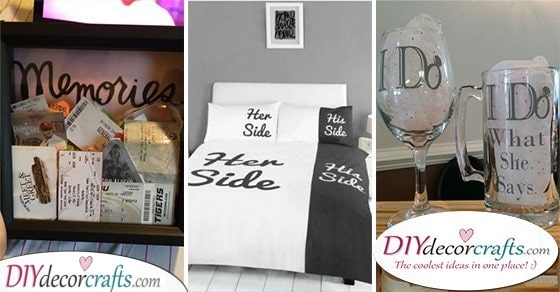 When any sort of celebration arrives it is usually customary to take a gift with yourself. Sometimes the hosts of the party can be a couple and instead of getting them separate gifts, why not make one for the both of them? Or you might just be looking for something romantic to find for your own partner! Getting people handmade or personalized gifts is always a fantastic idea, as it shows that you put more thought and energy into it. There are various ideas on what sort of unique gifts for couples you can make. If you are in need of some sort of gift inspiration on presents for couples, you're in luck! Take a look through our pick of the 20 best gift ideas for couples.
1. Beautiful Matching Pillows – Unique Gifts for Couples
Are you the sort of person who loves to do all sorts of arts and crafts projects? This might include sewing or painting fabric. A gift you can't really go wrong with when choosing something for couples are matching pillowcases. A cute idea would be to draw small figures on both pillowcases, which are sending each other love. This is when fabric paint or fabric pens come in handy! You can then draw in any sort of creative style you'd like. If you need to decorate the pillows any further, a good idea is to draw hearts or sew some on. One of these matching couples gifts will make a fantastic present!
2. Fun Conversation Starters – Gifts for Married Couples
If you are in search of a gift for a couple, or you are in a couple and would like to find a perfect gift, here's an idea to check out! Create a whole set of cards for the person in question. On each card, write up a conversation starter. This is a great way of learning all sorts of new things about your partner with the help of these cards. Not to mention, it will definitely help make the conversation flow easily. A conversation starter can be anything like "how did you feel on our wedding day" to "what is something that makes you feel special?" This would make a great birthday gift for your husband or your wife!
3. A Game of Jenga – Best Gift Ideas for Couples
Make sure that the couple you get a gift gets to have some fun! A fantastic example would be to create a set of personalised Jenga! Buy a plain set of Jenga or just some rectangular wooden blocks. Then it's time to write your own activities on each block. The activities can include simple tasks, such as "sing a song" or "do the chicken dance." For a more romantic option, you can write questions on each block, which the person who pulls it out will have to answer.
4. An Abundance of Memories – Loving and Personal
When you are together with someone, you are bound to have hundreds of memories connected to them. Perhaps you are in search of a more personal and deeper present. So why not collect an array of memories and place them all in a jar or a box for the other person to look through. You can write memories on small notes, throw some photos in or tickets from museums and concerts you went to together. It will definitely be nostalgic and intimate to read through this gift filled with memories!
5. The Date Jar – Creative and Cute
Make sure to give your partner something romantic and truly special. For example, this would be an amazing Valentine's Day gift idea! Give them a date jar! This is one of the best gift ideas for couples out there, as you can put it together by yourself at home, not to mention it's inexpensive. But it's heart-warming and will make your other half feel loved! All you need to do is write date ideas on popsicle sticks and place them in a jar. This can include going hiking, trying out a new restaurant in your neighbourhood or going to your favourite band's concert. Your partner can pull out a popsicle from the jar and the two of you have to go on that date!
6. The Two Sides of a Bed – Unique Gifts for Couples
When you share a bed with someone, you might notice that someone always takes up more space on it. If this is the case, you might decide on designing a pillowcase as well as a blanket which both have a clear division of who's side is which part of the bed. For example, you can write up "her side" on the larger part of the pillow and blanket if she's the one in the relationship who hogs the bed. Then on the smaller side, write up "his side." This will create a funny effect in the bedroom!
7. Creating a Candleholder – Presents for Couples
Another amazing idea on what you can give a couple or make for your partner is a candleholder! This is especially great for people who love the scent of candles or for anyone who loves to enjoy dinner in candlelight. You will firstly have to create a box as the base of your candle holder. Then carve out shapes and forms on each side of it, making it unique in your own way. The final touch will be to add a candle and light it.
8. Getting Hooked and Caught – Gifts for Married Couples
Sometimes it's great to have matching items with your partner! Taking this into consideration, why not get them, as well as yourself, matching keychains? If you feel like you got hooked the minute you met them, you might decide on getting a hook for a keychain and a fish for the other. You can also attach a small metal disc to both keychains, with the date when you started seeing each other or when you got married. 
9. A Box of Snacks – Best Gift Ideas for Couples
If you and your partner have a busy schedule, the most important thing is to remember to spend some quality time together! Sometimes a great idea is to throw a movie night. Just the two of you, a fantastic movie and some delicious snacks. So, how about you put together a box filled with all of your and your partner's favourite foods and drinks. You can even put a few movies inside the box, to present a selection of movie choices, which you can watch in the following days.
10. A Key Holder – Perfect for Pets
Do you like tinkering with things or building small items of furniture? If so, why not create amazing personalized couples gifts, such as a key holder? Create a space for your keys, your partner's keys and if you have a pet, you can also make a space for a leash holder. You can easily construct a key and leash holder just with the help of a few wooden planks. Attach hooks or hangers onto the planks, allowing you to hang anything from them!
11. Something for Your Spouse – Unique Gifts for Couples
Perhaps you know a couple who recently got married and are searching for a gift for them. For the wife, buy her a wine glass which has the words "I do" engraved on it. As for the husband, buy him a beer glass that has the sentence "I do… Whatever she says" engraved on it. This will definitely draw a smile on the couples' faces, thanks to making a statement about who truly wears the pants in the relationship!
12. The Longitude and Latitude – A Place Called Home
The word "home" means so much more than just a house or an apartment. It's the place where you can truly feel that you can be yourself and feel loved by the people around you. If you live with your significant other, then he or she might also be a definition of home. A fantastic present idea is to get them a pillowcase which has the longitude and latitude coordinates of your home on it. But you can always tell them that you feel at home thanks to them!
13. Adorable T-Shirts – Best Gift Ideas for Couples
Are you and your partner huge Disney fans? If so, you will adore getting these matching couples gifts, in other words matching t-shirts! Using Mickey and Minnie Mouse as inspiration, you can create unique prints for both t-shirts. While the guy's shirt can have the word "Mr." on it the girl's can have "Mrs." on it. Decorate these both with Minnie and Mickey's ears, giving the shirts that amazing Disney vibe. Don't forget to include the iconic red and white polka dot bow to the print Minnie's ears. This is one of many unique gifts for couples!
14. An Important Date – A Keychain Calendar
When did you and your partner meet for the first time? Or have you gotten engaged or daresay married? In any case, you will have an important date in your relationship, which both of you remember well. If that date is incredibly important to both of you, then use it as an idea for a gift. For example, you can create a tiny calendar out of metal. Then engrave the special date on it and use this small calendar as a keychain for a gift!
15. Open When – Writing Some Love Letters
Here is a romantic gesture which will make anyone's heart melt. Write your significant other letters for every sort of occasion and put them into envelopes. On the envelopes write down on which occasion they should be opening the letters, for example, for when they need a laugh or when they first get the bundle of letters. Writing actual letters instead of sending messages through your phones will definitely make this into an old-fashioned and romantic gift. After all, this is what you are looking for in a gift for your couple!
16. Dreaming About You – Unique Gifts for Couples
We have already mentioned creating matching pillowcases for you and your SO. But here's another idea which you might like! One of the pillowcases should have a few bubbles floating up along the side of it, while the other one should have a large thought bubble drawn on it. You can achieve this by drawing on the pillowcases with some sort of fabric paint or fabric pens. This will create the image that the other person is dreaming about you all night, which is super cute!
17. The Perfect Puzzle – Put the Pieces Together
A fabulous idea is to create a puzzle of you and your partner. You can get a photo of the two of you printed on a puzzle set. Your significant other will have to piece the puzzle together to see the final result. Make sure you use a fabulous photo of a fun or lovely moment you experienced together. When the puzzle is pieced together, you can even place it in a frame, fixating the pieces to one another with the help of a glue gun.
18. The Penguin Pebble – Best Gift Ideas for Couples
Did you know that when a male penguin falls in love, he starts searching for a gift to present to his love? After finding the perfect pebble for her on the beach, he gives it to her! Using penguins as inspiration for your unique gift for couples. Place the perfect pebble of your choice in a box with a small message attached to it, about the love between penguins. This is an adorable gift to give, not to mention, it won't cost you a penny!
19. A Box of Photos – Sweet and Stunning
When you are in love, your mind is constantly on the other person. Your whole world seems to revolve around them. If so, why not create completely intimate and personalized couple gifts? This can be a whole string of photos of the two of you organised in a box. Photos of the two of you will immediately transport the two of you to a bubble of beautiful memories. It will be a great experience taking a look through the photos again and remembering these times! This would make a fantastic Valentine's Day gift for her or him!
20. You Complete Me – Unique Gifts for Couples
While we have already talked about getting you and your partner matching keyrings! But here is another idea that involves two halves of a heart, which can only be made whole when put together. Besides getting your names engraved on the pieces of the heart, you can also have the sentence "you complete me" written on it. Naturally, this is just one of many fabulous presents for couples to try out!
These ideas will be perfect for finding inspiration for your significant other's gift! So, we hope that you found the best gift ideas for couples! For other gift ideas, like Gift Ideas for Husbands or Best Gift for Wife, visit our website.
Advert