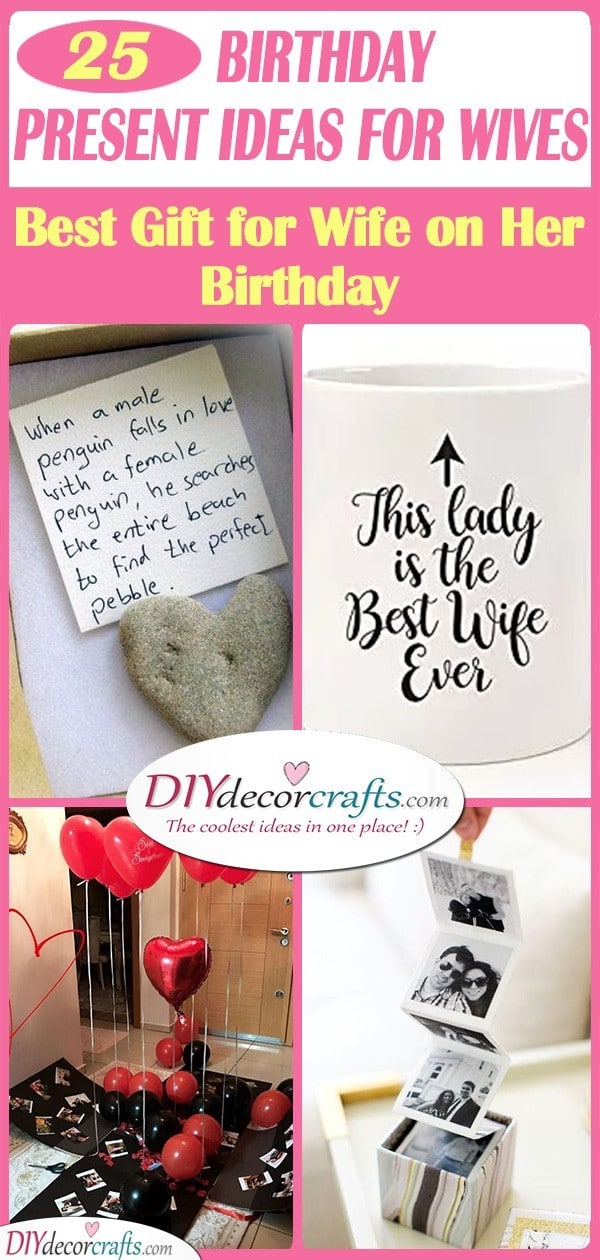 When it comes to birthdays, it is always important to express how much you love the birthday celebrant. You can do this with a small gesture or a birthday gift. The best sorts of birthday gift ideas are the ones you make by yourself at home. Handmade presents show that you put time and energy into creating something special for a special person! Is it going to be your wife's birthday soon? Then make sure to surprise her with a beautiful birthday gift! Think about what your wife would really appreciate, or what she needs in her life. Then make sure to express your love and gratitude towards her with a gift! We have collected 25 birthday present ideas for wives, to help you out! So make sure you find the best gift for wife on her birthday! 
1. An Array of Photos – Best Gift for Wife on Her Birthday
Everyone loves sentimental gifts which bring back so many memories! A sentimental gift will be perfect for your wife! Get a wooden board or pallet and nail photos of you and your wife on it. Then lead a string of fairy lights all across the board or pallet, so every corner of the collage of photos will be glowing. To make it a bit more personal, you can write a message on a small piece of paper, which you also attach to the wooden pallet, or even a blackboard is a good idea! Write something romantic for your her in this best gift for wife on her birthday!
2. A Loving Message – On a Ceramic Tile
Unlike chocolate or a bouquet of flowers, some things last for a lifetime. A perfect example of this is a ceramic tile! Get a personalised ceramic tile made for your wife, on which you write your own romantic message. She will be able to use this as decor in the kitchen or even in the bedroom. Or an even better idea is to incorporate it into the kitchen tiles!
3. Photos in Bottle Caps – Great Birthday Gift for Wife
Magnets will adorable birthday present ideas for wife! Especially if you make them yourself! Find some beer bottle caps, and stick magnets to the backs of them. Then print out small pictures of you and your wife, cut them out, and glue them inside the beer bottle caps. You should be able to put these adorable magnets on any fridge as decoration! Your wife is guaranteed to love these small birthday gifts. After all, these photos on bottle caps serve as an alternative to an actual photo album.
4. The Big Milestones – The Story Continues
If you love working with wood, you might consider creating a small wooden ladder as a homemade birthday gift. We don't mean the ladder you would use to climb onto something, but a decor ladder. Use pieces of wood for each step, attaching one to another with yarn. Write down the big milestones on each piece of wood, which tell the story of you and your wife. For example, when you first met, when you got engaged and when you got married are just a few of these! On the last piece of wood write "and the story continues" expressing that your love story will never truly end!
5. The Best Mug – For the Best Wife
There are a few presents you can't really go wrong with. A mug is a great example of this! Have a personal message written on the front of your mug for your wife. You can write this message yourself with a Sharpie. For example, "this lady is the best wife ever" with an arrow pointing upwards. Your wife will be reminded of you every morning when she drinks her cup of coffee or tea.
6. Handmade Tablet Holder – Birthday Present Ideas for Wife
Does your wife love to watch films or a tv series while cooking and baking in the kitchen? Or perhaps she likes to read the steps of the recipe while in the process of cooking? Create a tablet holder for her out of a wooden chopping board! This will look great in the kitchen while she is at work, and it will keep her tablet from getting any food or water on it! If this isn't the perfect present for her, we don't know what is! Naturally, she will be able to use this tablet holder anywhere else as well, not only in the kitchen.
7. Very Much Love – A Lovely Planter
Aloe veras are awesome plants! They are great to have around in the house, as their gel is great for your skin if you have acquired a burn in the kitchen or have been in the sun too long! So place some aloe vera in a personalised planter. Have the planter decorated in any way you'd like, then have the message written on it "aloe you vera much." This clever play on words will definitely draw a smile on your wife's face when it turns crystal clear to her what you are saying.
8. The Perfect Pebble – Penguins in Love
While we wouldn't imagine it, animals express love to each other in so many interesting and diverse ways! For example, penguins gather pebbles for each other. If you and your wife love these cute birds, why not use them as inspiration for a birthday present? Find a pebble or a stone for them, place it in a small box and attach a message to it, "when a male penguin falls with a female penguin, he searches the entire beach to find the perfect pebble." This small romantic gesture is going to melt your wife's heart!
9. Photo in a Jar – Romantic Birthday Gift for Wife
Here is an easy and simple gift to put together, if you don't have much time on your hands! All you need is a mason jar, a picture of the two of you and some vegetable oil! Cut the photo out, so that it fits in the mason jar and place it inside. Then all you need to do is pour vegetable oil inside the jar. The oil will preserve the quality of the photo, as well as give it a yellowish and vintage look! You can also place a sprig of rosemary or lavender inside to give the oil a lovely smell.
10. A Funny T-Shirt – Have a Laugh
You can express your love towards your wife, through a gift to yourself! Have a t-shirt created for you that has a hilarious message written on it. For example, "I love it when my wife lets me ride my motorcycle." Only write the words "I love my wife" with big letters, making everything else small. This will create a funny effect!
11. A Whole Box of Love – Birthday Present Ideas for Wife
You might be planning on creating a big romantic gesture for your wife's birthday! Create a box filled with love for her! First of all, make a box. Fill the insides with photos of the two of you, all sorts of happy memories. Then after putting it together, fill the box with a whole plentitude of balloons. Try getting heart-shaped balloons for that perfect effect! When your wife opens her birthday box, she will be overjoyed by the beautiful balloons and the many memories!
12. Reasons Why I Love You – A Pack of Cards
Here's a great idea for how to express your love towards your wife! Here is the best birthday gift for wife! Use a deck of cards, writing short messages or things you'd like to say thanks for on each card. Then arrange these in a small booklet, so your wife will be able to flip through it easily! This is a creative way to use a deck of cards, not to mention the whole theme of the present is truly personal and intimate!
13. Missing Them – Birthday Ideas for Wife
You might have days or nights when you find yourself missing your spouse. Even if you or they are gone for one or two days. This is completely natural! If this is the case with you and your wife, why not get her a pillow? Have a cute message written on it, for example, "if you miss me, hug this pillow!" While a pillow won't really substitute you, it's still a lovely gift your wife will be sure to love!
14. A Huge Heart – Mirror Mirror on the Wall
Now here's a gesture, which will definitely brighten your wife's birthday! On small sticky notes, write up reasons why you love her. Then stick them all on her mirror in the shape of a heart, before she wakes up. When she looks into the mirror on her birthday, it won't be herself that she sees. She will see an amazing list of reasons why she means the world to you!
15. A Personal Message – Best Birthday Gift for Wife
Here is a truly romantic birthday gift that your wife is certain to adore! Place a photo of the two of you in a frame. Around the photo, write down all the things you love about your wife or just a bunch of beautiful memories you have. She will be overjoyed reading this list of lovely reasons for why she means so much to you!
16. A Handmade Candle Holder – Brighten Her Days
If your wife loves to relax next to a candle, why not create a candle holder for her? Making a personalised candle holder is a great gift! Cut out shapes or a message in a box, in which she will be able to place the candle. The shapes and messages will create shadows and forms of light on the walls in the room making it look truly magical. She may use it as decoration or a source of bedroom lighting! These birthday ideas for wife will be much appreciated!
17. A Box of Photos – Awesome Birthday Present Ideas for Wife
If you are in search of a more simple, but heartwarming gift, then this will be perfect for you! In a small box place a few dozen tiny pictures of you and your wife. Make sure to include happy memories, when the two of you were having a blast! This birthday present for wife will definitely brighten up your wife's birthday!
18. A Birthday Box – Happiness Overload
There's nothing better than creating a small space filled with memories and love for your wife! Create a box, which has dozens of messages, hidden on each side of it. You can glue pictures in the box as well to make it look even better! Place your gift in the bottom of the box and sprinkle confetti over it. Your wife will have to "dig out" her present!
19. A Bit of Sunshine – Birthday Present Ideas for Wife
Find the best gift for wife on her birthday! Everyone has bad days when they are feeling under the weather! Make sure your wife doesn't have a bad birthday, by bringing a bit of sunshine into her day! Create a gift box for her out of yellow coloured presents, reflecting the colour of the sun. You can buy some lip balm, a candle and some perfume! 
20. A Sound Wave – Best Gift for Wife on Her Birthday
Create a personalised gift for your wife's birthday! Have the sound wave of your voice saying "I love you" drawn on a pillowcase. This is an intimate and lovely idea, that would also make a great Christmas gift for your wife, not to mention your wife will always be able to fall asleep to soundwaves of your voice!
21. A Travel Piggy Bank – A Ticket to Anywhere
You and your wife might not have been able to travel as much as you would have liked to. If you haven't visited all the placed you would like to together, then create a small piggy bank for her birthday! Place a map in a frame, with a message that reads "a ticket to anywhere" on it. Then cut a slit on the top of the frame, through which you will be able to drop money into it. Hopefully, the two of you will be able to save some money in order to go travelling!
22. You Are My World – Birthday Present Ideas for Wives
Are you in search of something small and simple, but still has a lot of personal value to it? Look no further! Attach a small blue ball or sphere, to the top of a lid of a small bottle. Attach a message to the bottle as well, which reads "you mean the world to me!" While this is simple, it's still incredibly sweet!
23. A Cute Keychain – For the Best Wife
Make sure your wife has a cute keychain to her set of keys! Engrave a cute message on a metal disc for your wife, creating the perfect keychain for her! It's completely up to you on what message you'd like to send your wife! Look at the picture above for a great example!
24. A Monthly Book Subscription – Great for Bookworms
If your wife is a bookworm and loves to spend her free time reading, then why not get her a monthly book subscription for her birthday? This way, depending on what sort of book she is in the mood for, she will be able to choose whatever she would like to! This will make a fantastic birthday present for wife!
25. A Romantic Picnic – Best Gift for Wife on Her Birthday
Instead of giving your wife something material for her birthday, why not gift her a memory? A beautiful nighttime picnic in your garden with fairy lights illuminating the whole atmosphere is a perfect way to celebrate her birthday! Make sure you cook her favourite food for the picnic!
We hope we have been able to give you some inspiration with this pick of 25 beautiful birthday present ideas for wife. For more gift ideas besides the best gift for wife on her birthday, for example, birthday presents for kids or unique gifts for boyfriends, just our website!
Advert