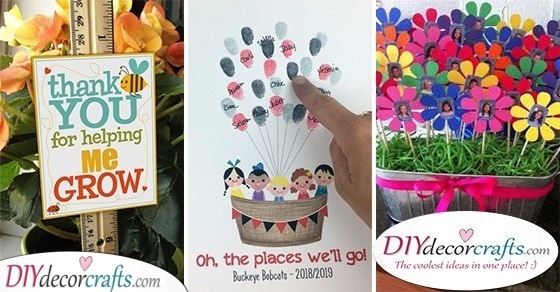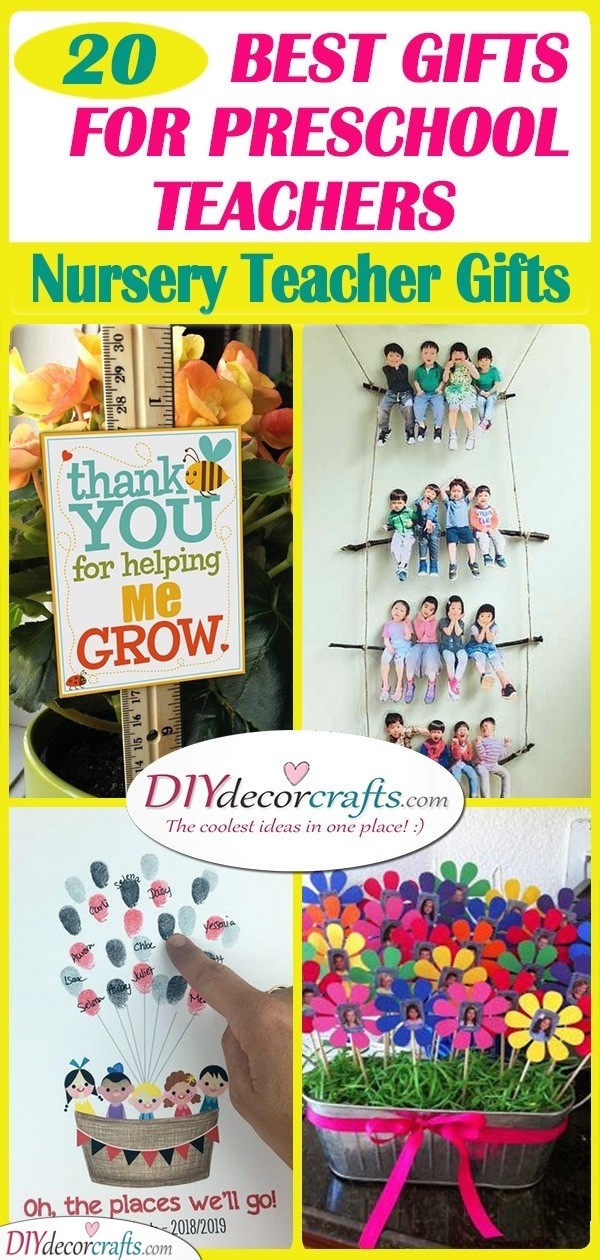 When it comes to finding the perfect gift for someone, it can prove to be a difficult task. After all, you want them to like the gift and hope that they'll be able to use it! If you have kids, you will know how hard daily life can be, when sending the children off to kindergarten at a young age. While you need to work, someone needs to look after the kids. And what better place is there for this than kindergarten? Maybe you are extremely thankful to a kindergarten teacher, for helping your kid fit in well! Check out our 20 best gifts for preschool teachers! We're certain you'll find inspiration concerning nursery teacher gifts!
1. Helping Your Kid Grow – Best Gifts for Preschool Teachers
As a parent, you will know the feeling of being thankful towards the kindergarten teachers at your kid's school. When a parent has to work full-time, they can't stay at home with their kids during the weekdays. Because of this, it will be important to them, to know that one of the kindergarten teacher's is watching over and taking care of their children. Say thanks to the teacher for helping your children grow! As a gift, get them a pot plant that has a ruler stuck into the soil. On the ruler, you might fixate a small thank-you card to it, for helping your kid grow!
2. A Creative Photo of the Class – Cute and Lovely
You may be wondering about what a kindergarten teacher would appreciate as gifts for preschool teachers. If you are thinking about creating something yourself, why not go for a personal present? How about giving them a photo of their kindergarten class? But do this in a creative manner! Cut out photos of all the kids sitting, then place them on wooden sticks, which have yarn attached to the ends of them. This will give the impression, that the kids are swinging. It's one of the best gifts for preschool teachers! 
3. An Acrylic Cloud – Cool Nursery Teacher Gifts
There are so many incredible gifts to choose from when you are in search of something small, yet meaningful for a kindergarten teacher! Here is just one amazing idea! Get them an acrylic card, that has a beautiful quote written on it. The quote can thank the kindergarten teacher for being so helpful and caring towards your kid. As well as being a huge part of their life! You can have the quote written on the acrylic cloud in colourful rainbow letters!
4. A Beautiful Card – Decorating with Fingerprints
Instead of going over the top with an expensive gift, why not make a creative card instead? Get each one of the kids involved, in making a fingerprint card! First of all, get a drawing made of a few kids, standing in the bottom basket of a hot air balloon. Then it's time to get each kid to dip their finger in vibrant paint and press them down above the picture. They can write their names on the fingerprints after the paint has dried. And draw lines, connecting the balloon fingerprints to the hot air balloon basket. By the end, it will look as if the kids are on an exciting journey in the sky! Cards like these kindergarten teacher gift ideas will make perfect cards for them!
5. A Funny Mug –

Best Gifts for Preschool Teachers
If there is one type of gift, that you can't really go wrong with, that is no other than a mug! The great thing about mugs is that they are useful objects, making them parts of your daily life! Especially, if you drink a lot of tea or coffee! The other fantastic thing about mugs is you can get them personalised! Taking everything into consideration, they will make fantastic preschool teacher appreciation gifts. Meaning, that if you'd like to give your kids' kindergarten teacher a mug, you can have any unique quote printed on it!
6. An Awesome Tote Bag – Nursery Teacher Gifts
One amazing gift for anyone, including a kindergarten teacher, would be a tote bag! Again, these items can be personalised, in order to create a truly unique gift! You can have a colourful design printed on the tote, with a message saying "So glad I'm a kindergarten teacher!" You can also have a few kindergarten equipments printed on the bag, including crayons or building blocks. Tote bags are also a great way to go green, as you won't have to use plastic bags for shopping!
7. An Emergency Stash – For a Boost of Energy
Another type of present you can't really go wrong with is no other than candy or chocolate! We all need a sugar boost during the day, especially if it's a long and tiring day at work. As a thoughtful, yet funny gift, how about you create an emergency stash for the kindergarten teacher? Fill up a box with their favourite sweets. A secret stash of chocolate or candy might just help them in getting through a tiring and frustrating day. We're certain that they will appreciate a gift like this!
8. Educator of Mini Humans – A Gift for Kindergarten Teacher
You may be trying to find a gift for the kindergarten teacher, that will be useful to them. Especially while they are teaching or playing with the kids in kindergarten. Get them a personalised notebook! This is a perfect gift for any kind of teacher and will be much appreciated! You can have a funny message written on the front of the notebook, such as "educator of mini-humans." A notebook, like this one, will be sure to draw a smile on their face!
9. Fingerprint Hearts – An Easy Craft for Kids
Here is a craft to try out with all the kids in the teacher's kindergarten class! It's another type of DIY that incorporates fingerprints to design and decorate a card. Using their thumbs, have them create heart-shaped fingerprints. All they need to do is dip their thumbs in paint, then press them down, overlapping each other at the bottom. Write each kindergarteners name underneath their thumbprints. A set of hearts will make an adorable decoration on a card. Or use them to create the border of the card!
10. A Set of School Supplies – Nursery Teacher Gifts
Does the kindergarten teacher need a new colouring set? If so, why not create a multi-tiered tower of colour for them? Create the layers of this tower out of different colouring items. This can include crayons, coloured pencils, pens and markers! When you have put together the present, you can add a cute card to the top of it. Write "Dear teacher, you colour my world!" This will be truly heart-warming for a kindergarten teacher to read! A present like this will also be useful for a kindergarten teacher!
11. A Love Bug Handprint Card – Simple and Sweet
If your kid is willing to try out a DIY craft, why not make something special for their kindergarten teacher? A fantastic example would be to create a card, using the handprints of your kid. First, have them draw the outline of their handprints on some decorative paper. Then cut them out. Attach them to the base of the card, which can be cut out in the shape of a bug. The handprints will then create the wings of this cute bug card! This is a cute and fun craft that will be done in no time at all!
12. Gorgeous Jewellery – Best Gifts for Preschool Teachers
Naturally, another option as a gift would be to get the kindergarten teacher a bit of simplistic jewellery! This is great for a teacher who loves to wear accessories! But instead of just giving them something you bought from a shop, make sure that you attach a small note or message to the box! In the message, you can express how much you appreciate and how grateful you are for all their work! After all, if they do a great job of taking care of your kids, you should find an amazing way of thanking them!
13. An Actual Super Hero – A Cool Poster
Sometimes superheroes are the people in our lives, who are just average people. But they do the best they can at their jobs and help others! That sounds like a kindergarten teacher! If your kid thinks of their kindergarten teacher as their superhero here's an idea to try out! Create a small drawing with some supportive or motivational words, telling them that they are an actual superhero! You can then place the piece of paper in a simple frame. Thanks to this, the kindergarten teacher may choose to hang it on one of their walls in their home!
14. A Pot of Flowers – Nursery Teacher Gifts
How about gifting the kindergarten teacher in question a bouquet or a pot of flowers? But as an alternative to actual flowers, creating the flora yourself! You may ask, what kind of flowers you can make? Well, how about cutting out the faces of the children and surrounding them in cut-out paper petals? Fixate these to paper straws, and stick them in a pot or vase! The kindergarten teacher will have a bouquet of her class!
15. A Bit of Maths – Preschool Teacher Appreciation Gifts
In kindergarten, some kids start to learn how to do incredibly simple maths equations! How about incorporating a simple calculation in a gift for them with a play on words? So, after putting the gift together, print it out in the form of a poster! On the print, write down their name and tell them they are too nice to be forgotten but in the form of an addition! Just like this: "You are 2 nice + 2 be = 4gotten." Easy and cute!
16. The Kind in Kindergarten – Kindergarten Teacher Gift Ideas
Have you ever wondered why kindergarten is called kindergarten? While the word was derived from the German words "kinder", meaning children and "Garten", meaning garden. But how about you put an emphasis on the word "kind." Create a card that reads "you put the kind into kindergarten." Then fixate this small card on a chocolate bar. This is a cute present for anyone looking for a small yet meaningful gift for kindergarten teachers!
17. Magical like a Unicorn – Groovy and Fun
Is your kids' kindergarten teacher magical and fantastic, just like a unicorn? If so, here is one of many creative nursery teacher gifts that you can give them! It's another type of personalised notebook. As we mentioned before, a notebook is a great gift to give to a kindergarten teacher, as it will allow them to write down anything important inside! Put two drawings on the cover of the notebook, one of a simple woman or man outline, the other of a unicorn. Underneath the woman or man outline write "normal teacher" and underneath the unicorn write "kindergarten teacher." This will look super groovy and cute!
18. A Pot of Flowers – Nursery Teacher Gifts
There is a whole variety of lovely and creative gifts for preschool teachers that you can get for your childrens' kindergarten teacher! Check out this one of our ideas! This gift is about getting them a pot filled with blossoming flowers! Paint the pot yourself for a beautiful look and also write that "teachers plant the seeds that grow forever." Choose your teacher's favourite flowers, to plant inside the pot. This will make a meaningful and personal present for a kindergarten teacher!
19. Hand Painted Plate – With All the Children
Are you still in search of the perfect present for your kid's preschool teacher? A fabulous idea would be to get them a hand-painted plate or bowl. Have all of the kids from their class with their names painted around the edge of the plate. It will look amazing!
20. Fingerprint Crafts – Best Gifts for Preschool Teachers
We have already talked a bit about fingerprint crafts! If you have been thinking about giving the kindergarten teacher a picture or quote in a frame, then here is an easy yet beautiful way of perking it up! Have the kids from the class press their fingerprints on the frame or the border of the picture! This way they'll leave their mark on the present, with which the kindergarten teacher will always remember them by!
We hope that this pick of the best gifts for preschool teachers has helped you out in finding something! For other gift ideas, such as best gifts for teachers, look at our website! 
Advert