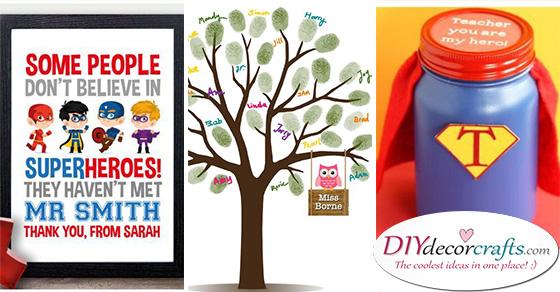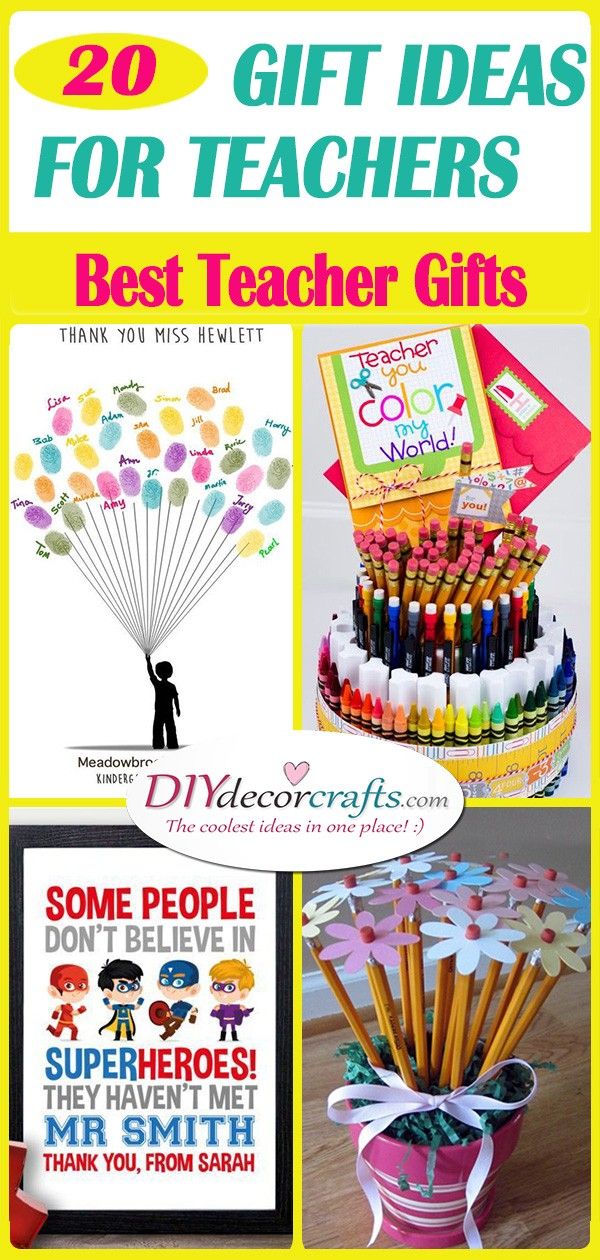 Perhaps you are in search of a gift for your teacher. Are you going to be graduating soon, and would love to thank your favourite teacher at school, for helping you grow in knowledge and wisdom? If this is the case, then make sure to look through our short yet thorough collection of 20 gift ideas for teachers from students. With the assistance of these ideas, you may be able to find the best teacher gifts you can possibly get! Whether this is something you make yourself, a book your teacher would be bound to love or a funny present idea, we are certain your teacher will be grateful!
1. Fingerprint Tree – Teachers Appreciation Gift Ideas
There are a lot of unique ways you can thank your teacher for all that you have learnt from them and for being so helpful throughout your school years! If you are in search of teacher appreciation gift ideas, you have come to the right place! How about creating a fingerprint tree with the whole class? Use a fingerprint from everyone in the class, to create the leaves of the tree.  Have everyone write their name underneath their fingerprints. Then draw a tree trunk and a quote saying thank you to your teacher! They will be able to place this in a frame and use it as decor!
2. A True Hero – Best Teacher Gifts
Tell your teacher how much you appreciate them, by creating a special hero jar for them! You'll need a mason jar for the base of this DIY craft. Coat the jar itself in blue paint and design and decorate the rest of it to look like Superman! For example, add a red coat to the jar. Your teacher can use this hero mason jar for storing anything they'd like. But it will also be a reminder for them, that they are someone's hero! Try out these gift ideas for teachers from students!
3. Colouring Their World – A Beautiful Idea
Perhaps your teacher has always expressed that he or she loves to colour! If so, why not create a multi-tiered "cake" for them. But instead of baking something for your teacher, create the layers of the cake out of different colouring items. Such as crayons, coloured pencils, pens and markers! When you have put together the present, you can add a cute card to the top of it. Write "Dear teacher, you colour my world!" This will be truly heart-warming for a teacher to read!
4. A Pot of Flowers – Gift Ideas for Teachers from Students
Whether it's teacher appreciation day or you're just heading back to school for a new year, here's one of many awesome teacher gift ideas! It's great for anyone who loves creating DIY gifts. It's a pot or vase filled with pencil flowers! You'll need at least a dozen pencils, that your teacher uses on a regular basis. Then simply cut out the petals of flowers from paper, placing each circle of petals around the ends of the pencils. The rubber tips can stick out from the petals, truly creating that floral look!
5. Believing in Super Heroes – A Lovely Present
As we mentioned before, superheroes do exist! But they are a bit different from the ones we see in movies. Real-life superheroes are just ordinary people, doing the best they can do and helping others out! Tell your teacher that they are your superhero in everyday life! Create a small drawing with some supportive or motivational words, telling them how you feel! You can then place the piece of paper in a simple frame. Thanks to this, your teacher may choose to hang it on one of their walls in their home!
6. A Jar of Chill Pills – Best Teacher Gifts
We'll have to admit, that sometimes it can be stressful to teach a whole pack of kids! Especially when they are annoying or inattentive in class. At times like this, a teacher needs to take a few long breaths before continuing class in a calm manner. As a funny gift that will brighten up their day is to get them a jar of "chill pills." By this, we obviously don't mean actual ones, but small chocolates or candies placed into a jar. Whenever your teacher feels a bit stressed, maybe chocolate or candy will help them get through the day!
7. An Emergency Stash – Thoughtful and Funny
When trying to find a fantastic gift, you can't really go wrong with candy or chocolate! Sometimes we all need a sugar boost during the day, especially if it's a long and tiring day. As a thoughtful, yet funny gift, how about you create an emergency stash for your teacher? Fill up a box with your teacher's favourite sweet treats. A secret stash of chocolate or candy might just help them in getting through a tiring and frustrating day. We're certain that they will love this gift!
8. The Apple of Their Eye – Gift Ideas for Teachers from Students
We are all familiar with the saying that someone is the apple of your eye. If the whole class and your teacher formed a special bond, then it's probably that all of you were the apple of their eye! A great idea would be to put together a collage for your teacher from the photos of each of the children. Instead of just going for a simple collage, turn it into the shape of an apple. Again, you can place this work of personal art into a frame for your teacher!
9. Being a Teacher – Having a Superpower
Here is yet another awesome way of telling your teacher, that they are a superhero for you and your classmates! Get them a t-shirt that has some text printed on it! A fantastic idea of what to have printed on the t-shirt can consist of "I'm a teacher, what's your superpower?" A t-shirt gift such as this one will definitely make your teacher feel proud and happy, that their students think of them as a superhero! They may even wear this shirt to school!
10. A Simple Snack – Best Teacher Gifts
After kids get home from school, they'll snack on all sorts of things. Ranging from all sorts of foods, like apples or carrots to cookies and chips. Being an adult comes with a few different perks though! Instead of snacks, a teacher can treat themself to a glass of wine. This is a perfect pick me up after a long day at work! If your teacher likes a glass of wine on the weekends, why not get them a wineglass as a gift? Have the words "after school snack" engraved or painted on it, as a fun touch!
11. A Deep Meaning – A Personalised Candle
Another amazing present you can give to your teacher is a candle! Not because of the candle itself, but the meaning you connect the object to! Create the candle inside of a personalised candle holder. On the candle holder write a quote that is true about your teacher. An inspiration quote to use would be "A good teacher is like a candle. It consumes itself to light the way for others." If these aren't heartwarming and awesome teacher present ideas, we don't know what is!
12. Helping Kids Grow – Gift Ideas for Teachers from Students
Parents will be extremely thankful to teachers as well! After all, if a parent is working full-time, they can't spend all their time with their kids on the weekdays. Because of this, it will be important to them, to know that a teacher is taking care of their kids while they are at school. Say thanks to the teacher for helping your children grow into responsible teenagers or young adults! Get them a pot plant that has a ruler stuck into it. To the ruler, you can attach a thank-you card to it, for helping your kid grow!
13. A Chic Keychain – With a Letter Charm
If you have run out of ideas for what to get for your teacher, then check out this idea! It's perfect if you are looking for something smaller, instead of an over the top gift! It's a small and personalised keychain, which you can add a letter charm to, for example, the initial of their first name. On the keychain itself, you can have words connected to teaching engraved. These can include "inspire", "teach" and "learn." Also, feel free to add another small charm to the keychain that says "thank-you."
14. The Truth About Teachers – Best Teacher Gifts
While we have talked about this sort of idea already, here is something that your teacher will be certain to love! Especially if they have a sentimental personality! This present idea for your teacher consists of a print, that has an inspirational or motivational quote written on it about teaching. Then simply place the print in a frame before giving it to your teacher! Thanks to a personal present such as this, your teacher will be aware of how much they have helped you learn and grow!
15. Too Nice to Be Forgotten – A Bit of Maths
Did you study a lot of maths with your teacher? Then how about you incorporate a simple yet adorable calculation in a gift for them? This gift is about creating a print as well and putting it in the frame! On the print, write down their name and tell them they are too nice to be forgotten but in the form of an addition! Like this: "You are 2 nice + 2 be = 4gotten." This idea is just a bit of creativity combining words and numbers, but is also very heartfelt!
16. Growing Forever – Gift Ideas for Teachers from Students
As you will have seen, there are loads of unique and creative presents that you can get for your teacher! Here is just another one of them! This includes getting them a pot filled with beautiful flowers! Paint the pot yourself for a beautiful look and also write that "teachers plant the seeds that grow forever." Choose your teacher's favourite flowers, to plant inside the pot. Homemade teacher gifts like this will show true consideration and attentiveness towards your teacher while thanking them for their hard efforts for teaching!
17. A Survival Kit – Made for Teachers
If you want to draw a smile on your teacher's face, here is a way to succeed! Why not create a small survival kit for your teacher? You can choose a variety of things they may need during their work! This can include stationary, such as an eraser, pencils or paperclips. But you can also feel free to include a few sweet treats in your teacher's kit. A great idea would be to write a small message underneath each item in the survival kit, stating why you put all of them inside!
18. A Stylish Tote Bag – Best Teacher Gifts
Another one of many fabulous teacher present ideas is no other than a tote bag! This is a terrific idea because you can get any sort of design printed on the bag! So depending, on what your teacher's style or personality is like, you'll be able to choose something cool! And last but not least the bag is also environmentally friendly! So if your teacher needs to pop out to get groceries, they won't need to get a plastic bag!
19. A Thank-You Card – Simple and Sweet
Here is a simple gift to put together for your teacher, with the help of the whole class! Create a fingerprint design card. Have each member of the class dip one of their fingers in colourful paint and press it down on the card. Draw lines from each fingerprint into the hand of a small child standing in the middle of the card, creating balloons from the prints! Write a few words, thanking the teacher for all their hard work!
20. A Clipboard – Gift Ideas for Teachers from Students
Finally, another one of many great teacher gift ideas would be a clipboard! This is a useful gift, especially for someone in their profession! Naturally, you can feel free to decorate the clipboard with a pretty design. Or write a beautiful quote on it!
We hope that this collection of homemade teacher gifts has helped you in finding some of the best teacher gifts! For other gift ideas, such as gifts for preschool teachers, visit our website!
Advert